2015 Design Awards
By Ettie Berneking, Kaleigh Jurgensmeyer and Savannah Waszczuk
Jun 2015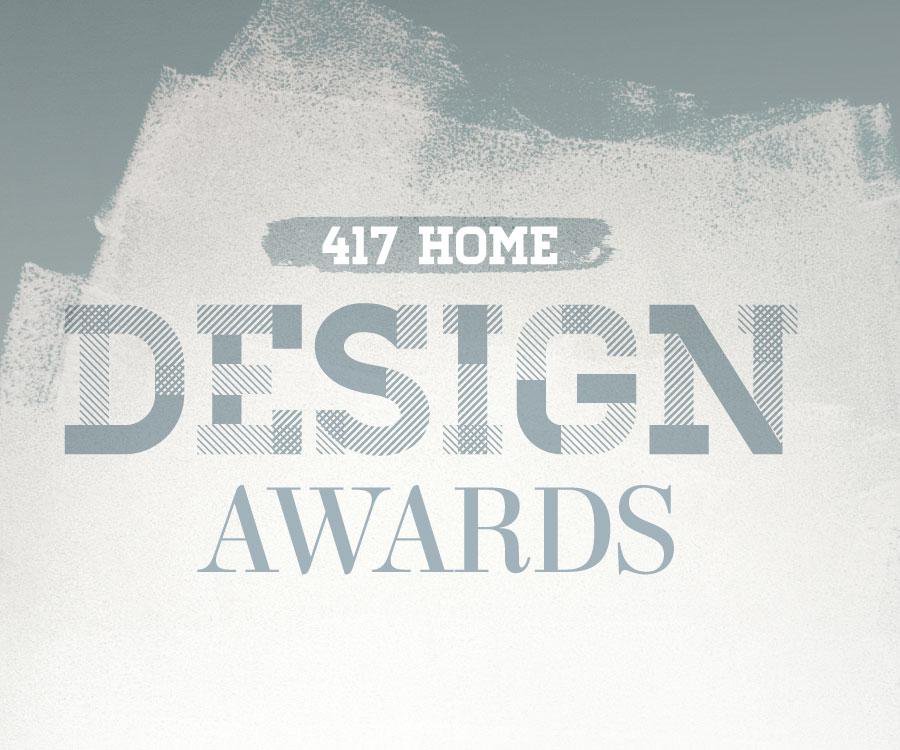 When it comes to interior design, there's good, there's better and there's best. And the best is what this photo-packed, design-inspired feature story is all about.
It all started last winter, when we asked all of 417-land's interior designers to show us all their latest home design projects for our annual 417 Home Design Awards contest. We collected a record-breaking 75 entries this year, with each and every one offering gorgeous, creative and innovative designs worthy of a feature on their own. After sorting the projects, we sent them to the American Society of Interior Designers Missouri-East Chapter in St. Louis, where a team of professional interior designers judged each project based on aesthetics, design and a narrative explanation. They passed along a list containing the highest scoring projects in each category, then our 417 Home editor toured each contender in person to take in the first-class work and confirm the winners. Take a look at the best of the best, then get to work on creating your very own dream home.—S.W.
Meet The Judges
Meet the experts from the American Society of Interior Designers MO-East Chapter who judged this year's 417 Home Design Awards.
M. Kay Hagan, ASID/LEED AP 
Hagan Associates, Inc
St. Louis, Missouri, 314-276-6057, haganassociatesinc.com
Kay Hagan has more than 30 years of experience as a professional residential and commercial designer. Hagan owns her own full-service interior design and consulting firm, and she has spent years as a professor, interior design program director and art department chairperson at St. Louis Community College. She is currently president of the American Society of Interior Designers MO-East Chapter
Stephanie K. Kusmer, Allied ASID
Total Interior Designs, Inc.
Chesterfield, Missouri, 314-576-5827, totalinteriordesignsinc.com
Stephanie Kusmer currently works for her family-owned full-service interior design firm and has been helping her clients achieve their dream homes as a residential interior designer for more than 17 years. Kusmer is a 10-year allied member of ASID, and served on the board as ASID MO-East Professional Development Director from 2007–2009.
​
Georgine O'Donnell, Allied ASID
O'DESIGNS
St. Louis, Missouri, 314-302-4610 
Georgine O'Donnell first became a student member of ASID in 2007, and she's been involved ever since. She has been the director of professional development since 2013. O'Donnell regularly practices her design skills with her business, O'DESIGNS, where she specializes in custom designs of residential spaces. O'Donnell says she enjoys presenting new ideas to clients as she helps them achieve their goals.
Robert Idol, ASID
Idol Design
St. Louis, Missouri, 404-307-0246, robertidoldesign.com 
Since establishing his design firm in the 1980s, Idol's design work has taken him across the globe working on a wide variety of projects from commercial showrooms and retail stores to beautiful residential spaces. His work is sleek and classy, yet edited, and interwoven within a contemporary flair to create timeless designs. Idol is a professional member of the American Society of Interior Designers and is NCIDQ certified.
Meet the Designers
Get to know the winners of the 2015 417 Home Design Awards, each specializing in transforming houses into gorgeous homes.
Brandi Bailey, NCIDQ
Buxton Kubik Dodd Creative 
Interior Designer Brandi Bailey has been practicing interior design for 10 years. Bailey works at Buxton Kubik Dodd Creative, a firm that offers both commercial and residential design services. Bailey is also involved in the Springfield Design Association and has served as both the vice president and president in past years. In 2014, Bailey was chosen to receive the Rosebud Award by the National Association of Women in Construction, which recognizes success of women in the construction industry. 
Andrea M. Deckard, CSI, ASID, LEED AP, NCIDQ
A. Deckard Interiors
Andrea Deckard works as both a residential and commercial interior designer, with her firm designing everything from residential spaces to hotels, restaurants, offices, banks, health care facilities and more. Deckard has been practicing interior design for 17 years, and she loves using her creativity to design spaces that reflect her clients' personalities and functional needs. Her firm, A. Deckard Interiors, prides itself on meeting challenges, solving problems and coming up with creative solutions.
Susie Edie
Rock Solid Renovations
With 27 years of experience under her belt, Interior Designer Susie Edie knows the ins and outs of both commercial and residential interior design. Edie regularly assists clients of Rock Solid Renovations, the design-build company she works at. As a designer here, Edie coordinates with the project manager and subcontractors, helps clients select finishes and much more. Edie often works as a team with the lead designer at Rock Solid Renovations, Jeremiah Lee. 
Patti Johnson
Former owner of London Crest Interiors
While Patti Johnson is currently retired from the design business, she recently designed her gorgeous jaw-dropping home. Johnson has 18 years of residential design experience, and she says her favorite thing about the art is creating a space all the way from a concept drawn on paper to the very last finishing touches. Johnson has drawn, designed and built four homes in Springfield that range from traditional to country French, formal
French and contemporary. 
Heather Landolt
Decorating Den Interiors
An interior designer at Decorating Den Interiors, Heather Landolt works with a wide range of both residential and commercial clients and regularly helps them all create one-of-a-kind solutions in their homes, no matter what style of décor they prefer. Landolt has been an interior designer for seven years, and she says her absolute favorite part of her job is seeing her clients' excited faces as they look at their newly designed space for the very first time.
Nathan Taylor
Obelisk Home
Lead designer  and co-owner of Obelisk Home,
Nathan Taylor has been designing interiors for more than two decades. Taylor oversees both residential and commercial projects from initial construction plans to finishing interior details. He believes that any space, whether traditional or contemporary, can be warm and personal by adding collected or family pieces into the design. Together with the Obelisk Home team, Taylor executes spaces that reflect the vision and needs of clients. 
Jeremiah Lee, CGP
Rock Solid Renovations 
As the lead designer at Rock Solid Renovations, Jeremiah Lee regularly spends his days working with clients to develop overall conceptual designs of their spaces. Lee has a decade of experience and has perfected the craft of catering to the client's needs in a way that is both functional and aesthetically pleasing. Lee regularly works with designer Susie Edie and the rest of the Rock Solid Renovations team, which can provide complete start-to-finish service to clients. 
Susie Wieland    
Wieland Studio, LLC
As a custom home designer and owner of Wieland Studio, LLC, Susie Wieland loves helping her clients create homes that support their lifestyles. Wieland has 19 years of design experience and offers
services that range from new design to assistance on remodels and additions, and she also offers design for exterior spaces. Wieland has a special passion for adapting historic homes to meet contemporary living styles while maintaining the home's original character.
Whole House Winner


In the living room, Taylor brought in custom-made coffee tables designed by Bridge Blue that were specifically made for this home. "Our goal was to create a space to place books and decorative accessories," Taylor says. "But we didn't want it to feel too closed in or blocky." 
What started as a simple bathtub installation ended up becoming a whole-home remodel for designer Nathan Taylor and his team, but the end result is absolutely stunning. 
"This home was very dark and closed in," Taylor says. "The wife wanted to build new and start over, but the husband didn't want to leave the property." That meant Taylor had to find a way to breathe new life into this home while retaining the original structure. Taylor needed to incorporate the owners' style and love of art in a way that would make the family feel right at home. He had his work cut out for him.
Instead of the polished woodwork that now gleams in the sunlight, the home's large wood beams, flooring and cabinetry were all a yellow oak that made the home look outdated. 
To give the spacious country property a more modern look, much of it had to go. The doors were raised to 8 feet, all cabinetry was replaced on the main floor, hardwood floors were refinished, LED track lighting was installed, skylights were added to the vaulted ceiling and the thick wood beams and ceiling were re-stained a darker, more elegant color. Now instead of an outdated, gloomy home, the space shines with style and warmth.—E.B.
One of the home's central features is the beautiful spiral staircase that connects to the second floor. Taylor had Bearden Carpets carpet the stairs and added extra spindles to make it safer for the couple as they age in the home. Playing off of the dark wood of the staircase is the striking painting done by Karen Schneider. "The piece is absolutely breathtaking in person," Taylor says. 

The family's wine cellar was refinished so that it could be used for dinner parties and wine tastings. Taylor stacked the shelving that used to run down the center of the room to make the storage for the wine bottles along the far wall.
Since the family loves to entertain, Taylor completely restructured the kitchen to make it ideal for playing host. The bar, which was originally two different levels, was leveled and topped with granite. The sink was relocated to the bar, and because it's an entertaining sink, it can be completely closed off and used as a prep area or serving area. And those everyday kitchen cabinets were rebuilt with glass panels to showcase the couple's collection of Italian serveware that has been passed down through generations. "We wanted the cabinets to look like furniture," Taylor says. For a finishing touch, Taylor added new barstools that add a touch of sophisticated style to the room.
To make the front entryway feel more spacious and bright and give guests a sneak peek at the beautiful home inside, Taylor installed wooden doors with glass panels. Now the walk up to the house is even more breathtaking as you catch a glimpse of the art inside. 

Planning around the homeowners' love of playing host, Taylor brought in a large sink that can be easily covered to create a prep or serving station.
To brighten the room, the oak woodwork was painted white. An art hanging system was installed here and around the house to allow the owners to easily change their art without having to repair the walls.
Taylor wanted to showcase the owners' love of  art, so he laid out their collection of art books around the house, including on the table near the entryway.
Since the owners love the outdoors, Taylor installed a large window that looks out on to the property. But all that natural light meant the family needed blackout drapes to accommodate their irregular sleeping schedule.
Kitchen Winner

Kitchen Makeover: Nathan Taylor transformed an old, cramped kitchen into a spacious spot for the family to gather.
It's no wonder this fun and eclectic kitchen has been added to more than 10,000 idea books on Houzz, or that it was featured on Houzz as the kitchen of the week. Bright and spacious, this kitchen is just plain dreamy. But when designer Nathan Taylor first walked in, it was cramped, dark and didn't meet the growing family's needs.
"It doesn't matter how big or how small your house is," Taylor says. "Everyone congregates in the kitchen, but there wasn't room in this house." But by the time Taylor and his team were done working on the room, the family had all the space they could dream of.
To open the room and improve its functionality, Taylor knocked down the load-bearing wall that separated the kitchen and the dining room. New appliances were brought in and rearranged in the space, new hardwood floors were installed, the walls were painted a brighter and more inviting color, and modern light fixtures and a subway tile backsplash were added to give the kitchen a pop of modern style.
The old narrow cabinets that required a force of nature to close were replaced with open shelving that used repurposed wood taken from Obelisk Home. The island features a butcher block top and drawers that can be pushed open from either side, which, with the fact that the whole island is on glides, makes this piece incredibly functional.
Once all the construction was complete, the finished product gives the family the perfect place to gather for dinner, entertain friends or just unwind from a long day. "The owners wanted the kitchen to feel in sync with the original home," Taylor says. "This gives them the style they want with all the modern conveniences they were missing."—E.B.

New and improved: New floors, cabinetry, appliances and a subway tile backspash all helped transform this kitchen into a gorgeous and functional space.

Dog Dining: Thanks to these new dishes, even the pets in the home benefited with the remodel.
Hearth/Family Room Winner

Cozy Up: Sleek tile and modern furnishings make this new hearth room one of the home's most-coveted seating areas.
When their kids were heading off to college, these homeowners wanted to create a cozy space for entertaining, and they looked to Buxton Kubik Dodd Creative's interior designer Brandi Bailey for help. Bailey worked to transform a dated multi-purpose room to an entertainment space for friends and family, and she added a sleek hearth area as a unifying focal point.
Before the space was remodeled, it was used as a catch-all area and home to a fish tank, an air hockey table, a drum set and an artist station. One of the debates for the remodel was having a pool table or dining room to accompany the cozy new hearth area, because there wasn't room for both. But Bailey found a solution to accommodate both homeowners' wants with a dual purpose pool and dining table. The table has an adjustable height and removable sections on top, allowing it to easily transition from a game space to an eating area.
Bailey worked with the homeowners to meet their eclectic tastes and create a contemporary look for entertaining. "One of the homeowners is an artist and had an appreciation for original and local artwork," says Bailey.  "I knew they wanted the space to be fairly sleek and modern, so I let the artwork and fireplace be the feature point in the room with gallery-like lighting." 
While the new hearth area is the perfect space for the homeowners to cozy up and relax on a quiet night in, it also easily transforms into a quiet spot for conversation when the adjoining game area is buzzing with activity. Bailey found a creative solution to combine two traditionally separate areas in a modern and unexpected way, and the homeowners couldn't be happier with the outcome.—K.J.
The hearth area is located adjacent to a game room complete with a pool table and an expansive bar.
Living Room Winner

Wide open spaces: While designing this living room, designer Heather Landolt was careful not to distract from the view of the  golf course.
Sometimes interior designers have to tailor their designs to a well-defined room. But not always. "When we started with this living room, it was a blank slate," says Interior Designer Heather Landolt of Decorating Den Interiors. But that wasn't necessarily a good thing. "Sometimes starting with a blank canvas is actually more difficult than having a piece from which to draw inspiration," Landolt says. "That was the case in here." 
This living room offers a golf course view, and the couple, Ken and Laura Treat, knew they didn't want to distract from the beautiful greens. They also knew they wanted to balance the large windows with proportional furniture pieces, and Laura wanted to make sure that Ken would get his desired contemporary feel without making the space feel cold and austere. "After selecting new paint for the entire home in warm grays, we finally had a starting point," Landolt says. 
They chose a luxurious shag rug to make a statement, and they selected elegant Libby Langdon furniture pieces with beautiful, contemporary feminine lines. They decided to flank the fireplace with a pair of sofas and added extra seating with an updated tufted wing-back chair and cocktail ottoman. And last but not least, they added shimmering champagne pillows and brushed brass accents to soften the room and create a warm glow. "The pillows add a little glam, but we were careful to create an area where guests would feel comfortable sitting down," Landolt says. And aside from adding that bit of glitz, the shimmery pillows serve another purpose: they pick up on the metallic design on the wallpaper in the adjacent dining room. "It's a balancing act," Landolt says. "We were careful to make sure that nothing felt out of place."—S.W.
Let it flow: Shimmery fabrics used on the pillows in the living room (above) help pick up the metallic patterns on the wallpaper and décor.
​
Dining Room Winner

Dine in design: Detailed beam work, a 14-foot ceiling and a custom-designed central fireplace all work together to make this dining room feel open and airy. 
This new construction project was a blank slate for designer and homeowner Patti Johnson. She had a distinct vision in mind—to create an open living space with a cool and serene feel in every room. 
In the dining room, the monochromatic color scheme left all the attention to the space's wonderful features, including the suspended beams. The 14-foot ceiling was chosen to create visual interest in the room, and it also allowed for enough room to hang the statement chandelier over the table. "The beams created visual distinction to the ceiling without closing it in," Johnson says. "Getting the alignment right was one of the challenging parts of the design, but I think it turned out beautifully."
Another one-of-a-kind feature in the room is the suspended open fireplace, which Johnson also designed. It allows for a seamless flow between the living and dining rooms, but still creates a visual block to separate the areas. Continuing with the airy feel of the room, Johnson chose a glass table with low, neutral matching chairs to blend elements of the room together. She wanted the table to float. "This leaves more attention to the art and fireplace," Johnson says.—K.J.
Master Bedroom Winner

Glamorous Retreat: Designer Patti Johnson designed this master bedroom to be calm and inviting, yet still offer major wow factor.
Patti Johnson, both the interior designer and homeowner of this master bedroom, wanted a relaxing space that still had personality and charm. She started with the color scheme, which included all shades of cream, silver, gunmetal and gold. Johnson knew she wanted the bed to be the focal piece of the room, and she planned the space around it. The bed was custom designed and adds a contemporary flair with the magnificent floor-to-ceiling draperies and mixtures of fabrics, textures and colors.  
"I just love the sereneness of all of the pieces and the colors,"Johnson says. "It helps make the room quiet and relaxing, yet you still have some wow factor in the space with the drapes."
To make an even more inviting space, Johnson added a seating area complete with a fireplace that has three sides of glass, glass rocks and a marble hearth. The final touch of the room was the addition of mirrored boxes on the ceiling, fashioning a distinct level of sophistication and drama. The modern and sleek bedroom combines a little glam, a little glitz and a whole lot of style to make it a space fit for royalty.—K.J.
Bathroom Winner

Bathing beauty: Gorgeous woodwork and a free-standing tub complete this bathroom remodel by the team at Rock Solid Renovations. 
While Jeremiah Lee specializes in architectural drawings and planning and Susie Edie regularly perfects interior design finishes, the two Rock Solid Renovations pros regularly tackle projects as a team. That was the case in this remodel work at this home, which was originally built in 1976. The owners looked to Rock Solid Renovations to create a master suite that echoed the architectural styles they regularly enjoy on their travels to Hawaii. But it took much more than just a simple facelift to reach their goal—it also took a bit of restructuring. The project started by gaining additional space, utilizing an unused bedroom and bathroom that adjoined the existing master suite. "We were able to take two small dated bathrooms and two closets and combine them to create the master suite," Susie says.  
After the new space was created, the team got to work making it beautiful. They replaced the space's old 8-foot flat ceiling with a vaulted ceiling complete with exposed beams and wood cladding, and they added a large freestanding tub that greets the owners as they enter. A marble clad Roman shower occupies the opposite side of the bathtub wall, and new casework was designed to create a double vanity, a make-up vanity and a custom closet system complete with a center island. "Now the feel is similar to a classy, tropical-style spa," Susie says. "The clients are thrilled with the outcome."—S.W.
Makeover magic: Two small bathrooms and two closets were transformed to create this master suite, now complete with a double vanity (above), a make-up vanity and a custom closet (below).
Powder Bath

Black meets white: A black tile backsplash contrasts beautifully with the white sink and marble flooring, and the chandelier (below) adds movement to the space.
While redesigning the powder bath in this classic Craftsman-style home, Susie Wieland of Wieland Studio aimed to add a bit of pizzazz to the space. The challenge was to keep the existing shower, and give the entire space some wow factor. "Keeping the shower was part of the client's wish list," Wieland says. "I created the new design based around that wish."
The existing antique iron tub was removed and relocated to the new master bathroom upstairs. The antique pedestal sink was refinished and relocated into the new smaller bath, and a new toilet was set in the space. The existing, previous dark shower was paved with crisp white tile and given a glass door, and a simple marble floor was added to lend a classic, unfussy feel. 
To add a bit of a dramatic effect, the wall behind the sink was paved with small glass tiles in glossy black, and the rest of the walls were painted to match. A polished nickel light fixture with spiky arms was added to the ceiling and casts dramatic shadows in the room, and polished nickel fixtures and hardware give the space a punch. "The new space is the perfect blend of classic and contemporary," Wieland says.—S.W.
Home Office Winner

Durable design: Designed in a herringbone pattern, the porcelain tile in this office has the look of wood but won't be damaged by the rolling office chair or wet foot traffic from the nearby pool.
The owners of this house recently added a pool, and they needed a major renovation to create a seamless flow from inside to poolside. They turned to Interior Designer Andrea Deckard for help. The office had to be relocated, and with not much square footage to work with, Deckard knew that maximizing the space was essential. She created several creative solutions to make this new office work for the homeowners.
Behind the bookcases is a hidden door, which provides one of three points of entry into the room. The bookcases also have filing cabinets underneath, eliminating the need for bulky storage under the desk.
They also added a bay window with additional seating and a set of French doors. "We wanted it to be functional, not just attractive," says Deckard. 
Another unique feature of the office is the beautiful herringbone floor design, which looks like wood but is actually porcelain tile that won't be damaged by wet feet or the rolling office chair. To complement the traditional and heavy European style present throughout the entire home, Deckard also included signature accents like the ceiling pendant, the faux finish of the walls, and the desk with beautiful wrought iron legs and a marquetry wood top.—K.J.
Guest Room Winner

Beach vibes: Shades of green and blue pair with seashells and driftwood to create an ocean-side feel in this guest suite.
Category
Guest Room
Winning Designer
Nathan Taylor, Obelisk Home, 214 W. Phelps St., Springfield, 417-616-6488, obeliskhome.com 
Residence
Anonymous 
Project Goal
Create a guest bedroom that offers a beachy environment and represents the homeowner's love of Nantucket.
Forget about scheduling flights and packing luggage for a relaxing weekend in Nantucket. Just sprawl out in this room, and watch the clouds float by overhead as the clink of seashells transports you to those sandy beaches thousands of miles away.
With the exception of the carpet, the ceiling fan and the bed, designer Nathan Taylor and his team changed everything about this guest suite and transformed it into a relaxing oasis.
"The family loves to vacation in Nantucket, so we knew we needed to incorporate the greens and blues from the ocean," Taylor says. He even had his team paint the ceiling, turning it into a dreamy, cloud-dotted sky. The walls got a splash of warm seafoam green, and chandeliers fringed with delicate seashells hang on either side of the bed to really bring that beach atmosphere into the room. But those shimmering shells aren't just ornamental. When the air conditioning kicks on, the shells gently clink together to create a quiet serenade.
For that finishing touch, Taylor decorated the walls with pieces of driftwood and artwork by Gavyn Sky, and linen pillows and a linen wingback chair were added to add a soft touch.—E.B.
Natural Comforts: When the air conditioning turns on, the seashells on the lamp shades clink together (above). Calming tones and cozy furnishings work together to make the room a relaxing escape (below).  
Instead of working with homeowers who have years of ideas stashed away for when they remodel, designer Nathan Taylor and his team worked on this bedroom suite with a 15-year-old boy and used his love of baseball as the base for redesign.
When Taylor first started on this project, the room was truly an ode to America's favorite pastime. The walls were covered with baseball stitching, and the bunkbed was adorned with tiny handpainted baseballs and bats. While the young baseball enthusiast wanted to keep the baseball theme, it was time to give the room a more adult and masculine style. "We wanted to give him a room he could still enjoy when he's in college," Taylor says. That meant giving the room a new polished look.
The bedding was picked out, wall colors were selected and new furniture was brought in. And while the room got a stylish facelift, that homage to baseball was never ditched. Even the bedding and window treatments, complete with the blue and white ticking and red top stitching, harken back to the glory days of baseball when the New York Yankees reigned over the ball diamond. Taylor and his team were able to knock this project out of the park.
To give the room a more adult style that would last its owner well into college, a large leather bedframe was added, as were an oversized leather chair, end tables and a modern desk. And all those baseball collectables—they were neatly organized on pennants and put on display. Vibrant artwork by Shelly Forbes was hung on the walls, and the closet door was swapped out for a sliding barn door that also serves as a
dry erase board where family and friends can leave notes.
The finishing touch was a massive British flag rug. "He really wanted an ode to Great Britain," Taylor says. "This room is very eclectic, but it's also timeless."—E.B.

Personal Touches: While he gave the room a sophisticated look, Taylor made sure it still spoke to the boy's love of baseball (above). Eclectic furnishings were brought in to complete the space (below).
Resource Listing
Whole House
Winning designer
Nathan Taylor
Obelisk Home 
214 W. Phelps St., Springfield, 417-616-6488, obeliskhome.com 
Furniture
Obelisk Home
214 W. Phelps St., Springfield, 417-616-6488, obeliskhome.com
Paint
Sherwin Williams
4116 S. Campbell Ave., Springfield, 417-885-1300
Sherwin-williams.com
Light fixtures 
Obelisk Home
214 W. Phelps St., Springfield, 417-616-6488, obeliskhome.com
Hardware and Kitchen Cabinets 
Cabinet Concepts by Design
4123 N. State Hwy. H, Springfield, 417-725-3400
Kitchen and bath countertops
Custom Granite and Tile
1445 W. Chestnut Expy., Springfield, 417-864-0999
Carpet
Bearden Carpet
618 N. Stewart, Springfield, 417-883-7669
Home theatre wiring
Wired
417-818-9345
Kitchen
Winning Designer
Nathan Taylor
Obelisk Home
214 W. Phelps St., Springfield, 417-616-6488, obeliskhome.com
Furniture, light fixtures, stone and tile
Obelisk Home
214 W. Phelps St., Springfield, 417-616-6488, obeliskhome.com
Paint
Sherwin Williams
4116 S. Campbell Ave., Springfield, 417-885-1300, Sherwin-williams.com
Hardware and kitchen cabinets 
Cabinet Concepts by Design
4123 N. State Hwy. H, Springfield, 417-725-3400
Countertops
Custom Granite and Tile
1445 W. Chestnut Expressway, Springfield, 417-864-0999
Paint contractor 
Wonder Faux Finishes
4123 N. State Hwy. H, Springfield, 417-298-0296
Floating Shelves
Bruce Burnaugh, 417-872-5749
Hearth/Family
Winning designer
Brandi Bailey
Buxton Kubik Dodd Creative
1435 E. Bradford Pkwy. #100, Springfield, 417-890-5433, bk-dc.com 
Wall coverings, hardware, furniture, light fixtures, plumbing
Available through 
Bailey Company
4940 S. Farm Rd 189, Rogersville, 417-887-6177 , bailey-company.com
Countertops and stone/tile
Unique Tile
1364 Kelly Ave, Nixa, 417-725-5515, uniquetile.com
Visual/audio
ForresterTech
605 N Boonville Ave, Springfield, 417-597-4970, forrestertech.com
Pool table
C.L. Bailey Company, Marionville, 877-258-1963, clbailey.com
Living Room
Winning designer
Heather Landolt
Decorating Den Interiors
1310 N. Kelly Ave., Nixa, 417-882-7509, decoratingden.com
Wall coverings, furniture, area rugs, lamps and accessories
Available through 
Decorating Den Interiors
1310 N. Kelly Ave., Nixa, 417-882-7509, decoratingden.com
Art (above mantel)
Resource Room
1350 Kelly Ave. #5, Nixa, 417-725-4000, Resourceroom.us
Paint
Sherwin-Williams
4116 S. Campbell Ave., Springfield, 417-885-1300, Sherwin-williams.com
Master Bedroom/Suite
Winning designer
Patti Johnson 
London Crest Interiors
1319 E. Republic Rd. # A, Springfield,417-848-0161 
Bed
Sklar Furniture
6300 N. Federal Hwy, Boca Raton, FL, 561-862-006
Nightstand
Alpine Wood Products
614 W. Jonathon Dr., Marionville, 417-258-2584, alpinewoodproducts.com
Chairs
Baker Furniture
319 N Hamilton St, Highpoint, NC, 800-592-2537
Light fixtures
Capital Lighting
7301 N. Federal Hwy, Boca Raton, FL, 561-994-9573
Carpet
The Carpet Shoppe
1827. E Seminole, Springfield, 417-883-6455
Paint
Sherwin-Williams
535 E. St. Louis St., Springfield, 417-862-7483, Sherwin-williams.com
Decorative paint contractor
PHD Painting
723 N. Hillside, Republic, 417-732-7296
Visual/audio
TeoCalli Custom, Dave Schweitzer
330 Southwood Rd., Rogersville, 417-830-9345
Dining Room
Winning designer
Patti Johnson
London Crest Interiors
1319 E. Republic Rd. # A,  Springfield,417-848-0161 
Furniture
Artefacto Home
17651 Biscayne BL, Aventura, FL, 305-931-9484
Hardware
Alpine Wood Products
614 W. Jonathon Dr., Marionville, 417-258-2584, alpinewoodproducts.com
Light fixtures
Light House Gallery
4113 S National Ave., Springfield, 417-889-1088, thelighthousegallery.com
Stone/tile
Tavertine/Southern Floors
1319 E. Republic Rd., Springfield, 417-890-2626
Paint
Sherwin-Williams
535 E. St. Louis St., Springfield, 417-862-7483, Sherwin-williams.com
Decorative paint contractor
PHD Painting
723 N. Hillside, Republic, 417-732-7296
Visual/Audio
TeoCalli Custom, Dave Schweitzer
330 Southwood Rd., Rogersville, 417-830-9345
Bathroom
Winning designers
Susie Edie and Jeremiah Lee
Rock Solid Renovations  
4166 N. 20th St., Ozark, 417-581-8096, buildrocksolid.com
Interior design, plans, cabinetry, construction, hardware and finishing
Rock Solid Renovations
4166 N. 20th St., Ozark, 417-581-8096, buildrocksolid.com
Plumbing
Harry Cooper Supply
536 N. Sherman Pkwy., Springfield, 417-865-8392, harrycooper.com
Light fixtures
Lighthouse Gallery
4113 S. National Ave., Springfield, 417-889-1088, thelighthousegallery.com
Bath countertops
Solid Surface Designs
233 Lambeth Rd., Billings, 417-258-2787, solidsurfacedesigns.net
Carpet
Mouery's Carpet Center
3045 S. Scenic Ave., Springfield, 417-889-8453, Springfieldmocarpet.com  
Stone/tile
Mussino Tile
3045 S. Scenic Ave., Springfield, 417-889-8453, Mussinotile.com
Paint
Spectrum Paint
5739 S. Campbell Ave., Springfield, 417-886-2883, Spectrumpaint.com
Powder Bath
Winning designer
Susie Wieland
Wieland Studio LLC
Springfield, 417-894-2666, wielandstudio.com
Hardware
National Home Products
2726 S. Glenstone Ave., Springfield, 417-731-3220, Nhp-spfd.com
Plumbing fixtures
Harry Cooper Supply
536 N. Sherman Pkwy., Springfield, 417-865-8392, Harrycooper.com
Kitchen/bathroom cabinets, architectural moldings
Rhoads Design & Construction
1435 S. Enterprise Ave., Springfield, 417-889-6000, Rhoadscompany.com
Stone/tile
The Carpet Shoppe
1827 E. Seminole St., Springfield, 417-883-6455, Thecarpetshoppe.com
Appliances
Metro Appliances & More
3252 N. Glenstone Ave., Springfield, 417-833-1113, Metroappliancesandmore.com
Children's Suite
Winning designer
Nathan Taylor
Obelisk Home
214 W. Phelps St., Springfield, 417-616-6488, obeliskhome.com
Furniture, light fixtures
Obelisk Home
214 W. Phelps St., Springfield, 417-616-6488 , obeliskhome.com
Paint
Sherwin Williams
4116 S. Campbell Ave., Springfield, 417-885-1300, Sherwin-williams.com
Paint contractor 
RMK Renovations, LLC
612 S. Montery Ave., Springfield, 417-414-8424
Window treatments
At The Seams
715 W. Pershing St., Springfield, 417-894-3299
Entertainment wiring
Wired Custom AV
Springfield, 417-818-9345
Guest Room
Winning designer
Nathan Taylor
Obelisk Home
214 W. Phelps St., Springfield, 417-616-6488, obeliskhome.com 
Furniture
Obelisk Home
214 W. Phelps St., Springfield, 417-616-6488, obeliskhome.com
Paint
Sherwin Williams
4116 S. Campbell Ave., Springfield, 417-885-1300, Sherwin-williams.com
Home Office
Winning designer
A. Deckard Interiors
411 D Northview Rd., Springfield, 417-831-9300, adeckardinteriors.com
Furniture
A. Deckard Interiors
411 D Northview Rd., Springfield, 417-831-9300, adeckardinteriors.com
Hardware
National Home Products
2726 S. Glenstone Ave., Springfield , 417-581-1260, nhp-spfd.com
Light fixtures
Light House Gallery
4113 S. National Ave., Springfield, 417-889-1088, thelighthousegallery.com
Stone/tile
Midwest Rug
911 W Sunshine St., Springfield, 417-869-3030, midwestrug.com
Unique Tile
1364 Kelly Ave, Nixa, 417-725-5515, uniquetile.com
Decorative paint contractor
Wonder-Faux-Finishes
2350 W. Auburn St., Bolivar, 417-326-8743
Architectural moldings
Cabinet Concepts by Design
4123 State Hwy. H, Springfield, 417-725-3400, cabinetconceptsbydesign.com
Blinds
Blinds Etc
145 E. State Hwy. CC, Nixa, 417-725-4499, blindsetc-nixa.com