DIY
All Decked Out
Local experts share what's available in the wide world of decks and let you know when it's time to upgrade your own.
By Mike Cullinan | Photos courtesy the Renew Crew of Springfield and Branson
Jun 2015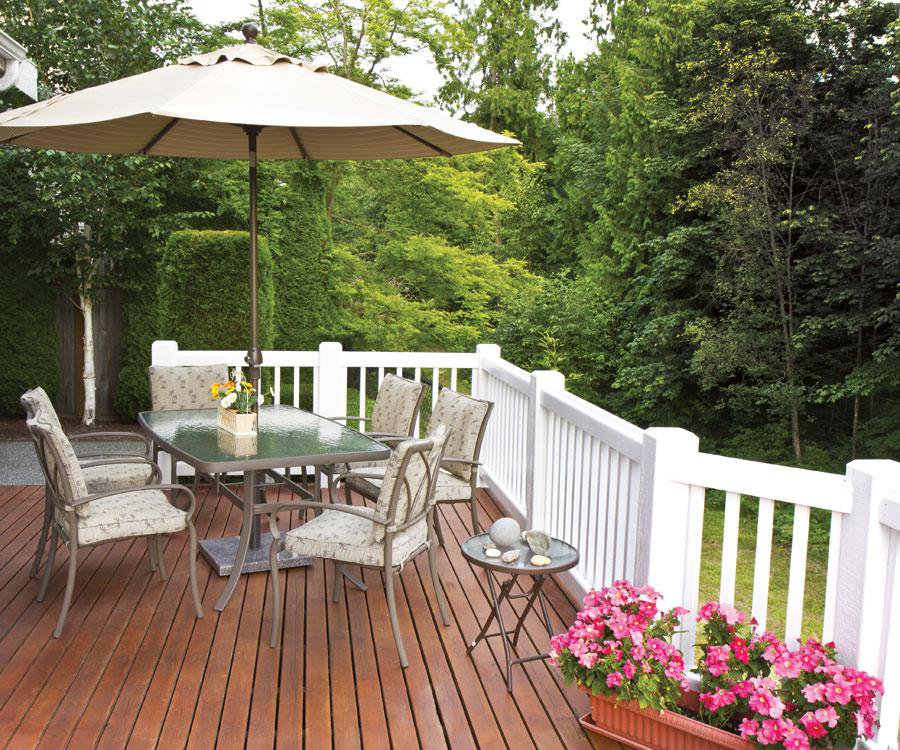 Although many people might only view decks as the main spot where backyard grilling is accomplished, the construction and ongoing  maintenance of the outdoor structure can be a very important financial decision for all homeowners.
Just ask Michael Ormsby, owner of The Deck Company (1700 S. Campbell Ave., Ste. H, 417-818-9494, thedeckcompany.net). Ormsby can attest to the growing popularity of decks, as families are frequenting them. "People are spending a lot of time outside in the late afternoon and evening," he says. Popular features he has seen more and more in the past couple of years have included deck lights, flower boxes and bench seating. "A lot of people are putting money into their backyards."
Treated lumber, cedar and composite are the three options The Deck Company offers to customers. At a cost of $12 per square foot, treated lumber is the most popular option, Ormsby says, with deck prices in the Springfield metro area usually totaling between $3,900—5,900.
Cedar decks cost around $18 per square foot, and composite, which Ormsby refers to as the "Cadillac of decks," costs between $25—35 per square foot. The most expensive of the three, these easy-to-maintain composite decks offer a variety of railings and can be constructed to look more modern than most standard decks, Ormsby adds.
Based on an average deck of 20-by-16 feet, construction by Ormsby's company is typically completed in one to two days. The deck's lifespan is largely determined by how well it's maintained, he says, with 25 years possible with regular upkeep, which includes staining every couple of years.
Maybe you aren't in the market for a new deck because you already have one. If that's the case, you need to make sure to maintain it. Jerry Lesh, owner of Renew Crew (3107 E. Chestnut Expy., Suite M, Springfield, 417-865-9663, springfield.renewcrewclean.com), explains that if the deck is starting to show signs of mold and mildew by turning green on the ends or rails, there's damage being done to the wood. "Also, what we explain to our customers is if you can take a glass of water out and pour it on your deck and it doesn't bead up and actually absorbs into the wood, it's time to have it cleaned and protected," Lesh says.
The amount of time wood lasts before needing to be refinished can vary significantly, depending on the environment it's in. A covered deck might be fine for five to seven years, while one out in the elements and frequently in full sunlight will probably need refinish work every two to three years.
Using a three-step process, Renew Crew initially uses a foam cleaner to kill mold and mildew while breaking up dirt and bringing it to the surface, making it easier to wash away. That allows the company to use a lower water pressure than might otherwise be necessary. A water-based sealer is then used to protect the wood from moisture and the sun's ultraviolet rays.
As a two-day process, Lesh adds, refinishing costs can vary drastically. Low-end structures probably start around $350 to treat, while a very high-end structure could reach $4,000.