Backyard Escape
Complete with luxurious amenities and surrounded by lush forest, this outdoor space is the perfect place to unwind and enjoy the beauty of the great outdoors.
By Savannah Waszczuk | Photos by Brandon Alms
Jun 2015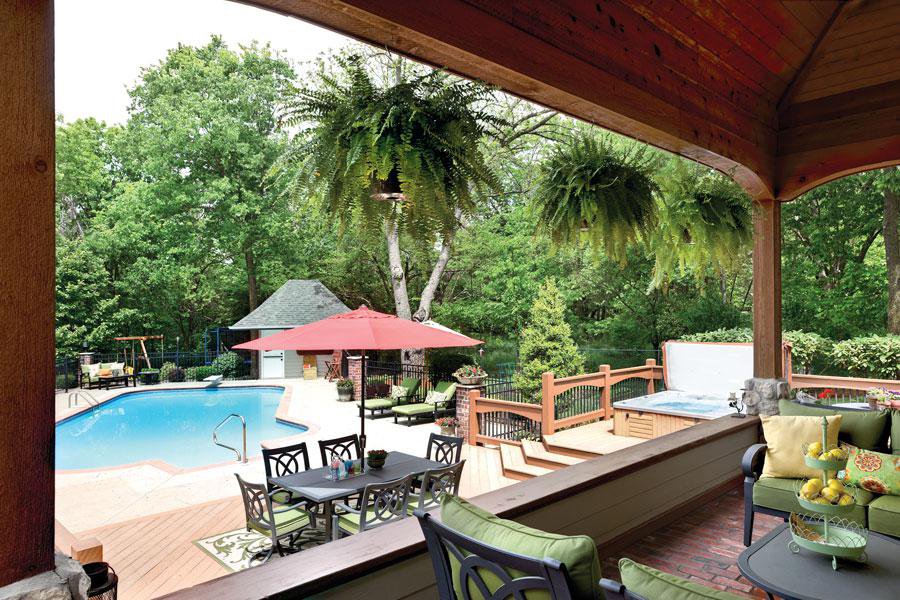 Most people plan a vacation when they're in need of a mini getaway, but Danny and Meg Stephens just step out their back door. This leads them to their gorgeous outdoor space, which is complete with an outdoor family room, a layered deck, a grill and kitchen area, a dining table, a pool, a hot tub and even a play area for their kids, 5-year-old Gavin and 7-year-old Ella. And better yet, since the east Springfield home is neighbored by a couple of empty lots, the entire outdoor retreat is enclosed by woods. "We see deer by the dozen on a daily basis," Meg says. 
Whether the two are taking in the surrounding wildlife with a morning cup of coffee or hosting their family and friends for a barbecue, they are always taking advantage of their outdoor space. "As soon as it stops frosting, we are outside," Meg says. "We use it to entertain ourselves, and to entertain our family and friends. Your whole mood changes when you're out there."