Gardening Above Ground
417-landers Jeff and Rebecca Nickols specialize in creating living-roof birdhouses, which can add a bit of eco-friendly character to your outdoor space.
By Daniel Snyder | Photos by Rebecca Nickols
Jun 2015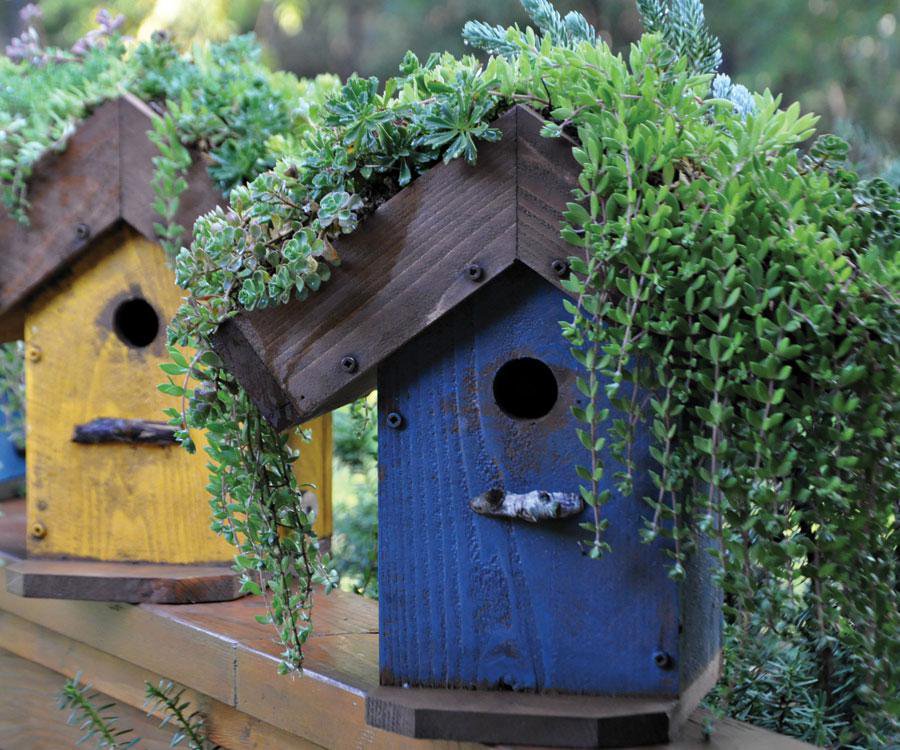 About five years ago, Jeff and Rebecca Nickols decided to explore the concept of a living roof and incorporate it into their backyard garden. The idea itself was simple enough: They would build chicken coops and birdhouses with gardens on their roofs. 
What started as an experiment of sorts was a big success, and it quickly became a side business. Now during the summertime, the Nickolses can be found at the Farmers Market of the Ozarks selling their living roof birdhouses.
"It's a typical birdhouse, but on the roof there's a living roof—kind of a garden incorporated into the birdhouse," Rebecca Nickols says. "It's a small-scale version of green roofs on houses, and it adds a uniqueness to the birdhouse." 
This one-of-a-kind touch is making waves, and not only in 417-land. The couple's hobby side business caught the eyes of editors from Better Homes and Gardens last year, and Country Gardens, owned by the magazine, came out to the their house to do a spread on the living birdhouses. 
The duo works together to create the pieces. Jeff builds the structures out of weather-resistant cedar, and Rebecca designs the gardens by adding a layer of peat moss held down by chicken wire, with plants to the top. "I plant them with sedums and succulents, which are winter-hardy plants," Rebecca says. "You can leave the birdhouse outside, and the plants come back each year," Rebecca says.
Aside from being attractive and  adding even more charm to your backyard, the living-roof concept has a number of benefits for the feathered inhabitants. "The green roof on the chicken coop adds a layer of insulation to the coop and keeps it cooler in the summer and warmer in the winter," Rebecca says. "It also allows for another area for another garden, especially if you are limited on space. And they're just cool." 
The couple sells the birdhouses, completed and ready to be hung up, at the Farmers Market of the Ozarks May through July for $45 to $50—plants included. They also sell them online at rebeccasbirdgardens.com without plants, but with instructions on how to plant succulents and other species. 
The birdhouses come in a variety of sizes and styles, and Rebecca says they attract native birds that normally build nests inside tree cavities including wrens, chickadees, nuthatches and bluebirds. 


The living-roof greenhouses are a great way to turn a boring old chicken coop or birdhouse into a stunning garden.
Inspired by the success of the birdhouses, the Nickolses even built a living-roof chicken coop. And although they haven't built and sold another chicken coop, the birdhouses keep them pretty busy. Rebecca says almost anything can have a living roof given the right requirements. You just have to use your imagination. "The possibilities are endless," she says. "You just have to have a sturdy structure because the roof is so heavy with the soil and the plants. You could incorporate a living roof to a garden shed, a dog house or anything like that if you wanted to."