DIY
Going Against the Grain
One Springfield creative aimed for both function and aesthetics when he built his own distressed wooden bookshelf.
By Ettie Berneking
Jun 2015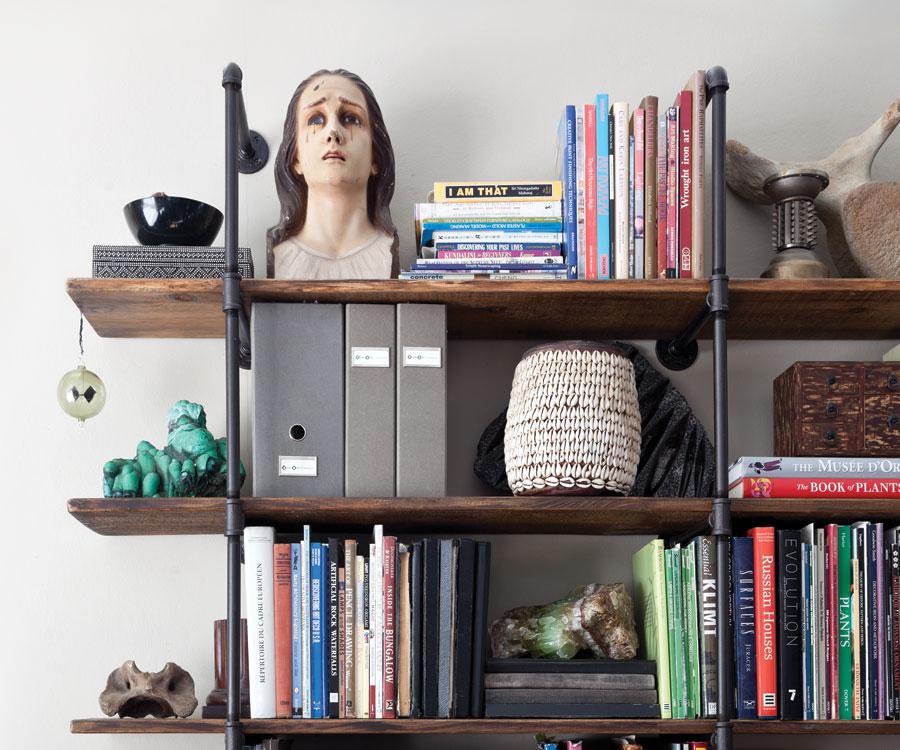 When it comes to decorating homes, there are two types of people: those who have an idea and go out to buy a finished product, and those who have an idea and are inspired to make the finished product. Mark McDowell is the latter. 
McDowell is a designer. He creates high-end furniture, lighting and accessories for his business, Mark McDowell Design. But not all of the sketches that are scattered around his studio are work-related. Some of them are just for fun, like the sketches of the massive bookshelf he installed in his studio. "I wanted more of an antique look," he says. And that's exactly what McDowell got.
Made with painted black piping and 12-foot long spruce boards, the bookshelf is as much an art installment as it is a functioning piece of furniture. Loaded with art books, fossils, turtle shells, amethysts and geodes, the shelf is stunning.
With its bare hardware and simple distressed boards, the bookshelf might look easy to make, but it took McDowell months to finish the shelf. Turns out that the hardest part was getting all the pipes he needed. Now you can build your own bookshelf thanks to some useful insight from McDowell.
 
---

Supplies
Stainless steel piping
Lacquer thinner
Metallic bronze spray paint
Elbow wall mounts
T pieces
Latex paint
Spruce boards (cut to size)
Wood stain
Directions:
1. First, you will want to remove the grease that coats the stainless steel pipes. To do this, scrub each piece with lacquer thinner.
2. Once the grease and oil are removed, spray the stainless steel pipes with metallic bronze spray paint. (Choose the color you prefer. The spray paint helps prevent the pipes from rusting.)
3. Paint the galvanized wall mounts and fittings with a coat of latex paint. Once that dries, spray paint them with the same color you used on the pipes.
4. Assemble the pipes based on the height and width you've designed for the shelf. The key here is to not tighten the pipes all the way. If you tighten too much, you won't be able to easily adjust the shelves.
5. Sand and distress the boards to your liking, and then stain.
6. Slide the boards into place.
Sitting Pretty
Interior designer Kel McDowell shares ideas for arranging your bookshelves into their very own work of art.
1. Put some books in your case as you traditionally would, and then flip some stacked books on their sides with their spines facing out and use them as risers. Put your favorite belongings such as vases, sculptures or objects of art on top of the stacked books. Have fun, and be creative!
2. Vary shelf heights to create diversity. It allows for varying sizes of objects and books to be displayed, which keeps the display interesting. 
3. If you have a collection of like items such as wine bottles, birds or whatever your passion is, shelves are the perfect opportunity to showcase your beloved belongings. Use the books and your objects in a harmonious grouping.
4. I once had a client who wanted to view her children's art over the years, so I used their bookshelves as a mini museum. Consider displaying photos of your children at the age they were when they did the art, and include them intermittently with their books and other small objects in front of the art.  
5. If you are going for a clean and contemporary look, customize your book jackets in all one color, or get great art papers from your local art or hobby shop to cover the jackets. This results in a very stunning display. I once saw book jackets covered in all blue and white on display, and it was striking.  
6. Light. Light. Light! Spotlights, rope lighting or even a battery-operated stick-on light will work. Your eye cannot help but be drawn to your display when it is featured with light from above.
7. Use your collectibles as bookends.