Gardening
Seed Savers
Grow your own food and pay it forward—all with a simple swipe of a library card.
By Rose Marthis
Jun 2015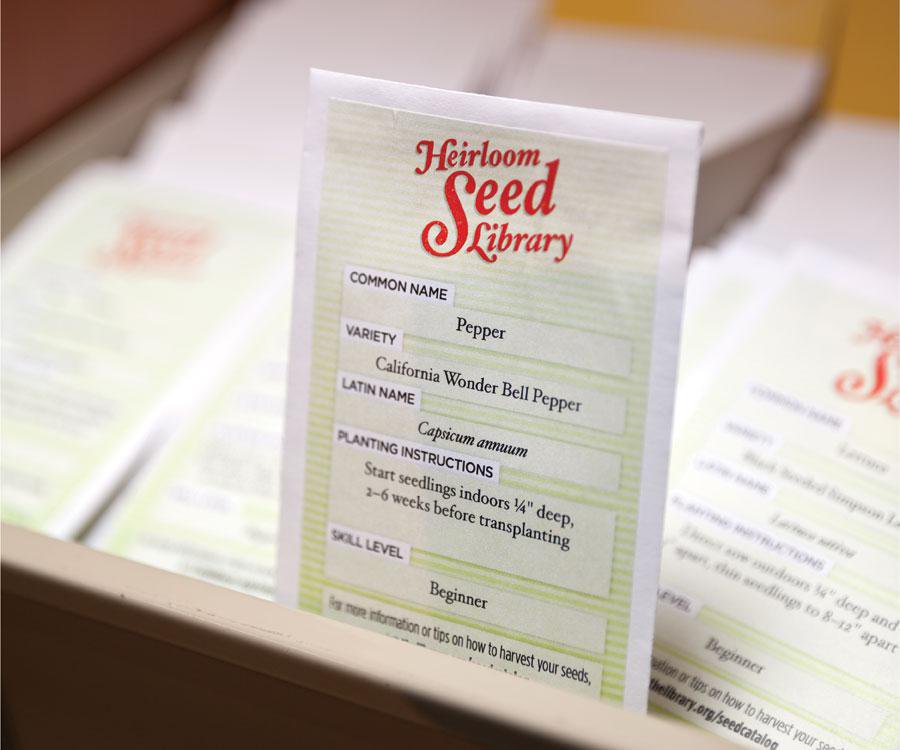 Welcome to the library: where you can check out books, videos, music and, now, gardens. 
Thanks to the new Heirloom Seed Library that was started by the Springfield-Greene County Library, patrons can borrow seeds to plant at home. The seed library, displayed at both the Midtown Carnegie Branch Library and Library Station, has everything from vegetables to herbs and flowers. All the seed packets are free and can be checked out with a library card. 
"The response has been extremely positive," says Gina Walden, the circulation manager for the Midtown Carnegie Branch.  The library has even partnered with the Master Gardeners of Greene County, the Springfield Herb Society, Friends of the Garden and Springfield Community Gardens to provide resources to the public. The heirloom seeds are donated from several companies, including Seed Savers Exchange, Southern Exposure Seed Exchange, The Seed Guy and Baker Creek Heirloom Seeds. 
Baker Creek is based out of Mansfield, Missouri, and ships rare seeds all over the country. Kathy McFarland, media relations contact for Baker Creek, says the company is no stranger to donating seeds, having donated to more than 100 seed libraries nationwide. "When you request seeds from us, we look at location and pick out seeds that you maybe don't already have and what will grow best in your area," she says. 
To catch the interest of gardeners of all skill sets, the seed library is sorted into beginner, intermediate and advanced categories,  and each crop is placed into its level of growing difficulty. There are also reference materials on seed saving to help members learn how to return seeds to expand the collection next year.  
"The program is educational, recreational, and a practical skill," Walden says. "We are helping carry on the traditions of the generations who have saved seeds." 
Walden says growing and saving seeds isn't limited to outside gardens. She has already directed a handful of program users to advice on growing vegetables and herbs in containers and indoor gardens. 
McFarland says heirloom seeds are great for beginners as well, and she has some tips: Understand the history and process of heirloom seeds, start small to avoid being overwhelmed; and take good notes to adapt your approach next year. 
In addition to borrowing seeds, patrons can attend programs held by the library to ensure a successful harvest. These programs, running March through September, cover everything from planning your own garden to keeping herbs through the summer and saving seeds correctly. 
For more information on the Heirloom Seed Library and to find programs to attend, visit thelibrary.org.