Designers
Everyday Art
Meet three local potters whose art is as functional as it is beautiful.
By Julie Sedenko Davis | Photography by Chuck Travers
Jun 2016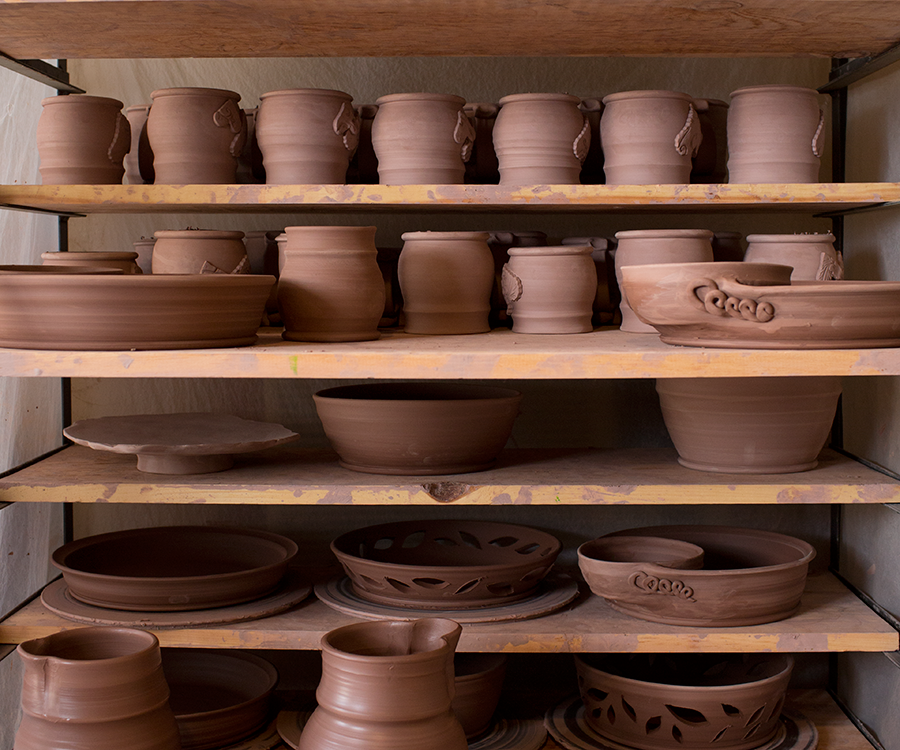 Most of us have or have had a special mug. Usually, they're only special to us (or maybe other dachshund lovers). But there are cups that are obviously special to anyone who sees them. Cups or entire place settings. Platters. Vases. Almost anything. Their value isn't in witty sayings or sentimental pictures but in the skill with which they were created. Skill honed over a lifetime by an artist who shapes each piece by hand, then painstakingly sees it through to artistic completion. These artists are potters who show passion in everything they create.
---
Art
 

Entrepreneurs
Job loss led to a new (better) life for one local couple.
 

In addition to being a potter, Hue Parnell is a teacher at Creava School for the Arts where he and his wife, Marla, share their love of the arts with students.


Hue and Marla Parnell had good jobs; he worked for an electrical company, and she worked in advertising. Then the recession happened. "We both lost our positions, went home, looked at each other and said, 'Now what?'" Hue says.
Hue and Marla had always been active artists in addition to their day jobs. Marla is an award-winning portrait painter; Hue's passion is pottery. Over the years, they collected kilns and wheels, hoping to one day open an art school. The time was finally right, and together they started Creava School for the Arts. Their focus is on the individual. "We build programs around the students," he says. "We try to figure out things that can incorporate into your life and become part of who you are."


​Creava was just the Parnells' first business. "If you're going to be a professional artist, you're going to have to wear a lot of hats," Hue says. Together the Parnells created four unique businesses built around their passion for art. 
Hue and Marla's personal creations are sold through their business, Parnell Studios. They travel to several national shows and also sell art online. Hue wants his pieces to be artistic and useful. "I make all kinds of functional works," he says. "Syrup pitchers to bread bowls and yarn bowls, mugs. [I've] sold thousands of pieces over the years," Hue says. He also makes larger items like lamps and popular water features. "Water features are a big seller for me," he says. "I can't make them fast enough." 
In addition to being an artist, Hue pastors a small church near Lebanon. "We were attending a conference each year and people asked for communion sets," Hue says. Soon, he was at the potter's wheel creating communion sets, baptismal fonts, foot washing bowls, pitchers and other church needs. Another business, Faith Vessels Pottery for Worship, was born. 



Their final (so far) business came out of the unfortunate reality that everything breaks down at some point. Even kilns. Fortunately, Hue Parnell knows how to fix them. The pair created KilnDoc to service the kilns of private potters and public schools. 
The Parnells don't believe a person has to be born with artistic skill. "Everyone has this innate ability and desire to make things," Hue says. "People like to paint, draw, take photographs. Our job here is to open those doors of possibilities for them," And the Parnells are still learning. "It's the journey and not the destination," Hue says.
---
Coming Full
 

Circle
A childhood fascination becomes a grown-up career.



Jennifer Farr's specialty is her ability to mix glazes to create striking combinations of blues, greens and browns.
As a child, Jennifer Farr used to watch the Silver Dollar City potters in awe. By the age of 12, she enrolled in her first pottery class at Springfield Art Museum. "I fell in love with clay," she says. She continued taking pottery classes in high school.
After graduating, Farr became a potter's apprentice at Silver Dollar City. There, she learned how to throw production, or make multiples at one time. "A dozen or more within the hour," Farr says. She would throw her clay over and over again, striving for consistency. Soon, Farr opened her own studio, J. Rae Pottery, in Marshfield. "Been throwing pots here ever since," she says.
There's something about pottery that's different from any other art form. "I like the feeling of it," she says. "With the touch of a finger, you can change the whole look of the object," Farr says. 
Customers say Farr's specialty is color. She mixes her own glazes. "Right now I have a favorite color scheme: cobalt blue, dark green with butterscotch in the middle," she says. Teal and purple are her other favorites. "When it overlaps, it makes a nice, light blue," she says.
Farr makes some of everything. Her dinnerware sets are popular. "Every day you can use it," she says. "Everything is oven-, microwave- and dishwasher-safe." Other popular items are baskets for fruit or bread, batter bowls for cooking or serving, vases and hanging baskets for plants and flowers.



Jennifer Farr turned a childhood fascination with pottery into a full-time career as owner of J. Rae Pottery.

And while Farr has gone on to receive the honor of being a "Best of Missouri Hands Juried Artist," she still makes her way to Silver Dollar City every year. "I've made the full circle and go down there and do the cowboy fall harvest festival," she says. "I demonstrate and sell pottery." 
Farr has also come full circle in sharing the craft. Once a student, she is now at the front of the classroom. "I go into the Marshfield schools and teach," she says. "This year, I've done something with the second, third, fourth and fifth graders—anything from pinch pots to slab projects to coil pots." 
Farr's full-circle journey has been the right one. After all these years, she still enjoys the craft. "It's not work when you get to do what you love to do, and people support you by buying your artwork," she says. 
---
Painter to Potter
A local artist channels her painterly passion through pottery.



Some customers say Brame's pieces, like this Japanese tea set, are almost too beautiful to use. 


Burnout. We've all felt it. For some it can lead down a dark path. For Angel Brame, it led her to the right one.
Brame took her first painting class at 7 years old. From then on, she was always painting something. A full-ride scholarship led to an Associate of Arts degree in fine arts with an emphasis in painting. "I moved to MSU to finish my BA, thinking I might go to teach on the high school level," Brame says. But while in school she lost the desire to paint. "I quit," she says. 
Leaving art altogether, Brame instead pursued a degree in human resources. Years later Brame found herself in Nathan Falter's pottery class. "I lasted about 18 months before he kicked me out and said, 'Go finish what you started,'" she says. Brame enrolled in Missouri Southern State University, earning a second bachelor's degree in studio arts. This time was different. "I'm working seven days a week with clay—no burnout," she says.



Brame can produce multiple pieces, like these bowls waiting to be glazed, in a short amount of time.

Brame realized she needed more than a flat canvas to fulfill her creativity. "For me, I could turn that initial desire to paint and apply it to all of my surfaces, whether it's a coffee mug or a large wall hanging," she says. "I can use my pieces as canvases. It opens up so many more possibilities." 
Brame classifies herself as a production potter. "I can throw 16 cereal bowls in about an hour," she says. "I have worked really hard to pick up that skill." Brame pays close attention to quality. "I do treat my pieces like canvases. I don't just slop a glaze on them and call it good." 
Customers sometimes tell Brame her work is too pretty to use. She responds: "You can. It will survive your coffee. It will survive your spaghetti. Don't let it collect dust. Use it." Brame believes people who use the pottery they've purchased are more likely to support the arts. "There's something very human that can be said for drinking your morning coffee out of something that was made by human hands," she says. 



Each of Brame's pieces is treated like a canvas with an artfully applied glaze and carefully selected colors.

If you've never used pottery before, Brames suggests starting your collection with something simple. "Start with what you like," she says. "Do you always eat ice cream? Buy an ice cream bowl. Start with something that's already routine in your life. It might just spark a love of something one of a kind."