Gardening
No Bugs, Naturally
Keeping bugs away this summer doesn't have to involve harsh chemicals. One local company is fighting the bite by creating an organic treatment to keep pests at bay.
By Julie Sedenko Davis | Illustration by Heather Kane
Jun 2016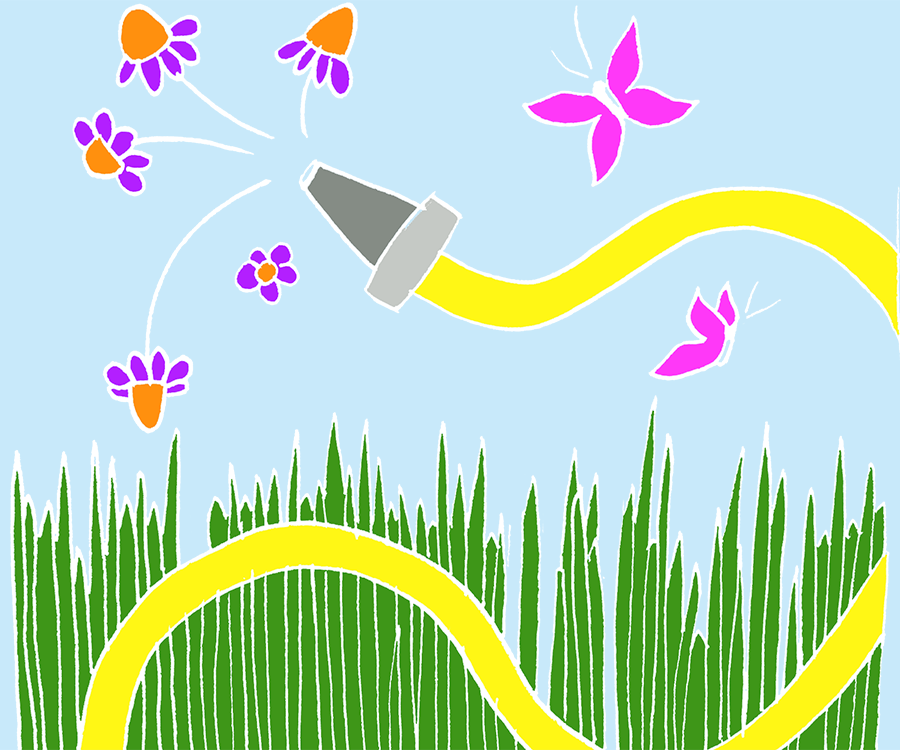 It's just awkward. You're swimming in the backyard, having a great time, and then you realize something's bitten you under your swimsuit, and you just gotta scratch right there. 
Mosquitos, chiggers, fleas… they're enough to make a person want to stay inside all summer. Plenty of people have resigned themselves to bites or to the harsh, even dangerous chemicals used to keep pests at bay. But there is another option: an organic treatment that works and is safe. 
Kyle Jessen and his son, Austin, are owners of Organic Outdoors. Kyle says the best—and only—product they use has cedar as an active ingredient. "Cedar will suffocate bugs," Kyle says. The cedar product works on mosquitoes, ticks, fleas, chiggers and spiders—everything except bees and butterflies. It may sound too good to be true, but Kyle says they have customers who are raving fans of the results.
"It's a USDA food-grade type of a product, so there's no chemicals."
— Kyle Jessen, owner of Organic Outdoors
Terry Conner is one of Kyle's raving fans. "There's very few people I rave about and recommend wholeheartedly, but he's one of them," Conner says. Still, it took seeing for Conner to believe. "I had my doubts, to be real honest," he says. His wooded backyard and pool were a perfect breeding ground for mosquitoes. For Conner, chemicals weren't an option. "We have animals and grandkids, and we never wanted to have the pesticides," he says. 
That concern was valid. "If you have children playing out in the yard or dogs and they come in and start licking their paws or putting hands in their mouths, they're getting those chemicals in their bodies," Kyle says. With his treatment, that danger's gone. "It's a USDA food-grade type of a product, so there's no chemicals," he says.
When Conner's backyard was chosen to be the setting for his son's September wedding rehearsal, he decided to call Organic Outdoors. "He came out and sprayed, and I didn't see another mosquito the rest of the year," Conner says. "I became a believer at that point." 
Organic and chemical treatments cost about the same.  Organic Outdoors charges $50 for a typical third-acre front yard and backyard. The treatment does need to be done more often, about once a month. "Your tradeoff is that you're going all natural," Kyle says. 
For Conner, the tradeoff was worth it. "The organic was very appealing," he says. "It's effectiveness that keeps us going back to it." Effective at keeping bugs—and awkward moments—away.