Home Profiles
Nola Shivers's Home
Take a look inside the home of Nola Shivers, owner of Decorating Den Interiors. She describes her style as a bit traditional, a bit transitional and even a little bit eclectic.
By Savannah Waszczuk | Photos by Brandon Alms
Jun 2016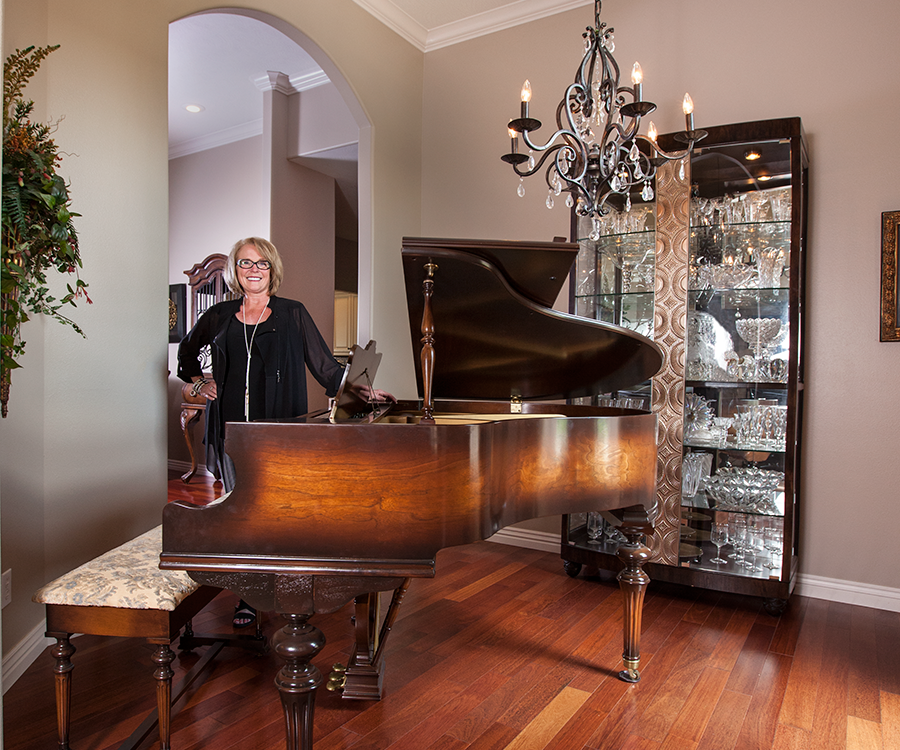 Sentimental Space
"This piano is one of my very favorite pieces," Shivers says. It's a baby grand that dates back to the 1930s, and it was a gift from her husband, Pat, when the couple moved to Springfield in 1985. The piano room was formerly a dining room, and it is also home to a Bob Mackie cabinet holding a collection of glass and crystal pieces that were given to Shivers over the years. "I guess you would say this is my sentimental room," she says. 
Dine in Style
The dining room table expands to seat 12, which is perfect for when the Shiverses host their family and friends for dinner. "It's a very functional space," Shivers says. An oil painting that features sailboats on the water is a new addition to the room, adding both color and a bit of a personal touch. "I love anything to do with the water," Shivers says.
Master Makeover
Shivers recently redecorated the master bedroom. "I wanted the room to feature neutrals, creating interest with lots of textures and patterns," she says. The room's inspiration began with the bed scarf fabric. "I used this fabric for a cocktail ottoman for a client and fell in love with it," she says.