Advice
Tile Talk
We visit a construction site with local tile pro Randy Halmagyi to learn about the process of laying tile, a task that includes much more than meets the eye.
By Savannah Waszczuk | Photos by Kevin O'Riley
Jun 2016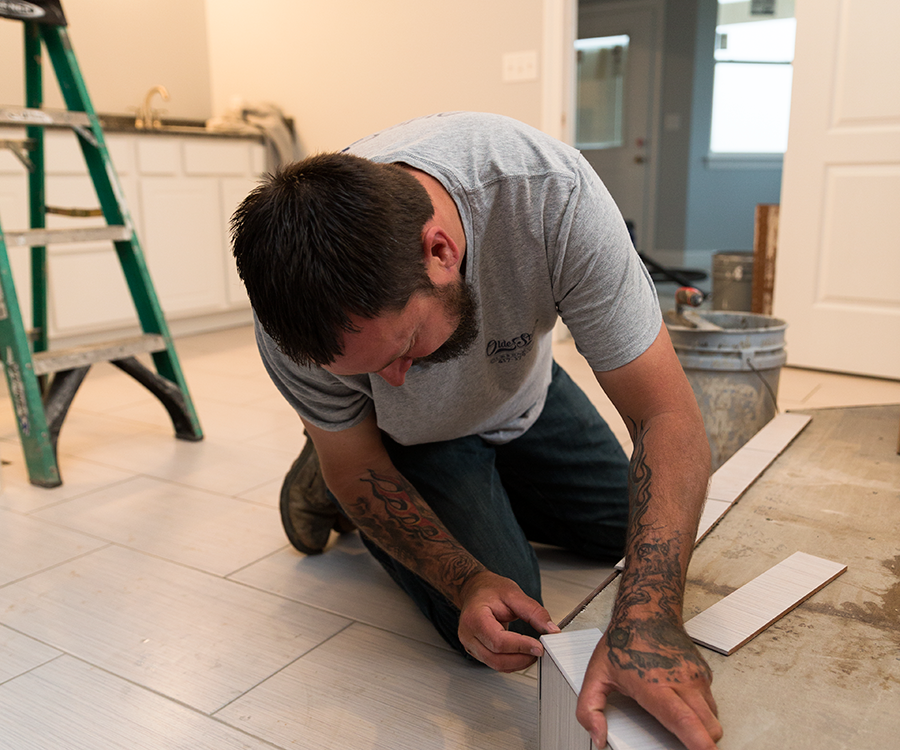 Imagine walking into your dream kitchen, or stepping into that custom shower that you've always wanted. What do you see? Chances are, you're noticing those tiles that sparkle their way across the kitchen floor, or that intricate tile accent that brings sophistication to the shower. But do you ever wonder how it all came to be? Enter Randy Halmagyi. As the owner of Olde Style Tile & Hardwood (Springfield, 417-379-5077) Halmagyi is a tile guy, and laying tile floors is a craft he's truly mastered over the last 23 years. 
You'd probably think Halmagyi spends his days on the floor, laying tiles and scraping grout. And he does—sometimes. But he also does a whole lot more. Read on to learn everything you never knew about laying tile, plus a few of the dust-covered details it takes to get them all in place.  


Getting Started
Halmagyi's job actually starts long before it's time for elbow grease to come into play. "After someone messages me with a request, I'll usually meet them at their house and do a walk through," Halmagyi says. "I really need to be able to visualize the space and see the colors. It really helps me get ideas." He also later returns to these sites to measure them out, making sure he's prepared to order the right amount of product to deliver the customers' request. Sometimes these requests are rather simple, and customers just have to pick the color and style of tile they want. But they can also be much more detailed, like when Halmagyi creates custom backsplash designs for kitchens or showers—a task that he enjoys as it allows him to exercise the artistic side of his brain.  
Next Halmagyi heads to Missouri Tile (3045 S. Scenic Ave. #100, Springfield, 417-889-8453, missouritile.biz) to pick out the products. He's also the one who provides clients with estimates, and the one who approves all of the products with the clients. "My tile crews don't want the headache of meeting with people," Halmagyi says of the team of eight guys who work for him. "I'm the face of the company, basically. I handle all of the customer interaction." 


On the Job
Rather than Halmagyi hauling all of the products to the different houses, Missouri Tile delivers them to each jobsite so they're ready and waiting when Halmagyi and his crews arrive. These jobsites are almost always homes in 417-land and are always buzzing with activity—with electricians fiddling with lights, plumbers installing pipes and all other types of professionals running around. "We see a lot of the same people from job to job," Halmagyi says. 
A typical workday starts around 7 a.m., and the first step of every project is always cleaning the site. Both new construction home sites and remodel home sites are very messy places, and something like a dusting of insulation or a pile of drywall dust can completely ruin a job. That's why the cleaning process is thorough, with Halmagyi and his crew members crawling around with sponges to make sure the area is pristine before they proceed. 
Next comes laying the underlayment, which is cement board for tile (Halmagyi and his crew also install hardwoods, which take a different underlayment). Once that's glued and nailed, the space is ready for the actual tiling process, where slow and steady hands help complete a job well done. And last comes the grout, which Halmagyi always looks forward to. "The grout is always my favorite part because that means I'm about to get paid," he says with a laugh. But with more than two decades of experience under his belt, he's also learned to appreciate the grout process for its finishing touch. "It makes the space look complete," he says. 
The team from Olde Style Tile & Hardwood may spend two to three days installing a custom shower, and they might spend one day installing a tile floor. But since the crew is seasoned, they often cruise through the work without many mistakes, so the length of any project really depends on the size of the house. "We can be at a house for a week, or we can be there for three months," Halmagyi says. "We're usually at the average house in Springfield about seven days." And whether they're simply installing tile in one small bathroom or the tile and hardwood for an entire 6,000-square-foot home, Halmagyi says he's happy. "There's no job too small," Halmagyi says. "I just feel that I'm blessed, very blessed. I thank the Lord to be in a city that's busy, and I'm glad that I can keep all of my crew busy, too."