Gardening
Build Your Own Raised Beds
Get the inside scoop on building your own raised beds for gardening this season.
By Rose Marthis | Illustration by Ryan Saunders
Jun 2017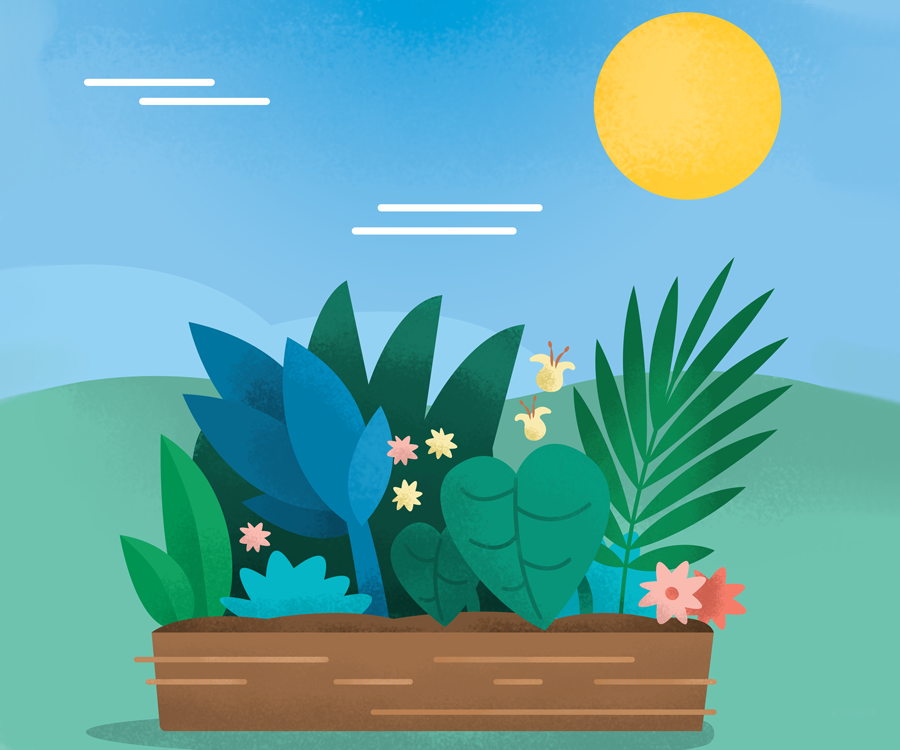 Whether you're a garden veteran or a total novice, raised beds are a great way to grow your veggies, herbs and flowers. Raised beds allow you to control the size of your garden and keep rogue weeds and pests away from your plants. Matt and Cassie Darst are 417-landers who have been building their own raised beds for their gardens for nearly a decade. Cassie shares her experience with this gardening method and what she's learned over the years so you can start your own raised bed plots this season. 
The first beds the couple made were built with railroad ties, Cassie says. "They were shallow but sturdy," she says. "We found that you could not plant things close to the rails because the creosote used to treat them would also kill plants." This prompted them to switch to cedar, and the gardens have been successful ever since. Over the years, Cassie estimates she and her husband have built more than 20 beds to house greens, tomatoes, beans, carrots, cucumber, asparagus, zucchini, squash, pumpkins, radish, eggplant, artichoke, peppers, onions, watermelon, cantaloupe, flowers and herbs.
Cassie recommends starting small and expanding the beds over time. Do your research for different planting methods and the planting needs of the crops you want to grow. Before building your beds, consider the water drainage of the site, spaces, material used between your beds and what you want your soil mix to be. The Darsts use a soil-less mixture that is one third peat moss, one third vermiculite and one third compost. "The medium you choose to use in your boxes will affect your weed control and water retention," Cassie says. "By using a mixture of vermiculite, peat moss and compost, you create a rich, organic base free of weeds [that has] high water retention." To keep grass from invading your beds, Cassie suggests mowing the grass in between beds with a bag on the mower or creating a grass-free space by filling it with pea gravel or mulch. And though kits are easy to find in stores, Cassie cautions against tongue and grove raised bed kits because of her experience with ants destroying the connection and causing dismantled boxes in a couple of years. "Ever since we've built our own, we haven't had any trouble with them," she says. 

---
Build Your Own
These directions are for a bed measuring 4"x12" x 1.5" Your bed should be shallow enough that you can reach the middle from all sides.


Materials
Six 12' x 1.5" x 12" cedar boards
One 6' x 4" x 4" cedar post
Stain and sealant mixture for the outside of the box (optional)
One box of 2"deck screws.
Enough weed barrier or cardboard to cover the interior of the box
 
Equipment
Miter saw
Screw gun 
Drill
 
Steps
1. Cut two of your boards into four 4-foot-long boards. These are the end pieces. 

2. Cut the 6' x 4" x 4" post into 2-foot-long sections. These are the interior corners of the box. 

3. Stain and seal the exterior of your boards now if you choose to do so. If you like the look of naturally aged cedar, skip this step.

4. Start at one corner of your box and attach one 4-foot board to the side of the 2-foot post using deck screws. Attach another 4-foot board to the post on top of the first 4-foot board. Pre-drilling holes makes this task easier and makes your boards less likely to split. Make sure the top of the top board is flush with the top of the post. There will be excess post at the bottom—this will be buried in the ground and will keep your bed from shifting when planting.

5. After you have attached the 4-foot boards to one side, attach the 12-foot boards to the other outside edge of the post so they form a right angle. Attach the boards one on top of another.

6. After you have attached the 12-foot boards, attach another 2-foot post to the other end of those boards and repeat steps 4 and 5 until you have completed your box.

7. When choosing your site, make sure the ground is level. Cover the area with weed barrier or layers of cardboard to prevent grass or seed from coming up from the bottom. Dig holes for the four corner posts or tap them into the ground if it is soft. 

8. Mix your planting medium on a large tarp in small batches to make sure it is well mixed. Water the mixture as you combine so it expands.

9. Fill your box with your mixture and water thoroughly. 

10. Plant and enjoy.