Featured Homes
Dave & Christina Litherland's Hearth Room Overhaul
Always up for a change of pace, homeowners Dave and Christina Litherland overhauled their hearth room and created space for plenty of handmade contemporary touches.
By Claire Porter | Photo by Dan Rockafellow
Jun 2017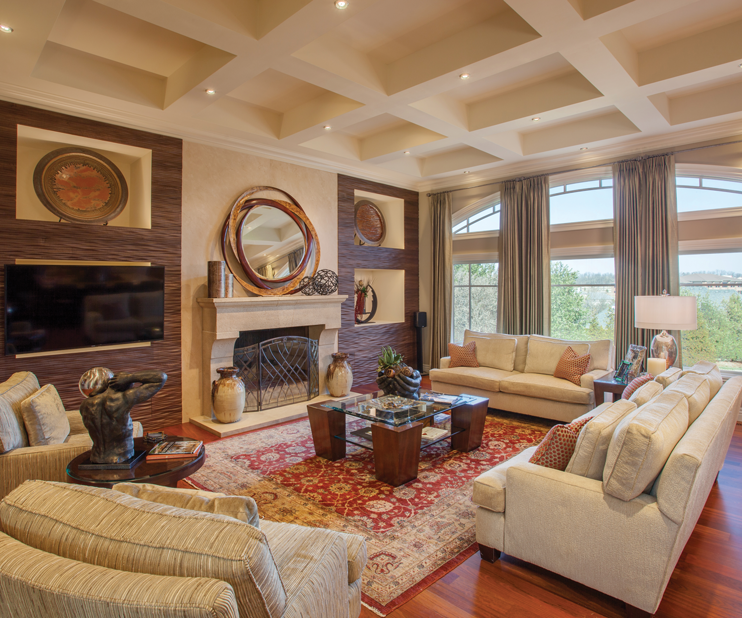 Dave and Christina Litherland love changing things up. That's why 11 years ago when they built their custom home with Gary Herman of Herman Custom Critical Homes, they knew their work wasn't done. "We're kind of predisposed to change," Dave says. Over the past few years, the couple and the homebuilder have remodeled, renovated and updated several rooms in their Springfield home, including their combined kitchen and hearth room. Herman served as the contractor, and at the recommendation of several friends, the homeowners called on Lisa Clary, a designer with Kim Wood Designs, to breathe life into the renovated space. 
The Litherlands started doing their research and gathering inspiration to bring to Clary. "We like contemporary design, but we wanted something more transitional so that it would tie in with the architecture of the home," Dave says. "The hearth room was a flow-through of the kitchen design," Christina says, so the design had to work with connecting rooms. Fortunately, the room's statement structural elements—like the fireplace, the wall of windows and the coffered ceiling—were already in place. Clary, who also designed the kitchen, worked within that structure to tie the hearth room to the rest of the home and to the homeowners' tastes. "She does a great job of learning your style and tailoring what she finds to that," Christina says. For example, plenty of plush, oversized seating creates a comfortable and open feeling suited to the family's need for a relaxing gathering space. 
Despite its casual feel, the room isn't without luxurious touches. The floor-to-ceiling porcelain tile surrounding the fireplace came in two massive 10-foot slabs. The textured dimensional wood paneling—the homeowners' favorite element in the room—creates a warm contrast in color and texture to the tile fireplace surround. The cutouts in the wall became the perfect place to highlight massive handmade clay platters made by local artist Jed Schlegel. Another local artist, furniture-maker Jack Laster, took the homeowners' designs and created the one-of-a-kind sculptural glass and wood-column coffee table in addition to creating the breakfast table in the adjoining kitchen and several other pieces scattered throughout the home. 
The Litherlands love their renovated space, but it hasn't quite scratched their itch for change. With help from Clary and Kim Wood, they've already moved on to their next project: renovating their master bathroom.