Trends
Why Go Solar Now
Budget-savvy homeowners take note: Solar energy is becoming more popular and more affordable.
By Ettie Berneking | Illustration by Ryan Saunders
Jun 2017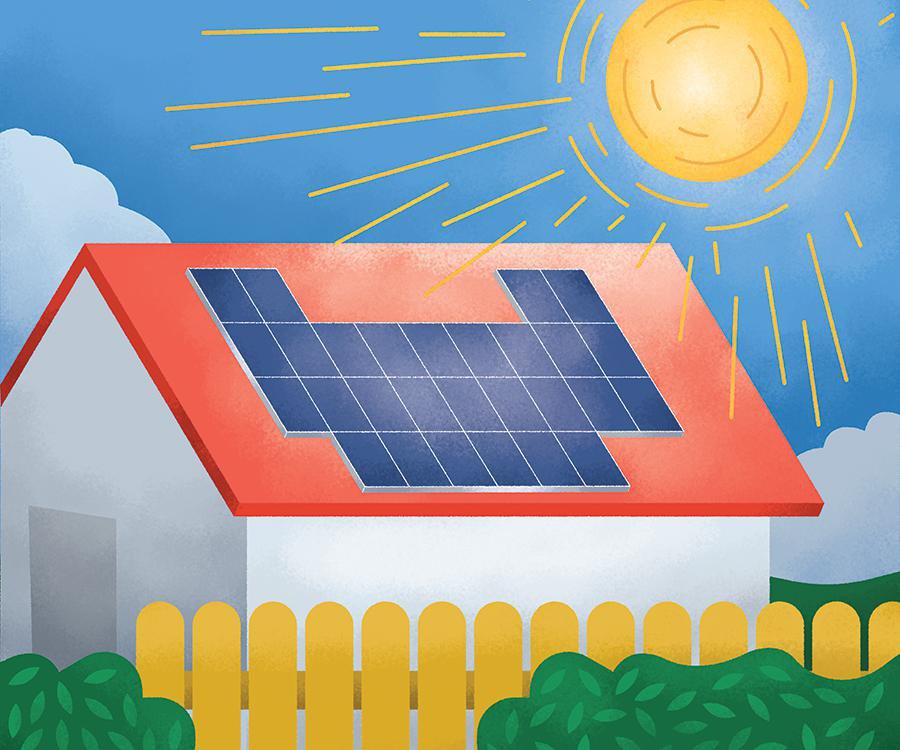 As the saying goes, what's old is new, even in the rapidly developing world of solar energy. Despite enjoying a recent boom in popularity, solar energy dates back to the early 1880s when physicists were already experimenting with solar cells and photoelectricity. More than 100 years later, the physics behind solar energy hasn't changed much. What has changed is the market for that energy.


The Solar Industry 
Derek West, owner of Solar Energy Services (417-224-4730) has been installing solar panels for 417-landers for over 10 years before starting his own company in 2014. When he first jumped into the renewable energy market, solar energy wasn't connected to city utility grids. With the exception of homes deep in the country that needed to operate off the grid, customers didn't have much incentive to throw down on solar's hefty price tag at the time. But when Missouri utility operations started allowing solar installations to tie into their grids in 2008, customers took notice, and the solar industry in the Ozarks started growing. Today, West has plenty of company as new solar installers continue popping up as customer demand grows. Sunbelt Environmental Services (417-831-5052) has worked in the renewable energy market for 31 years, but 2016 was the company's first year installing solar panels.
To get a better idea of how much the local market is growing, consider this: Sunbelt Environmental installed 120 solar panels in 2016. This year, the company has contracts for 10,000 solar panels. And it's not just homeowners embracing solar. The city of Nixa is getting ready to add 40 acres of solar panels, making it the largest solar farm in the state. Up the road, Lebanon is putting in 8,000 panels. 


Why Install Solar Now?
Thanks to a steep drop in price and a boost in efficiency, solar panels are finding their way onto the roofs and properties of homeowners and businesses alike. "In the last 10 years, solar panels have decreased in cost by about 70 percent," says Sunbelt Environmental Services CEO Leeroy Schaefer. "One panel used to cost as much as $1,200, but now it's about $250 to $300 per panel."
Easing the price tag down even further are rebates, tax credits and financing assistance. It also doesn't hurt that solar energy can drastically cut utility bills. Thanks to solar panels and a geothermal system, Schaefer's monthly utility bill for his 3,000-square-foot home is just $26 six months out of the year. "Solar can produce about 70 percent of your power needs," he says. Energy produced by the solar panels that you don't use is bought by the utility companies, which serve as a sort of battery system in the current market. 


What to Consider When Installing Solar Panels
The price tag makes solar more appealing, but there are several factors to consider before signing up for an installation. First and foremost, does your home or business get enough direct sunlight? If you're surrounded by shady trees, it's possible you won't be a good candidate for solar. "The orientation of the house is also important," says Timothy vonBecker, Solar Solutions president (417-291-5425). To absorb the most sunlight, panels should face south, east or west. 
Another question to consider: Do you want a roof mount or a ground mount? Some neighborhoods have rules stipulating where solar panels can or cannot be installed, but both can produce the same amount of energy. Roof mounts take a little longer to install and might require some shingle replacement before being mounted. Ground mounts require a small amount of excavation, vonBecker says. On the up side, they are easier to access for those rare times when you need to hose them off, which is all the maintenance required for solar panels. "In the end, it's all in the eye of the beholder," West says. Once your panels are installed, they can start producing energy immediately. Talk about instant gratification and instant savings.