Home Profiles
Runners Up: Design Awards 2018
A showcase of southwest Missouri interior designers' most impressive work including kitchens, mudrooms, bathrooms and more.
By Jennifer Adamson & Ettie Berneking
Jun 2018

Good home design strikes the perfect balance between beauty and function, creating spaces that demand to be looked at in awe and lived in comfortably. That's exactly what this feature does, too: You'll admire the beautiful spaces, and picture yourself living in these dream rooms. Last winter, we asked all of southwest Missouri's interior designers to show us their best projects for our annual 417 Home Interior Design Awards contest. We collected all 92 entries and sorted the gorgeous and innovative designs to send to the Atlanta Georgia ASID Chapter. A group of nine designers judged each project based on aesthetics, design skill and narrative explanation. We received the highest-scoring entries and our Creative Director, Heather Kane, toured each finalist's home in person to take in the beauty and functionality for herself. Here, you'll find the runners up. Get lost in the photos, and then start planning your very own dream space. See the winners here.
RUNNER UP: MOST CREATIVE USE OF MATERIALS IN A KITCHEN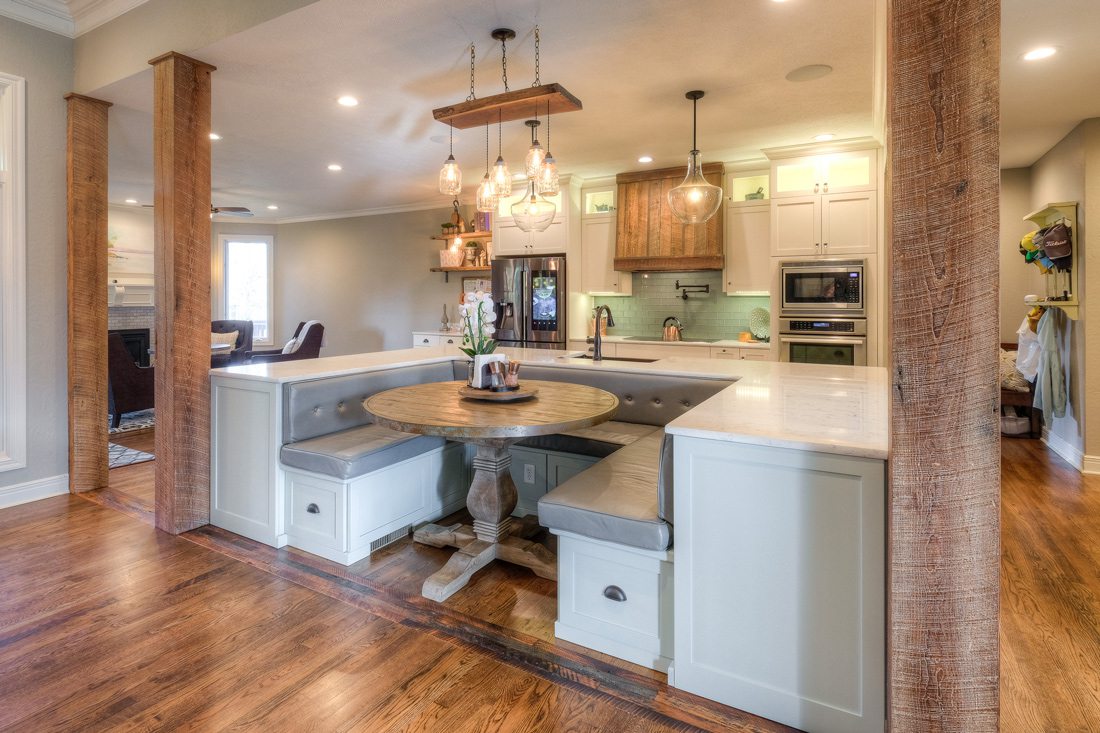 DESIGNER: Haden Long, Ellecor Design

As designers we always encounter the clients with a lot of ideas and Pinterest ideas that need sorted through to create a great space. This amazing kitchen started with a lot of ideas and we found a way to mold them all together to create a usable and beautiful space. We were able to use reclaimed wood, copper trim and accents, glass tile and custom cabinets with quartz countertops to make an eclectic and fun kitchen. We removed a main support wall and utilized reclaimed Kudos wood to make support beams and frame the room in. We were also able to add reclaimed wood flooring strips where the wall was removed. Within the kitchen we had custom cabinets painted in two different colors and topped with quartz countertops and a beautiful copper farm sink. We tied in the reclaimed wood and copper on the custom range hood and trimmed it with copper that we also used on the dining table at the u-shaped bench. We had custom leather bench cushions made for a great seating layout. By adding a custom locally made light fixture over the table we tied in some old glass jars and wood into the lighting and accented it with glass pendants over the island. We have a beautiful glass subway tile backsplash with our range hood and pot filler. We also added a small desk space with reclaimed floating shelves and locally made light fixture. The space is fully usable,
even adding a feeding station and food storage for the dogs. It's a great update and made the whole house feel like new.
RUNNER UP: MOST CREATIVE USE OF MATERIALS IN A BATHROOM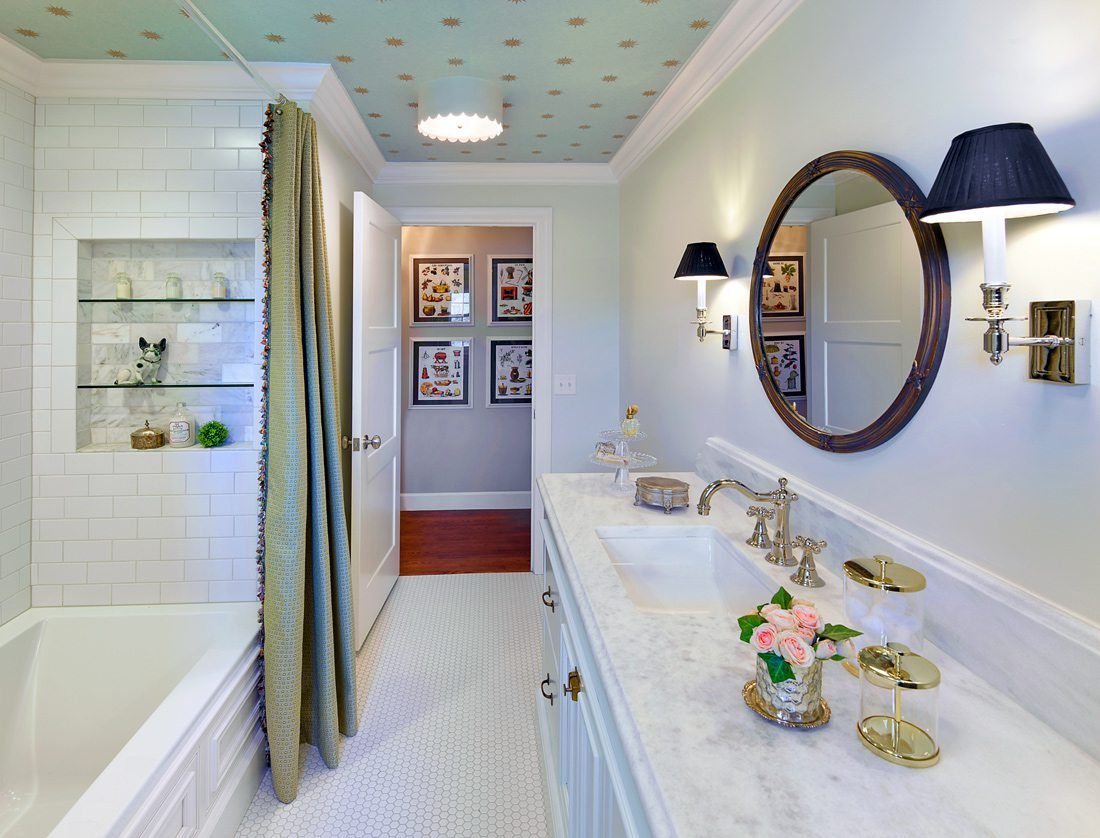 DESIGNER: Jeremiah Lee and Susie Edie, Rock Solid Renovations

There are no rules in design, but there is one thing interior designer Susie Edie always does in every room before a makeover is complete. She adds a little black. Edie started incorporating the shade three decades ago when she started her career, and now, as interior designer of Rock Solid Renovations, it's how she unexpectedly elevates the look of all her spaces, including this guest bathroom in the home of one of her Springfield clients. But the lampshades on the sconces aren't the only reason this project is a color sensation. Check out the ceiling.

"Most clients are conservative in their selections, but this particular client wanted an eclectic look," Edie says. "It needed to look a certain way, but it didn't have to be completely practical."

With that restriction lifted, Edie and Rock Solid Renovations lead designer Jeremiah Lee noted the homeowner's non-negotiables—shiplap siding, hex tile, honed white marble and a large soaking tub—and got to work. The room's original layout met the client's needs, with the exception of an obtrusive pony wall between the tub and toilet, so it was demolished to allow for the large soaking tub. Next, a custom-built, furniture-like vanity was installed using honed marble to provide a matte finish on the countertops. On the room's only exterior wall, shiplap siding adds visual interest, drawing the eye from the entry all the way across to the window. 

After those three main improvements were complete, all that remained was to lay the hex tile, insert some linens storage and accessorize. Using bits of gold, an antique mirror, a duck-head towel holder and mismatched hardware, Edie successfully combined glamour and whimsy with old and new.

As for the wallpaper on the ceiling? It's just the unexpected pop of color that was needed to mesh all aspects of this texture-filled wonderland and leave the homeowner's friends and family with an unforgettable trip to the loo.—J.A.
Editor's Note: This space is the Design Awards 2018 winner for Best Use of Color in a Single Room.
RUNNER UP: BEST USE OF COLOR IN A SINGLE ROOM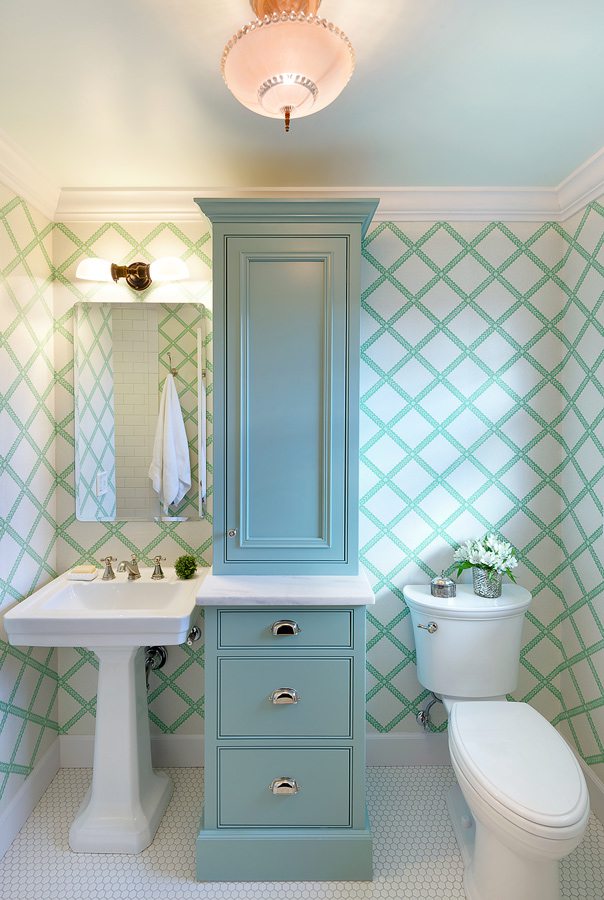 DESIGNER:

 Jeremiah Lee and Susie Edie, Rock Solid Renovations


This small master bathroom has a classic 1920s design with some unique elements. Our client provided a list of essential requests for the renovation that included a pedestal sink, hexagon or another uniquely shaped floor tile, honed white marble and subway tile.  She also asked that the shower be designed in such a way that the use of a shower door was not required.  

Once our design team knew that we could eliminate the shower door, they immediately began to contemplate unique tile designs that they could use, as a lack of door meant being able to showcase the elements within the shower. The black and white floral floor tile pattern and marble niche frame complimented the crisp white tile used throughout the rest of the room. We selected polished nickel plumbing fixtures to balance the bright patterned wallpaper and soft green custom finished cabinetry. 

One of our biggest challenges in designing a small space such as this bathroom is making room for everything the homeowner wanted to include.  We were able to provide this client ample storage with the addition of a tall custom cabinet. The piece was designed to appear furniture-like from the exterior, however crafted with the ability to store everything neatly on the interior. 

In order to tie together the unique elements within the room, we sourced and repurposed some antique pieces including the vanity light and ceiling fixture, which worked to further enhance this amazing bathroom is classic, yet eclectic look. 
RUNNER UP: MOST CREATIVE USE OF SPACE
DESIGNER: Cindy Love, Cindy Love Interiors

There was no way to reconfigure the cabinet layout in this dark, small kitchen, so all the doors, drawers and crowns were removed and replaced. Because the original base cabinets were white, they were able to be reused. 
The original island was removed replaced by a new storage-friendly island topped with dark granite. In addition, the larger island depth creates seating for two. A drawer style microwave was installed in the island to save space. A pull-out trash compartment was added to remove the trash can from the floor. Glass was added to cabinet doors on each side of the sink to give more visual space.
Staying with a white on white color palette, a classic subway tile was installed for the backsplash. To add some shine to the space, Cindy Love added a polished chrome faucet and industrial style light pendants.
RUNNER UP: BEST LIVING SPACE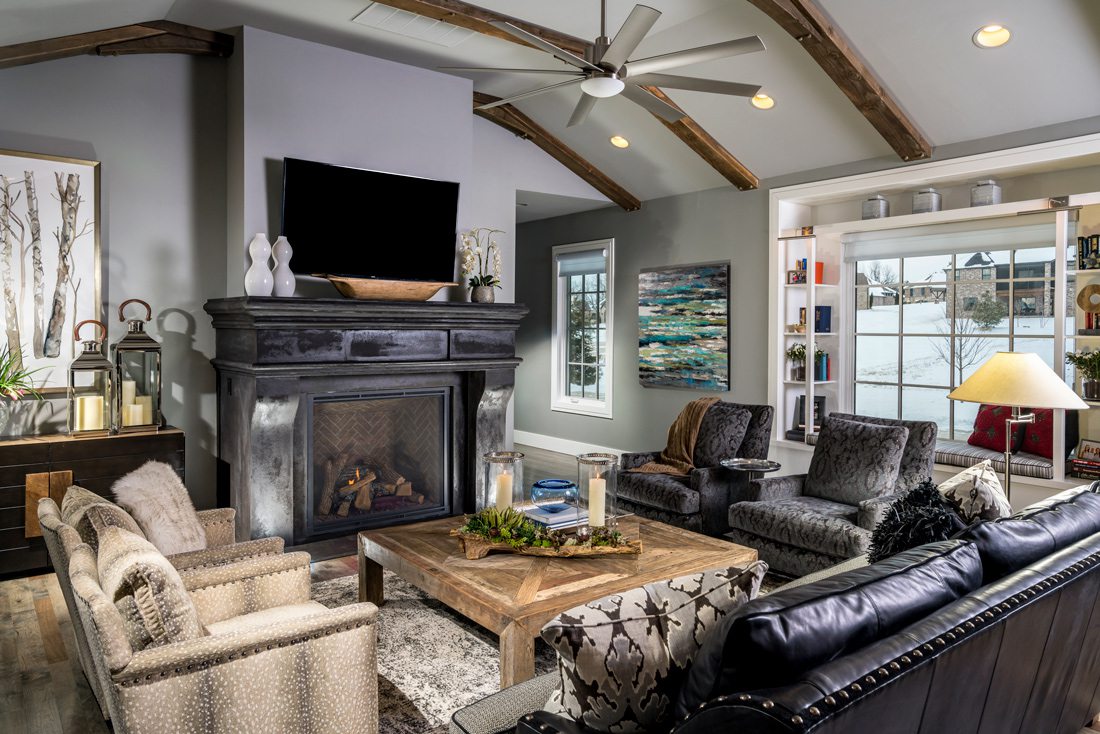 DESIGNER: Nathan Taylor, Obelisk Home

The challenge was to create a space for lots of kids, parents, and visitors in the main living space of this very active family, yet also allow it to function as a place that one could just sit and read while enjoying  the serenity of the outdoors.

A bar, piano, and infinity door were some of the major elements that made this room feel larger than it really is. Surrounding a 60" square coffee table, a new sofa, and 4 occasional chairs were brought in to become the focal point of this room. To balance out the scale, a local craftsman created this one of a kind fireplace surround out of a concrete blend. Getting the black color to be consistent was a big challenge, as we didn't want it to look painted.

A window seat adds additional seating for large groups, or a child wanting read in the window. Art lights carefully placed to highlight the built-in reading nook are the perfect addition for making this space feel separated from the overall space.
DESIGNER: Beverly Moore, Interiors by Design

This room had not received a facelift for 11 years and was in need of an age-appropriate update. The designer's son is a big Beatles fan and wanted the pillow on his bed to read, "All you need is Love." My response was:  "And Jesus!"  He laughed and said, "I love it!" So the pillow now reads: "All you need is love... And Jesus."

The room's color is Naval by Sherwin Williams which goes perfectly with all the leather accents in the room. The designer wanted the room to be dark, but didn't want it to feel like a dungeon. Because of that, a significant amount of khaki was incorporated. 
RUNNER UP: BEST MUDROOM/LAUNDRY/ENTRYWAY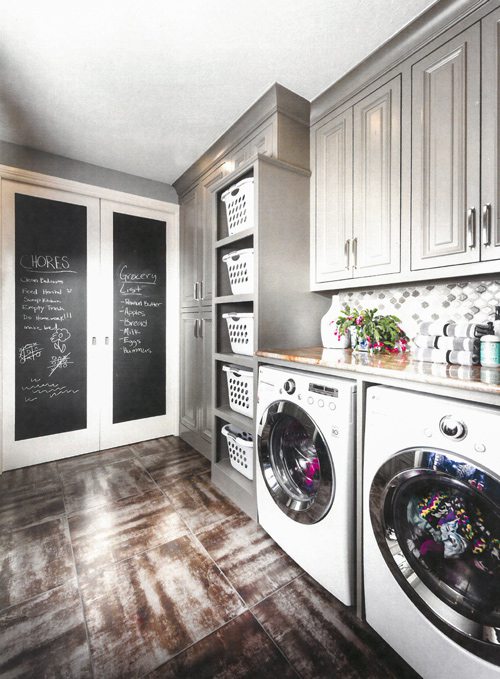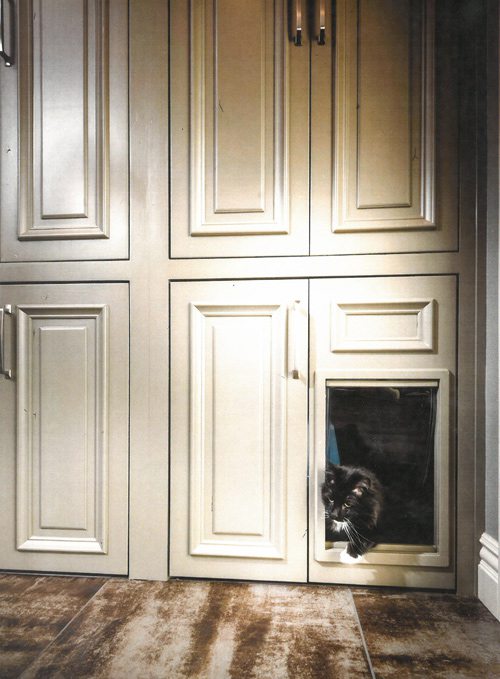 Hidden litter box and feeding station for cats.
Photos by Jeremy Mason McGraw, Colby Kerr
DESIGNER: Nathan Taylor, Obelisk Home

Our challenge was to create a space that didn't require moving the exterior door, water supply or kitchen cabinets located opposite the current laundry.
With 4 active children, 2 cats and a need for storage, we removed the existing pantry and cabinets, and added the lockers, coat hooks, storage above for seasonal clothing. Floor to ceiling pantry cabinets, open cubbies to fit laundry baskets, and most importantly, a concealed litter/feeding station for the house "boss" was also added. The open cabinet also includes porcelain tile floor, and a clean out door accessible from the garage to minimize the mess created by the litter.
Then, a large pair of pocket doors for hiding the clutter of this multi-use space with chalkboards on the reverse side for notes, to dos, and just little pick-me-ups written by the children for their parents are the finishing touches in the space.
RUNNER UP: BEST DINING ROOM
DESIGNER: Nathan Taylor, Obelisk Home

Originally separated by a wall, this dining room became a feature instead of a closed off space. By removing an odd step to the basement, we were able to add a glass railing and rebuild the stairs.  As a flat roof home, the ceiling followed the same slope. The large wall on the north end was pushed back 18-20" to accommodate a large buffet for serving. New antiqued mirror panels from Illinois were added, walnut floors, glass railings, new art and a custom chandelier from California were all critical to highlight the original Raymond Zen table with a solid steel base, brass inlaid pattern on walnut table top found by the designer. Vintage dining chairs found in Dallas were the finishing touch to the mid-century remodel. 
RUNNER UP: BEST SINGLE ROOM REMODEL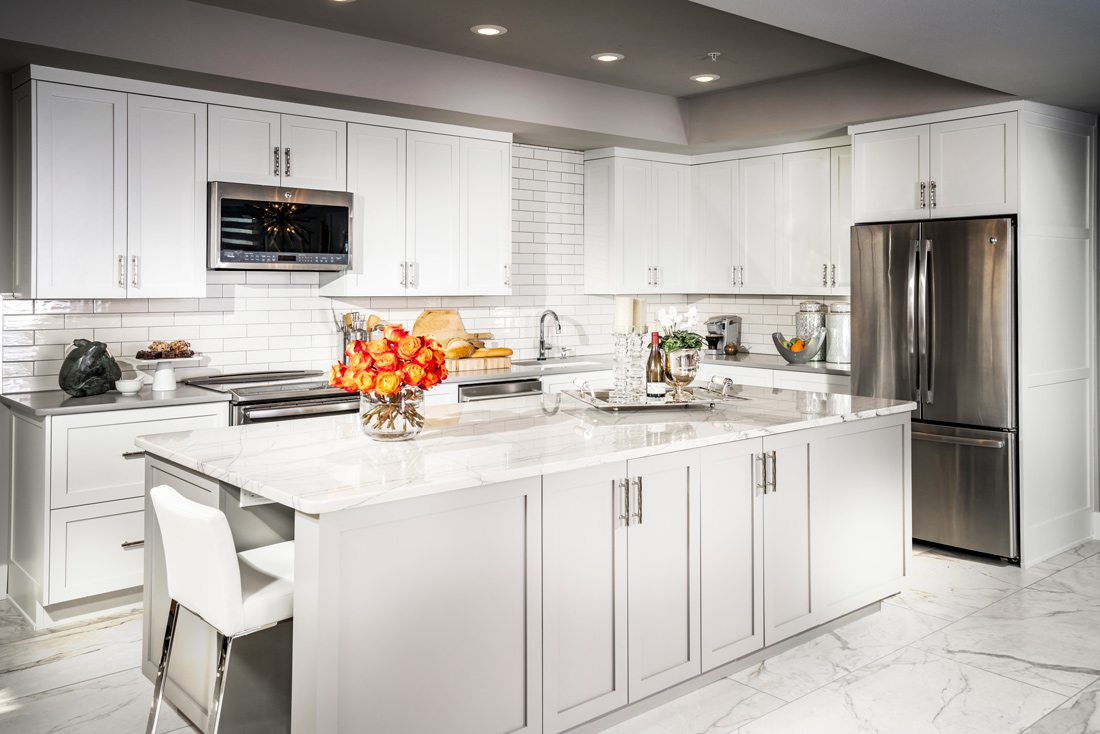 DESIGNER: Nathan Taylor, Obelisk Home

Walking into this very dark and confined space, the client wanted to take advantage of the views her 12th floor condo offered, as well as the natural light. The limitations of the concrete floors made for creative ways to make a large space for cooking and entertaining.

Removal of everything existing was needed to open up the space. Leaving the sink in its general location, a totally new space was imagined.  The soffit was extended into the existing dining area to join the space into one. As an artist, creating a studio for the client with lots of natural light was critical, as well as making it not feel disconnected from the rest of the space.

White, bright, airy, lots of light, and tons of counter space were the requirements of the "chef" of the house. Large drawers were added to store everything, making it easier to retrieve items. The wall with the refrigerator was extended a few inches to allow the kitchen to expand into the spacious room. The island countertop is marble with stunning veins that complement the new porcelain tile floors, and painted island. New lighting added a dramatic flair to the client's studio area.
RUNNER UP: MISCELLANEOUS ROOM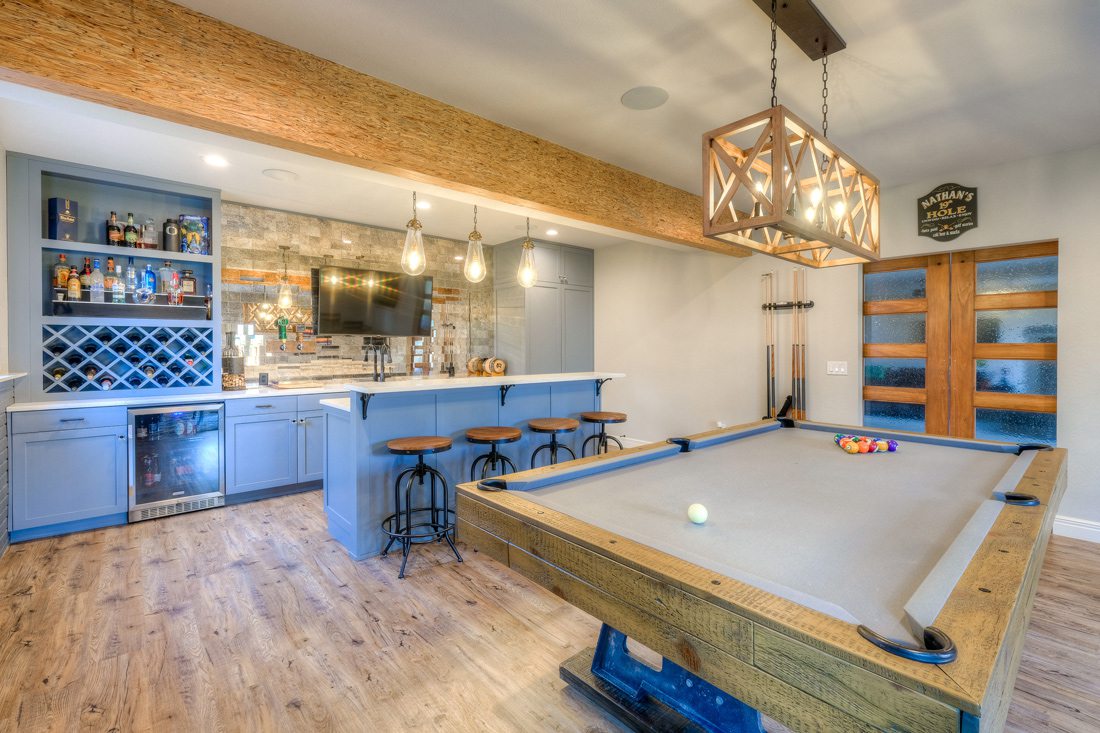 DESIGNERS: Haden Long, Ellecor Design

This space started as an unused John Deere room in this clients' home and we converted it into a mans dream cave. We started by opening the space to the main living area with a larger opening and custom barn doors. To make the space look more like an original room we added one window and new french doors out into the backyard. I designed custom cabinets that served not only as our bar but also as a divider to hide the mechanical space and storage behind it. There is a hidden access on the left of the cabinets, it looks like a tall cabinet but it's truly a doorway to the space behind it. Within the cabinets we have two beverage fridges, a sink and dishwasher and plenty of storage and display. We painted the cabinets and added a quartz countertop. The custom mirrored backsplash was an amazing addition to finish the back wall that not only houses one of three televisions for game watching but also the keg that is hidden behind the wall. We added great lighting over the bar and utilized the support beam that was in the room by adding a clear coat to the wood, leaving the textured look and detail there. The new industrial pool table is lit with a cool wooden light fixture. We also have a great seating area with a sofa and game table where we have television number three for watching the game. We covered the floor in vinyl plank and kept the brick accent on the wall by simply adding a nice layer of paint. The space is great for watching multiple games, having a drink and lounging.