In Good Taste
The 417 Home Dream Remodel Series used gorgeous custom cabinetry, top-notch appliances and trendy quartz countertops to update Joan and Gary Whitaker's Millwood kitchen.
By Savannah Waszczuk photos by jeremy mason mcgraw & kevin o'riley
Nov 2012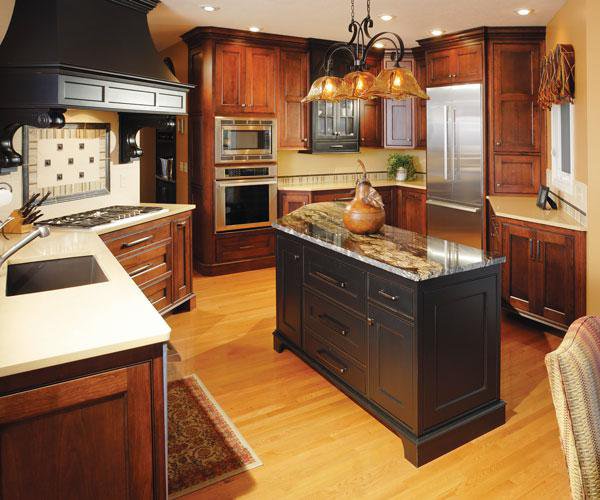 When Gary and Joan Whitaker designed the kitchen of their Millwood home 15 years ago, they didn't budget much for cabinetry. "They were bare-bone cabinets—really just particle board," Gary says. After a decade and a half of everyday use, the cabinets fell victim to peeling laminate and broken hinges. And the rest of the kitchen space wasn't exactly what would be considered up-to-date, either. "Something had to be done," Gary says. "It had been 15 years, so we knew it was time to spruce it up." 
After recently having their master bedroom and bathroom remodeled, the Whitakers knew exactly who to call. They looked to many of the same top-notch professionals, including Sam Bradley of Sam Bradley Homes, Denise Wright of Interiors by Decorating Den and experts from Unique Tile, Cabinet Concepts by Design and Metro Appliances & More. This team worked with the Whitakers to create a custom-designed, fully updated kitchen that is perfect for their cooking needs and a great space to play host. "They asked about our lifestyle, and how we like to entertain and cook," Joan says.
The result is a reconfigured, redesigned kitchen that includes gorgeous custom cabinetry, top-notch appliances, trendy quartz countertops and an overall better use of space. "There wasn't a good traffic flow to the kitchen before," says Sam Bradley of Sam Bradley Homes. "We redesigned it and put an island in the middle. That opened up the traffic flow, plus made a good workspace area for Joan." And from this new granite-topped island to the added custom wine bar and fridge, the kitchen is now well designed for both everyday use and entertaining. "It's like we have a house built around a kitchen now," Gary says.
SHINY AND NEW:
The kitchen's beaded inset cherry cabinetry goes all the way to the ceiling, which Shelley Wehner of Cabinet Concepts by Design says is a current trend. "The cabinets are more traditional with a modern flair," Wehner says. The kitchen's new stainless steel appliances include Thermador's Masterpiece Series' French door refrigerator, single oven, microwave, gas cooktop and hood insert and dishwasher, all from Metro Appliances & More. The new countertops are CeasarStone's Jerusalem Sand quartz from Unique Tile, and the granite island top is Unique Tile's Sedna Granite. "As far as durability, quartz and granite are the same," says Melissa Turpin of Unique Tile. "Color is the only reason people pick one or the other." 

CHILLED OUT:All of the new appliances,  including the French Door bottom-freezer refrigerator (above left), are from Thermador's Masterpiece Series line. The series is a modern interpretation of a classic style, featuring both technology and sophistication, says John Davidson of Metro Appliances & More. The fridge is taller and more shallow than the old one. "Things can't get lost and turned into science experiments in there," Gary says. 

HIDDEN PERKS:The new cabinetry by Cabinet Concepts by Design features storage for appliances and a special spot for the coffee maker (above right). 
ISLAND OASIS:The island (left) is topped with Unique Tile's gorgeous Sedna granite, which is mostly black with veins of caramel and gold. "These were all colors incorporated in the living room, so we thought it would be perfect to tie the spaces together," Wright says. Cabinet Concepts by Design designed the island's pull-out storage drawers, which hide away dishes. 
ROOM FOR MORE:"Before, one of the challenges was getting around the dining room table in the nook area—there just wasn't enough room," Bradley says. They removed the bar-top island and stools that backed up to the table and added a center island, creating a much better use of space (opposite). Wright replaced wall sconces and added new window treatments to the room, giving it an updated look.

BEFORE
HIGH DESIGN:The pull-out lazy Susan–style corner unit in the custom cabinetry allows the Whitakers to store food in what would otherwise have been wasted corner space, and the well-designed backsplash provides a clean background for the room. "You won't see any receptacles, because we recessed them underneath the upper cabinets," says Sam Bradley. "We moved all of those to get them out of the design."
IT'S ALL IN THE DETAILS: Denise Wright of Interiors by Decorated Den helped create the custom backsplash above the cooktop, which includes a mix of glass and stone accent pieces "The countertop and island had some dark bronze tones, so the bronze color ties everything together," Wright says. Cabinet Concepts by Design designed the drawers under the cooktop to store spices, pots and pans, making cook time and clean up easier tasks.
Resource Listing
Working on your own custom build or remodel? Consider the experts who helped transform this kitchen:
General Contractor
Sam Bradley
Sam Bradley Homes
4766 E. Latoka Ct., Springfield
417-886-8976, sambradleyhomes.com
Interior Designer
Denise Wright, Interiors by Decorating Den
1310 N. Kelly Ave., Nixa
417-882-7509, decdens.com/nshivers
Custom Cabinetry
Cabinet Concepts by Design
1342 W. Schatz Lane, Nixa
417-725-3400, cabinetconceptsbydesign.com
Appliances
Metro Appliances & More
3252 N. Glenstone Ave., Springfield
417-833-1113, metroappliancesandmore.com
Countertops, Granite
Unique Tile
1364 N. Kelly Ave., Nixa
417-725-5515, uniquetile.com