DIY
Reduce, Reuse, Upcycle
Local stores are breathing new life into outdated items by upcycling, a trend that turns old pieces into useable treasures.
By Kaycie Surrell
Nov 2012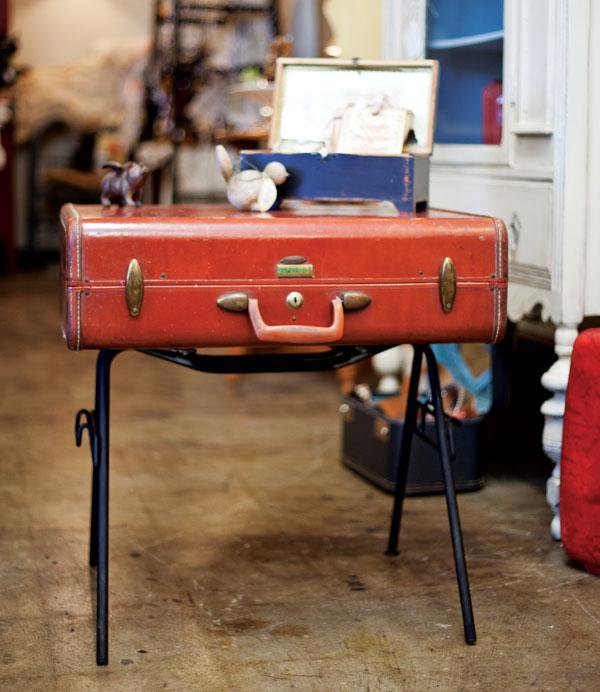 Everyone knows recycling is eco-friendly. Instead of trashing your paper, plastic or other reusable items, toss them into bins or take them to the nearest recycling center where they'll be separated, broken down and made into new items. 
Upcycling takes this idea and puts it into overdrive. The trend takes throwaway, outdated or otherwise cast-off items and finds new and interesting ways to use them, saving energy by saving items from the process of being broken down at a recycling center. 
The simplest version of this might be pairing an old Mason jar with some fresh flowers and using it as a cute centerpiece. A more complicated project might transform an old desk into an artsy entertainment center. No matter what you're doing, the idea behind it is simple—give older products more value, not less.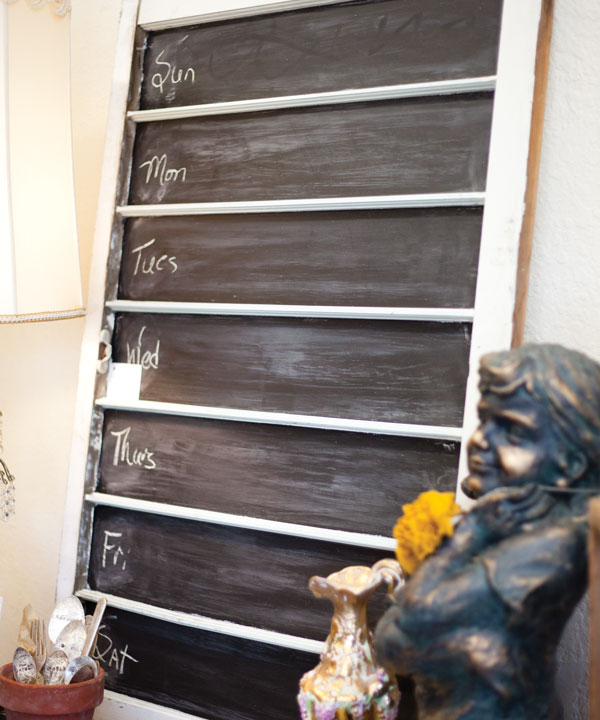 Local shop owners are making the most of this idea by turning upcycling into a business, offering eclectic housewares, repurposed furniture and even ideas on how to take upcycling into your own hands. Anthanette Long, owner of Springfield shop Talula's (1815 E. Grand, Springfield, 417-827-3670) is constantly on the lookout for pieces that can be altered or modified to create something one of a kind. "I'm working all the time, constantly finding items at swap meets, garage sales, all kinds of stuff," says Long. "Right now there's a piano in my driveway—it's a work in progress."
The piano will be gutted, and Long plans to use the insides as a décor piece. The keyboard will be upcycled into a coffee table. She plans to transform the body of the instrument into a desk that will cost about $200 when she's finished. Now, instead of collecting dust at a thrift store or wasting space on Craigslist, the item can be broken up and pieced back together into something new and original. Talula's items range in price from $2 for small repurposed items to $400 for large furniture pieces. 
Mary Crighton of 2 Ladies and a Junk Store (517 E. New Melville, Willard, 417-840-6568) takes a similar approach to upcycling, offering upcycled home décor, holiday décor and furniture pieces. "Some things, like furniture, we re-do, or I might re-paint it," says Crighton. Like Long, Crighton finds a lot of her items at garage sales or thrift stores and upcycles them into something new and different. "I made a tray out of a picture frame and used forks as the handles," says Crighton. 
The advantage to upcycling is giving new perspective to items thought to be useless. Instead of looking at something like it's broken, you can take worn out materials and re-craft them or repurpose them into items of a greater value. 
Web Exclusive: New Uses for Old Things
Not only do the women from Talula's and 2 Ladies and a Junk Store have lots to choose from inside their shops, they've also got quite a few ideas on how to upcycle items on your own. 
• Turn an old dresser into a bench with a little fresh paint. 
• Use chicken wire in an old picture frame to hang jewelry, keys or other small items on. The picture frame can be painted to match current décor, and chicken wire can be easily attached to the back of the frame with by using a nail gun.
• Use vintage suitcases for a variety of things, from pet beds to coffee tables. 
• Spray paint candlesticks to match your décor. 
• Take an old window pane or tray and paint it with chalkboard paint or metallic paint, available at any hardware store, and use the board as a magnetic board or a chalkboard.