Stay-at-Home Gardener
Don't let that ice in your garden stop you from planting. Chives grow just as well on a sunny windowsill.
By Harrison Keegan
Nov 2012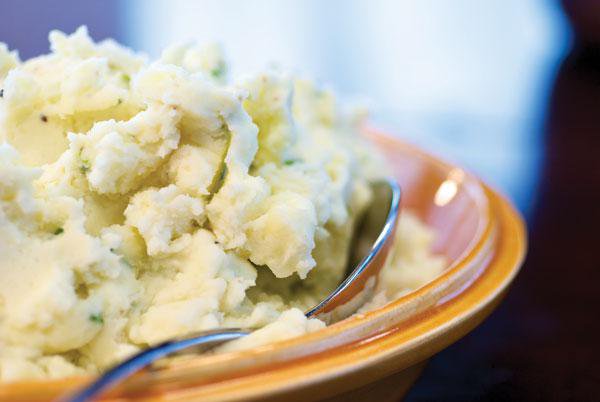 There's nothing quite like cooking with vegetables grown in your own garden. For a lot of household chefs, that experience goes out the window when the temperature drops and frost hits. But it doesn't have to be that way.
This year, try taking your green thumb to the windowsill when it gets too cold to plant outdoors.
Amanda Owen, owner of Homegrown Food (607 S. Pickwick Ave., homegrownfoodstore.com), says chives grow just as well in a pot on a sunny windowsill as they do in the ground outside.
Owen says to plant your chives in a long, oblong-shaped pot (hers is 4-by-16 inches), water them no more than once a week, and find a sunny windowsill for them away from your heater vents.
Owen says she sows her chive seeds over three weeks, so she can have a constantly ripening supply.
Chives will grow back as long as they are cut low and not pulled out of the dirt, so one pot full should last you until the last snow has melted. The plants take three to four weeks to mature and should be harvested when they are about six inches tall and before they become too firm.
After you grow the fresh herbs, put them to use. Culinary Director Judy Sipe at foodchannel.com, an international website overflowing with recipes, articles and much more, shared these three delicious chives recipes. The tasty creations were developed with her direction in the Springfield-based Food Channel Test Kitchens.
Buttermilk Herb Ranch Dressing

Ingredients:
¼ cup buttermilk
1 tablespoon fresh dill, minced
1 cup mayonnaise
½ cup sour cream
1 tablespoon fresh parsley, minced
1 tablespoon fresh chives, minced
1 tablespoon apple cider vinegar
1 teaspoon fresh garlic, minced
1 teaspoon lemon juice
½ teaspoon Worcestershire sauce 
â…› teaspoon cayenne pepper sauce  (or to taste)
¼ teaspoon each kosher salt and black pepper

To Prepare:
Combine all ingredients in bowl. Whisk to blend. Cover and chill for several hours to infuse flavors.

 

 
Mashed Potatoes with Sour Cream and Fresh Chives

Ingredients:
9 potatoes, peeled and cut into six pieces each
1 8-ounce pack cream cheese, room temperature
1 cup sour cream
½ stick butter, room temperature
1 teaspoon salt
½ teaspoon black pepper
¼ cup chives

To Prepare: Fill large pot with cold, salted water. Add potatoes. Simmer potatoes over high heat for 20 minutes or until tender. Beat cream cheese, sour cream and butter until blended. Add drained, hot potatoes. Beat on medium speed until smooth. Add salt, pepper and chives. Mix only until combined. Serve immediately. Serves 10.


 
Sun-Dried Tomato & Chive Deviled Eggs

Ingredients:
1 dozen large eggs  
½ cup mayonnaise
1 teaspoon yellow mustard
2 tablespoons sun dried tomatoes, minced, plus additional for garnish
1 teaspoon hot sauce
1 tablespoon unsalted butter, room temperature
½ teaspoon salt
1 tablespoon chives, minced, plus additional for garnish.

To prepare: Place eggs in medium pot. Cover with cold water. Cover the pot. Bring water to a boil. Turn off heat. Leave eggs covered for 13 minutes. The eggs will continue to cook in the hot water. Remove boiled eggs from the pot. Immerse them in cold water. Remove shell from egg. Cut egg in half, length-wise. Place yolk into a mixing bowl. Make yolks smooth using a fork or back of a spoon. Add mayonnaise, mustard, hot sauce and butter to yolks. Mix until smooth. Fold sun-dried tomatoes and chives into egg mixture. Fill a zip-top bag with the egg mixture. Cut the tip from the bottom of the bag. Push egg mixture toward the hole. Fill the empty egg whites with the egg mixture. Garnish with chives and sun-dried tomatoes. Serves 12.