All Things Local
Formerly the executive chef at an award-winning California restaurant, Chef Craig von Foerster now raises bees, makes honey and grows produce at a Rogersville farm. Try his cooking at his monthly micro-local six-course dinners at The Vesta Room.
By Savannah Waszczuk | Photos by Jessica Kennon Spencer
Nov 2013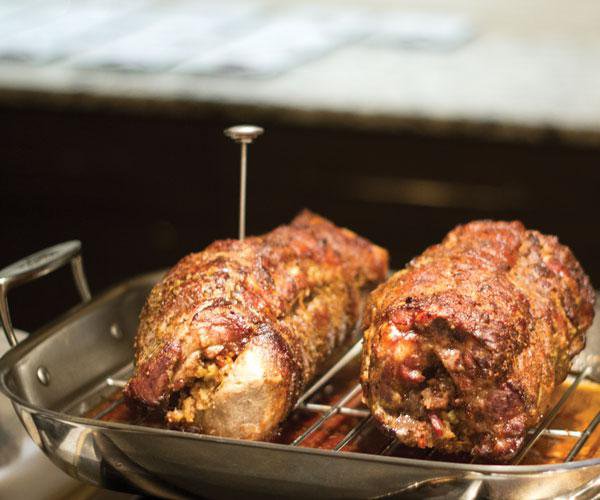 Chef Craig von Foerster hosting his monthly micro-local six-course dinner at The Vesta Room last October.
Chef Craig von Foerster is no stranger to the kitchen. He got his first-ever job at a fast food restaurant at age 14, and six years later he found himself working at a Greek restaurant in California. Next he spent time working at five restaurants at Kapalua Resort in Hawaii, and five years later he was back in California, where he later became the Executive Chef at the award-winning Sierra Mar, a fine-dining restaurant at The Post Ranch Inn. "I spent the last 20 years attending two farmers' markets every week, working directly with Central Coast farmers," von Foerster says. "In 2007, I started my own chef's garden that I would harvest from daily."
In the summer of 2012, Craig and his wife, Tamara, left California and moved to a rural Rogersville farm that Tamara's grandparents started in 1932. At the farm, named Farm Road 168, von Foerster keeps bees, makes honey and bakes artisanal breads, and Tamara tends to the extensive culinary garden bursting with produce. 
Chef von Foerster shares his passion for cooking with 417-landers at monthly micro-local six-course dinners at The Vesta Room. "Last summer, 90 percent of the produce at our dinners came from our own gardens," von Foerster says. Any food that isn't produced by the von Foersters is sourced from local farmers' markets when possible. "My ideal dream is that one day we will serve a dinner where we produce everything ourselves, except for the flour and sugar," von Foerster says.
At the October dinner, themed Table to Farm-er, von Foerster served a six-course meal that included Farm Road 168 butternut squash soup with vanilla oil, crispy sage and duck cracklings; a salad of arugula greens with Terrell Creek Farm fresh chevre and lemon-maple vinaigrette; Circle B Ranch porchetta with just-dug sweet potato and bacon hash; roast rack of lamb with Willow Mountain Mushroom risotto; and a St. James Winery Riesling poached pear tart with Missouri black walnut–honey ice cream. The décor included seasonal floral arrangements grown and arranged by Tamara, and she also letterpressed all the menus on sheets of walnut wood via her business, Fresh Heifers Artisan Letterpress. Each dinner reflects local harvest availability, and the dishes are refined at home. "I set the bar high for myself," von Foerster says. "The result of every single dish needs to be amazing, not just good. Our diners deserve that."
Chef von Foerster and Tamara are currently working to find a location to open a restaurant, but for now, you can try his creations at an upcoming dinner on December 14 or January 17. Tickets cost $95 per person. Go to fromtabletofarm.com to sign up for the invitation mailing list.
Photos from the October Dinner: 
Chef von Foerster prepared a variety of delicious creations, including freshly baked homemade bread and butternut squash soup with vanilla oil, crispy sage and duck cracklings. The venue was elegant and intimate, as the chef's wife, Tamara, dressed the table with seasonal floral arrangements that she grew and arranged herself. After enjoying six individually prepared and served courses, guests were given a cute departure gift: a bag of Missouri black walnuts.

Meal of the Season: The fourth course at Chef Craig von Foerster's micro-local six-course dinner included Circle B Ranch porchetta with sweet potato-bacon hash and mustard glaze. 

Cheers: Guests of the von Foersters' dinners enjoy fine wine, food and conversation. 
Make it at Home
Chef Craig von Foerster's Mushroom Risotto 
Chef von Foerster shares a delicious mushroom risotto recipe that was originally created at Big Sur restaurant with chanterelle mushrooms.

Part 1
For the Risotto Base:
2 cups vegetable stock, chicken stock or water
3 tablespoons olive oil
¼ cup yellow onion
1 cup Carnaroli risotto rice
To prepare Risotto Base:
Place stock or water in saucepan and bring to a simmer. In a 2-quart saucepan, heat the oil over medium heat, and add the onion. Cook until translucent. Add rice, and stir to coat with oil. Add enough boiling stock to barely cover rice. Keep heat at a simmer, and stir occasionally, adding more liquid as needed to keep rice covered. After the last liquid is added, simmer for 1 minute more. There should be a creamy liquid surrounding the rice. Turn out precooked rice into a shallow pan, and mix occasionally while cooling. Store in a sealed container until use. 
Part 2
For mushroom Jus:
¼ cup dry porcini mushrooms
1 cup hot water
3 tablespoons canola oil
2 cups julienned yellow onions
2 cloves garlic, chopped
6 cups sliced assorted mushrooms
¼ cup tomato paste
1 cup sherry wine
6 cups water
10 sprigs thyme
1 tablespoon soy sauce
To prepare mushroom Jus:
Soak the dry porcini in hot water until hydrated. Heat the oil in a heavy-bottom pot over high heat. Add the onions, and reduce the heat to medium. When the onions begin to brown lightly, begin stirring frequently with a wooden spoon, scraping the bottom to loosen up any browned bits and redistribute into the onions. Occasionally add a few tablespoons of water, and scrape the bottom to completely deglaze. Once the onions are golden brown (about 20 minutes), add the garlic and mushrooms. Cook until mushrooms have given up all their liquid and begin to caramelize, about 10 minutes. Add the tomato paste, and cook about 5 minutes more or until it begins to caramelize on the bottom of the pan. Immediately add the sherry wine and porcinis with their liquid, being careful not to include the sediment at the bottom. Scrape the bottom of the pan with a wooden spoon, and deglaze again, allowing the sherry and porcini liquid to reduce until almost dry. Add the water and thyme, and bring to a simmer for 45 minutes. Strain liquid through a fine chinois, and add soy sauce. 
Part 3
For the Pan-roasted Mushrooms:
4 cups wild or domestic mushrooms, cleaned
2 tablespoons canola oil
1 tablespoon unsalted butter
2 teaspoons diced shallot
1 teaspoon chopped garlic (omit if using morels)
½ teaspoon thyme, picked and chopped
½ teaspoon salt
1/8 teaspoon black pepper
1 teaspoon lemon juice (if using morels)
To prepare Pan-roasted Mushrooms:
Cut the mushrooms into wedges. Heat the oil in a heavy 14-inch skillet over high heat. When the oil is hot, pull pan away from the flame, add mushrooms and return to heat. Once the excess liquid has evaporated, the mushrooms will begin to caramelize. Once mushrooms are browned all over, drain off any excess oil, return to medium heat and add the butter. When butter is melted and foamy, add the shallot, garlic and thyme and cook for 1 minute or until shallot is translucent. Add lemon juice, season with salt and pepper and pour onto a sheet pan to cool.  
Part 4
For the Mushroom Risotto: 
1 batch risotto base
1 ¾ cups hot mushroom jus
2 cups pan-roasted mushrooms
2 tablespoons butter
3 tablespoons Parmesan cheese
1 ½ teaspoons lemon juice
1 ½ teaspoons salt
¼ teaspoon pepper
2 tablespoons truffle butter (optional)
1 tablespoon chives
To prepare Mushroom Risotto:
Add the risotto base to a small pot, then add enough hot mushroom jus to barely cover the rice. Over medium heat, bring to a simmer, stirring frequently with a wooden spoon. Continue adding more just as it is absorbed, keeping the rice covered. When most of the jus has been absorbed, add the pan-roasted mushrooms. Stir to mix, and continue to cook for 1 minute more. At this point, the rice should be suspended in a creamy liquid, and the grains of rice should be cooked but firm. Remove from heat, and fold in the remaining ingredients. Adjust seasoning, and serve immediately.