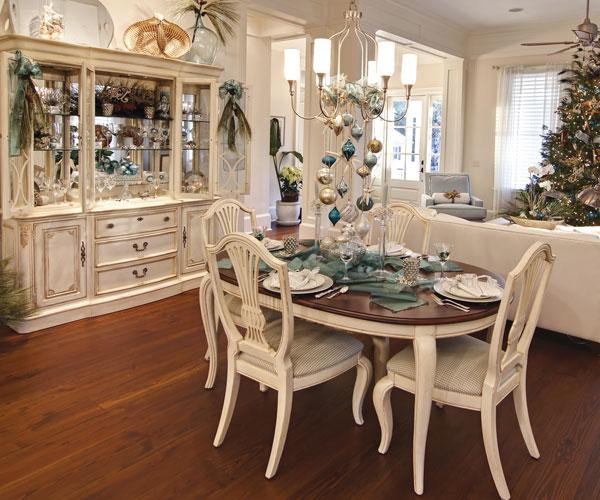 Seasonal Splendor: 
This year, ditch those worn out red and green decorations and deck your house with more elegant touches. 

On the Exterior: 
Tips by Kim Wood, Fleur 
• Transform your window boxes by adding cedar, pine, holly, pinecones, berries and Christmas balls for color (pictured).
• Intertwine battery-operated lights into branches.
• Hang cedar boughs wrapped in lights around door frames and windows.
• For a more rustic look, decorate with driftwood and rusty bells.
• Add matching décor to any outbuildings and even mailboxes. 
In the Kitchen: 
Tips by Nola Shivers, Decorating Den Interiors
• Accessorize with greenery, ornaments and small accents (pictured). Add tall objects, such as candlesticks, to provide visual balance.
• Add holly or evergreen to window treatments.
• Drape chandeliers with pine garland or holly.
• Fill a glass bowl with gold and silver leafed fruit and glass balls,  or use fruits that reflect seasonal colors, such as artichokes and pomegranates.

In the Great Room:
Tips by Shannon Pennell, James Décor 
• Place glass balls in a cloche (pictured) or use greenery and pinecones on an end table or shelf.
• Gone are the days of saturating your home with red and green. Add subtle touches to your existing color palette for an inexpensive-yet-festive feeling.
• Keep larger pieces on the mantle and add greenery, ribbon, feathers, berries, ornaments or lights. It doesn't scream "Holiday!" yet it looks seasonal.
• Bring the eye up by putting branches, berries and feathers in containers. Hang ornaments from ribbon on drapery rods or chandeliers.

In the Living Room: 
Tips by Nathan Taylor, Obelisk Home
• Decide  whether to use garland or a collection of holiday items on your mantle. Weave in a mixture of textures. The entire garland doesn't need to be filled. If using a collection, stagger the heights of items (pictured).
• Add touches of vibrant color to the living room, and mix textures and sheens to add depth.
• Fill a non-working fireplace with fresh greens or LED candles. Cut birch branches, and fill the firebox with white bark. Cover the base with magnolia leaves or spruce branches.
Oh,

Christmas Tree
Deck out your tree in one of these seven fun themes:
1. Elegant: Use small white lights mixed with medium-sized ornaments in cream and gold.
2. Rustic: Use burlap ribbon or bows with mercury glass ornaments. You can even use antlers as a tree topper. 
3. Modern: Use a small white fir tree. Add brightly colored ornaments and ribbon.
4. Colorful: Use colorful large ornaments and large, colored coordinating ribbon.
5. Whimsical: Add coral and teal ornaments and gold garland to a snow-dusted tree.
6. Traditional: Use green, red and gold ornaments, holly berry and a plaid tree skirt.
7. Memories Tree: Purchase new ornaments every year for each family member. Put kids' homemade ornaments on a separate tree in the kitchen or recreation area.