Welcome Home
New to downtown Springfield, Grayson Home unites home furnishings with 417-land's ample supply of antique treasures.
By Ettie Berneking | Photos by Kevin O'Riley, courtesy Grayson Home
Nov 2013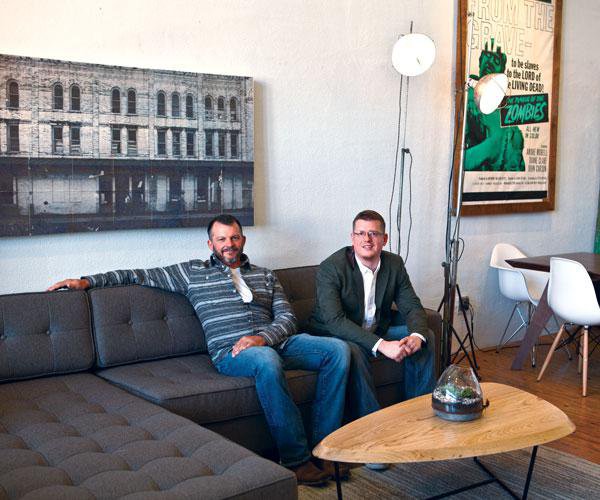 The Perfect Pair: Clive Gray and Ryan Rosenquist are co-owners of Grayson Home, one of the latest boutique home furnishing stores to open in Springfield. 
The Shop
Grayson Home 
404 W. Walnut St., Springfield, 417-299-0227.
Open Mon.–Sat., 11 a.m.– 6 p.m. and Sun., noon–5 p.m.
The Setting
Located in downtown Springfield, Grayson Home feels more like your dream living room than a stylish home boutique. A collection of mid-century modern furniture, one-of-a-kind artwork, antique hutches and small gift items are artfully arranged throughout the store. The walls are home to a collection of paintings, photographs and prints, and everywhere you look, antiques are quietly blended into the store's décor. "This is where nostalgia meets comfort," says co-owner Ryan Rosenquist. "We love antiques, but we're not set up like an antique booth. We arranged everything so you can picture each piece in your own home."
The Owners
Owners Ryan Rosenquist and Clive Gray opened Grayson Home in August 2013. A graduate from Drury University's architecture program, Rosenquist is an imaging specialist for Bass Pro Shops where he's part of the design team that creates each Bass Pro store. Gray, an antiques enthusiast, was working in the construction business before partnering with Rosenquist to open Grayson Home. 
With Rosenquist's appreciation for modern design and Gray's eye for simplistic, rustic design, the two make the perfect team, and their two styles mesh perfectly. "I've always loved mid-century and classic-modern furniture," Rosenquist says. "And working at Bass Pro, I've come to like the rustic and primitive look of antiques. With Grayson, we just morphed those two styles." 
The Stuff You'll Find
Window shopping in Grayson Home is half the fun of shopping here. You never know what you'll find since Gray and Rosenquist are always on the hunt for eclectic antiques to display. Gray has amassed an impressive collection of antique European spice boxes, hutches and industrial furniture. Vintage fedoras, pewter plates, snuff boxes and shaving brushes are mixed in with mid-century modern couches and replica Eames chairs. 
Since opening the store, Rosenquist and Gray have started carrying furniture lines unique to the Springfield area, including Gus Modern and True Modern. There's a bit of everything here at a wide range of prices. The store is stocked with plenty of high-end home furnishings, but it also offers plenty of lower-cost gift items including shaving kits, bow ties, journals and travel bags. 
The Summary
If it weren't frowned upon, we might find ourselves relaxing on the couches at Grayson Home on a lazy Saturday afternoon. The blend of modern comfort and antique industrial aesthetics creates a calming atmosphere that's hard to walk away from. Even more enticing is the store's variety of furnishings, antiques and gifts. We fell in love with one particularly snazzy wool fedora, and there was a long-forgotten bowling trophy that caught our eye. A combination of modern style and vintage charm equals success in our book.