DIY
Hands-On Holiday wreath
Florist Steve Waddell of Wickman's Garden Village shares how you can create a fresh holiday wreath using your own two hands.
By Julie Sedenko Davis | Photos by Jessica Kennon Spencer
Nov 2013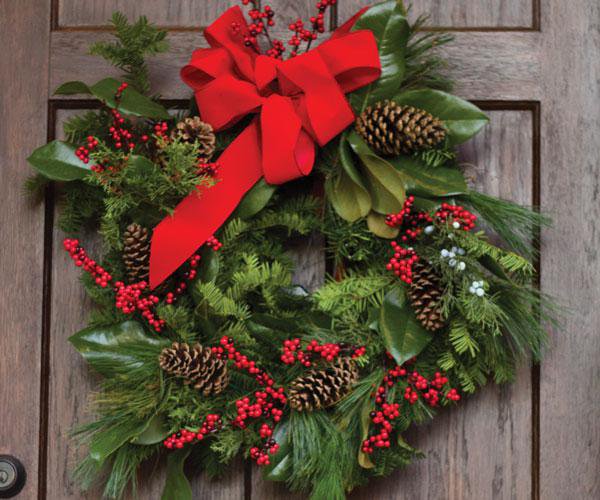 There are crafty people, and then there are people who wish they could be crafty. Unfortunately, most people fall into the latter category, which is why we decided to search for the perfect do-it-yourself holiday wreath project that is both simple and stunning.
Enter Steve Waddell of Wickman's Garden Village. Waddell is king of the crafty types, and the following instructions and tips come straight from him. Rest assured, this is one craft project you will be able to accomplish. 
Supplies
• Wreath form This can be Styrofoam, grapevine, honeysuckle, or even an artificial wreath
• Greens The sky is the limit here. Some ideas include English yew, magnolia, blueberry juniper, white pine, pinecones or holly berries. 
• Florist wire
• Ribbon or bow
• Velvet ribbon or fabric for the back of the wreath
The Steps
Step 1
Make clusters with greens
Using several pieces of greenery and accessories, arrange a cluster with larger pieces toward the back and the more decorative pieces on top. Wrap florist wire around each cluster to hold them together. You  want to make enough clusters to fill the wreath form.
Step 2
Attach the clusters to the wreath
Place a single cluster onto the wreath form, and wrap with florist wire to attach. Twist the wire tightly in the back to secure the cluster to the form. Take another cluster of greens, and tuck the stems underneath the first cluster. Attach with more florist wire. Continue doing this clockwise until your wreath is filled. If you are using an artificial greens wreath form, you can intertwine its branches with your fresh greens. 
Step 3
Make a bow, or buy one pre-made
Attach bow with floral wire. The bow can be on the top, bottom or side of the wreath, but it's best to attach it where the first and last cluster meet in order to hide any stems.
Step 4 
Add finishing ribbon
Glue velvet ribbon, or some kind of fabric, to the back of your wreath form. This will keep it from scratching the door while hanging.
Step 5
Display your wreath
Hang it on the door, or even over your mantle. (Use caution around fireplaces or candles, as fresh greens can dry out and catch fire.) Double doors should feature two wreaths. If you don't want to put a nail hole in the door, consider placing a flat tack or using a staple gun on the door's top edge. Hang ribbon from the tack, and attach the other end to the wreath.
Personalize It
Match your wreath with the style of your home with these additions.
French Country
Use dried materials such as wheat, pinecones, cattails, dried green hydrangea and dried herbs in bundles. Accessorize with colored burlap ribbon. 
Contemporary
Use white birch branches for the wreath form, and spray them with white or silver lacquer. Or use grapevine wreath, and spray paint it silver or glossy white. Add crystal branches, large silver ornaments and silver ribbon. 
French Chateau
Add gold or copper and cream-colored accents to a traditional evergreen wreath. Use velvet poinsettias in a bordeaux or gold color. Or, use leopard-print ornaments with pheasant feathers.
Whimsical
Paint a pine wreath bright red. Add red lights and decorate with neon green, red and silver ornaments. Use ribbon with polka dots or squiggled lines. Add a touch of spray glitter. 
Della Robbia
Customize with artificial fruits, such as pomegranates, pears, grapes, apples, oranges and berries. Pineapple, a sign of welcoming, can be used in place of a bow.
Elegant
Start with a fresh flower form. Add fresh roses, hydrangeas, trailing ivy, pine, evergreen and even fresh fruit. 
Buy It
Not up for the task of making your own wreath? You can buy fresh holiday wreaths at local nurseries.
Wickman's Garden Village
1345 S. Fort Ave., Springfield, 417-862-3707, wickmans.com
$25 for 22-inch noble fir or mixed wreath
Garden Adventures
1900 W. Mt. Vernon St., Nixa, 417-724-3223, gardenadventuresnixa.com
Wreaths start at $25
Wheeler Gardens
3911 E. Sunshine St., Springfield,417-890-5733; 601 N. Fourth St., Ozark, 417-581-1867; wheelergardens.com
$5.95 for a bundle of loose greens; Wreaths start at $19.95