Holiday Cheers
Planning a holiday party? Welcome guests into your home with a seasonal cocktail. We asked local experts to create custom holiday drinks, ranging from a boozy hot chocolate to a fruit-infused bourbon cocktail.
By Savannah Waszczuk | Photo by Kevin O'Riley
Nov 2013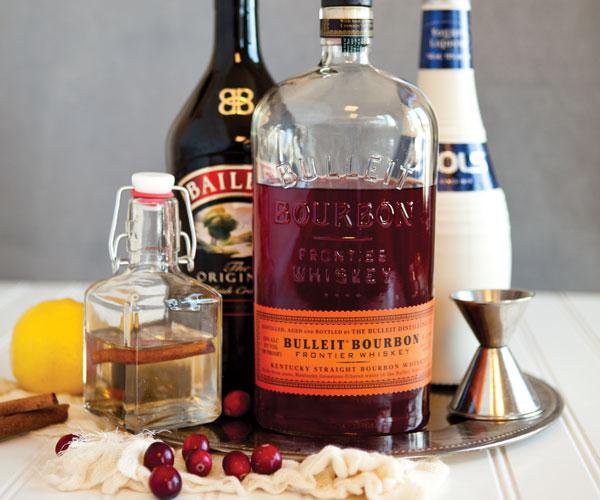 Find the recipes on the following pages.
Holiday Martini 
Farmers Gastropub
For the Sugar Rim:
3 tablespoons sugar, colored red with food coloring
1 teaspoon nutmeg
1 teaspoon cinnamon
1 tablespoon finely crushed gingersnaps
1 cup sugar
1 cup water
For the Martini: 
1 ounce Jim Beam Honey Bourbon
1 ounce Bols Yogurt Liqueur
Splash of half and half
Dash of nutmeg
To prepare: 
Combine the 3 tablespoons of sugar, nutmeg, cinnamon and gingersnaps to make the sugar rim, set aside. Create a simple syrup by boiling 1 cup sugar in 1 cup water. Moisten the rim of a martini glass with the simple syrup, then dip the rim in the sugar mixture. Combine all martini ingredients in a cocktail shaker, and shake. Pour martini into the sugar-rimmed glass, and serve.
Cranberry Fix
Scotch & Soda
For the Cranberry-and-Orange-Infused Bourbon:
1 liter Bulleit Bourbon
12 ounces fresh cranberries, muddled
Zest of 1 orange
To prepare bourbon: 
Pour the bourbon over the pressed cranberries and orange zest, and chill in the refrigerator for 24 hours. Double fine strain the bourbon to remove cranberry pulp and orange zest. Return infused bourbon back to its original bottle, and set aside. 
For the cinnamon simple syrup:
2 cups white cane sugar
2 cups water
2 4-inch cinnamon sticks
To prepare the cinnamon simple syrup:
Place all ingredients in a pot. Bring to a boil, stirring to prevent sugar from burning.Boil for 15 minutes, remove from heat, and cool to room temperature. Bottle the simple syrup mixture (including the cinnamon sticks), and set aside. 
For the Cranberry Fix:
2 ounces cranberry-and-orange-infused bourbon
1 ounce cinnamon simple syrup
¾ ounce fresh-squeezed lemon juice
To prepare Cranberry Fix: 
Place all ingredients in a cocktail shaker, and fill with ice. Vigorously shake for 15 seconds. Fine strain the drink into a cocktail glass of your choice, and garnish with an orange twist and fresh cranberries. Serve.
Honey Toddy 
Farmers Gastropub
Ingredients:
2 whole cloves
1 lemon wedge
1½ ounces Jim Beam Honey Bourbon
1 cup steaming hot water
Cinnamon stick
To prepare:
Muddle cloves and lemon wedge in a coffee cup. Add bourbon, then pour in hot water. Garnish with a cinnamon stick, and serve.
Holiday Hot 

Chocolate
MudLounge
Ingredients: 
1½ ounces Baileys Irish cream liqueur
½ ounce Torani French vanilla syrup
3 tablespoons hot cocoa mix
10 ounces steamed milk
Whipped cream and ground cinnamon for garnish
To prepare:
Place Baileys, French vanilla syrup and hot cocoa mix in a 12-ounce coffee mug. Add steamed milk, and stir. Garnish with whipped cream and cinnamon, and serve.