DIY
Holiday D.I.Y Projects
This holiday season, wow your family and friends with homemade gifts. From delectable eats to boozy treats, we asked our crafty staffers to share their favorite homemade presents that they're handing out this Christmas.
By Ettie Berneking | Photo by Kevin O'Riley
Nov 2013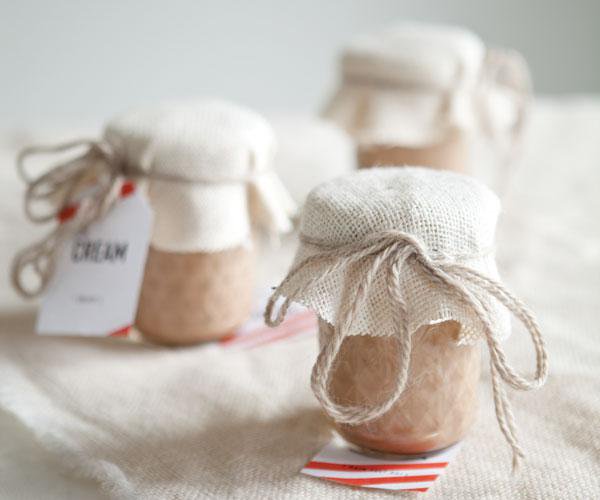 Mint Irish Cream Liqueur
Yields 32 ounces
Created by: Editorial Director Katie Pollock Estes
Ingredients:
1 cup very strong coffee or espresso
1½ cups heavy whipping cream
1 tablespoon cocoa powder
1 tablespoon sugar
1 teaspoon honey
1 teaspoon pure vanilla extract  
1 tablespoon pure peppermint extract
1 14-ounce can sweetened condensed milk
12 ounces Irish whiskey
Directions:
In a saucepan, bring the coffee to a simmer.  Add the heavy whipping cream, cocoa, sugar, honey, vanilla extract and peppermint extract, and whisk together thoroughly. Simmer over low heat until the mixture thickens, whisking frequently (about 20 minutes). Remove the saucepan from the heat, and add the sweetened condensed milk. Whisk together thoroughly. Transfer to a heat-safe bowl, and let cool to room temperature. Add the whiskey, and whisk to combine. Divide the mixture among four 8-ounce mason jars. Keep in the refrigerator for up to two weeks.
Pinecone Toppers
Yields 10 pinecones
Created by: Creative Coordinator Nicole Waddell
Supplies:
Newspaper
10 pinecones
1 can gold spray paint
10 feet of twine, cut into one-foot pieces
Directions:
Lay newspaper out to create a work surface. Place pinecones on the paper, and spray with spray paint. Let dry, then tie twine in a loop around the stem. Use as present toppers or ornaments.  
Homemade Rosemary 

and Lemon Soap

Yields approximately three 3-inch soaps
Created by: Assistant Editor Ettie Berneking

Supplies:
1 block shea butter glycerin (available at most craft stores)
1 tablespoon fresh rosemary leaves
2 teaspoons lemon juice
Soap molds (available at most craft stores)

Directions: 
Break â…™ of the glycerine block into several small chunks and melt in the microwave. Stir in the rosemary leaves and lemon juice. Pour the mixture into the molds. Cool in the refrigerator for 40 minutes or until solid. Pop the soaps from the mold, and wrap with ribbon. To create ginger and honey soap (pictured above center), replace the rosemary and lemon juice with 1 teaspoon of ground ginger and 1 teaspoon of honey.

 
Blueberry Basil 

Goat Cheese Hand Pies

Yields 12–15 hand pies
Created by: Editor Savannah Waszczuk

For the  pie crust:
2½ cups all-purpose flour, divided
½ teaspoon salt, divided
1 cup butter; diced, chilled and divided
½ cup ice water, divided
1 egg, beaten (used for assembly)
Sugar for dusting (used for assembly)

To prepare crust:
Combine 1¼ cups flour and ¼ teaspoon salt in a bowl. Cut in ½ cup of butter until mixture resembles coarse crumbs. Slowly stir in ¼ cup water to form a ball. Repeat steps to make a second crust. Wrap the dough in plastic wrap, and refrigerate for two hours. 

For the filling: 
2 cups blueberries
â…" cup goat cheese, divided
4 tablespoons honey
1 tablespoon fresh basil, finely chopped
¼ cup milk
Pinch of salt
1–2 tablespoons sugar to taste

To prepare filling: 
Mix blueberries, ¼ cup of goat cheese, honey, basil, milk and salt in a bowl. (If using frozen blueberries, do not thaw). Stir, and add sugar to taste. 

To assemble and bake pies: 
Flour your work surface, and roll dough out until roughly â…›-inch thick. Cut dough with a 3-inch cookie cutter. Place half of the circles on a lined or sprayed cookie sheet. Scoop 1 teaspoon of filling in the center of each circle. Scoop ½–1 teaspoon of goat cheese on top of each teaspoon of berries. Cover pies with remaining crust circles, and pinch the dough to seal. Brush with beaten egg  and sprinkle with sugar, then cut a small X in the top of each pie to vent. Bake at 350°F for 12–15 minutes.

 
Become a Bow Making Pro
Top your holiday packages in style this year with the help of marketing director Lauren Stalder, who shares step-by-step directions to making homemade bows.
Supplies
-Wired ribbon of your choice
-Thinner ribbon for center of larger bow (optional)
-Floral wire
-Scissors
Instructions
1. Cut your ribbon. I'd suggest cutting a piece of ribbon about a 2 feet long, but use your discretion. The longer the ribbon, the larger the bow. Make sure you cut the ribbon at an angle. It looks better than a straight edge.
2. Make your loops.: Start with one end of the ribbon and make a loop. Make sure you leave a couple inches of ribbon at the end for the tail. Then, continue making loops with the ribbon and pinching each loop together in the middle. Make sure the outside of the ribbon is facing towards you when making the loops so you aren't showing the wire or backside of the pattern. Keep in mind that smaller loops work better for thinner ribbon and larger loops for thicker ribbon or wired ribbon. Keep making loops until you are close to the end of the ribbon. With your final loop, leave a couple of inches for the second tail of the bow.
3. Secure the bow. While still holding the center of the bow securely, take a piece of floral wire and wrap it a couple of times around the center. This should hold your bow securely. Then, adjust the loops of the bow to cover the wire in the center and make the bow look full.
4. Make the center bow. Follow steps 1 and 2, except cut the ribbon shorter and make the loops smaller. Also, depending on your ribbon, you may not need to tie it with wire.  Just wrap the ribbon itself around the center of the bow and tie a knot to secure it. This will help ensure the wire doesn't show on the first bow when you place it in the middle.
5. Finish it up. Hot glue or place the smaller bow in the center of the larger bow and enjoy!