Wood Metal LLC
417-lander Jay Wood (above) has been creating custom metalworks for 27 years.
Savannah Waszczuk | Photo by Kevin O'Riley
Nov 2013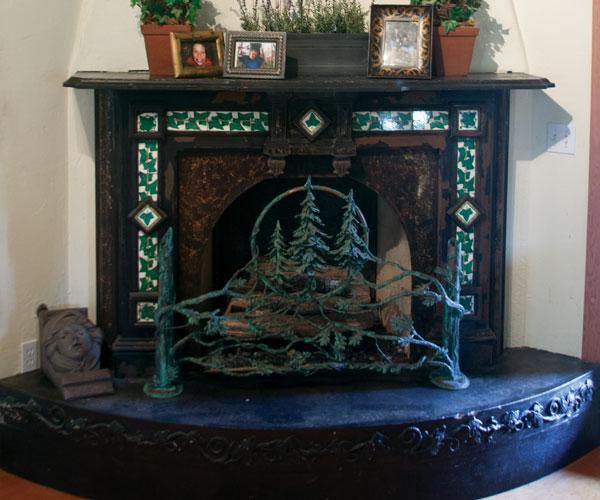 This fireplace screen (available at Fleur for $3,000) was handmade by Jay Wood of Wood Metal LLC. Wood specializes in rustic-style metalworks, such as this screen, and he can create a variety of custom projects. Learn more about the craftsman on p. 14.
In the summer of 1986, Jay Wood of Wood Metal LLC (417-576-4552, jaywoodmetal.com) fell into the art of crafting metal. "I stopped by Tim Burrows' metal shop, and he needed some help on some projects," Wood says. "It was mostly a repair business, but we also did art and things like that." A temporary job turned into a full-time gig, and Wood and Burrows soon decided they enjoyed the artistic side of working metal more than the repair business. "We decided that if we were going to get anywhere with decorative arts, we needed to stop repairing lawn mower handles and backhoe buckets," Wood says.
The two soon received a call from Bass Pro Shops, and before they knew it, they were crafting a steel and copper gate for Big Cedar Lodge. "Bass Pro liked it a lot, so we stayed real busy doing stuff for Big Cedar," Wood says. The two made railings, chandeliers, lanterns, fireplace accessories and more, all for the Bass Pro property. "We made just about anything that went on or in those cabins," Wood says. Bass Pro hired the two on full-time, and they worked for the company for 18 years. "We were responsible for making the decorative metal pieces that went into all the Bass Pro Stores," Wood says. 
That job ended five years ago. "When the economy came to a grinding halt, they thinned down the herd in Nixa," Wood says. "I got laid off." But this didn't stop Wood. He put up a metal shop on his property, and he currently creates custom projects for Bass Pro Shops, Disney and the public. If you're interested in a custom project, call Wood at 417-576-4552.