DIY
Christmas Tree Decorating Tips
Interior designers Nola Shivers at Decorating Den and Donna Swenka at James Décor offer tips on assembling the perfect holiday tree.
Nov 2014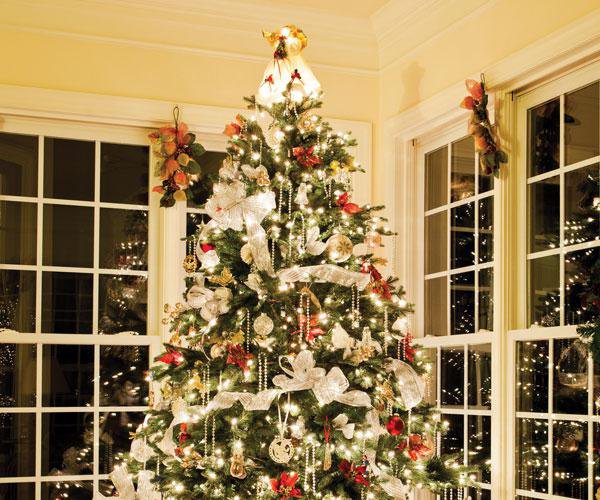 Step One: Choose a Tree
"Trees that have more space between branches, sort of like the Charlie Brown tree, are actually easier to decorate," Swenka says. And shape is also important. "Whether you buy a fake tree or cut down a real one, you want a tree that has good shape to it and that will fit in your space," she says. If you're putting a tree in a large entryway, look for one that has a wide base. On the opposite, look for taller, thinner trees to place in smaller living spaces. "Before you buy a tree, measure the space," Swenka says. "Eyeballing won't work. Then, when you find the tree you want, add 2 feet when measuring its height to account for the tree stand."
Step Two: Pick the Color Scheme
After your tree is chosen, it's time to pick what colors you want to use to bring it to life. "You can pick classic Christmas colors like red and green, or go metallic with golds and silvers," Swenka says. If you're looking to go for a more wintery theme, Swenka suggests decorating it with blues and purples. And of course, your tree should coordinate with its surrounding. "Choose colors and a theme that go with your home's décor," Shivers says. 
Step Three: Hang the Lights 
Once your plan is in mind and the tree is in place, it's time to start decorating. The first step is stringing the lights. "Start hanging the lights working from top to bottom, and put the lights on the inside of the branches to give the tree depth," Swenka says. And when it comes to how many, go big. "You need 100 lights for every foot of tree," says Shivers. "That keeps your tree from looking skimpy." Also, Shivers warns to be sure nothing stands out. "Make sure the wires of the lights are the same color as the tree," she says. 
Step Four: Add Garland
When it's time to add garland, you want to be sure and have plenty of it. "You need two strands for every foot of tree," Shivers says. "It's best to use a variety of garlands. I like to use two or three from thick to thin and sparkly to metallic." And when it comes to what to use, there are no real rules. "Ribbon makes great garland, but be sure to use ribbon that holds its shape," Swenka says. "This way, you can twist it and position it in the tree so that it stays put."
Step Five: Hang the Ornaments. 
When it's time to fill the branches with all of your collections, start with your favorites. "I recommend hanging your favorite ornaments first, then filling in the holes with larger ornaments," Shivers says. Also, be sure you're hanging the pieces everywhere, not just the obvious spots. "Don't forget to place some ornaments at the base of the trunk," Shivers says. "And to really fill out the tree, place ornaments farther in. This will add depth." Also, be sure to vary the size of your ornaments to add visual interest, Swenka says.
Step Six: Finish it Off.
When it comes to topping your tree, there are no rules. If you don't have a topper that's been passed down from Great Grandma Ethel, consider making your own. "There are tons of creative tree toppers out there," Swenka says. "You can spray paint pinecones and twigs and arrange them as a topper, or put a family photo on top. Actually, family photo trees are so darling!" Shivers loves topping trees with big bows, or even more garland. Lastly, once it's all done, spread the love. "Decorate the mantel of your fireplace or a nearby stairway with the same bulbs and garlands that you used on your tree," Swenka says.