DIY
DIY Pinecone Centerpiece
Pat Phillips of The Flower Merchant shares step-by-step directions on creating a gorgeous pinecone centerpiece for your holiday table.
By Julie Sedenko Davis | Photos by Brandon Alms, Kevin O'Riley
Nov 2014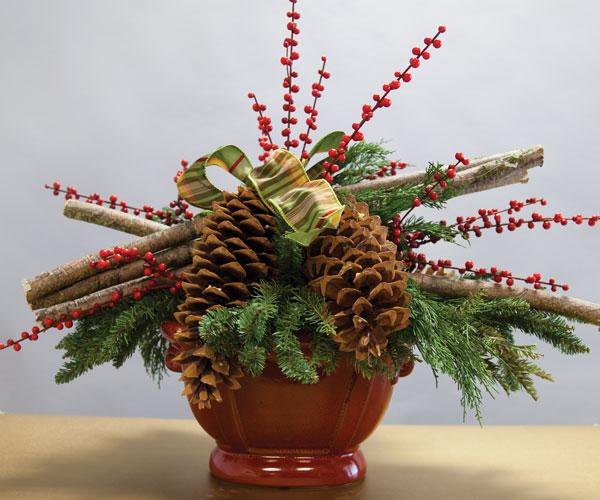 Pat Phillips, owner of The Flower Merchant, is the creative genius behind some of 417-land's most beautiful holiday homes. "I've been doing this for 48 years, and I don't get bored," Phillips says. And his own home even speaks to this fact, boasting 12 personalized Christmas trees. "My wife and I are kind of crazy," he says. But every year they add more. "Christmas is about excess," he says. "I think you're loving yourself a little by indulging in these silly things."
Phillips says to invest in quality items. Find a lighted tree with plenty of room for decorations. "Add about 12 matching ornaments a year," he says. And don't worry about overloading it. "There's no such thing as a tree that gets too cluttered," he says. 
And Phillips' expertise reaches into many other areas of the home, as he decorates for and even creates many custom pieces for many of his clients at The Flower Merchant. He suggests focusing a lot of attention on mantels, centerpieces and the front door, and he even offered up directions for creating a one-of-a-kind pinecone centerpiece that can be used as a focal point of your holiday table this season. Centerpieces, just like Christmas trees, can never have too much, Phillips says. He puts the most items he can possibly fit into a piece, and then he adds more. "At Christmas, you can always get away with a little bit more," he says.
SUPPLIES:
Heavy base container
Styrofoam or craft foam
Sheet moss
Hot melt adhesive/glue
Realistic permanent botanicals like evergreen and pine branches, junipers, red winterberries and birch wood
Large pinecones
Chenille stems (like brown pipe cleaners)
Wired wood picks or Dixon pins
Wired ribbon
Directions: 
1.  Glue Styrofoam inside of your heavy container. Oval centerpieces are best for long tables, and round containers work well for round or square tables.
2. Cover the foam with sheet moss (found at hobby stores or florist shops) using glue. 
3. Insert evergreen stems deeply into Styrofoam, almost all the way through it. 
4. Add pinecones. For this piece, Phillips used large sugar pinecones, laid on their sides, two on each side and in opposite directions. 
5. Wrap chenille stems around the center of pinecones, leaving the stems' ends protruding. 
6. Secure the ends of the chenille stems with wood picks or Dixon pins, and insert them into the Styrofoam. 
7. Add more Christmas greenery between pinecones for height. Phillips used juniper, pine and red winterberries. He crossed faux birch horizontally through the centerpiece for a woodsy effect. 
8. Finish with ribbon. Here, Phillips chose a #40 taffeta plaid ribbon, placing a bow at the top and weaving the ends throughout the greenery.
Not up for this crafty task?
These stores will create one for you:
The Flower Merchant
2303 South Campbell Avenue, Springfield
417-883-8580, Flowermerchantltd.com
RosAmungThorns
2030 South Stewart, Suite 112, Springfield
417-720-4004, Rosamungthorns.com
Wickman's Garden Village
1345 South Fort Avenue, Springfield
417-862-3707, Wickmans.com
Martin's Floral
3910 South Campbell Avenue, Springfield
417-883-1125, Martins-floral-home-décor.com
Lilly's Floral
located inside Price Cutter Plus
4228 S. National Avenue, 417-823-3119