Ellecor Home Decor
Selling a wide range of stylish, transitional home décor, Springfield's Ellecor is a great addition to 417-land's home furniture stores.
By Savannah Waszczuk | Photos by Kevin O'Riley
Nov 2014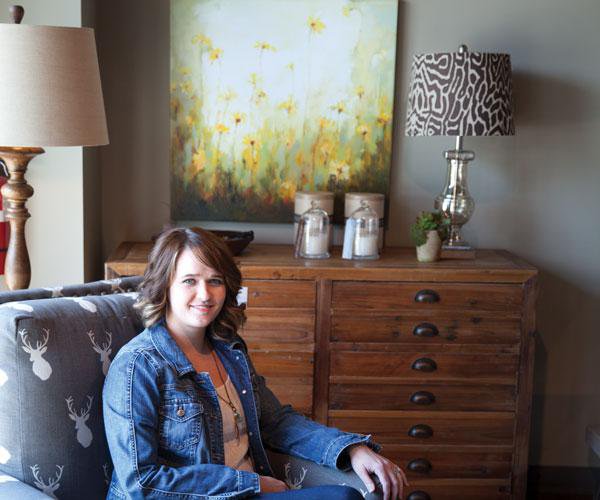 The Shop: Ellecor
2144 E. Republic Rd., Ste. A-100, Springfield,
417-720-2602, ellecordesign.com,
Open Mon.–Fri., 10 a.m.–7 p.m.; Sat., 10 a.m.–5 p.m.
THE SETTING
Located in Farmers Park—one of Springfield's newest destinations for first-class shopping and dining—Ellecor adds a new element to the local furniture shopping scene. With sealed concrete floors and an open-grid ceiling, the building itself boasts an industrial look. Collections of transitional home furnishings set the stage throughout the 2,300-square-foot space, and they're all arranged to create miniature scenes of stylish, dream-worthy living spaces.
THE OWNER
Setting the store apart from other home décor stores was a goal of Haden Long, who opened Ellecor in March 2014. Long compares her inventory to a mix of Restoration Hardware, Pottery Barn and Anthropologie, all big-name retailers often found in major cities. "Our stuff is industrial and transitional, but also comfy and cozy," Long says. After one look at the well-designed store, there's a good chance you'll wish Long could be your very own personal designer, and you're in luck. She can. Long has degrees in both merchandising and interior design and has done interior design work for years, and it's now a part of her full-time gig. 
THE STUFF FOR SALE
Ellecor carries Norwalk Furniture and has many of its pieces on display, plus a full wall of fabrics for custom upholstery. "There are 750 fabrics to choose from, with 100 couches and chairs," Long says. "It takes about four weeks to get the pieces in once they're ordered." There are also a plethora of other home goods throughout the space, including tables that tastefully combine wood and metal sitting near plush couches that are just begging for you to dive onto them. "Couches have to be comfortable, because so many people live on their couch," Long says. "You don't want a couch you can't lie on, or wrestle with your kids on, or eat on, or lie with your dogs on."
In addition to couches, chairs and other large-scale furnishings, Ellecor sells lighting, accent tables, lamps, wall art and a wide variety of other décor. Styles range from warm modern to industrial, with the whole store serving as an example of how to elegantly combine varying styles for a cohesive look. "We sell to all tastes," Long says. There are also jewelry, scarves and other small items that appeal to the crowd that spills in from the farmers' market.
THE SUMMARY
Whether you're wanting to completely remodel your home or simply find a special new décor piece to freshen your favorite room, Ellecor is a definite must-stop shop. The store is filled with eclectic, cozy and on-trend pieces that can help make your house a little bit more of a home.