Recycle Your Tree 2014
When Christmas is gone and it's time to pack away the ornaments, take down the tinsel and dispose of your tree, go green with the help of these 417-land businesses and organizations.
By Erin Gregory | Illustration by Allison Barnhouse
Nov 2014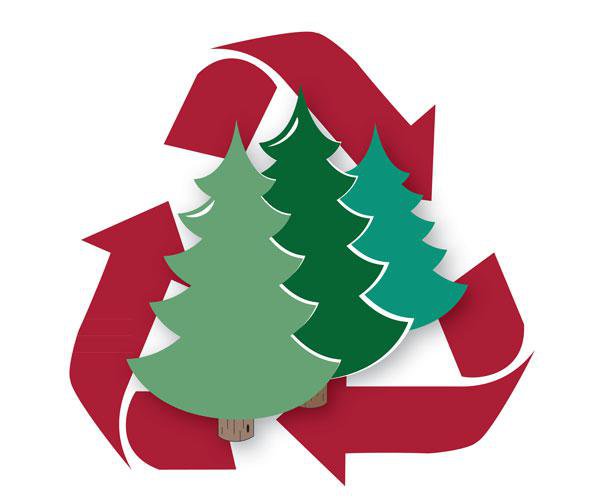 CREATE A FISH HABITAT
Our local Boy Scouts partner with Bass Pro Shops to help the community recycle Christmas trees. Individuals can bring trees, stripped of decorations, to the Springfield Bass Pro Shops parking lot on South Campbell Avenue, and the Boy Scouts lift them into one of two empty semi trailers. Trees can be dropped off December 26 through January 1 between noon and 6 p.m. Bass Pro Shops and the Department of Conservation take the trees to fish habitats throughout the area. There is no charge for the service, but the Boy Scouts do accept donations. For more information, call 417-883-1636. 
MAKE SOME MULCH
For more than 25 years, Wickman's Garden Village has been taking in Christmas trees after the holidays and turning them into mulch. Starting on December 26 and continuing through mid-February, you can drop off your tree for $5. Wickman's asks that all ornaments, décor and stands be removed from the trees, which are put through a chipper and turned into mulch for customers to take home at no additional cost. For more information, visit wickmans.com or call 417-862-3707. 
HELP WITH TRAIL MAINTENANCE
Shepherd of the Hills takes in Christmas trees for recycling at the fish hatchery. All trees must be free of any ornaments, decorations or stands and can be dropped off at any time of day beginning December 26 through January 11. Tree drop-off is located near the boat ramp at the Shepherd of the Hills Fish Hatchery. (Look for the green "Tree Recycling" signs.) There is no cost to drop off a tree; however, there is no assistance to patrons, and trees with frosting or artificial white paint are not accepted. The trees are used for trail habitat. For more information, call 417-334-4865, extension 0.
GET CHIPPED
The City of Joplin has three collection points for discarded, live Christmas trees December 26 through January 31. Trees must be completely stripped of all decorations and placed near the "Christmas Tree" drop-off sign posted at one of the following locations: Humphreys Park on Utica Street in the Royal Heights area; the parking lot on the southwest corner in McIndoe Park at Glendale Road and Jackson Avenue; and the Public Works Center at 1301 West 2nd Street. Those interested in establishing fish habitats can pick up the discarded trees; the remaining are chipped up with other tree limbs, and the resulting wood chips are made available to the public. Look for wood chip giveaway on the city's web site at joplinmo.org, or by calling the Recycling Department at 417-624-0820 extension 501.