Room with a View
It might be cold outside, but the Johnsons' sunroom is warm and inviting with tasteful furnishings, gorgeous holiday décor and the perfect view of the backyard.
By Ettie Berneking | Photographed by Jeremy Mason Mcgraw
Nov 2014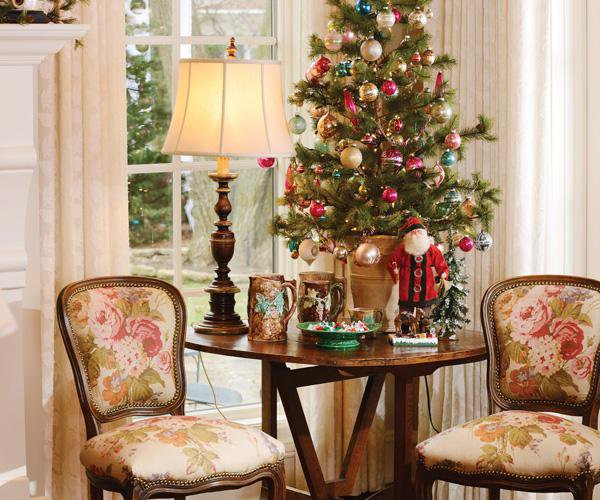 Settling in: 
Frannie and Bob Johnson's sunroom is a window-lined nook that affords a great view of the tree-lined backyard. Decked in holiday charm, the room becomes a comfy retreat during the Christmas season.
Bob and Frannie Johnson's Springfield home is nestled back in one of those beautifully established Springfield neighborhoods where towering trees line the block and kids ride by on their bikes at all hours of the day. Inside, the home is flooded with light from spacious windows, and Frannie's collections line built-in shelves. Each December, the home is transformed into a festive winter scene where Christmas trees are decked in antique ornaments and windows are framed in evergreen branches. The cozy chairs that call the sunroom home are positioned in front of large windows that look out into the backyard, which glistens with frost each morning. Even with a central location in Springfield, the wooded backyard and comfy interior offer Frannie and Bob the perfect nook to settle in for a long winter.