2015 Homes of the Year
By Jennifer Adamson
Nov 2015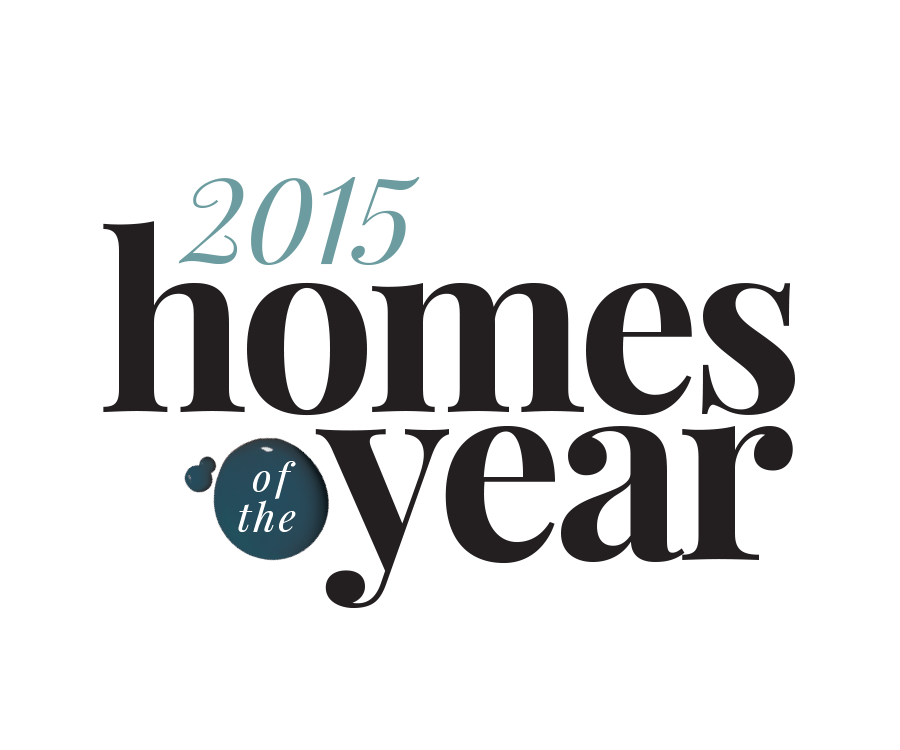 Ever been out driving and seen an extravagant house that made you slow down a little? There may have been something about it that made you wonder what was behind the front door.
Let us take you inside four of 417-land's most impressive dwellings, designed by builders who knew just how to make us stop and stare. As the winners of this year's Homes of the Year contest, their fresh ideas and talents range in style and prove originality is as important as layout. From a glass-enclosed wine cellar to several showstopping chandeliers, no details in these houses were overlooked.
Whether you're drawn to Old World, American, Arts and Crafts or contemporary, each of these homes will make you swoon.
Beam work, dark hardwood floors and more than 10 wallpapers give this home a cozy but refined ambience.
If Doug Pitts ever decides that he's tired of building houses, there's a laundry list of other jobs at which he'd probably excel, all because of one very critical skill that he has mastered over the years. "You have to be successful in reading people," he says. 
From working as a carpenter and an industrial education teacher to now running the show at his own construction company, Pitts has been around people so much that it's now second nature for him to perceive their thoughts and feelings. This has given him the upper hand in developing relationships with his clients.
"One reason why this house is a winner is the homeowners," he says. "The homeowners trusted the people they hired, from the builder to the designer to the interior designer. Trust is why this home turned out like it did. I think it's important that everyone knows it's a true team effort to have a house that becomes a success like this."
"I like the use of different wall coverings and colors throughout the home. That's kind of new to us. The designer picks that, but we have to make sure it all comes together." —Doug Pitts, Doug Pitts Construction
Because the owners had confidence in Pitts and the project's custom home designer, Ron Hill of Euro World Design, a sprawling 11,014-square-foot home was born. The house perfectly captures the essence of The Worman House at Big Cedar Lodge, an appearance that appeals to the couple. The crew also lucked out, because the owners were willing to be adventurous in their decision making and enjoyed collaboration.
Outside of the home, Old World qualities are evident in beam work and heavy texture. Inside, Craftsman-like touches abound in warm woodwork and windows galore. There are more than 10 wall coverings with lots of detail, and vibrant, semi-gloss colors reflective of the stained glass at The Worman House. 
Overall, everything about this project exceeds expectations, and the owners now hold the key to their dream home.

Sitting Room: Just off the kitchen, a nook with painted stone and a herringbone brick floor looks like a small breakfast room at The Worman House at Big Cedar Lodge, a favorite place of the homeowners. A mustard yellow, blue and green color scheme here is a nod to the family's Scottish heritage.

Master Suite: The homeowners wanted their master suite on the same level as, but separate from, their children's rooms. Their bedroom features oak flooring, hand-hewn beams and window grids to provide a richness and warmth. A built-in entertainment center and wallpaper with a sexy shimmer make relaxing a luxurious experience. 
In the airy master bathroom, the same effect is achieved with floor-to-ceiling mosaic tile, a soaking tub, a walk-in shower with body sprays and marble on every surface. The building challenge here was making sure the flat ceiling in the bedroom flowed seamlessly into the vaulted ceiling in the bathroom, which was accomplished by carrying the ceiling beams through from room to room.
Dining Room: To smoothly transition from the living room into the dining room, the same solid oak flooring was installed, and collar ties (a type of structural reinforcement) were used in the ceiling design. Repetition can also be seen in multi-paned double doors that open to a back deck. Visual interest was added by arching the doorway between the dining room and sitting room. 
Basement Living Room: No other spot in the home comes alive with Old World charm more than the basement living room, designed to feel like a Scottish pub. Dark beams and trim used throughout the home are repeated here, but more prominently displayed in conjunction with a green-tinted, stained concrete floor. A color palette of browns and reds, extending into the back office, as well as evidence of hunting, exude gallantry and machismo and make this the perfect spot to gather for game night or a round of drinks.
Living Room: In the living room, a 16-foot window wall inspires awe. Cased in wide trim, its many panes usher in sunlight and offer a stunning view of Lake Taneycomo. Collar ties stretch across the ceiling, making the space seem more expansive, while at the same time drawing the eye to other dark features in the room, such as the solid oak floor.
 Exterior: Staying true to the Old World style the homeowners wanted, a variety of shapes and natural materials were used on the home's exterior. Dark features like stained doors give the home a masculine look, but light-colored stucco and paint soften the facade. A casual friends' entrance is easily accessible from the driveway, and  a second entry, covered by a gable made of oversized beams, welcomes guests more officially. Around back, an elevated flagstone deck overlooks an in-ground pool.
Guest Bedroom: A bevy of bold choices was made in one of the home's six bedrooms, beginning with ornate, bright green wallpaper and graphic-print window draperies. But the concept works because the room's construction is very simple. Guests have access to an en suite bathroom and small closet.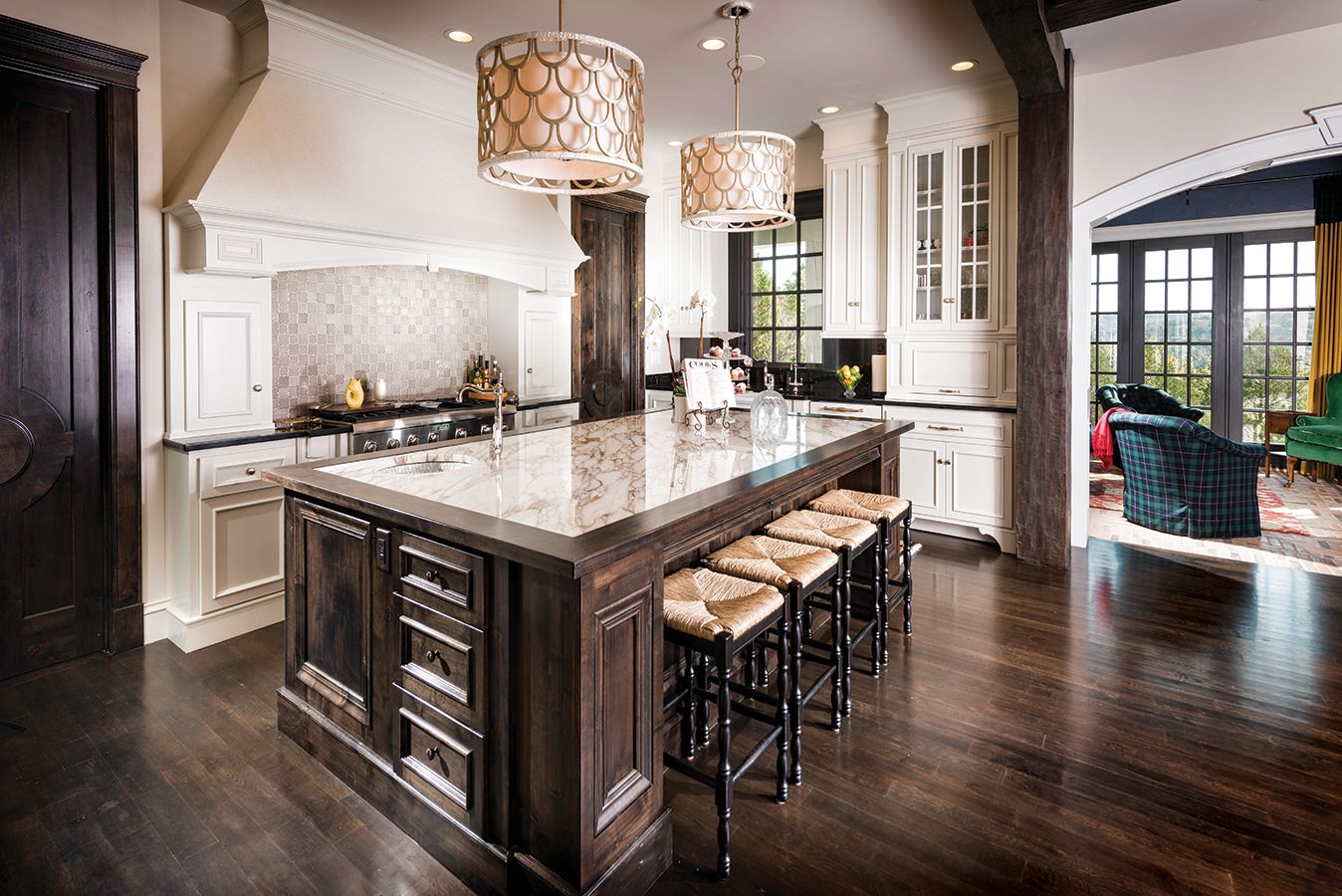 Kitchen: The kitchen is one of the largest rooms in the home, and it was made to feel even bigger with its openness to the nearby living room, dining room and sitting room. Taking center stage is a 5-by-9-foot marble island that often acts as a dinner table during the week and has base storage for extra pots and pans. Wood panels and hardware that match the cabinetry cleverly disguise the fridge, freezer and dishwasher. A mother-of-pearl prep sink, larger farmhouse sink, double ovens, plenty of counter space and easy access to a butler's pantry make mealtime as easy as pie. 
List of Luxury
Investing in your own dream home? These splurge-worthy items will definitely have your friends talking. 
Luxurious Finish
Product: Shoreline Chandelier by Currey & Co., $1,839
From: Wheeler's Furniture
This three-tier chandelier made of wrought iron and tumbled sea glass combines a beachy vibe with a touch of glamour. At 13 inches in diameter, this chandelier would look great inside of your walk-in closet. 
Two-in-One Wonder
Product: Cafe Series Energy-Star French-Door Refrigerator with Keurig K-Cup Brewing System by GE, $2,995
From: Metro Appliances & More
If you love coffee but hate how much counter space the maker takes up, this fridge is for you. On top of standard features, it has built-in hot water and Keurig dispensers, so you can brew coffee or tea with fresh, filtered water. The unit won't hit the market until January, but you can pre-order one today.
The Very Best Bathtub
Product: Addison 2 by MTI, starting at $5,147
From: Harry Cooper Supply
Made in America to look and feel like natural stone, this freestanding tub would be a beautiful addition to any bathroom, especially one with contemporary features. With a flat rim and rounded ends that contour to the shape of your body, relaxing has never been so relaxing.  
Technology You Can Touch
Product: Home Automation System by Control4, starting at $750
From: SCS Home Entertainment
The Control4 platform makes managing your home easy and convenient by combining multiple technologies into one. Adjust the thermostat, turn off the lights, interface with your alarm system and so much more with just one touch and from any location. This one-app solution syncs with smartphones and tablets, as well as desktop computers.
Customizable Comfort
Product: Brennan Sofa by La-Z-Boy, $3,979.99
From: La-Z-Boy Furniture Galleries
Rolled arms, a collared back and bun feet define the traditional structure of this sofa, but with 891 cover options, the look accommodates every design aesthetic and lifestyle. Bottom cushions are made with Comfort Core foam that supports the body and relieves pressure. Two sizes of nailhead trim add visual interest and a bit of sophistication.
Form meets function in this home designed with an open floor plan, clean lines and unusual details.
What most people know about Adrian Rhoads is that he builds homes, some of which have won this contest before. But what most people don't know about him is that he doesn't care about the accolades. Sure, they're good for business, but he finds the most value in connecting with people, learning their stories, and then designing and building homes that perfectly fit their lifestyles.
"That lady out there, we built her house 18 months ago," he says, pointing to a woman standing in his office lobby. "She just stopped by for a chat. Those are the things that get overlooked."
Rhoads' interest in his clients is evident in every aspect of how he does business as owner of Rhoads Design & Construction. It all begins with a getting-to-know-you questionnaire and hours of browsing through inspirational images with clients.
"Before we even draw a line on a piece of paper, we're talking about what we're trying to achieve," says Rhoads. "We try to encompass not only today but look out to the future."
"I really like all of the details in this home. A few favorites include the copper work incorporating the sink, soap dish, pedestal and lighting in the powder room (p. 103) and the light fixture in the dining room (p. 104)." —Adrian Rhoads, Rhoads Design & Construction
For this five-bedroom, four-and-a-half-bathroom, 8,850-square-foot home in Sparta, the homeowners envisioned a place where their four boys would not only have room to run around but also to grow up. Rhoads and his team constructed bunking quarters upstairs, where all the brothers sleep and play together, and added tons of open space for their someday extended family. The homeowners were also into details, like a custom copper sink in the powder room, and practical wishes, like making sure there was a place to store the ironing board.
"A lot of homeowners have lots of ideas about what they want their homes to look like, and they have lots of things they really love," says Rhoads. "We have to consider all those things. We're getting to a built product, but we're achieving that built product by understanding their needs."
Kitchen and Living Room: This dual-purpose area was engineered to flow together and be easy to maneuver with no posts, beams or columns in the way, but the areas were differentiated using ceiling and lighting treatments. Clean lines and hard edges on the cabinets and some of the furniture counterbalance the rustic nature of the knotty wood floor. A stainless-steel range, farmhouse sink and marble-top island are aesthetically pleasing and user-friendly. All these elements work together to create the inviting, functional look the homeowners desired. 
Homeschooling Room: Unique to the floorplan of this build is a room where the couple can homeschool their children. On one side are learning stations with desks, chairs and custom shelving; on the other side is a cool reading nook with dual-swinging doors. There are three entrances and a maze of hidden rooms inside of the nook. What better way to entice the kids to curl up with a good book?
Laundry Room: In the laundry room, the goal was to create an adequate amount of storage, so cabinetry and shelving were installed above and below the sink, as well as above and opposite the washer and dryer. Light green paint, a small window and a floral motif add a punch of freshness. 
Master Bedroom: A good night's sleep is easy to come by here, where calming blues and creams convey solitude. Built-in shelves with glass doors and custom cross patterns are the perfect spot for the homeowners to keep their books, photos and knickknacks tucked away yet visible. Bedside drawers are equipped with a pull-out receptacle system, so their electronic devices can be charged out of sight. There are switches right beside the drawers that control the reading lights.

Powder Room: While the powder room has many lovely attributes, the standout feature is a custom copper sink with swoon-worthy curvature. The piping sprouts up on either side of the marble-topped basin and then conjoins at a soap dish before diverging and then rising to meet the wall sconces. The copper's horizontal lines are mimicked in the wainscoting around the lower perimeter of the space, painted to match the navy tones in a bold, floral-print wallpaper.
Entertaining Area:To limit the height of the entire front elevation, this house was designed with a smaller second floor and utilizes a walkout basement. At the heart of this lower level is the entertaining area, grounded by a 13-foot fireplace and equally substantial mantel crafted from a fallen walnut tree found in the backyard. Polished concrete floors hold up against foot traffic from outside and provide a rich, warm feel.
Dining Room: Adding a bit of an industrial vibe to the home is a massive, custom-welded, steel chandelier handcrafted by a close family member. Metalwork repeats in the chairs and front entry railing, tying the design together. A burgundy rug and large bay window ground the space and give light to what might otherwise be a dim interior. 
 Master Bathroom: Walking into the master bathroom, the eye is immediately drawn to the earthtones in the wallpaper that enhance the richness of the cabinetry. Heat-resistant, stainless steel bins, along with concealed power outlets controlled by a programmable timer, were installed in one of the drawers to hide cords from hairstyling tools and give the owners peace of mind when leaving their home in a hurry.
 Bunking Quarters: Though this home has enough bedrooms for each of the couple's four boys to have their own, they're close in age and wanted a place where they could hang out together. In addition to separate bunk beds with reading lamps and headboard storage, the main room has a large closet and carpeted flooring, a perfect cushion for those brotherly wrestling matches. The boys share an en suite bathroom that features a urinal and double trough sinks with four faucets. 
Exterior: A combination of gabled and hipped roof planes along with a mix of brick and stone soften the front elevation of this American-style home to create a casual vibe. Careful consideration was given to how guests approach the home from the driveway, hence the friends' entrance located directly to the right of the three-car garage. For more formal gatherings, a stamped-and-stained concrete path leads guests over a stream to an official front entrance framed by tapered columns.
Family and guests alike feel welcome in this visually stunning home perfectly built and designed to stand the test of time.
When you close a deal with Rick Ramsey, you'll do so around the dining room table–not your own, but the one in his office. He might even offer you a cup of coffee, which he'll get from a pot brewing in his office's nearby kitchen.
It's charming that someone who builds homes for a living works from a small cottage himself, and the setting is perfect for adding a personal touch to his interactions with buyers.
This picturesque space is where Ramsey first met the owners of this project, a 3,898-square-foot country getaway in Rogersville. "They wanted to have enough space to where they could grow their family but, at the same time, not make it so large that it's not cozy," Ramsey says.
During that initial meeting, the owners excitedly scrolled through images on their iPads as if they were showing off pictures of their kids. Ramsey noticed some recurring themes that suggested that an Arts and Crafts–style home would be the best choice for them. Among the owners' favorite aspects were intricate siding, clean brick and lots of interior moldings. "They'd have ideas, and I'd have ideas," Ramsey says. "We just incorporated the two, and it worked out great."
"I love the way we combined all of the different spaces into a reasonable-sized footprint and stayed true to Arts and Crafts style." —Rick Ramsey, Ramsey Building Company
During the next 11 months, floorplans were drawn, a foundation was laid and the house began to take shape. What stands today is a split-level, five-
bedroom, three-and-a-half bathroom custom home with an easy-flowing layout, a range of ceiling heights and a partial in-ground basement. Decorative touches complete a look built and designed entirely based on those early conversations in Ramsey's office. "Every room has something special in it," Ramsey says.
There's even a dining room table that seats 10 people, large enough for the whole family and then some, to chat about the home and make memories that will last a lifetime.
Exterior: With the garage tucked away, passersby can fully absorb the artistry that makes this residence distinctly Arts and Crafts, beginning with tapered columns, diagonal woodwork in the transom above the front door and durable cement-board siding. For the siding, Ramsey invented a skipped pattern that makes the outside fancier and gives the home dimension. Multi-colored shake shingles complement the siding's misty tone. An expansive front porch begs to be used for morning coffee or watching the kids chase fireflies.
Front Entry: The home's door and windows have transoms, which are strengthening crossbars, to help complete the Arts and Crafts–style in the home's front entry. A balcony overlooking the space is a great spot to get an incomparable view not only of the front yard but also down to the greeting area. 
Kitchen: The kitchen of this Arts and Crafts–style home is kept light and bright with white cabinetry, open shelving and a backsplash made of white subway tile. Noted for both performance and style, the stainless appliances help give the space a clean, polished look. 
Master Suite: Multiple windows in the master bedroom serve a dual purpose: flooding the room with natural light from several directions and bringing visual interest to the outside of the home. Light gray paint accentuates an already crisp, clean feeling that flows into an adjoining bathroom. Here, simplicity continues to dictate design even in the unusual structure of the vanity, with his-and-hers sinks flanking a bumped-up quartz countertop. Other features include a freestanding tub and 12-by-24-foot grained tile.
Dining Room: The only requests the homeowners had for the dining room were that it be accessible from the kitchen and have a table large enough to seat 10 people, so the layout is pretty simple. Large windows offer a view to the front, and crown molding adds instant elegance. A niche in the wall keeps storage for dishes tucked away and prevents furniture from cluttering the room.
Living Room: Adjacent to the kitchen, the living room boasts an 11-foot ceiling decorated with box beams and crown molding. Its breadth accommodates enough recessed lighting to adequately brighten the space on cloudy days. A painted brick fireplace, floating mantel and asymmetrical built-ins are quirky details that hint at the homeowners' personalities.
 Back Porch: The coolest thing about the back porch is what was used to enclose the space. Instead of standard fiberglass mesh that tends to attract insects due to the corn syrup added to it during the manufacturing process, Ramsey installed Super Screen, a product that resists breakdown not only from insects but also from the sun. Other features include a brick knee wall, low-maintenance concrete flooring and a V-notch wood ceiling.
Architecture reminiscent of the late 1800s comes together with 21st century design in this shotgun-style house full of bright colors and flair.
Mike Robbins describes himself as accessible and personable, two qualities most people covet in someone who's going to build their forever home. The fact that he doesn't mind getting dirty is a bonus.
"I'm not a builder who pulls up on the telephone and never gets out of his truck," Robbins says.
A newcomer to the Homes of the Year contest, Robbins won because of his talent in executing this modern mountain masterpiece. To complete the home, he used the hands-on approach that he first learned while working in general construction. "It gave me the opportunity to know how to do everything, and I was never above that," Robbins says.
When consulting with the owners, Robbins learned about their affinity for classic contemporary and how they love all things trendy and reflective of 21st century design. At the same time, they wanted a home that was warm, comfortable and wouldn't become architecturally outdated. That's where Chris Ball of Ball Architects PC stepped in with his vision, which Robbins executed to perfection.
"My favorite feature in this home is the kitchen. I designed the layout. I love the balance, and the huge island. I am big on balance. I draw a lot of my plans for my builds, and balance is a big thing I strive for." —Mike Robbins, Robbins Custom Homes
The homeowners' must-have list included a split-bedroom layout, wine cellar and space for their large-scale art collection. In the end, this 3,520-square-foot residence became a voguish variation of what is commonly referred to as a shotgun house: narrow, rectangular and with few or no walls separating the living areas. 
The floorplan includes four bedrooms, three bathrooms and one half bath, as well as a living room-dining room-kitchen triumvirate that powers the overall look and impression of the house. Engineered lumber beams, a floor-to-ceiling stone fireplace and a staircase with glass instead of banisters are just some of the details that distinguish this home. 
"What I enjoy the most is taking people's thoughts and ideas and having them look at me in the end and say, 'You've exceeded our expectations,' and I think that's because of my experience and because I'm easy to deal with," Robbins says.
Dining Room/Kitchen: Beginning in the living room, hand-scraped oak flooring runs clear to the back atrium, softly interrupted by an 8-inch step up into the eating area. Here, myriad finishes keeps the eyes traveling around the space, from white subway tile backsplash to black granite countertops and a luxurious Calacatta marble island. Robbins made the island even more visually appealing with bump outs around the bottom. Robbins' brother, Jeff Robbins, constructed the square-profile Shaker cabinets on site. 
Half Bath: Just off the living room is a half bath for guests. Originally, these oversized ceramic tiles were going to go on only one wall, but the homeowners liked them so much that they decided to double the impact by putting them on two. A rectangular sink imitates their shape, while a chrome faucet and other silver details bring out their grayish tones.
Master Suite: The master bedroom sits opposite the living room, although double doors retain privacy. They also allude to the room's grandeur, but its layout is actually understated compared to that of the master bathroom, where the owners wanted a lavish, Ritz-Carlton–like experience that contrasted the cozy mood of the bedroom. 
Child's Suite: In the bedroom, a beautiful handcrafted bookshelf takes up an entire wall while an attached window seat provides much-needed storage, as well as a view to the outside. Decorative touches display variations of pink, a hue restated differently in the bathroom as the dominant wall color. In both spaces, the clean lines of custom trim and polished finishes are identical to what is found throughout the home.
Exterior: A stone chimney, porch pedestals made of brick and dormer windows rising above the roofline are all characteristic of Craftsman architecture. Dark siding lends that feeling of warmth the homeowners were after. Open rafters are traditional Craftsman, too, and this home has plenty of them over an outdoor patio. On a long, linear lot such as this one, Robbins and his framer, his brother Tim Robbins, had to think outside the box. The garage, for instance, was installed on the opposite side of the house as the entrance, because there was no room for it otherwise.
Living Room: Neutral walls and upholstery set the stage for an ensemble of red, green, blue and yellow to make its debut in this eclectic living room. Mixed metals join the show, too, including a chrome orb chandelier custom manufactured in Greece. Its grandeur draws the eye up toward massive, rustic beams that fall in line with the mountain feel of the exterior. Sunlight from clearstory windows above spotlight a 28-foot-high wall that displays one of the homeowners' favorite pieces of art, an original oil by local artist Jeff Broekhoven, which inspired the living room's color palette.
Wine Cellar: Robbins and his team went to great lengths to give the owners a wine cellar that was a focal point of their home and can be seen from the living room. Custom cabinet work involved cutting and assembling the shelving, then disassembling it, painting it and putting it back together again. The refrigerated room was insulated with tempered glass to maintain a constant temperature. More than 240 hours went into this work of art.
The 2015 Homes of the Year Contest features praiseworthy work from these 417-land builders. Learn what makes them extraordinary craftsmen and why they are each deserving of being named a winner. - Jennifer Adamson
DOUG PITTS
Doug Pitts Construction, dougpittsconstruction.com, 417-840-5759
Mostly known for his Old World-, Tuscan- and Craftsman-style homes, Doug Pitts has been on the Ozarks scene for nearly two decades. As a former commercial carpenter, he's come a long way from building decks to raising entire houses. Most of the artisans, subcontractors and suppliers he's assembled have been with the company from the beginning, which means his team understands the most efficient and proper way to get the job done right. Pitts is always focused on building to match the lifestyles of his clients and loves to think outside the box in the process. His properties have been featured in 417 Magazine and 417 Home. 
ADRIAN RHOADS
Rhoads Design & Construction, rhoadscompany.com, 417-889-6000
In 2007, Adrian Rhoads built his first home, a 3,200-square-foot Craftsman in a subdivision in southeast Springfield. Today, his work ranges in size from 3,500-square-feet to significantly larger and can be seen all over 417-land. Rhoads is a past Homes of the Year winner who credits his success to his alma mater, Hammons School of Architecture at Drury University, where he studied design and structures, as well as to the team he's assembled in his 11 years of doing business. His talent is in turning creative concepts into physical forms that truly represent whatever style home he's commissioned to build. Making sure he understands his clients' needs is also at the top of his priority list.
RICK RAMSEY
Ramsey Building Company, ramseybuilding.com, 417-840-0006
From stacking blocks in kindergarten to engineering custom homes for 417-
landers, Rick Ramsey has always loved to build. His official foray into the industry began 20 years ago when he started constructing rental properties. Almost immediately, he was approached by several people who wanted to purchase his homes. In 1995, Ramsey established Ramsey Building Company and now engineers one-of-a-kind, made-to-order residences in southwest Missouri. One of his largest projects to date, a 12,000-square-foot English manor in east Springfield, was named a Home of the Year in 2014, but he also enjoys building smaller homes with more detail and prides himself on quality workmanship.
MIKE ROBBINS
Robbins Custom Homes, robbinshomes.com, 417-840-4477
A lifetime in construction has given Mike Robbins a distinct skill set that allows him to anticipate what architecture and designs will be popular before they become trends. Over the years, he's worked his way up from swinging a hammer to owning Robbins Custom Homes, where his brothers, Tim and Jeff, are in charge of framing, cabinets and moldings. Robbins specializes in upscale residential properties ranging in price from $250,000 to $1.1 million, as well as remodels in all price ranges. His homes are modern, rustic and everything in between. Last December, Robbins designed a contemporary take on a 19th century shotgun house, featured starting on p. 112, which garnered his first Homes of the Year win.
Resource Listing
More than $1 million
Doug Pitts Construction
Builder
Doug Pitts
Doug Pitts Construction
1719 S. Farm Road 245, Rogersville, 417-840-5759, dougpittsconstruction.com
Custom home designer
Euro World Design
1929 Tanglewood Lane, Nixa, 417-581-6057, euroworlddesign.com
Interior Designer
Douglas Deckard Company
535 S. Peoria, Tulsa, Oklahoma, 918-284-9701
Framing
Decker Building & Developing
3658 State Hwy. 86, Lampe, 417-779-1254, deckerbuilding.com
Electrical
Kilivolt Electric 
417-353-1184, kilivoltelectric.com
Plumbing
Wheeler Plumbing LLC 
417-838-5736
HVAC
Comfort Mechanical
6431 E. Ridgeline Dr., Springfield, 417-827-3422, comfortmechanicalllc.com
Cabinets
Fritz Custom Cabinets 
702 Lon Road, Rogersville, 417-425-0922
Countertops
Unique Tile
1364 N. Kelly Ave., Nixa, 417-725-5515, uniquetile.com
Hardware
National Home Products
2726 S. Glenstone Ave., Springfield, 417-731-3220, nhp-spfd.com
Doors/Windows
Meek's Design Center
3231 N. Glenstone Ave., Springfield, 417-889-1929, www.meeks.com/midwest/design-center
Fritz Custom Cabinets 
702 Lon Road, Rogersville, 417-425-0922
Meek's Lumber
1551 W. Mount Vernon St., Springfield, 417-862-5595, meeklumber.com
Carpet
The Carpet Shoppe 
1827 E. Seminole St., Springfield, 417-883-6455, thecarpetshoppe.com
Stone
Palisades Stone
1350 E. Commercial St., Springfield, 417-831-5048, palisadesstone.com
Masonry
Loredo's Masonry
852 S. Park Ave., Springfield, 417-224-3013
Tile
Unique Tile
1364 N. Kelly Ave., Nixa, 417-725-5515, uniquetile.com
Tile Installer
Precise Tile 
246 S. Carl Ave., Nixa, 417-860-3287
Wood Floors
Done Right Construction
417-569-7016
Trim Work/Finishes
Done Right Construction
417-569-7016
Decorative Paint Contractor
Prosser Painting
417-830-0894
Appliances
Metro Appliances & More
3252 N. Glenstone Ave., Springfield, 417-833-1113, metroappliancesandmore.com
Garage Doors
Brookline Doorworks
308 W. Lakewood St., Springfield417-862-8920, brooklinedoorworks.com
Landscaping 
Opie's Landscaping
417-239-5402, opieslandscaping.com
Architectural Moldings
Done Right Construction
417-569-7016
Lighting
The Light House Gallery
4113 S. National Ave., Springfield, 417-889-1088, thelighthousegallery.com
Audio/Visual
rAVe Design Services
137 E. State Hwy. CC, Nixa, 417-447-3344, ravedesignservices.com
Roofing
D.J. Roofing Supply
2706 W. Chestnut Expy., Springfield, 417-831-0347, djroofingsupply.com
Insulation
Meek's Lumber
1551 W. Mount Vernon St., Springfield, 417-862-5595, meeklumber.com
Drywall
Cardoza Construction
239 Redwood Dr., Ozark, 417-725-6717, cardozaconstruction.com
Gutters
Gutter Shield
1314 Kinder St., Nixa, 417-886-9568, guttershield.net
Stucco
Clayman Plastering
417-861-9906
Fireplace Inserts 
Meek's Lumber
1551 W. Mount Vernon St., Springfield, 417-862-5595, meeklumber.com
Security/Fire Alarms
rAVe Design Services
137 E. State Hwy. CC, Nixa, 417-447-3344, ravedesignservices.com
Concrete
Tidwell Concrete
4451 W. University St., Springfield, 417-883-4787, springfielddecorative-concrete.com
Exterior Iron
Advance Welding & Ornamental Iron
651 S. Kansas Ave., Springfield, 417-886-8032, advwelding.com
$750 to $1 Million
Rhoads Design & Construction
Builder
Adrian Rhoads
Rhoads Design & Construction
1435 S. Enterprise Ave., Springfield, 417-889-6000, rhoadscompany.com
Designer
Rhoads Design & Construction
1435 S. Enterprise Ave., Springfield, 417-889-6000, rhoadscompany.com
AsterHouse Design
7300 Anderson Ave., Manhattan, Kansas, 785-587-0202, asterhousedesign.com
Architect
Rhoads Design & Construction
1435 S. Enterprise Ave., Springfield, 417-889-6000, rhoadscompany.com
Electrical
J & J Lighting and Electrical
333 S. Union Ave., Springfield, 417-869-8100
Plumbing
Draper Plumbing LLC
417-413-1988, draperplumbing.com
HVAC
Signature Home Comfort
669 N. Miller Road, Springfield, 417-862-3410, signaturehomecomfort.com
Cabinets
Buchholz Custom Woodworks
21647 Lawrence 2230, Aurora, 417-846-5189 
Countertops
Custom Granite & Tile
1445 W. Chestnut Expy., Springfield, 417-864-0999, customgraniteandtile.com
Hardware
National Home Products
2726 S. Glenstone Ave., Springfield, 417-731-3220, nhp-spfd.com
Doors/Windows
Meek's Design Center
3231 N. Glenstone Ave., Springfield,417-889-1929, www.meeks.com/midwest/design-center
Carpet
The Carpet Shoppe
1827 E. Seminole St., Springfield, 417-883-6455, thecarpetshoppe.com
Stone/Tile
The Carpet Shoppe 
1827 E. Seminole St., Springfield, 417-883-6455, thecarpetshoppe.com
Fraley Masonry 
2726 N. Biagio St., Ozark, 417-582-1715, fraleymasonry.com
Wood Floors
Bold Wood Floors LLC
22129 Lawrence 2210, Aurora, 417-224-3692, boldwoodfloorsllc.com
Custom Woodwork
Rhoads Design & Construction
1435 S. Enterprise Ave., Springfield, 417-889-6000, rhoadscompany.com
Decker Building & Developing
3658 State Hwy. 86, Lampe, 417-779-1254, deckerbuilding.com
Decorative Paint Contractor
B Precision Painting
731 Anemone Road, Billings, 417-827-1415
Appliances
Metro Appliances & More
3252 N. Glenstone Ave., Springfield, 417-833-1113, metroappliancesandmore.com
Garage Doors
Overhead Door Company
707 N. Grant Ave., Springfield, 417-862-9332, overheaddoorspringfield.com
Landscaping
Taussig Landscape
2541 Casement Road, Manhattan, Kansas, 785-564-1727, taussiglandscape.com
Furniture 
AsterHouse Design
7300 Anderson Ave., Manhattan, Kansas, 785-587-0202, asterhousedesign.com
Architectural Moldings
The Millwork Shoppe
2115 N. Sports Complex Ln., Nixa, 417-725-5220  themillworkshoppe.com
Lighting
The Light House Gallery
4113 S. National Ave., Springfield, 417-889-1088, thelighthousegallery.com
Audio/Visual
Teocalli Custom
330 Southwood Rd., Rogersville, 417-830-9345
Custom Metal Work
Advanced Metal Fabricators
1050 E. Lynn St., Springfield, 417-873-9696, amfab417.com
Cultured Marble
Taylor Marble
1660 W. Skyline Ave., Ozark, 417-581-6888, taylormarble.com
Decorative Concrete
SimsCo LLC417-343-9005
$500,000 to $750,000
Ramsey Building Company
Builder
Rick Ramsey
Ramsey Building Company LLC
201 N. Main St., Nixa, 417-725-5545, ramseybuilding.com
Custom Home Designer
J L Thompson Design
966 Bear Creek Rd., Walnut Shade, 417-334-3582, jlthompsondesign.com
Plans
J L Thompson Design
966 Bear Creek Road, Walnut Shade, 417-334-3582, jlthompsondesign.com
Electrical
Davis Electric Inc.
1615 N. Highway CC, Nixa, 417-725-9205, daviselectric.biz
Plumbing
Harry Cooper Supply Co.
605 N. Sherman Pkwy., Springfield, 417-865-8392, harrycooper.com
Precision Plumbing
806 Heritage Road, Strafford, 417-840-4926
Cultured Marble
Taylor Marble
1660 W. Skyline Ave., Ozark, 417-581-6888, taylormarble.com
HVAC
SS&B Heating and Cooling
2607 W. Bennett St., Springfield, 417-866-0990, ssbhc.com
Cabinets
Cabinet Concepts by Design
4123 N. State Highway H, Springfield, 417-725-3400, cabinetconceptsbydesign.com
Countertops
Ozark Mountain Granite
6001 N. 21st St., Ozark, 417-581-4600, ozarkmountaingranite-andtile.com
Hardware
National Home Products
2726 S. Glenstone Ave., Springfield, 417-731-3220, nhp-spfd.com
Doors / Windows
Meek's Lumber
735 N. Massey Blvd., Nixa, 417-725-3592, meeklumber.com
Jamerson Door Inc.
615 N. Rogers Ave., Springfield, 417-866-4033, jamersondoor.com
Carpet
Midwest Rug Co.
911 W. Sunshine St., Springfield, 417-869-3030, midwestrug.com
Stone/Tile
Midwest Rug Co.
911 W. Sunshine St., Springfield, 417-869-3030, midwestrug.com
Wood Floors
Midwest Rug Co.
911 W. Sunshine St., Springfield, 417-869-3030, midwestrug.com
Custom Woodwork
Tru Construction LLC
810 N. Lexington Ave., Springfield, 417-689-6593, tru-construction.org
Decorative Paint Contractor 
J. Sowder Enterprises
504 S. Hampton Ave., Republic, 417-732-2322
Appliances
Metro Appliances & More
3252 N. Glenstone Ave., Springfield, 417-833-1113, metroappliancesandmore.com
Garage Doors
Renner Supply Company
3252 N. Glenstone Ave., Suite B100, Springfield, 417-833-1201, rennersupply.com
Landscaping
Elite Outdoor Innovations
2733 E. Battlefield St., Suite 152, Springfield, 417-885-9898, 417turf.com
LIghting
The Light House Gallery
4113 S. National Ave., Springfield, 417-889-1088, thelighthousegallery.com
Audio/Visual
Teocalli Custom
330 Southwood Road, Rogersville, 417-830-9345
$500,000 or Less
Robbins Custom Homes
Builder
Mike Robbins
Robbins Custom Homes
3234 W. Brett Dr., Springfield, 417-840-4477
Architect
Ball Architects PC
444 S. Campbell Ave., Springfield, 417-866-1904, jbapc.com        
Interior Designer                         
Obelisk Home
214 W. Phelps St., Springfield, 417-616-6488, obeliskhome.com
Plans
Ball Architects PC
444 S. Campbell Ave., Springfield, 417-866-1904, jbapc.com  
Framing
Robbins Custom Homes
3234 W. Brett Dr., Springfield, 417-840-4477
Electrical
Davis Electric Inc.
1615 N. Highway CC, Nixa , 417-725-9205, daviselectric.biz
Plumbing
Vans Plumbing
5758 Stonegate Ave., Springfield, 417-380-7035 
HVAC
Williams Heating & Air Conditioning
2615 W. Grand St., Springfield, 417-869-3159
Cabinets/Wine Cellar
Robbins Custom Homes
3234 W. Brett Dr., Springfield, 417-840-4477
Countertops
 U.S. Granite & Tile, 8684 U.S. Hwy. 160 South, Highlandville, 417-443-0195
Hardware
Ron Miller Hardware
435 S. Ingram Mill Road, Springfield, 417-831-1182, ronmillerhardware.com
Doors/Windows
Herrman Lumber Company
1917 S. State Hwy. MM, Springfield, 417-862-3737, herrmanlumber.com
Carpet
Discount Dave's Carpet & Flooring
1854 N. Glenstone Ave., Springfield, 417-862-3283, discountdavescarpet.com
Stone/Tile
Pantheon Floor Solutions
1536 Hutton Dr., Suite 100, Carrollton, Texas, 877-737-3742, pantheontile.com
Wood Floors
Discount Dave's Carpet & Flooring
1854 N. Glenstone Ave., Springfield, 417-862-3283, discountdavescarpet.com
Custom Woodwork
Robbins Custom Homes
3234 W. Brett Dr., Springfield, 417-840-4477
Decorative Paint Contractor
Garrison Painting, 417-827-7885
Appliances
Metro Appliances & More
3252 N. Glenstone Ave., Springfield, 417-833-1113, metroappliancesandmore.com
Garage Doors
Brookline Doorworks
308 W. Lakewood St., Springfield, 417-862-8920, brooklinedoorworks.com
Landscaping
Royal Lawn Care, 417-861-5485
Furniture
Obelisk Home
214 W. Phelps St., Springfield, 417-616-6488, obeliskhome.com
Restoration Hardware
4704 Wyandotte St., Kansas City, Missouri, 816-931-6592, restorationhardware.com
Architectural Molding 
Robbins Custom Homes
3234 W. Brett Dr., Springfield, 417-840-4477
Lighting
The Light House Gallery
4113 S. National Ave., Springfield, 417-889-1088, thelighthousegallery.com
Audio Visual
Southwest Audio-Visual
3058 E. Cairo St., Springfield, 417-887-4900, southwestav.com