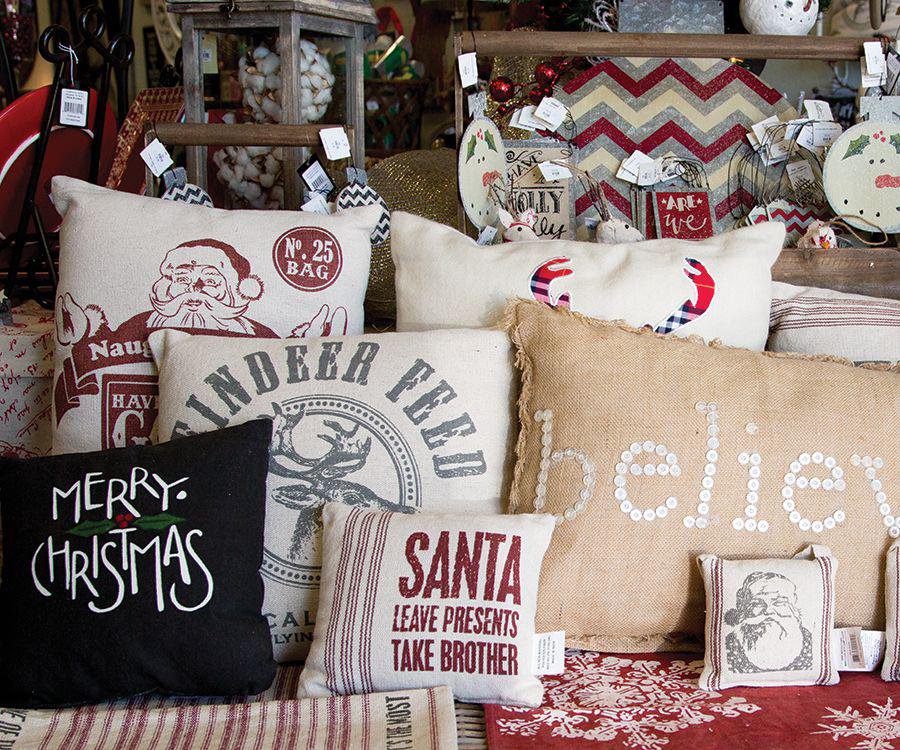 Me and My House 
3405 E. Battlefield Rd., Ste. 128 , Springfield, 417-720-1291
Me and My House is where to go when you need a variety of holiday décor items (or if you need someone to decorate for you). The wide product range here includes everything from table toppers to textiles, wreaths, trees and more. Also, you can customize your ornaments right in the store.  
StoneHouse Merchant
111 S. Commercial St., Branson, 417-544-0317 

When Christmas rolls around, StoneHouse Merchant completely transforms. "Everything except the Christmas tree is for sale," owner Samantha Davidson says. "Our Christmas candles are our best sellers." If you're looking for furniture to round out your home, the store carries everything from lamps and tables to home décor items, many less than $30. 
The Nest, The Thicket and Branches
1856 E. Cinderella St., Springfield, 417-823-8600
The Nest, The Thicket and Branches are three stores within the same shopping complex. The Nest has all your fresh flower needs, and décor wishes are granted at The Thicket and Branches. "We focus on traditional Christmas items," says Melanie Braun, associate and designer. "This year a lot of the focus is on more of a winter look, because it extends the season longer." The stores offer in-home decorating services as well. 
Wickman's Garden village
1345 S. Fort Ave., Springfield, 417-862-3707

Trying to find a wreath for the front door? Wickman Gardens has you covered. Flower shop manager Steve Waddell says the garden store sells trees, wreaths, garlands and poinsettias both alive and artificial, along with a wide range of gift ideas. "I think this holiday season our customers are wanting more of a natural Christmas look," Waddell says. You can also let Wickman's decorate for you with their in-home service. 
Wheeler Gardens and Florist
601 N. 4th St., Ozark; 3911 E. Sunshine St., Springfield, 417-581-1867 
Wheeler Gardens has everything Christmas—seriously. Manager Austin Colboch says the store carries ornaments, pillows, Swan Creek candles (a top seller), holiday food mixes, in-house made wreaths, Christmas trees, gift ideas and home décor items. "Anything you want for Christmas, we have it," Colboch says. "We're a one-stop-shop."