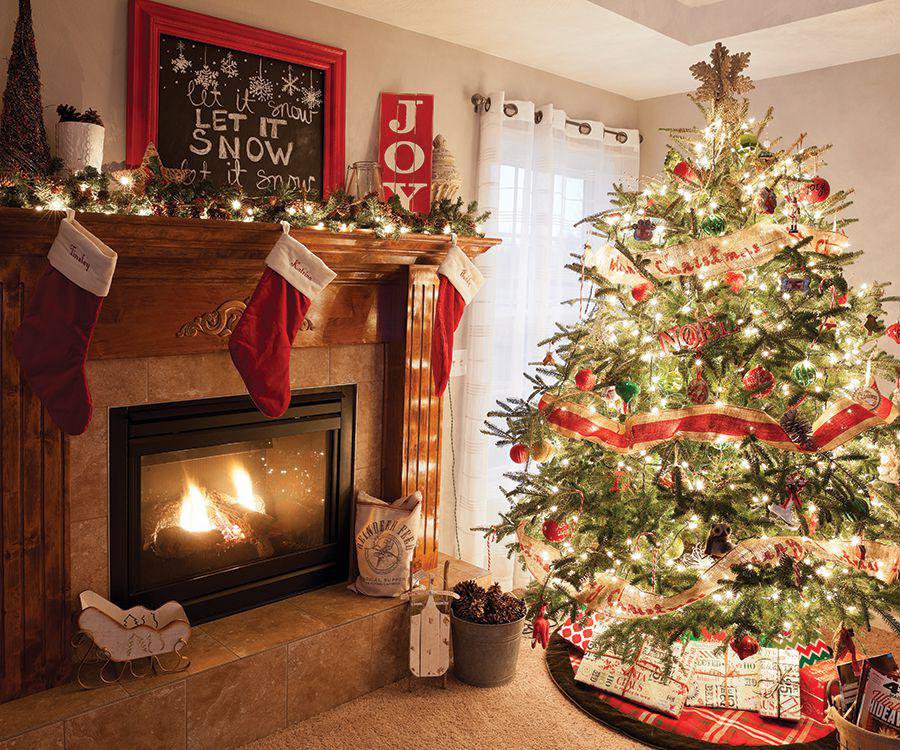 Katrina Appelquist has had a love for the Christmas season in her blood since before she was even born. Growing up, she says Christmas was always important to her and her family, and she found her place in the family tradition at an early age. She and her two sisters would go with their parents to her grandpa's 100-acre farm in Verona to pick out a tree and chop it down. It was there Katrina found her love for decorating. "As I got older and got my own place, even if I was in a one-bedroom apartment, I still decorated for Christmas," she says. "Now that I have a house, every room is decorated." 
Appelquist now shares a house with her two pups, Tinsley and Buddy, and she fills every room with Christmas décor, much of which she makes herself.  A dozen trees scattered throughout the home help set the stage for the holiday and pair perfectly with the many other decorations she starts putting out near the end of October every year with the help of her mom and niece. Five of her trees are fully decorated in themes, and the remaining seven are table toppers or smaller trees for the entryway and kitchen. She adds a few more items to her collection each year, and scours antique shops to find her favorite pieces. She also does a lot of DIY projects to help decorate her home, making a lot of the wall hangings herself and meeting up with her friends to make Christmas crafts and paint ornaments.  
In addition to her own house, Appelquist recently helped decorate the storefront of an antique shop in Billings, and she's scheduled to decorate a couple of residences this season. Naturally, she loves every second of it, because decorating is one of the many things she adores about Christmas. "I love those traditions," she says. "It all makes me so happy." 

Appelquist got the idea for this ornament when she saw a similar piece at an antique store in Ozark. To make your own, simply twist red and white pipe cleaners together, dip the ornament in Mod Podge, then sprinkle it with white glitter to make it twinkle on the tree.

Appelquist loves to decorate with banners, and found the templates to this "Joy to the World" banner online. She printed the letters and added them to a string of twine with mini clothespins. You can replicate the idea with your own favorite Christmas saying.

Appelquist saves her tallest 9-foot tree for her home office. She specifically wanted the color scheme to go with the room's gray walls, and she decorates this tree with the many ornaments that have been given to her from her family and friends.

Appelquist says she loves sitting in front of the fireplace and doing a puzzle while watching a Christmas movie. She added a personal touch to her living room by turning an old frame into the chalkboard on the mantel, an easy idea that can be attempted by even the most novice crafter. She special-ordered these stockings for herself and her two dogs the first year they lived in the home. Tinsley is named after tinsel, and Buddy is named after the main character in the movie Elf. 
Appelquist and her mom sewed this burlap pillow cover before stenciling on the letters. She has a set that says "Joy," "Noel" and "Peace."

No detail is overlooked when Appelquist decorates for Christmas—she even switches out her comforter and pillows. She made the little tree garland with a friend after they got swatches of fabric at Hobby Lobby. They stuffed the triangles to make little tree tops, added a different fabric piece to make each trunk, and attached all the mini trees to twine. This idea makes a fun gift, since you can easily customize the colors and designs of the fabrics.