In the Kitchen With Kale
Kale isn't just trendy—it's good for you, too! Learn how to grow your own from a local farmer, then enjoy your harvest with these tasty recipes.
By Peyson Shields | Photos courtesy Shutterstock, courtesy The Food Channel
Nov 2015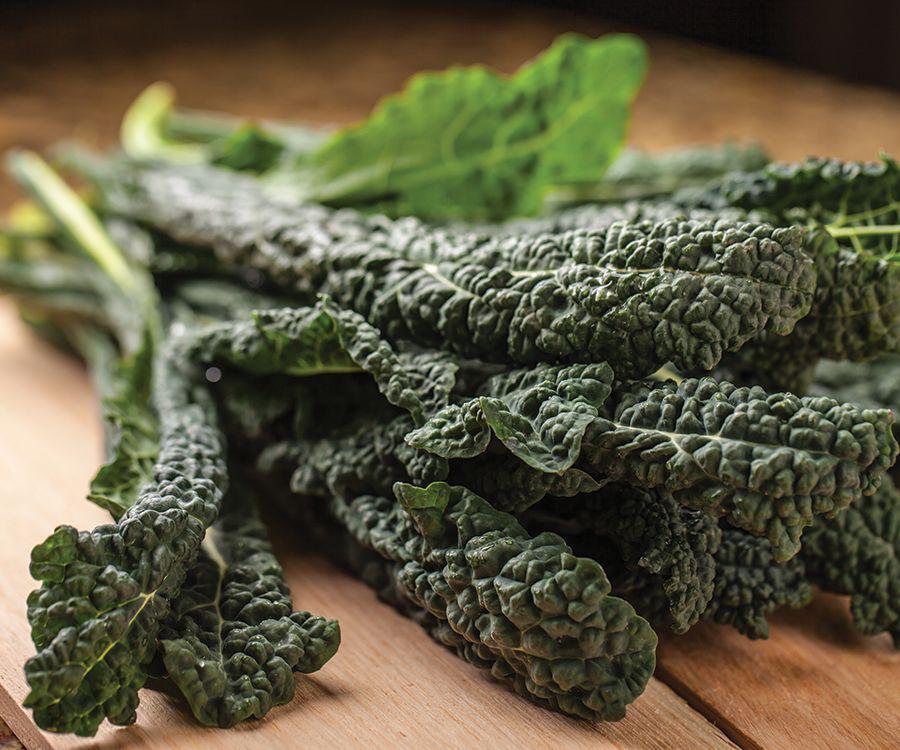 The little garnish on the side of your steak dinner has now become a Broadway star. Okay, maybe it's not singing and dancing, but there's no doubt kale has become a health-lover's obsession. The coined "superfood" is making its way into everything from smoothies to fashion.With help from a handful of local pros, you can grow and enjoy the popular veggie.
Even though the temperatures are dropping, gardening season isn't over. When it comes to kale, it's traditionally a fall crop, but with some planning you can continue to grow and harvest kale well into the winter. Considering kale is a crop that can freeze overnight as long as it warms up during the day, it's a great contender for the cold season in 417-land. 
To help your crops thrive during the winter, you can use the concept of high-tunnels, which is what Springfield's Urban Roots Farm uses to grow their crops. Farm owner Adam Millsap recommends using PVC pipe hoops over your garden beds and then dressing them in plastic. Open the ends during the day to create a vent source, while the beds heat up to more than 70°F. At night, close down the plastic. 
If piping seems like too much work, Millsap says the floating row cover can be used as frost protection for nights that get down around the 30°F mark. It's a permeable cloth that allows light and water through. Just pin the edges down to ensure it stays in place. 
Once you have the planting thing down, you can start to harvest your kale in four to five weeks, with greater harvests around seven weeks, Millsap says. Plus, kale is on the top of the cool list because once it's mature, you can continue to harvest it as long as it keeps producing. 
So let's say you've harvested this home-grown kale (or picked some up from the farmers at market). Now what? Incorporating kale into your favorite recipes, or trying some new recipes, is a great way to get in your daily dose of Vitamins A and K. Check out these creations from Springfield-based Food Channel Test Kitchen and a couple of 417 Magazine staffers.
Lemon Gnocchi with Peas & Kale
Recipe courtesy of foodchannel.com contributing chef K.C. Quaretti, Chat 'n Dish
Ingredients:
1 cup fat-free half and half 
1 cup peas 
2 cups kale 
1 garlic clove, smashed
1 tablespoon lemon zest 
1 teaspoon lemon juice 
Pinch of salt for the sauce 
1 pound gnocchi
3 tablespoons salt for the boiling water 
¼ cup grated Parmesan or more to taste
To prepare:
Warm a large skillet, and add half and half, peas, kale, garlic and salt. Cover and reduce heat to simmer for 5 minutes. Remove from heat, and add the lemon zest and juice. While making the sauce, heat a pot of salted water to boil. Add gnocchi, and cook for two to three minutes or until they float to the surface of the water. Drain gnocchi, and add to the sauce. Mix together well, and top with grated Parmesan. 
Asparagus & Kale Quiche
Recipe courtesy of foodchannel.com contributing chef K.C. Quaretti, Chat 'n Dish
Ingredients:
1 refrigerated pie crust
¼ cup Parmesan cheese, grated
1 onion, minced
8 ounces asparagus, thinly sliced, divided
1½ cups baby kale (if using regular kale it will need to be chopped)
4 tablespoons olive oil
Pinch salt & pepper
4 eggs
1½ cups nonfat Greek yogurt
1 pinch ground nutmeg
1½ cups mozzarella cheese, grated and divided
1 cup diced ham
To prepare:
Heat oven to 350°F. Line pie pan with refrigerated pie crust, and press 3 tablespoons grated Parmesan cheese into bottom of pie shell. Drizzle olive oil into large sauté pan over medium-low heat, and add in onion and asparagus. Add kale, and sprinkle with salt and pepper. Cover, and let sauté until kale is wilted and onions are translucent, then remove from heat to cool slightly. Whisk eggs and yogurt together in a large bowl. Add 1¼ cups mozzarella, ham, nutmeg and another sprinkle of pepper.  I do not add more salt, because the ham will bring enough salt into the dish. When the onion kale mixture is cooled slightly, add to the egg and yogurt mixture, and pour into pie shell. Place remaining asparagus spears on top of quiche in a wagon wheel formation, and top with remaining grated cheeses. Bake for 50 minutes. Cool for 10 minutes before serving.
Everyone's Favorite Kale Salad
Recipe by Vivian Wheeler
Ingredients:
One head of kale, roughly chopped 
1 cup olive oil
½ cup freshly squeezed lemon juice
¼ cup soy sauce
1 teaspoon cumin
3 cloves garlic, minced
Salt and pepper to taste
To prepare:
Add all ingredients except kale and olive oil into the blender, and blend on medium for one minute. Turn the blender to low, and slowly pour in olive oil until all ingredients are combined. Place the kale in a large mixing bowl, and pour the salad dressing over it. How much dressing you use is up to you. Wash your hands, then massage the dressing into the kale for five minutes. Don't skip this step, it really makes the salad.
Buffalo Kale Dip
Recipe by Peyson Shields
Ingredients:
2 cups plain Greek yogurt
2 cups frozen kale, steamed
1 cup part-skim mozzarella cheese, shredded
1 tablespoon ranch seasoning
¼ cup buffalo hot sauce, more if you like it spicy
To prepare:
Steam kale to package instructions, and strain all the water out using a tea cloth. Add all ingredients to a small crockpot, and stir to combine. Cook on low for three to four hours, or until the dip is warm and cheese is melted. If you just can't wait, microwave the dip, stirring every 30 seconds.