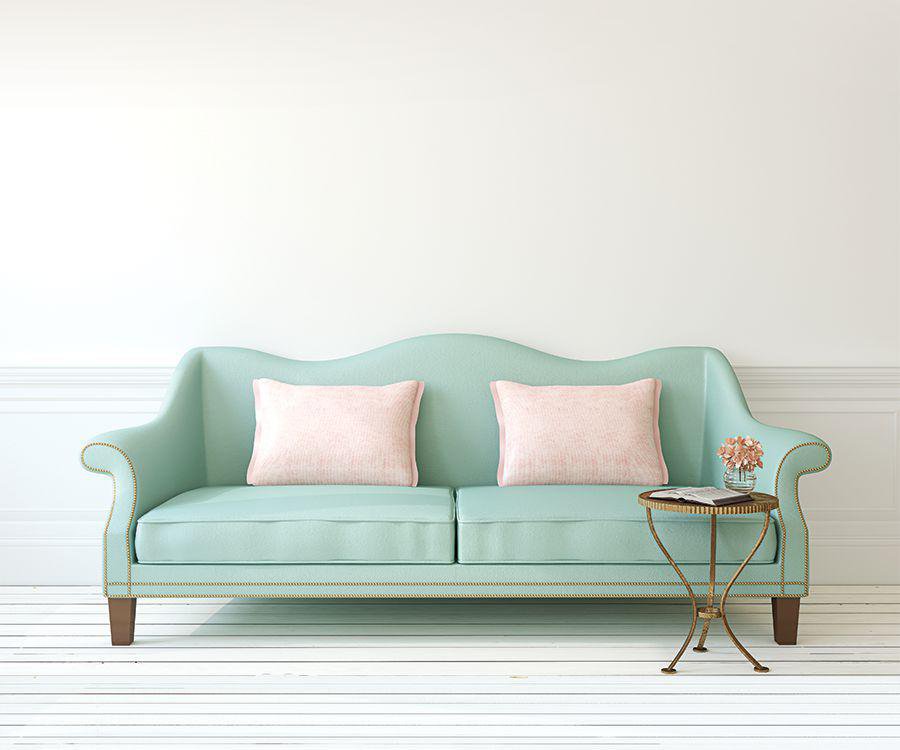 Pastels that Pop
Obelisk Home
Market City: High Point, North Carolina
"A lot of what we saw at market was the ultra-modern look, like white and black with chrome. There was also a new take on '80s and '90s pastels—powder blue and mint green, dusty pink and modern mixed with jewel-toned metallic. Don't be afraid to mix materials, whether it's metallic with natural elements or modern with classic. It's all about the mix of old and new right now."—Brady Nelson, Design Assistant, Obelisk Home
Sustainable Style
Ellecor Design & gifts 
Market City: Las Vegas, Nevada
"We are still seeing reclaimed woods combined with metals for an industrial look. Also, people are still going green—being sustainable and eco-friendly is and should be more common in home décor and design. When it comes to your home, you need to stick with what makes you feel at home.  Rather than going all out and trendy in a whole room, just stick with classics and mix in the trends with little accessories or decor."—Haden Long, Ellecor Design & Gifts
Brass is Back
Wheeler's Furniture
Market City: High Point, North Carolina
"Brass is huge right now! Brass framed beds, chairs, tables, shelves, light fixtures—you name it. Also, there are two extremes in color right now: either it's a bold use of color and patterns, or it's very neutral and all about textures. My advice, buy the best quality you can afford in the furniture that you 'live on.' Quality construction means it will withstand day-to-day wear much better."—Shannon Pennell, Interior Designer, Wheeler's Furniture
Blue and Nautical
Stonehouse Merchant
Market City: Dallas and Las Vegas
"I've seen lots of blue, pendant lighting and nautical décor in recent trends. Also, individuals are taking furniture they already have and refinishing it with products like the new restoration paint called Little Billy Goat (we were the third store in the nation to carry it). Also, people are mixing it up—no more matchy-matchy. Try some eclectic styling."—Samantha Davidson, Owner, StoneHouse Merchant


Mix more modern pieces with rustic styles, like the side table above, for a timeless look. 
Getting
Back to Nature
Rusty Moose Lodge Décor
Market City: Las Vegas, Dallas, Denver, Phoenix and Atlanta
"The trends for rustic-lodge and western are a little different than many of the other market segments. It is a timeless look that is accented with some of the trending colors and accessories. To create a rustic or lodge feel, you don't have to use all log furniture or something with an animal on it.  You can select a few key pieces to create your own degree of rustic chic.  Do not be afraid to mix in other designs."—Kristy Sloan, Owner, Rusty Moose Lodge Décor

Clean Lines:
It's all about contemporary styles and small pops of color according to 5908 Interiors. 
Contemporary
5908 Interiors
Market City: High Point, North Carolina 
"Contemporary, contemporary, contemporary! That is the trend I see. Other recent trends I've seen are linen upholstery, which is easily adaptable to all styles. It can be done in a lot of ways, and can still be warm and inviting. Start with neutral upholstery, adding color if desired with rugs, accessories and more. A little color goes a long way so don't overdo it."
—Patti Johnson, Owner, 5908 Interiors
Timeless Treasures
Grayson Home
Market City: None
"We actually don't go to market. Instead we seek out craftsmen and small companies that make fun gift items and home goods. Our antiques and primitives are sometimes 100-plus years old. They were beautiful then, they're beautiful now, and they will be beautiful in the future. The timeless look never goes out of style.—Ryan Rosenquist, Co-owner, Grayson Home

Shine Bright:
Not only is this mirror a statement piece, its gold luster is a big trend right now. 
Going
Gold 
Me and My House
Market City: Atlanta
"Gold is big as far as metallics go. It is coming back for sure. Also, we saw a lot more contemporary items, but not clean lines—things have warmed up a bit. For example: shutters aren't modern, but we have a lot in that could go with a modern home and modern décor. A tip: It is always best to have a good, timeless staple in the room and then revamp your space around it. Even something as simple as putting new pillows on your sofa can give the room a whole new look.—Miranda Eickmeyer, Co-owner, Me and My House