Out of the Woods
With abundant natural resources on their doorsteps, these three local furniture makers specialize in custom pieces that are as one-of-a-kind as the craftspeople who make and sell them.
By Matt Lemmon | Photography by Chuck Travers and Heather Kane
Nov 2015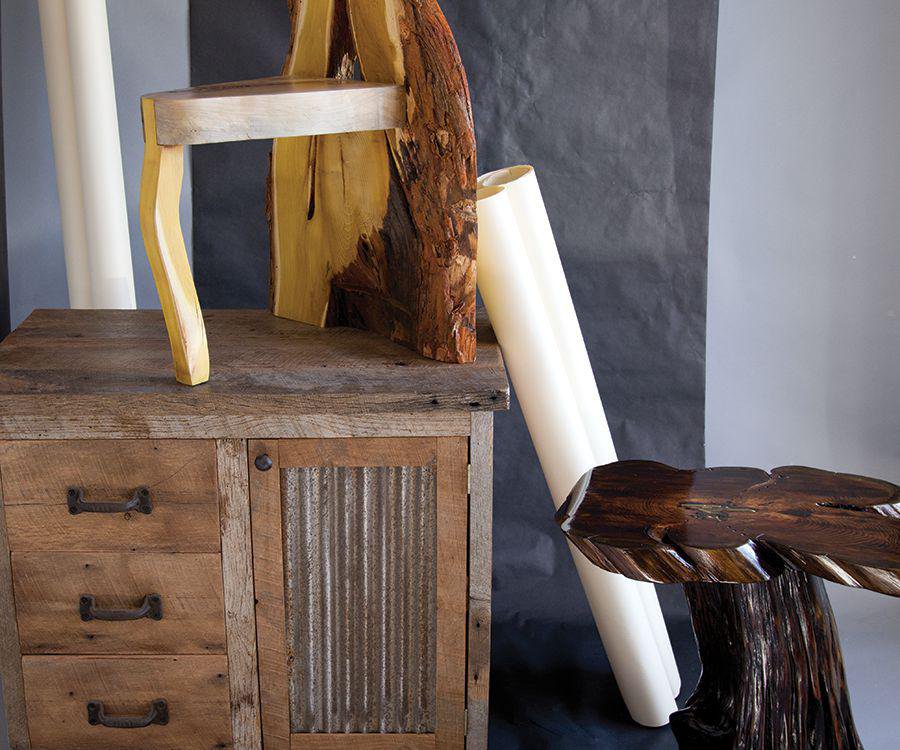 Timeless
 

J

ourney


Jeff and Laura Cole (left) had a friendly crafting competition that turned into their family woodworking business. One of their favorite pieces is this cabinet (above) made from recycled oak barnwood and tin.
In 2009 Jeff and Laura Cole began a light-hearted competition. Laura, a teacher, began scrapbooking and selling her work online. Jeff, who worked in construction, began making furniture. The goal: Make a little extra money and pay off some debt.
As it turns out, Jeff won. Old wood blown into their Republic yard by a tornado turned into shelves sold online, which turned into custom pieces for friends and, eventually, total strangers. Pretty soon, Jeff and Laura both quit their full-time jobs to focus on their business that specializes in custom rustic and barnwood furniture, which they named Timeless Journey (timelessjourney.co).
Timeless Journey's specialty is refurbished barnwood—mainly oak. Not only is it environmentally friendly, but it'll last forever, Jeff says. "It's so much older; the grains are a lot tighter than the wood you buy now," Jeff says. "You can build heavier pieces, and they last a lot longer."
Buoyed by the glut of local wood available following the 2011 Joplin tornado, Timeless Journey has used its combination of ecology and quality to attract clients from across the country. The Coles' work can be found in restaurants in New York City, Nantucket Sound and Washington D.C., and at a consulting firm in Austin. They build each piece to order, resulting in a 12- to 14-week backlog of work. They also incorporate popular modern styles at clients' request; these aren't one-note country-style wood products.
A unique challenge to the Timeless Journey business model, however, is having enough wood on hand to fill orders. Fortunately, in the Ozarks, old barns are still common (though going fast, Laura says). Many landowners are desperate to get rid of them for insurance or probate reasons and approach the Coles about donating or selling them. Sometimes, Jeff will knock on someone's door rather than risk the owner burning it or selling on Craigslist (which Laura says often go to treasure-seekers convinced that old-timers buried fortunes in their old barns).
Once Jeff has identified and purchased a barn, he and a half-dozen friends, family and other volunteers will tear it down by hand, piece-by-piece, saving the usable wood and getting rid of the rest. The process takes anywhere from a day to three weeks, depending on the size and condition. "No barn is built the same," Jeff says with a laugh.
The result of this labor is beautiful, original wood that Jeff and the team of carpenters rehab, sand, stain and turn into some truly remarkable products. His most recent favorite item is a bar and cabinet set with a functional door as the centerpiece. Their biggest sellers are bathroom vanities and barstools, though Laura says they've filled orders for everything from full kitchens to cat litter boxes.
So, the next time you enter a friendly competition with your spouse, remember: It could change your life.
L
ike
my
Roots


Johnathon Bolton focuses on tree roots, transforming the usually hidden portions into one of the most beautiful parts of his creations. He creates side tables (above), plus coffee tables, shelves and many other custom pieces.
This winter, if you see someone hauling a giant tree out of the forest by its roots, don't be alarmed. It's probably just Johnathon Bolton. Although he is now the owner of Like My Roots Furniture (search "Like My Roots Furniture" on Facebook), Bolton has only dabbled in woodworking for 15 years or so. But four years ago, at the age of 53, he was diagnosed with cancer. "It threw me for a loop," he says. As he recovered, Bolton began reconsidering his career. The facts that he enjoyed making furniture, the materials were readily available and he didn't mind going out and finding them, were an answer to his prayers.
Now Bolton spends much of his time seeking and extracting unique wood specimens from all over the Ozarks, which serve as the raw materials for his pieces. Sometimes he's alerted to fallen trees by property owners or friends who spend time outdoors, but more often than not he'll find it during his own forays into the forest.
But don't worry: He's not some rogue Paul Bunyan out there chopping down trees. "It's gotta be dead," he says. His most bountiful spots are along creek beds, where the soft soil and rushing storm waters have brought trees down gently and naturally.
Bolton battles Missouri's ubiquitous ticks and chiggers for his prizes, keeping most of his foraging to the winter months when bugs and snakes are at a minimum. He says once he even crossed paths with a mountain lion. "Some pieces are easy, and some you have to pay the price," he says. "I enjoy hunting the stuff. It's the thrill."
Once the piece is back at his Springfield workshop, Bolton begins the difficult and time-consuming work of cleaning the wood, removing rocks from its roots, and debugging the bark. Once that's done, Bolton takes an unusual approach to his work—that is, he operates more like a sculptor than a furniture maker. It's not uncommon for him to look at a piece of a tree for a month, trying to decide what it should be. 
"It's fulfilling to bring something back that someone might have walked over 1,000 times and never looked at," Bolton says. "There are so many things in it that have gone unseen. Whatever I see, that's what I'm going to make out of it."
As evidenced by his business's name, Bolton finds particular beauty in a tree's roots, which you wouldn't immediately think of as being prime furniture-making material, but Bolton says they are the strongest part of the tree. And, not surprisingly, he finds symbolic value in working with a part of the tree that has gone hidden all its life. "Underneath that ground was the thing that actually gives that tree stability and nourishment," he says. 
And while roots aren't symmetrical enough to build something like a full-sized table, there are other options. For example, the first piece Bolton ever sold was a walnut end table that went to Mavis Busiek. He called it The Mavis. 
Since then, each piece Bolton makes is given a name and has its own unique story—much like the owner himself.

Rooted to the Art: Every piece Bolton makes is different, and he spends countless hours with the trees until he gets a vision of what to create. This piece is a one-of-a-kind end table.
Good Shepard Wood Working


Terry Stone started woodworking projects after retiring. He makes products for clients all over the country, including this stool (above) with a modern rustic design he and his son came up with. Stone uses a band saw to cut wood during the beginning stages of the process (left). 
Terry Stone took an unusual path to furniture-making success. Although he is a third-generation woodworker and owner of Good Shepard Wood Working (goodshepardwoodworks.myshopify.com), he didn't really get into the craft until after retirement. "My dad had me do a lot of sanding, and my grandpa had me use the Shop-Vac, so I guess I had some idea," he laughs. "But then I got thrown out of my eighth grade shop class." 
Fast-forward to 2011, when Stone finished his career in the retail industry. As a retirement present, his wife built him a private workshop at their Springfield home. For the next couple of years, Stone crafted small pieces for himself, and friends and family. To his surprise, he got good at it. "The rest is history," he says. "It took a lot of time and love and patience… and a lot of mistakes."
As one would surmise, the story behind the Good Shepard Wood Working name is faith-based. "I believe the Lord has given me everything I have, and I do every job as if I was doing it for the Lord," Stone says.
Stone works with many raw materials, particularly hardwoods like walnut and oak. He has made everything from wooden urns to ultra-modern coffee tables, and is even starting to branch out into some metal work, which includes some custom bed frames. He says barnwood pieces are particularly popular right now, as are modern and industrial styles with flourishes like piping accents. A spin through his CustomMade.com profile turns up a variety of options, some traditional and some eclectic, including prayer kneelers with built-in Bible stands, fireplace mantels, headboards and shelves inspired by everything from Batman to the Ninja Turtles.
"I sent out a reception desk to New York that's all refurbished barnwood on the outside and refined walnut on the inside," he says. "I'll do whatever they're wanting."
Good Shepard's orders come nearly entirely online, although Stone would welcome more local clients. With the help of his sons, Stone ships most of his work, though he has travelled for a few custom installs, including a child's bed in Georgia and a maple-inlay table in Tennessee. 
One of his most popular orders is mirror-backed cabinets, which he enjoys even though he's constantly afraid he'll break the glass (but never has). Even if he eventually does, we suspect nobody will be throwing Stone out of the shop this time.