DIY
Splash of Simplicity
Experts at Unique Tile share an easy way to freshen up your kitchen with a tile backsplash.
By Mike Cullinan | Photo by Dan Rockafellow
Nov 2015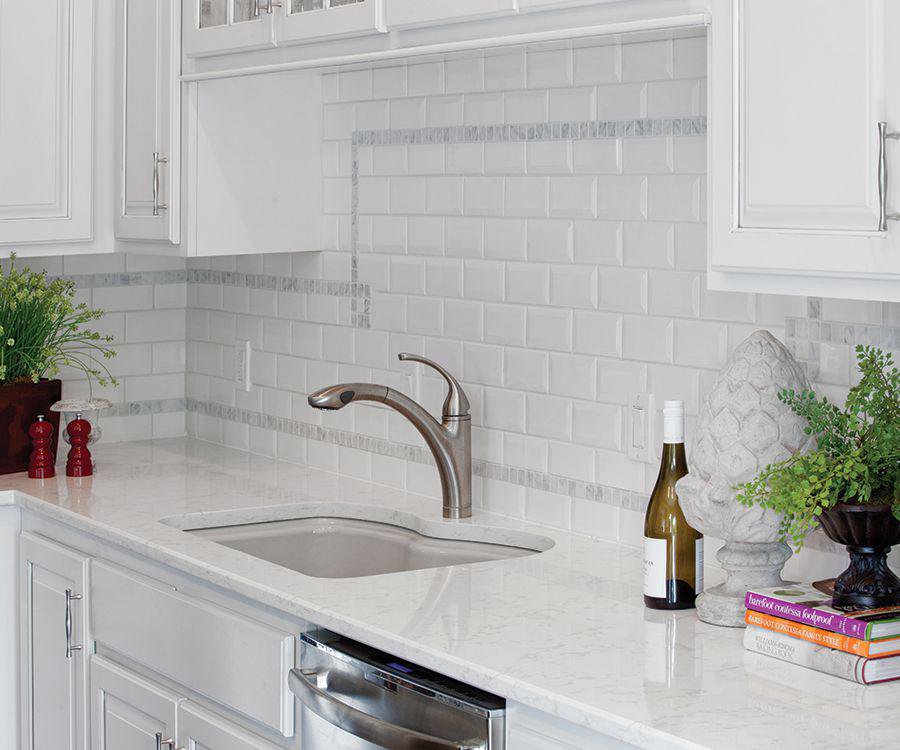 1. Measure the square footage of your space, and add 15 percent over what you measure for cuts and waste if the tile will be installed straight, or 25 percent if it will be installed diagonally. Also, decide if it will need a bullnose (a rounded convex trim) to finish the edge at a painted surface. After deciding a pattern and determining how much you need, purchase tile.
2. Make sure there is no paint on the surface, and make sure the surface is free of contaminants for proper sticking. Note: If using glass or stone tile, use thinset (use white for glass). If using mastic (glue), know that it is typically acrylic based and can darken natural stone tiles and yellow behind glass tile. It must be completely dry before grouting or it can darken the grout.
3. Using a trowel, spread the thinset or mastic onto the wall to achieve 85 percent coverage. Press tiles to the adhesive, placing in your desired pattern. Allow adhesive to dry 24 hours or longer. 
4. Mix grout according to manufacturer's directions. Some grouts come premixed in a bucket and dry by air. Be sure to read all directions.
5. Carefully spread grout between the tiles using the float.
6. Before it dries, clean up excess grout with clean water and large grout sponge. If there is a change in any plane, caulk your corners and caulk between the countertop and your tile. Caulks come in colors to match the grout.
7. If you used cement grout or natural stone, finish with a sealer. 
Don't want to DIY? 
Plenty of companies in 417-land offer installation for your kitchen backsplash. Call them if you don't want to do the work yourself.
Unique Tile
1364 N. Kelly Ave., Nixa, 417-725-4411 uniquetile.com 
The Carpet Shoppe
1827 E. Seminole, Springfield, 417-883-6455, thecarpetshoppe.com 
Day's Floor Company
824 W. Washington, Marshfield, 417-859-6620  daysfloor.com