DIY
That's a Wrap
Put the store-bought wrapping paper down, and tap into your artistic side with these inventive wrapping ideas from three local creatives.
By Vivian Wheeler
Nov 2015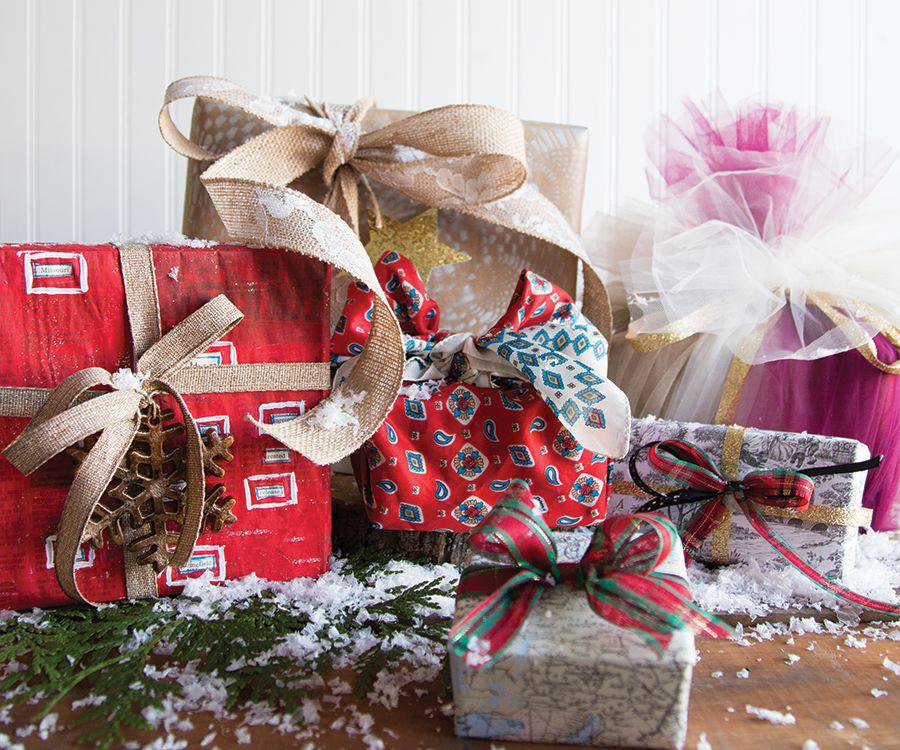 1. Old News
Wrap your gift in pages from your local newspaper. Then isolate specific words in the print to create a fun message for the recipient. Draw boxes around the words you want to isolate with a ballpoint pen, and then paint the rest of the text out with your favorite color of acrylic or temper paint. Add a little glitter before the paint dries to give it a little extra pizzazz.—Meganne Rosen O'Neal, co-owner of Arts & Letters 
2. Painted Paper
Start with plain butcher paper in brown or white, metallic spray paint (gold, silver or copper) and an old piece of lace. Hold the lace against the butcher paper with tape, and spray paint through it like a stencil. You will have beautiful, handmade, lace-patterned gift wrap! Perfect for the holidays (and great for weddings, too).—M.R.O.
3. Two Gifts in One
Wrap your gift in a bonus gift. In Japan, it's traditional to wrap little gifts in silk scarves or handkerchiefs. This tradition is called Furoshiki. Vintage handkerchiefs will add a special charm and flair to any small present. The recipient can frame them and enjoy them as decor.—M.R.O. 
4. Wallpaper Reused
For a funky and retro twist on wrapping paper, head to local thrift stores and stock up on vintage wallpaper.—Tommi Clark, local artist 
5. Well Traveled
Maps are a versatile alternative to store-bought gift-wrap. Find vintage maps at flea markets for a classy look. Or, highlight a memorable trip taken with a loved one by using a map from your journey. Trace your route in red or green markers for an old-world feel. Accessorize with a traditional plaid Christmas ribbon.—Jeremy Rabe, of FYI Guy  
6. Tulle Time
Tulle is transparent, but if you add several layers in multiple colors, it becomes solid and a showstopper. Stack the tulle in your desired color combo with the main color on the bottom. Then, wrap the gift by cinching it to the top and tying a ribbon around it to make it tight.—J.R.