Wintertime Cocktail Recipes
Winter's not just for hot cocoa and apple cider—it's for warm and wintry flavors like rosemary and chocolate. Serve up these recipes from local mixologists at your next holiday party.
By Jessica Covert | Photos by Kevin O'Riley
Nov 2015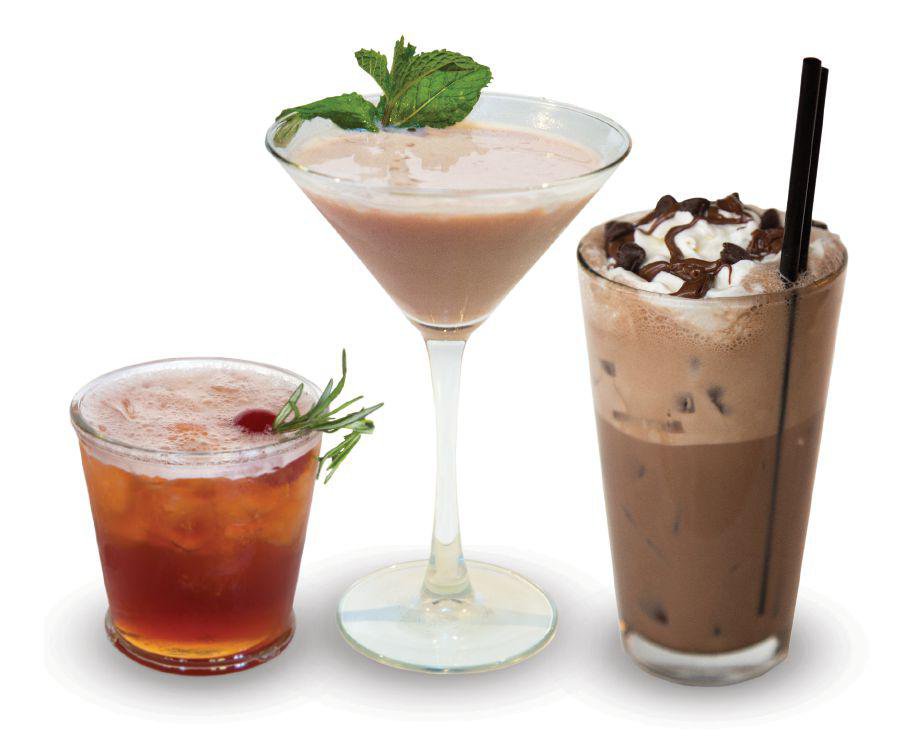 Entertaining in winter almost demands warm, cozy flavors served by a blazing fire. Seriously, could you imagine serving up a batch of frozen margaritas when there is snow falling from the sky? Neither can we. But we know that simply turning to old favorites can be boring. That's why we went to three 417-land bars, told them each a wintry ingredient and asked them to come up with something special.
We asked the pros at Red Room at Flame Steakhouse to create a cool-season drink using cranberry, and they came back to us with the chocolate-covered cranberry cocktail. The dual sweetness and tartness of cranberry is the star of the creation, and a warm kick of peppermint schnapps rounds it out. Of course, they didn't forget the Baileys Irish Cream, either, perfect for a velvety finish. 
If chocolate's what you love, MudLounge has taken the indulgence to a new level. The Nutcase is both a creamy and boozy treat (due to the Baileys Salted Caramel), but also has a hint of nuttiness from Frangelico hazelnut liqueur. It might be your new favorite chocolate treat after the very first sip.
Rosemary takes center stage in the last cocktail from Farmers Gastropub. This recipe (called a Farmer in Manhattan) also incorporates other herbal flavors through the Angostura bitters. "While the recipe for bitters is a secret, we do believe that rosemary is one of the herbs infused in it," said Peter Tinson of Farmers Gastropub. Ginger wine adds to the warmth of the cocktail, while bourbon makes it smooth and easy to drink. Whether you prefer sweet, herbal or tart, there's a little something for everyone in these three wintry escapes.
A Farmer in Manhattan
By Farmers Gastropub
Ingredients:
1½ ounces Stones Ginger Wine
2½ ounces Dark Horse Bourbon
3 slashes of Angostura bitters
To prepare:
Shake, and serve over ice with a cherry spiked with a stick of rosemary.
Chocolate-covered Cranberry Cocktail
By Red Room at Flame Steakhouse
Ingredients: 
2 ounces cranberry juice
½ ounce peppermint schnapps
1½ ounces Baileys Irish cream
To prepare: 
Combine all ingredients, then shake and serve in a martini glass.
The Nutcase
By MudLounge
Ingredients:
½ ounce Frangelico
½ ounce Baileys Salted Caramel 
1 ounce 360 Double Chocolate vodka
6 ounces milk, soy or cream of your choice
1 ounce Ghiradelli chocolate syrup
To prepare: 
Fill a 12-ounce cocktail or rocks glass with ice. Add Frangelico, Baileys and vodka. Fill the rest of the glass with milk, soy or whatever creamy milk style substitute you like. Add chocolate syrup. Pour all contents into a martini shaker, and shake until it looks like chocolate milk. Pour contents of shaker into a 16-ounce pint glass or milkshake glass. Top with whipped cream, Nutella drizzle and chocolate chips or sprinkles.