Home Profiles
A Collection of Holiday Memories
For Paula Adams, decorating for the holidays means so much more than putting up a tree. Adams is collecting a lifetime of memories with her family by her side.
By Lillian Stone | Photos by Brandon Alms
Nov 2016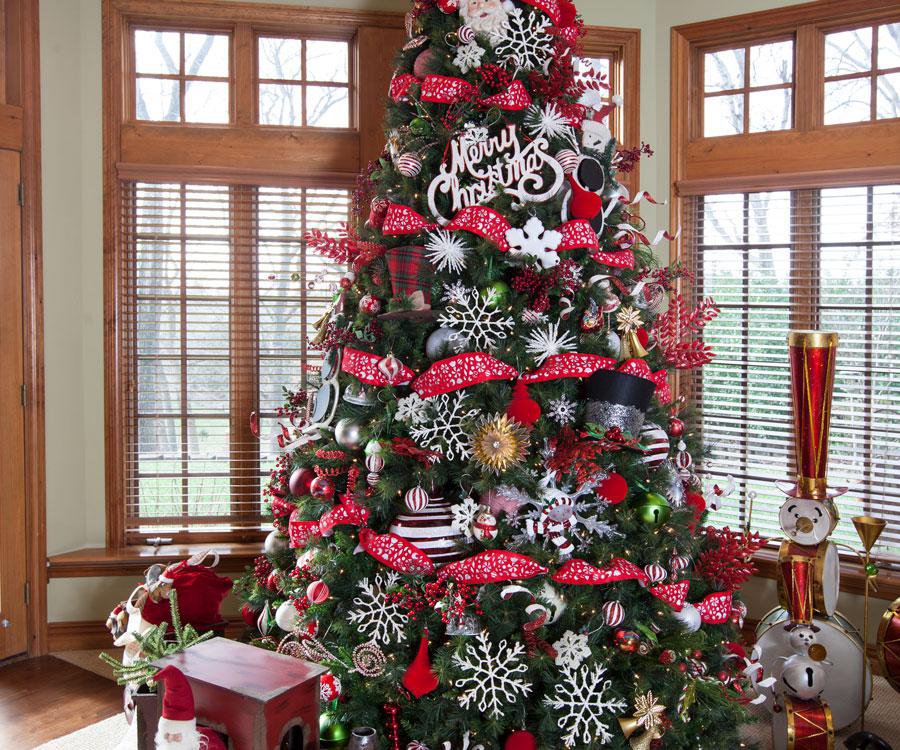 This past year was the first year that Paula Adams rented a U-Haul for her Christmas decorations. "We used to have to go back and forth from the storage unit to get it all home," she explains. The storage unit is a necessity for her massive collection of holiday decor, which has grown into a beloved family tradition.
"I don't really know what started my Christmas craziness," she says with a laugh. "When I was younger, we just had a tree." Adams recalls visiting craft shows with her mother growing up, which might have sparked her love for holiday kitsch. Now, she shares a similar tradition with her three daughters-in-law. On the first weekend of each November, they hit as many holiday open houses as possible to add to their collections. 
"I try to purge, I really do," Adams says, laughing. Despite her best efforts, her collection has grown steadily—and it's gorgeous. She has bins full of ornaments and tchotchkes, some that she's had for 25 years and longer. Adams's 11 themed Christmas trees are the centerpiece of her collection. She has a tree in almost every room of the house, including a kitchen tree with yummy-looking decorations and a music-themed tree in the master bedroom. The frosted tree in her entryway sparkles with whimsy, with little top hats peeking out from the branches. The upstairs family room tree has a vintage feel, adorned with some of Adams's oldest ornaments. 


FRONT PORCH: Like the home's interior, the front porch is home to many decorations found at holiday open houses, which the Adams family loves to attend.


She cites the move to her current home as the real beginning of her holiday fever. Now, she keeps her home looking festive throughout the fall and holiday seasons. "We start with Halloween in the fall," she says. "But we start tearing that down the day after Halloween, because it takes us a while to get everything up." She explains that, between full-time jobs and family responsibilities, decorating for Christmas takes an average of three weeks. To streamline the process, she chooses not to break down the trees, leaving them fully decorated in her storage unit.
To Adams, family is the reason for the season. "I have three boys and six grandchildren," she says. "They all live locally, so I see them frequently, but the holidays are a really special time." Her daughter-in-law Nicole Stringer helps her decorate each year, while her three sons help move the furniture to make room for the decorations. 
One of her favorite parts of the holiday season is seeing her grandchildren gathered by the biggest tree, which is housed in the tall-ceilinged basement and is the hub of activity on Christmas morning. "Everybody's schedule is so crazy," says Adams. "It's just a great time for us all to gather together."


ENTRYWAY: Paula Adams welcomes guests into her home with this whimsical Christmas tree. With snowmen, top hats and peppermints, the tree gives visitors a taste of the holiday fun bursting from her home. 


STAIRWAY TO BASEMENT: The basement is the hub of all Christmas activity within the Adams home. This cheery garland leads the way to the biggest Christmas tree in the house.


PLAYROOM: Paula loves reliving the magic of Christmas through her six grandchildren, who spend time in the decorated playroom during visits.


MERRY MERMAID: This sassy Christmas mermaid is perched on the wet bar in Adams's basement. She's a more recent addition to the collection, encouraging guests to let loose for some holiday fun.


BASEMENT: Adams calls this room the "man room"—the space where her three sons can relax over a game of pool surrounded by nutcrackers and miniature trees.


DECKED-OUT DOGS: Although Adams has a difficult time choosing her favorite ornaments, these festive pups are always a joy to pull out of storage.


KITCHEN: Every tree in Paula's home is themed, including the tasty-looking tree that sits in the kitchen. The tree is decorated with ornaments, such as gingerbread men and candy canes, that look good enough to eat. Similar items adorn the countertops, and holiday platters fill the cabinets.


UPSTAIRS LIVING ROOM: Although there is no set theme throughout the house, Adams ties the home together with the use of red and gold decor. The holiday displays are a combination of fun, glittery pieces and cherished family memories. Furniture and other decorations that adorn the house all year long get aside, but photos of the family stay in the spotlight (below). No surface gets overlooked, including the comfy furniture in the den (above).