Real Parties
Girlfriends Giving Back
Anna Whitaker and Logan Aguirre host a cocktail party combined with doing good. The two enlist friends to help a local family for the holidays.
By Rose Marthis | Photographed By Kyle Davis
Nov 2016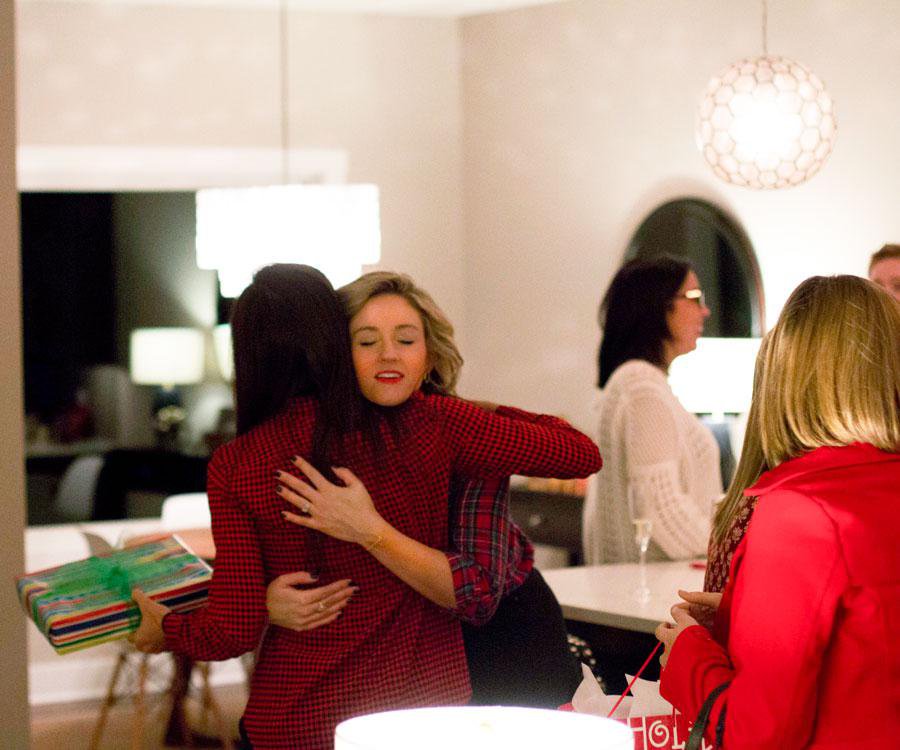 During the holiday season, you probably get invited to a handful of parties, cocktail hours and gift exchanges where you're required to bring a present or make a treat. By January, you're exhausted and now have a full house to reflect your full calendar. Anna Whitaker and Logan Aguirre, 417 Magazine President and Associate Publisher, found themselves in this exact situation and decided to throw a different type of party for their friends—one where none of the presents came home with them. 
Girlfriends Giving Back was started in 2012 as a party to gather items for Mercy Kids baskets donated to children in the hospital. Whitaker and Aguirre knew they wanted to host it in early December before their friends became unavailable. Mercy gave them a list of what was needed, they passed it on to those invited, and guests brought items for the pair to gather and deliver to the hospital. After that first year, the charity changed to Big Brothers Big Sisters of the Ozarks, and Whitaker and Aguirre have stuck with that group ever since. 


TASTY TREATS: Guests are treated to Grandma Whitaker's peanut butter cup bars every year. 


Families in the Big Brothers Big Sisters program apply to be part of Christmas Angels, and the program recommends a family with three to four children to Whitaker and Aguirre. The pair receives a list of every item the family wants and their sizes, and Aguirre uploads the list to Giftster, a website that allows guests to claim what they're going to bring to the party. People wrap the presents and add the name of the recipient in the family, and Whitaker and Aguirre add them under the tree as the night goes on. "It's a neat visual for the party to watch the pile grow," Aguirre says. After the fun, the pair delivers all the gifts—which include items like big toys, bedding, clothes and cleaning supplies—to Big Brothers Big Sisters to pass on to the family. 
Whitaker says it's humbling to be a part of such a generous group of women; the pair invites around 45 of their friends. But the event is also meaningful because it's a tradition she started with her sister-in-law, Aguirre, and they make it a priority every year no matter how busy they get. "It's been a cool tradition to do together and see it grow every year," she says. 


HOLIDAY CHEERS: The event is a laid-back cocktail party for a couple of hours after work. Tiana Shaver, Logan Aguirre and Jennifer Crumpley catch up over wine and champagne.


SANTA'S HELPERS: Guests bring presents pre-wrapped to the party and watch as the pile under the Christmas tree grows. Anna Whitaker and Logan Aguirre then take the haul to Big Brothers Big Sisters to be donated to a family through the Christmas Angels program.


BEAUTIFUL BITES: In 2015, Whitaker's husband, Dylan, made all the food, including homemade appetizers and family recipes. Mini sandwiches and smoked salmon dip with onions and capers rest on the cute runner, hand-drawn by Whitaker. 


SET THE SCENE: Erica Praschan with Erica Praschan Interior Design helped create this tree and mantel scene to match the white stone fireplace at Aguirre's home. 


CHRISTMAS CONFECTIONS: No holiday party would be complete without goodies like these cookie press cookies.