Gardening
Guide to Winter Landscaping in Southwest Missouri
Just because the weather is getting cold doesn't mean your yard has to suffer.
By Karen Bliss
Nov 2016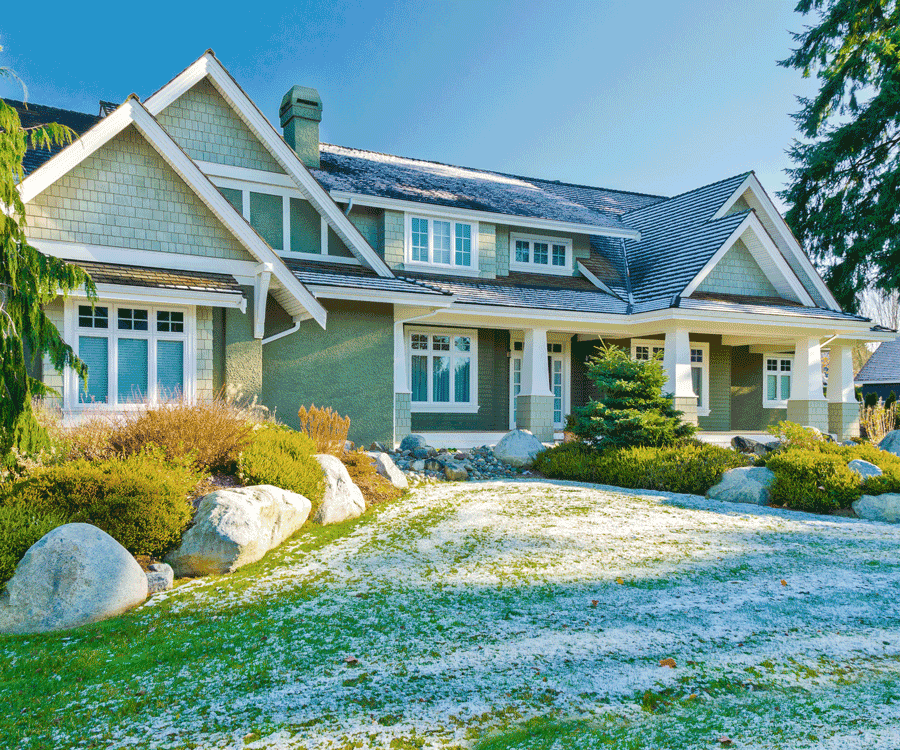 Keeping your yard nice in winter can seem like a daunting task, but really, if you start before snow and ice hit, maintaining your lawn and garden in winter can be a snap. In the Ozarks, the popular grass of choice is fescue because of its ability to stay healthy all year. Nikki Petitt, nursery buyer and manager at Wickman's Garden Village, says there are a lot of reasons for choosing fescue. "Your grass needs to have a good hearty root system," she says. "Most people in the area used fescue because it will keep your yard green all winter, although it won't be as vibrant as it is in the spring or summer."
Shawn Jones, owner of 417 Mowing, says winterizing your yard is important. He says reseeding in the fall is a big part of prepping, even for the next year. But if you missed the reseeding time, there are still a few things you can do to maintain your lawn. 
First, companies who help with landscaping agree that any leaves you may have in your yard need to be cleaned up right away. "Leaf cleanup really must be addressed multiple times in the season," Jones says. "People will sometimes wait until they have many piles of leaves. Leaves that are left for two to three weeks will kill your grass in patches." 
Then, once the leaves are off of your lawn, mowing your grass up until the end of December is also a big help to keeping your lawn maintained, Jones says. "Really, you can mow your lawn up until Christmastime," Jones says. "Mow it once every two weeks instead of once a week like you do in the summer." Jones says keeping it short can also help keep leaves at bay so when leaves blow over from the neighbor's yard, they are less likely to get stuck in taller grass and kill off the yard you're trying to maintain.
Once ice and snow do hit, a lot of people use de-icer or salt for their driveways and sidewalks, Petitt says. If you want to help your grass stay alive and as undamaged as possible during the winter, using the right product is key, Petitt says. "Salt is cheaper than some de-icers, but it is also detrimental to plants," she says. "It may be less expensive, but in the long run it could be more expensive. It won't entirely kill your grass, but over time it strains it."


---

Easy Winter Plants
Austin Colbock, manager of the Wheeler Gardens & Gift Shop in Ozark, shares his top three plants for the cold season.

Pansies: Pansies planted in a pot are a hearty flower and can endure most winter temperatures and are only deterred by snow or ice.

Flowering Kale (or Ornamental Kale): These purple and white kale plants need water and just a bit of sun, but they endure temperatures well and are often planted in pots with Christmas greens.

Evergreens or Small Shrubs: Evergreens and various small shrubs that are similar to evergreen trees flourish during the winter months and are very low-maintenance plants.