Home Profiles
Inspirational Arts in the Pace Home
The living room of Clint and Aviya Pace is centered on art that hits home.
By Syndi Moore | Photo by Jeremy Mason McGraw
Nov 2016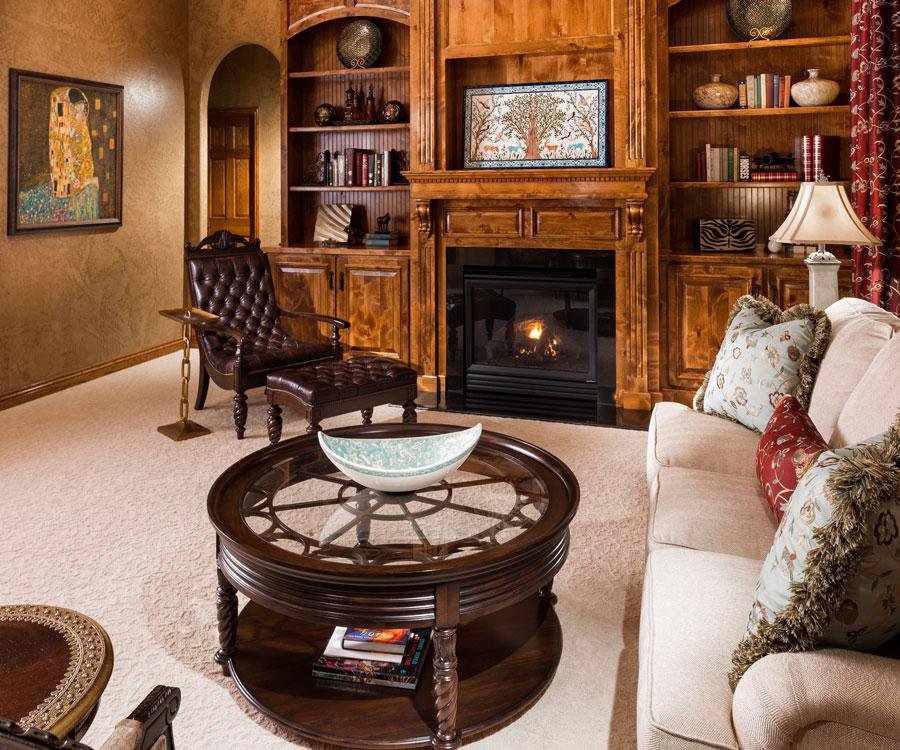 In Clint and Aviya Pace's home, hand-painted tiles, sitting above the hearth of the living room, compile the scene of an olive tree. A stunning copy of Gustav Klimt's The Kiss hangs from a wall nearby, and gorgeous artwork adorns the rest of the space. 
Nola Shivers and Heather Landolt, of Decorating Den Interiors, designed the living room according to the Paces' art from around the world, including Israel, Aviya's home country. 
"That was the inspiration," Shivers says. "It's a beautiful room. Aviya likes very traditional and elegant everything, and she's that way herself."
Blue and green colors were pulled from the artwork to accent the rest of the room, brightening up the dark wood and the tall brown, textured walls. Light blue throw pillows on the couch tie in the deep red curtains, thanks to their identical patterns. A bright bowl sits empty, tying the colors of the paintings into the rest of the space. Old books and pottery line the shelves that hug the fireplace. A leather chair with twisted legs and a matching ottoman appear fit for a king. They go with the round coffee table in the middle of the room. 
The furniture is what Clint loves most about the room, but for Aviya, picking favorites isn't as easy. "Everything comes together so well," she says. "We were so careful picking it out. It took a long time, but we're not going to change it." 
Aviya moved to the United States to be with Clint six years ago. Having only been in their current home for almost two years, they finished the living room about a year ago. "I told Nola that whatever the majority of the budget was, I wanted to spend it on this room," Clint says. "This is the room people see."
It's true. The room captures your attention before you're completely through the front door. Before, Clint and Aviya lived in some very humid parts of Texas. Now, they enjoy watching all four seasons pass through Missouri through their huge living room window, the only element in the room truly capable of pulling you away from the art.