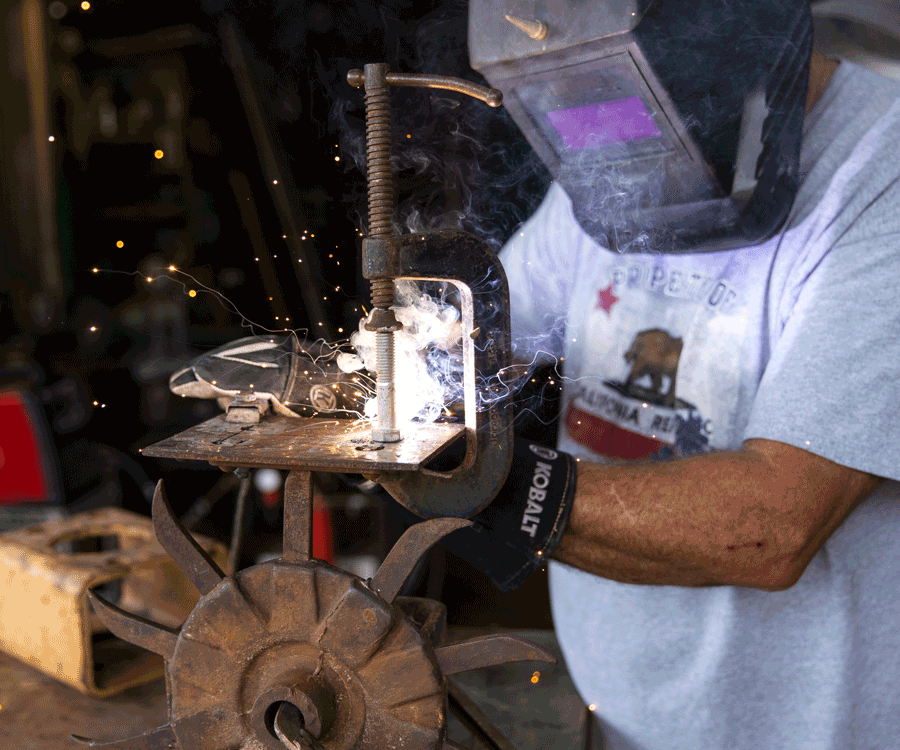 People sometimes choose their career path by pursuing a passion, making a necessary change in direction or just finding a calling through simple happenstance. There are no required steps to traverse to land you on the road to professional happiness.
For a trio of men from 417-land, working with metal for a living just came naturally. It wasn't specifically pursued with the goal of becoming artists, but that's what each of them undoubtedly should be called. 
---
DECADES IN DESIGN
Meet one local artist who has crafted a name for himself far beyond 417-land.
TOP OF HIS GAME: Tim Burrows stands with a 15-foot-wide dome created for Top of the Rock.


Anyone who has walked into a Bass Pro Shops location or Big Cedar Lodge and Top of the Rock in Branson has almost certainly seen Tim Burrows's work and probably didn't even know it.
That's not to say that the longtime Springfield artist's custom metal creations are hidden. They just might be above people's heads, in the case of the big chandeliers that greet visitors to the Springfield Bass Pro store. But chandeliers are hardly the only pieces that bear Burrows' touch, as the artist counts railings, gates, lamps, lampposts and signs among his varied customized artistic repertoire that can be found in homes and businesses, including several Disney hotels in
California and Orlando, Florida.
"We've done the gamut," Burrows says. "We are a custom business," he says of his business, Tim Burrows Metal Art and Design. "So that has taken me all around Springfield, all around Missouri and all around the United States."
Recalling his early years, Burrows says his work from 1975 to 1980 centered on repairing equipment, ranging from the small (lamps, chandeliers and lawn mowers) to the really big (gates and backhoes). He hired Jay Wood in the mid '80s, and they became partners in the late '90s, designing and fabricating metal art, which led to the opportunity to bid on a gate project for Big Cedar Lodge and its founder, Johnny Morris. "We never looked back after that," he says. "I've been lucky enough to be associated with Johnny for, I guess, what has been 30 to 35 years."
Some of that association included Morris asking Burrows and Wood to start Metal Art Shops in Nixa in the 1990s. Burrows left in 2000 to design and run the metal art shop for Carnahan-White. He stayed there until starting his own business in 2009.
Connections through Bass Pro and later, Disney, have been an undeniable boost to business, Burrows says. "What that provided me was all the architects who ever went through Bass Pro, I became friends with," he explains. "When you go work at Disney World for one of those projects, you might have 20 architects. Well, we did five Disney hotels, so that's 100 architects." Those architects are dispersed throughout the world, and Burrows says he "still get(s) calls from those people, and I've never advertised. It's been a blessing. And I've never been busier than I am right now, as far as opportunities."
Burrows credits other local metal artists such as Bill Toll, Raymond Zerr, Jerry Goodman and Lee Robinson as inspirations to him, while the passion to create art continues to flow in his blood.
"I just like creating stuff," he says. "I just like thinking out of the box and doing something that thrills me. For the most part, I've gotten to live off of that. I've been lucky to have been around people who let me do my thing. It's an amazing feeling just to be hired to do what you feel should be done. I consider that a blessing, and I don't take it lightly."


HAND-LETTERED: Burrows created these letters for the Hickory Valley subdivision in Springfield.   
---
AN UNDERSTOOD SKILL
Sam Hitchcock turned an art class in college into a thriving metals career.
TURN UP THE HEAT: Sam Hitchcock stokes the fire of a coal forge in the shop.


Becoming a blacksmith wasn't on a list of goals for Sam Hitchcock heading into college. In fact, the young artist never worked with metal prior to 2005, when he was attending Missouri State University in Springfield. Encouragement from an instructor in one of his metal art classes essentially spurred him on this current path. "I liked it, and the instructor said I did good work," Hitchcock says. "So I kind of stuck with it after that."
By 2008, Hitchcock graduated from MSU and started working at Advanced Welding and Ornamental Iron the following year. Now, with almost eight years on the job where he collaborates on projects including handrails, fireplace screens and window grills, working with metal is a natural fit, Hitchcock says.
"It's just something that I understand," he says. "I've just always understood machines. I can take apart a machine and understand how it works. Metals kind of go the same way. There's kind of a way to visualize what you're doing."
Anywhere from five to eight people might be working on any given project at one time, but much of Hitchcock's contributions usually consist of him working alone after receiving a set of papers or shop drawings. "Then I'll do it all, start to finish," he says. "I don't like to say I like to be left alone, but something that sounds a lot like that." But he adds that he's still very much a team player in the shop.
The variety of projects Hitchcock tackles helps him overcome his tendency to get bored easily, he says, as he's driven by a strong work ethic and a desire to always do projects he and the customer can take pride in. "I'll always work hard to do the best that I can," he says. "I've always wanted to make sure I do a good job at what I do."
Whether it's making a spiral staircase full of scrolls and leaves or a custom-ordered fireplace and its accompanying tools, Hitchcock sees the metal creations as artistic expressions for people's homes. "The program I went with was basically a jewelry school," he says. "This is just making jewelry for people's houses."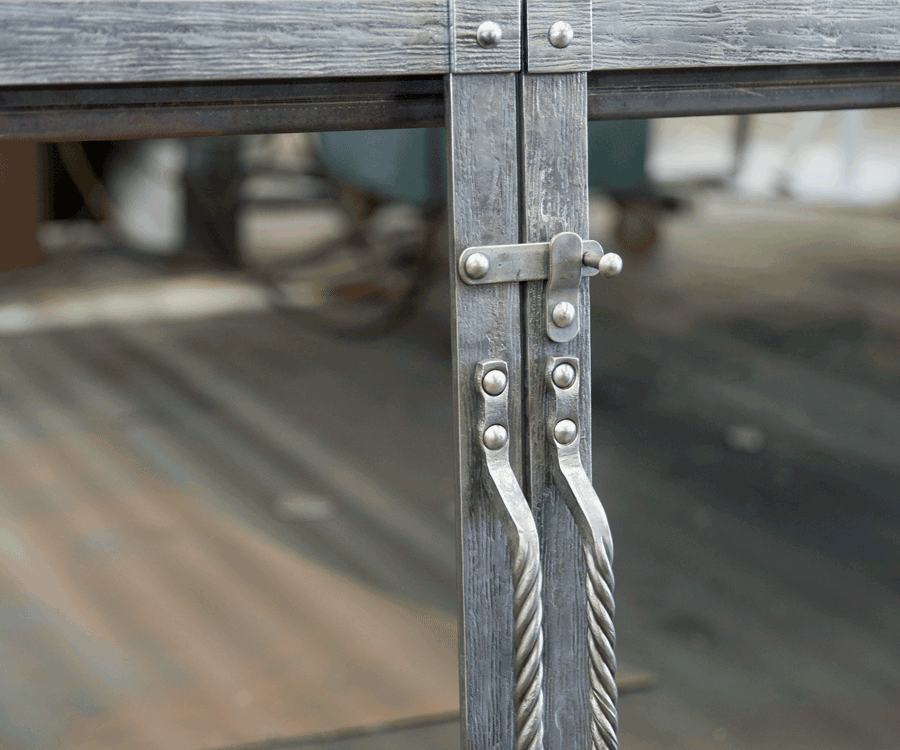 HOT HANDLES: These rope-twisted handles made from mild steel are part of a fire screen that is in progress.
---
SALVAGING A NEW CAREER
An economic downturn caused Ed Witte to turn his artistic hobby into a business.
DAILY GRIND: Witte puts the final touches on a piece using his bench grinder.


With a quarter century in the truck parts salvage business around 2010, Ed Witte had no idea a metal art hobby would become a passion and career-changing possibility. 
Originally, the art was a way to break up the monotony of his salvage business. "I would take scrap metal or parts off of old trucks and weld them together and make suns or moons," he says. "Or I would weld together an owl or scarecrow. Just different weird things over the years."
But as the economy started crashing around 2008, Witte says his business was struggling, and he was in what he calls survival mode. A lot of spare time allowed for more attention to metal art, with people telling him with greater frequency to sell the creations online. A skeptical Witte quickly became convinced when his art began selling and home designers contacted him about building items that they then turned around and purchased.
Witte started exploring more into the creation of industrial art, getting his son, Mitch, involved. This collaboration resulted in the creation of a pair of businesses, Ozarks Custom Creations and Hippie Hog. Mitch does most of the woodwork for Ozarks Custom Creations, while Witte does the vast majority of metalwork for Hippie Hog. The projects are then combined into functional art pieces, with finished projects appearing in a retail shop on the square in Aurora.


ONE MAN'S TREASURE: Witte travels the country to find the unusual metal pieces he uses to create his art.

"We would take pieces of machinery from old factories, take the machine off of it and use the base to start making tables and benches," Witte says. "Then I would start making furniture out of truck parts."
For example, Witte takes grills out of trucks, puts track lighting inside and behind them and hangs them on the wall to serve as a sconce light. In other instances, he takes a tailgate off a pickup truck and uses it as backing for a bench, or creates a fish out of a shovel.
"I don't know how I ever got it, but I can look at something and I know instantly what it's going to be," Witte says. "I don't have to think up an idea. I just see it."
His unique custom creations have caught the eye of people outside of 417-land, as Witte was featured in an August 2016 episode of the History Channel's American Pickers. 
Although his salvage business didn't usually provide happy purchases, as customers had to buy parts to keep their trucks running, that's not an issue with his artistic creations, which he says revolve around an industrial design aesthetic adapted for home furnishings and decor.
"With this kind of stuff, it's always smiles," he says. "Everybody's happy, and it makes me feel good."


OLD SCHOOL: Located on the property, this 1930s gas station is a source of inspiration for Witte.


A PIECE FOR PEACE: Witte hand drew the design for this piece and cut it out of metal using a plasma cutter. The sculpture is titled "Shadow of Peace."