DIY
Overhaul For The Home Office
Recently retired Missouri State University professor Michele Granger transformed an old wooden desk into a sparkling masterpiece. Tackle your own project with her guidance, and your home office will soon have its own personal touch.
By Savannah Waszczuk | Photo by Brad Zweerink
Nov 2016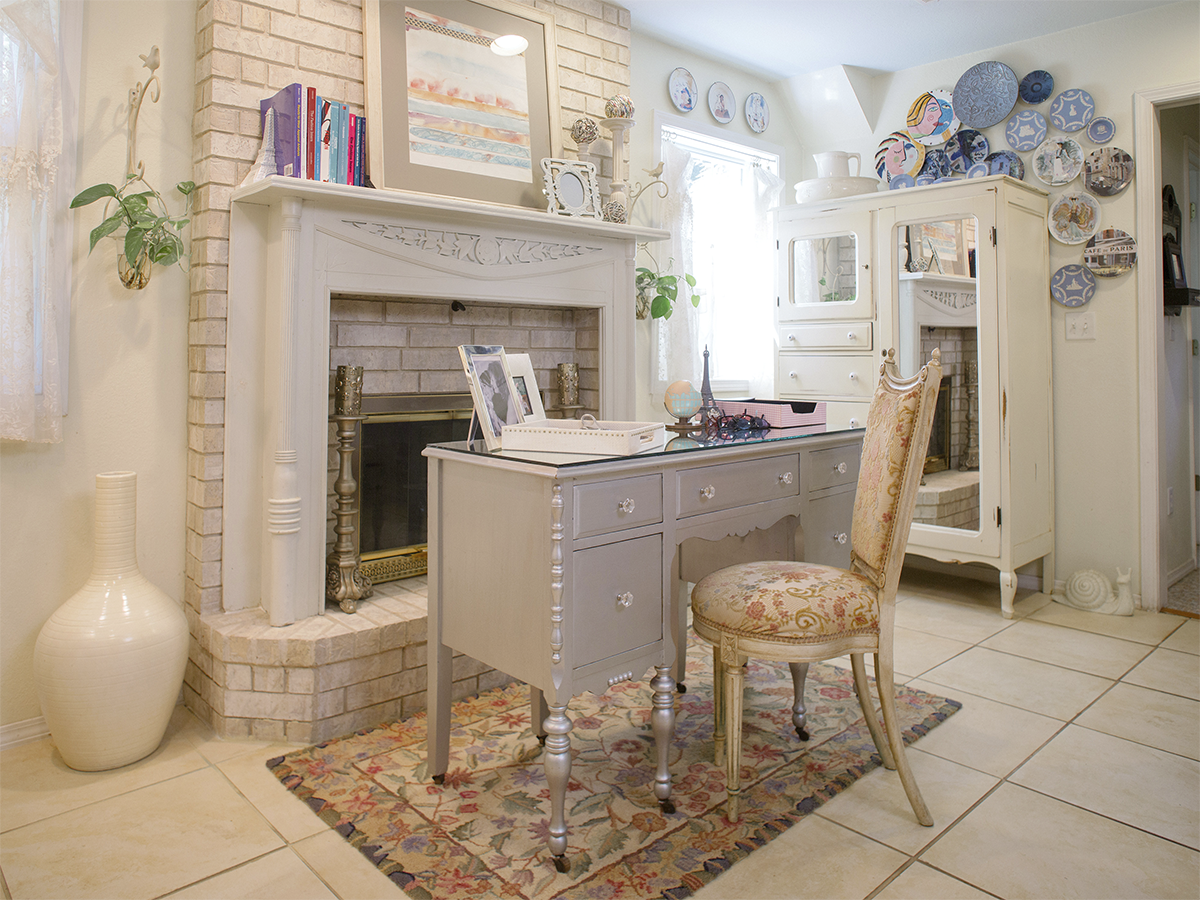 When it comes to home decor, Michele Granger is a firm believer in self-expression. "My friend Nancy Asay, who's an interior designer, says that everyone should have at least one room in their home that showcases their personality," she says. In Granger's house this room is her home office, which is filled with a plethora of her hand-crafted creations. Groupings of Granger's collected glass plates zig-zag their way across the walls, and homemade curtains Granger made out of old white blouses dress the windows. A desk that she refinished herself sits glitzy and proud in the middle of it all.
Today the desk is finished with silver paint and crystal knobs and topped with a mirror. But it wasn't always quite as showy. When Granger acquired the antique piece six years ago, it was painted a dark brown color and featured metal knobs. "I actually traded for it with a friend," Granger says. "I wanted a wood piece, and I had some art she wanted." After the trade, Granger immediately got to work refinishing the desk and adding special touches to make it her own, making it speak to her very own personality. "I call it glam," she says. "It's glam with some sparkle, and it's certainly feminine. Feminine and glam." 
---
Transform Your Own
Want to refinish your own desk? Granger shares the supplies and steps needed to transform an old wooden desk from drab to fab.

Supplies:
Drop cloth 
Cleaning rags
Wooden desk
Sandpaper
Primer
Small and mid-size paint brushes
Silver paint (or paint color of your choice)
Polyurethane
Wood filler
Knobs, handles or other accessories, if needed 
The Steps:
1. Prep: Set your drop cloth up in your workspace. Clean your piece to be free of dirt, old finishes, stains and rough areas. Remove all hardware. Use medium- to high-grit sandpaper to sand the piece in the direction of the grain. Fill any cracks with wood filler and allow to dry before wiping away dust for a clean painting surface.
2. Prime: A gray-colored primer provides a great foundation for the silver paint, but depending on how the first coat dries and what color paint you're using, a second coat of primer might be in order. Let the primer cure for at least 24 hours before applying paint.
3. Paint and Seal: Paint with a small- to mid-sized brush using long, even strokes for a streak-free finish. A few thin coats achieve a better finish than a single thick, drippy coat. Carved and embellished details often collect paint, so a small bristle or sponge brush works best in these areas. After letting each coat dry completely, assess whether you have achieved the desired look or require another coat. Sealing is up to you. Although every piece doesn't need to be sealed, furniture that gets frequent use—such as desks and tabletops—last longer when protected by a clear coat of polyurethane.
4. Glam it Up: As accessories are to the perfect outfit, drawer knobs and handles are to a stunning piece of furniture. Granger chose crystal knobs to add more glimmer to the silver finish. It wasn't enough, so she visited a local glass store to have three mirrors cut for the desk—one for the top and two to inset into indentations on the back of the desk. The mirror top was simply laid in place, while the mirror panels were attached with specialty glass glue and taped in place with painter's tape until the glue dried. Accessorize your desk with items of your choice.