Retailers
Robin Coulter Crabb Has Unbreakable Dreams
One local artist turned a new hobby into a career spanning 15-plus years.
By Ettie Berneking | Photos by Brandon Alms
Nov 2016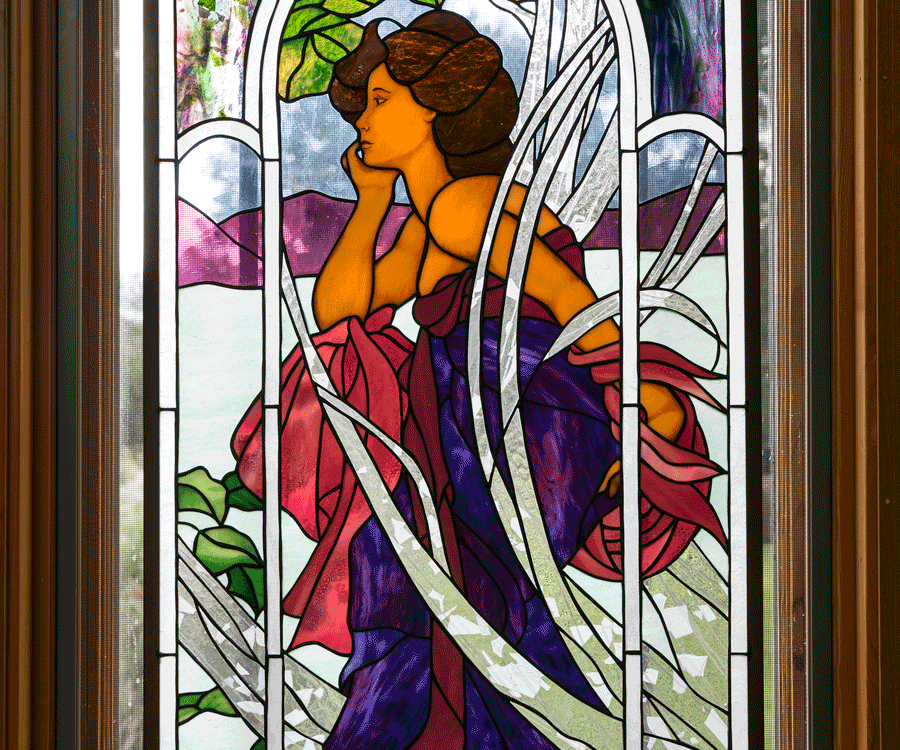 Surrounded by panes of colored glass, Robin Coulter Crabb is at home in her stained glass studio in Springfield. "It's something about the glass and looking through it," she says. "I love the way it changes." After more than 15 years of artfully puzzling together glass tableaus, Coulter Crabb has made a name for herself in the growing local art scene. Stop by the Springfield Botanical Center or several Springfield churches to take in the beauty and sheer scale of her work.  
Coulter Crabb got her start in stained glass by taking a beginners' class in 1993. What began as a hobby quickly escalated until Coulter Crabb was spending all her free time working on projects for friends and family. She eventually went to work at Merry Go Round Stained Glass in Springfield as a designer and fabricator until she ventured out on her own in 2008 as owner of Robin's Nest Stained Glass. "Most of my business was word of mouth," she says. "It's been almost eight years, and I've really enjoyed being my own boss."
Over the years, Coulter Crabb has added her artistic touch to commercial and residential projects. "The smallest project I worked on was less than a square foot," she says. "It was just a really small triangle, and the largest was in a Lutheran church on Seminole. It's huge, and it kept growing and growing. They just kept adding glass." She's created
entry doors, massive murals for churches, individual window panes, serving bowls designed to resemble butterfly wings and much more. Some of her pieces still hang in her studio, including one that's particularly important to her. It's a piece inspired by Czech painter Alphonse Mucha and depicts a toga-clad goddess deep in thought.


Stained glass artist Robin Coulter Crabb shows off a decorative piece she made in her studio. Similar pieces are on display at Fresh Gallery, where Coulter Crabb is a member. 


"Back in '95, I did an art show, and one of the other artists came up to me and said, 'You really don't have anything here that really wows people,'" Coulter Crabb says. "He was right. So next time, I put a lot of extra into it, and it's still a signature piece for me." 
That suggestion to wow her customers has stuck with Coulter Crabb, who makes a point to add a special touch to each of her pieces. No matter the size of the project, she starts with a small-scale drawing. "I meet with customers to learn what they want, and from there I enlarge the drawing to make a pattern," she says. "Then it's a craft." With her pattern in hand, she sets to work selecting the glass, cutting it to scale and soldering the joints. After more than a decade of working with stained glass, Coulter Crabb knows right away what type of glass she wants to use in each project. Most of the time it's antique handblown glass, which has small imperfections or bubbles that give the panels a certain sparkle. When she can't find the pattern or color she's looking for, she makes it herself. 


In 2014, Robin Coulter Crabb created this stained glass window and installed it in her home. She provides residential and commercial work for clients.


"That's a misconception, she says. "We don't color the glass. We buy the sheets already colored and then we can enhance them with paints or by layering the panels." 
There's a certain physicality to Coulter Crabb's work as she moves panels around her studio, and her list of projects is constantly changing. You can see some of her smaller-scale pieces at Fresh Gallery in Springfield, where Coulter Crabb and other area artists help run the shop. "It's just great to be able to be involved with other artists," she says as she runs down a list of new glass projects she's just finished. "It keeps you creative!"