DIY
DIY: Paint Your Own Bathroom Blooms
Bring a little spring into your home with this contemporary painting project from Chrisara Designs.
By Rebekah Olson | Photos by Brandon Alms
Nov 2017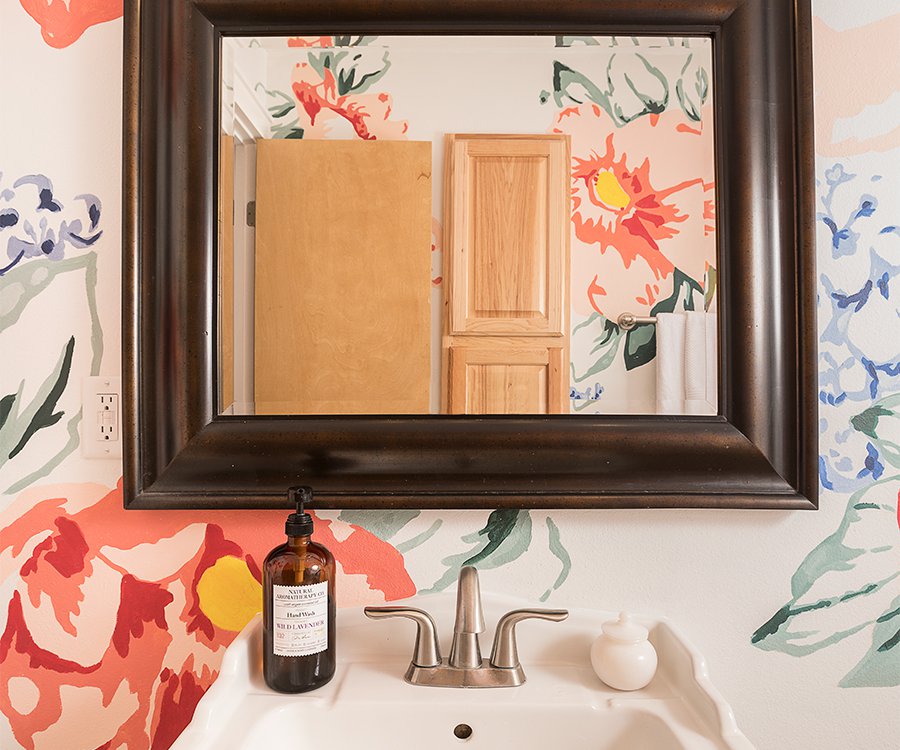 You've seen (and fallen in love with) the recent wallpaper trend, but not like this. 

Twin sisters and co-owners of Chrisara Designs, Christa Schmitz and Sara Schmitz Olson, have executed murals, backdrops and a variety of commissioned art projects for businesses and individuals all over 417-land. Now they're spilling the DIY details of a recent design project: a big, bold, botanical pattern painted on every wall of Olson's downstairs bathroom.

The idea for the project came from the renewal of the patterned wallpaper trend, Olson says. However, she and Schmitz decided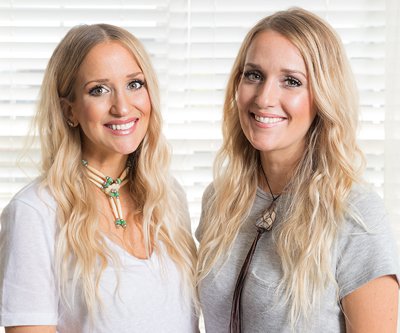 to forgo the wallpaper commitment. Instead, they settled on a pattern inspired by the April 2016 cover of 417 Magazine and used acrylic craft paints to apply their own design to the walls. "The floral pattern [we found] was a perfect choice to recreate our own enlarged version on the walls," Olson says.

They started by sketching their preliminary ideas, measuring and mapping out the wall designs on paper. That way when it came time to execute, all they had to do was measure and create. Throughout the process, "it was something to look forward to each evening and made us forget the stress of the day," Olson says.

The twins recommend pre-planning, sketching, measuring and making sure your composition is balanced before executing your own wall design. "If you want to paint your own room and [are] free-handing it without stencils, it is way more pleasing to the eye to vary the design and avoid major patterns," Olson says. Make sure you have paintbrushes with nice bristles before you begin, and don't forget to keep swatches with your paint color on hand. "We found we didn't mix enough [acrylic] paint for the colors we needed. Once we ran out, we had to mix more and try to do a perfect match," she says.

The sisters had each other for a second opinion about the design placement and color combinations and for moving heavy items out of the way. But you don't have to have two people to get the job done. "One person would be able to do this project," Sara says. "But working with someone can make the job go way faster and make it more enjoyable." If you love the look of this project but don't have the time to do it yourself, contact Chrisara Designs at chrisaradesigns@gmail.com.
 

Do It Yourself
Materials
Paint rollers
Interior paint, for the background wall color
Light-colored chalk pastels
Paint brushes
Acrylic craft paints, for design
Minwax Polycrylic Protective Finish in clear satin, optional 
Directions 
1. Sketch your initial design out on paper.
2. Measure each wall and use the measurements to map out the design, again on paper. Your goal is to figure the exact size and ratio of your design on a smaller scale so you can get an idea of what it will look like once it's on the wall. Spending time during this step will help keep your design in proportion throughout the process.
3. Prep the room by removing furniture and decor, taping off trim and setting out dropcloths.
4. Paint the walls using your background color. Olson and Schmitz recommend choosing a lighter-colored paint with an eggshell finish. This will provide the best contrast for your design and reduce the number of acrylic coats you need to paint. 
5. Once your background color is completely dry, use light-colored chalk to draw your design on the walls. 
6. Mix acrylic paints and store each color in jars with screw-top lids so they don't dry out in between paint sessions. Also, keep swatches that you can dab a spot of paint on in case you need a reference for replicating a particular color.
7. Apply your design by working in layers. Paint on the darkest color of the design first and let dry completely before moving on to the next darkest color. Repeat until design is complete. Throughout this process, continually step back to make sure everything looks proportionate and that the colors on each wall are balanced.
8. Apply clear finish, if using. This topcoat is good for bathroom designs because water spots and drips easily occur in this type of space. However, a finish is not necessary for walls that don't need to be wiped regularly.