DIY
DIY: Sew Your Own Holiday Pillows
Finding the right holiday fabric and creating these lovely pillows is a breeze with these simple steps.
By Heather Kane | Photos by Brandon Alms, Heather Kane
Nov 2017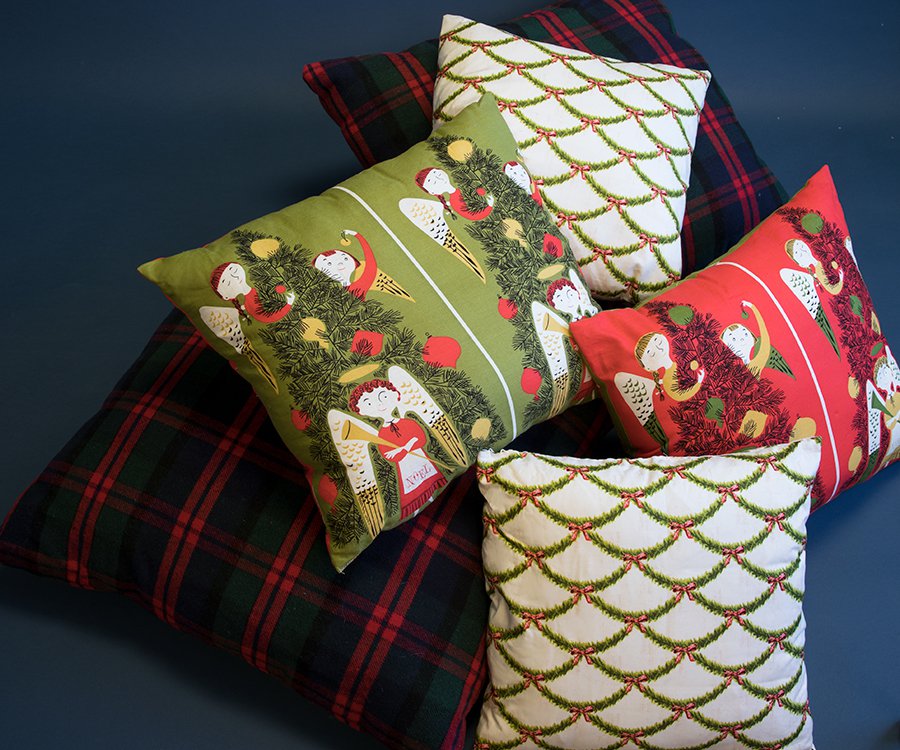 I love shopping for holiday decor, and I get so inspired by going to local shops and seeing all their lovely holiday pillows. I usually pick up a couple statement pillows with interesting imagery that speak to me, but I always need filler pillows to go around the house as a backdrop or to spice up areas that need a little holiday spirit. By making my own pillows, I not only save a pretty penny, but I can customize the size and fabric to fit perfectly in my space.

Pillows are the easiest thing to sew, and you can do it even if you don't have a sewing machine! For my fabrics, my go-to place is FM Stores Fabrics and More. The shop has a great variety of high-end fabrics as well as quilting textiles. Look in the upholstery fabric for bolts of plaids, or for whimsier prints, quilting bolts are the way to go. FM Stores has an array of patterns to choose from, too.

I love mixing plaids with other prints or even other plaids. Using the classic pattern in your decor gives your pillows more longevity as they can be displayed in fall and winter. Throw pillows on patio furniture or on beds for an easy transition. These holiday pillows also make lovely gifts as well as a great project to do with friends and family.
---

DIY Medium Square Pillow

Materials
1 yard fabric
Straight pins
1 spool thread, in a color that matches your fabric
Sewing needle or sewing machine
1 bag pillow stuffing
Iron
Directions

1. Cut a piece of fabric the size you want your pillow to be. Use the first square as a pattern to create the second square.

2. Lay each piece of fabric together with the right sides (the sides that you want to show) facing each other. Pin in place

3. Sew pillow pieces together leaving a 1-inch seam allowance. Leave an approximately 5-inch opening on bottom edge to insert pillow stuffing.

4. Trim fabric edges to ½ inch, trimming first layer slightly more than second. Trim close to corners for a clean-turned corner.

5. Turn fabric right side out and press edges using an iron.

6. Add stuffing to pillow until you like the shape. Sew opening closed with needle and thread.