Trends
How to Tackle the Taxidermy Trend
Whether you want the real thing or prefer faux taxidermy, options abound. Local experts explain how to incorporate the trend into your home like artist Paige Whitcomb who owns several ethically sourced taxidermy pieces.
By Juliana Goodwin | Photos by Brenna Stark, courtesy Obelisk Home
Nov 2017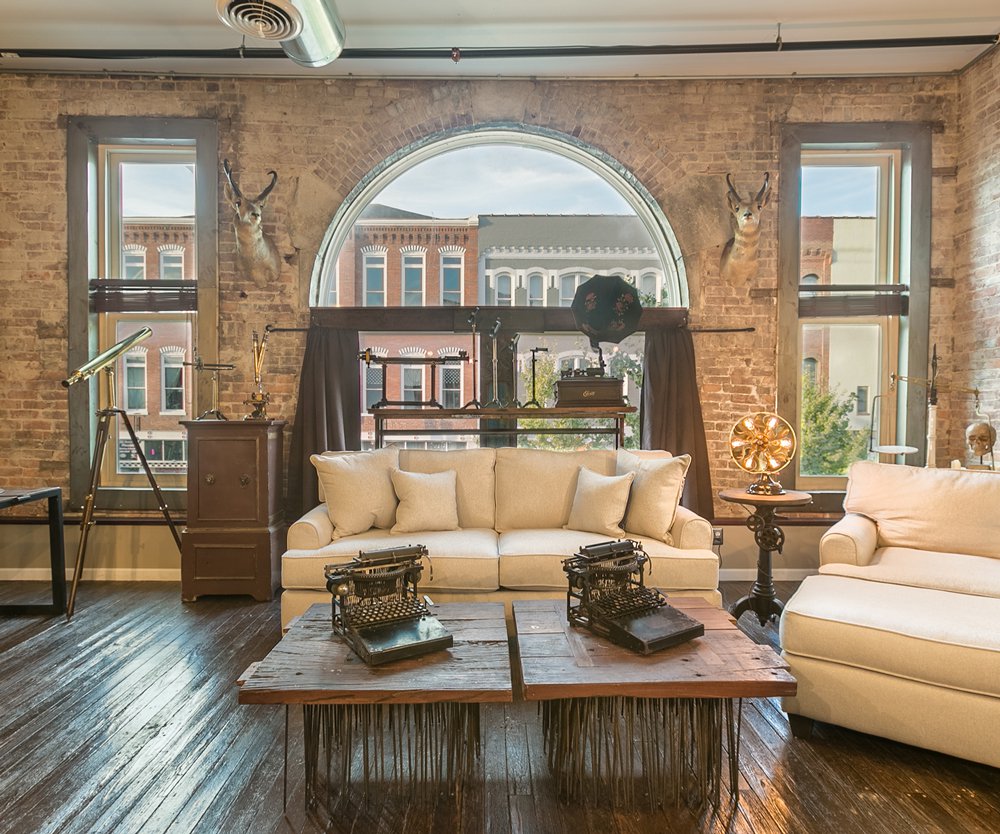 Think that mounted deer only belongs on Grandpa's wall? Think again. Taxidermy is trendy, and it's not just popular with hunters. It's being incorporated more into mainstream designs, especially in lake homes, large estates or man caves, says Clive Gray, co-owner of Grayson Home in Fordland.
The Ozarks has a long history of hunting, so it only makes sense we showcase mounted animals on the wall. In fact, in May 2015, the World Taxidermy & Fish Carving Championships were held in Springfield. But if the idea of an offed furry friend offends you, don't worry because there is plenty of faux taxidermy—inspired by real creatures but often crafted in resin. 
Nathan Taylor, principal designer and co-owner of Obelisk Home, carries faux taxidermy such as cow skulls, antlers and turtle shells. A vegetarian, Taylor prefers not to use actual taxidermy but has incorporated real pieces to accommodate clients. 
"We have people who don't want real taxidermy," Taylor says. "They love the look of it, but they don't want real taxidermy because they are not hunting fans. That is what is so cool about the design industry in this market is you can find cool alternatives. You can color the horns, paint them gold, use silver leaf accents." 
Another reason to go faux: Buying real taxidermy is not as simple as it seems, says Gray, because pieces are usually sold at auction. A seller must have the proper paperwork and can't sell anything endangered or extinct, so it's less appealing to home decor stores to stock the real thing.
Regardless of whether you want to mount a trophy or go artificial, here are some ways you can incorporate it into your home.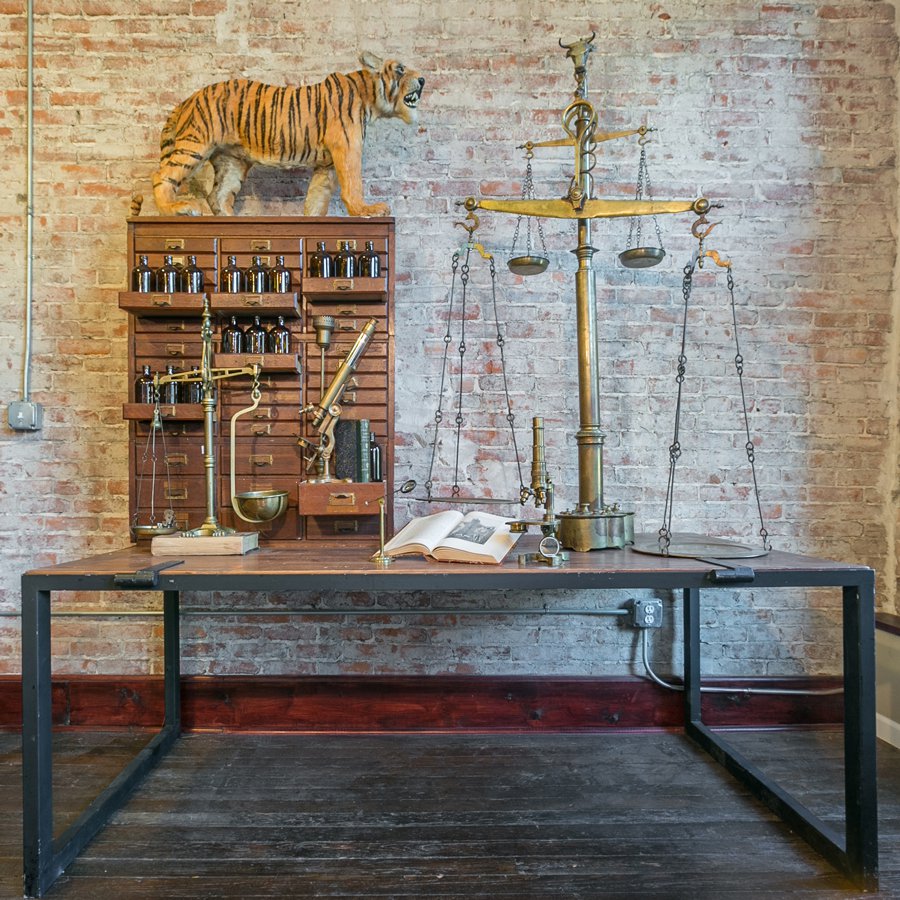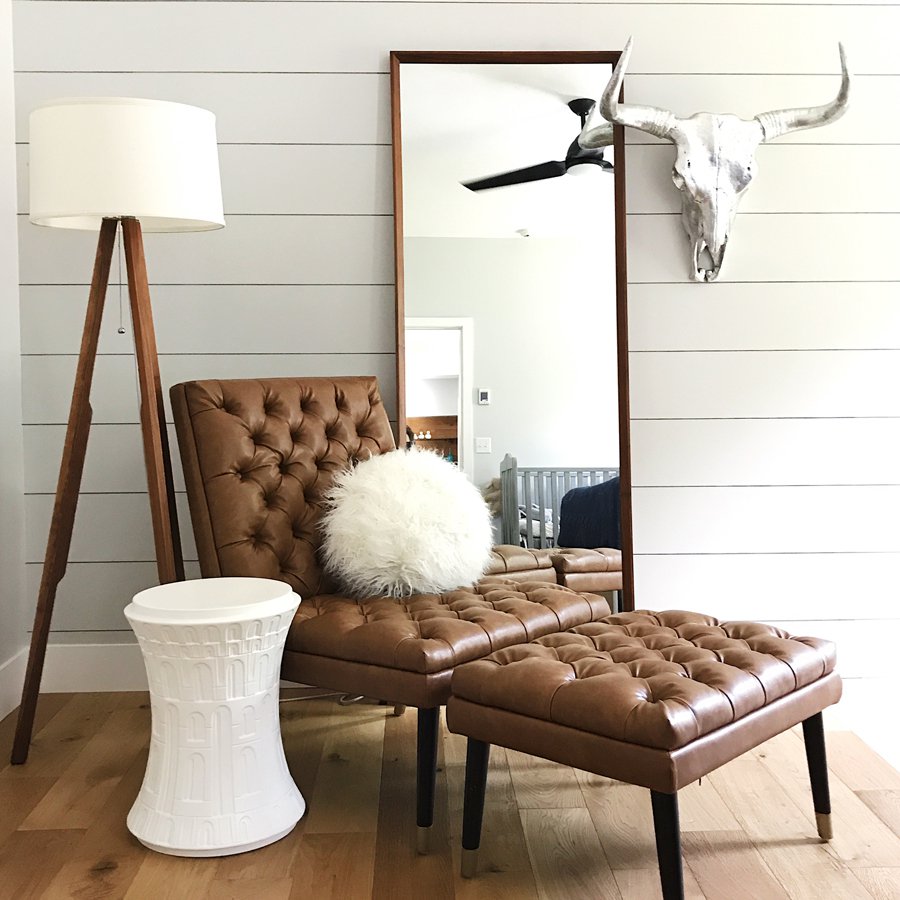 Left: The Whitcombs' taxidermy collections trace back to the 19th century. Right: Taylor used this faux silver cow skull in the 2017 Parade of Homes.
MAKE A STATEMENT
The trend is to go big or go home. "We have sold a huge Texas longhorn, rhinoceros, cow skulls, whale bones—all of these things are made out of resin," Taylor says. "It is interesting because, if you use it in moderation, then they have a sense of importance."
When incorporating taxidermy into a home, Taylor takes two approaches: either make it stand out, or group similar things together in a room to tell a story. For example, he might use wildlife paintings, mounted horns and a zebra rug on the floor.
Frank McLean owns Wild Country Taxidermy, which has locations in Joplin and Springfield, and although white-tailed deer still reign supreme, he's noticed an increase in clients who hunt bears in Canada and preserve the animals. Although most customers have a guide who knows how to skin the animal, it never hurts to call before the trip to talk to a taxidermist.

THE REAL THING
People who showcase real taxidermy often have multiple pieces, Gray says. Some create a family wall with mounts inherited from previous generations. "It is usually a nice mount of something that has been passed down in the family from Dad or Grandpa," Gray says.
Items can be clustered together somewhat like a family photo wall. Gray stocks mostly real taxidermy, but supply is limited and "it's getting harder and harder to find." For homeowners who want a smaller piece, "fox heads are fun to do in the bedroom because they are not so big," Gray says.
In terms of mounting, wood plaques are not popular anymore. McLean points out that most of the pieces they do are mannequins, with hardly any mounted on wood.

WHERE TO HANG IT
Most people hang taxidermy in a grand entrance, or over a fireplace in a family room or living room setting, Taylor says. "It tends to be a focal point," Gray echoes.
Home offices, cabins and man caves are other popular spots to showcase taxidermy. Avoid the bathroom because of moisture, which can damage your taxidermy, Gray says. Taylor would not suggest hanging any in the dining room.

ACCENTS
Aside from taxidermy, animal-inspired accents are popular. Taylor has hung turtle shells covered in gold leaf on a wall. "It was another way to give an architectural interest to a wall instead of art. The gold leaf was an accent that was elegant," he says.
Another wildlife element people work into their home decor is birds. "We have a flight of birds on our wall that is porcelain, and another flight hand-carved out of wood," Taylor says. 

HORNS
Horns and antlers are big and can be used a variety of ways. Horns are crafted into chandeliers or tiered lighting or simply mounted and hung on the wall. Horns can be incorporated into a gallery wall, or even transformed into holiday displays.
"We have used faux horns and real horns as a table scape, put candles in between them and then put greens in between for the holidays," Taylor says.
Horn arrangements are popular in the winter. "If you like that sort of thing you can make a big wreath at Christmas," Gray says.
Score a Fabulous Piece
You can find real taxidermy and horns at
Grayson Home
(353 E. Main St., Fordland. 417-299-0227).
You'll find faux taxidermy accents like horns or a flock of birds at
Obelisk Home
(214 W. Phelps St., Suite 101, Springfield. 417-616- 6488).
You can find faux accents like turtle shells and an antler chandelier at
James Décor
(1324 E. Republic Road, Springfield. 417-883-2616).
For real deal North American taxidermy, visit
Rustic Timbers Furniture
(8847 State Highway 76, Branson West. 417-338-0215).