Outdoor Spaces
Entertain in Your Dream Outdoor Retreat
Gather the friends and invite the family because this year you're finally going to complete your dream backyard living space. Here to help are three Springfield, MO families who are living their best outdoor lives in their own backyards.
By Ettie Berneking
Mar 2019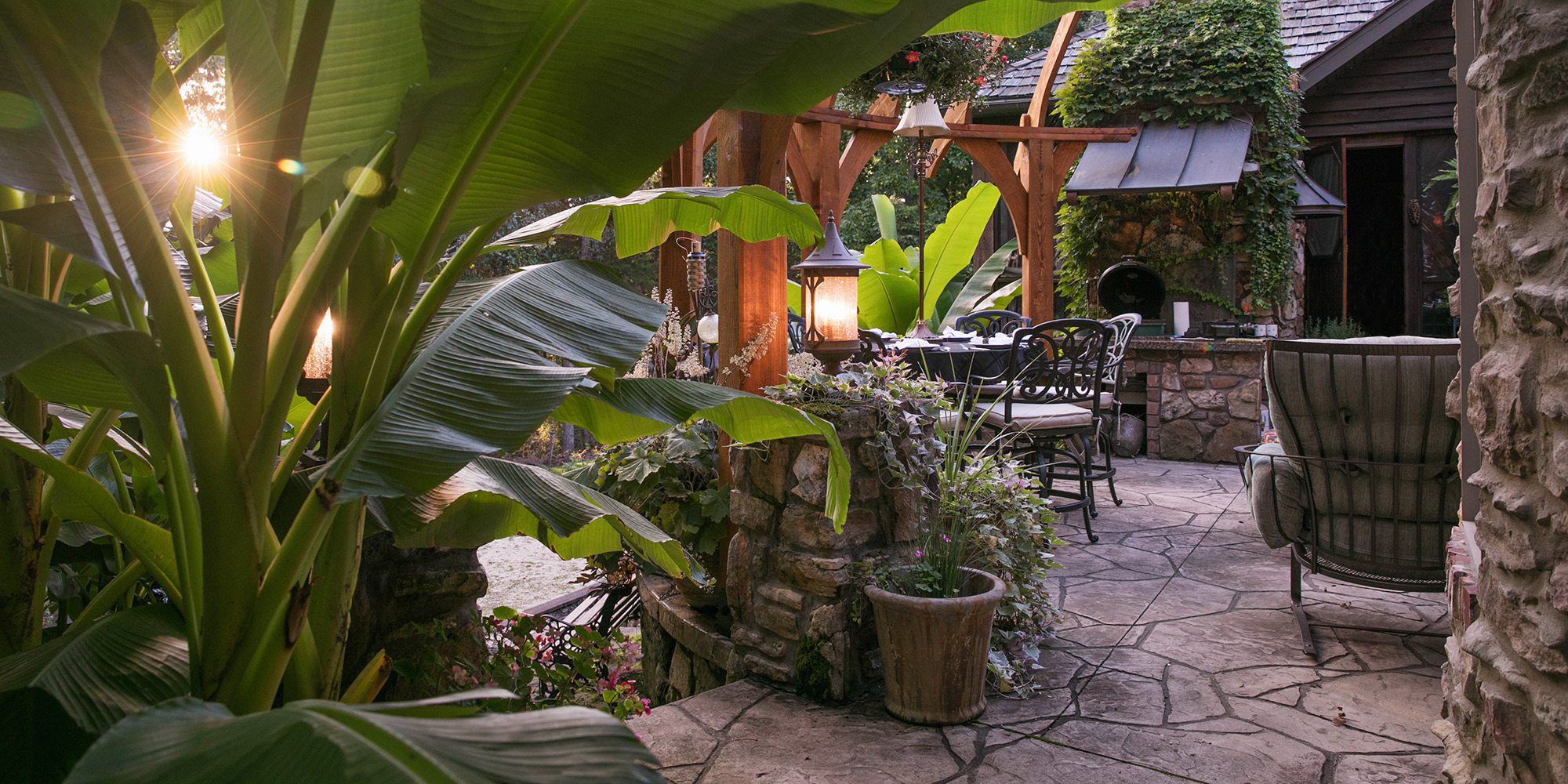 Picture this: It's Saturday afternoon, and the sun is shining. Your to-do list is hidden away for the day, and the rest of the afternoon is yours to enjoy. With a tall glass of something cold, you head out back and settle into an overstuffed patio chair. Friends are heading over, and another relaxing evening around the fire will soon unfold. Sounds perfect! For some of us, this daydream can seem out of reach. How do you decide between a patio or a raised deck? Are pavers a better fit, and what about a fire pit? Which patio furniture is best? And how do you plan a successful outdoor dinner party when your menu has to be kid-friendly? The questions seem endless. Luckily, we can turn to some experts. These three Springfield, MO families have turned their backyards into outdoor retreats worth gathering around. They're cozy and welcoming, efficiently planned and adaptable to almost any project timeline. So invite the friends because with a little work and plenty of creativity, your backyard dreams can soon come true.

Peek Into a Local Backyard

Click on a photo below to read about how each family created their ideal outdoor retreat.
How to Build a Primo Outdoor Kitchen
When was the last time you saw a gargoyle? Better yet, when was the last time you saw a gargoyle perched above a pizza oven? Little details like this are what Ron and Marilyn Hill love most about their outdoor kitchen. 
Each of those details was included in the design to remind the Hills of their favorite trips, adventures and meals abroad. "This is all about memories," Ron says. As owners of Euro World Design, a residential building design company, Ron and Marilyn use their clients' memories as building blocks when designing outdoor patios and kitchens.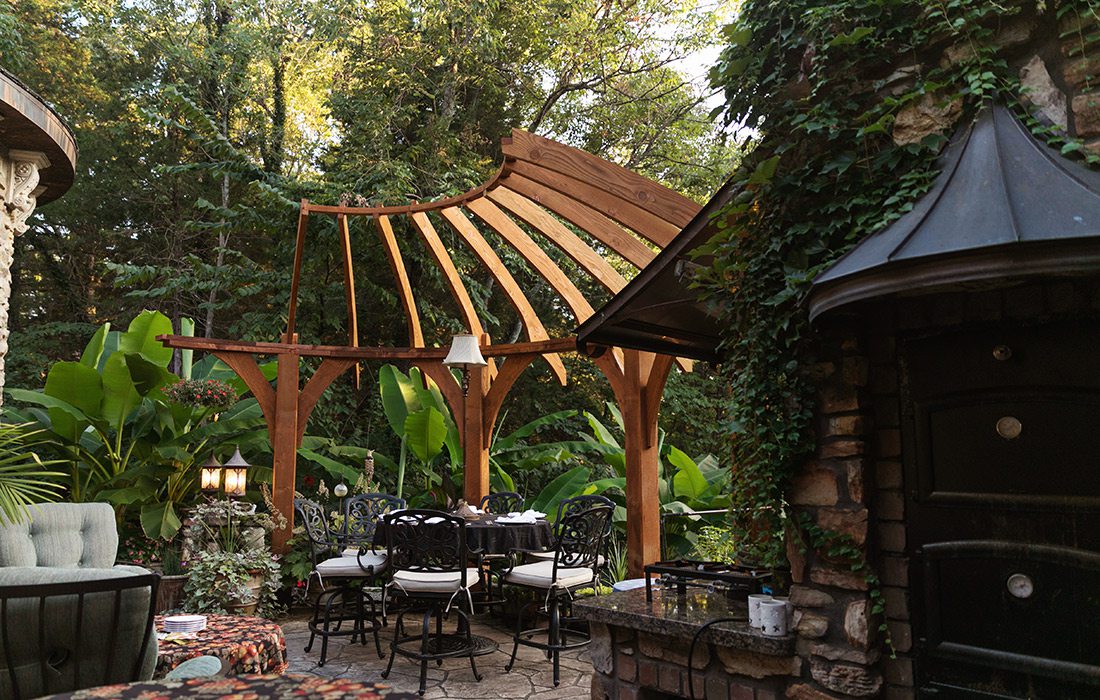 Photo by Janae Hardy
To create a setting unlike the rest of the Ozarks, the Hills use landscaping and tropical plants. The couple installed a new pergola along the backside of the upper veranda with plans to grow ivy up the beams to help block some of the evening sun.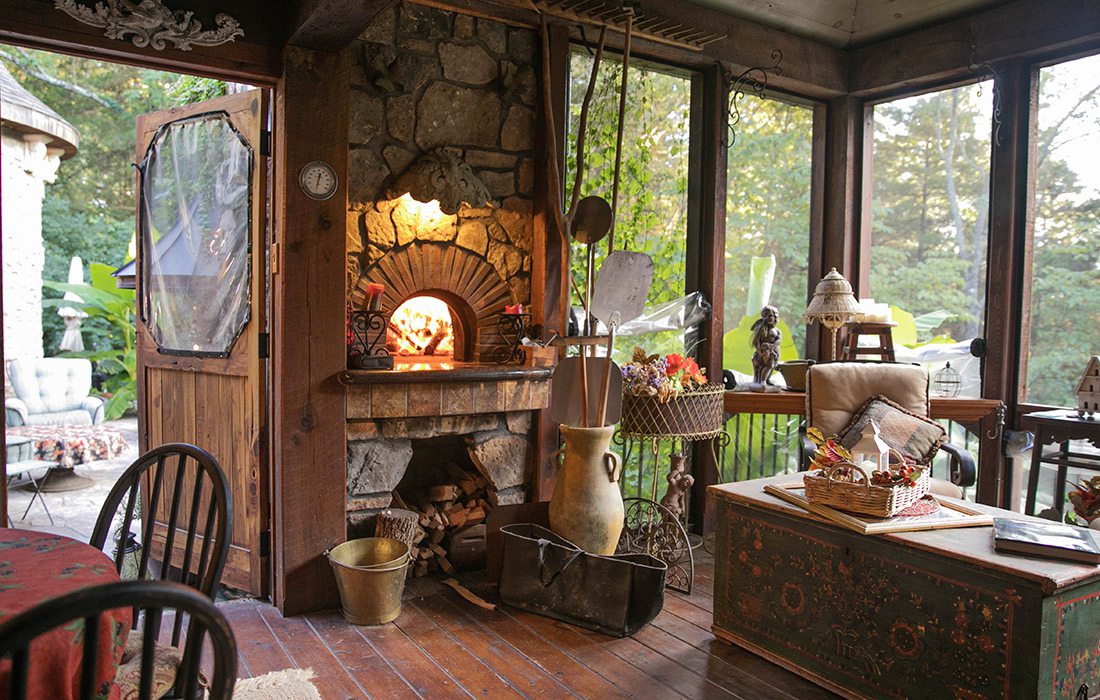 Photo by Janae Hardy
Both Ron and Marilyn love to cook, so most gatherings on the patio include a hands-on meal. If the weather threatens rain, the couple's pizza oven can be accessed from the screened in porch.
It's a strategy that worked well in the design of their own outdoor retreat, which is cloaked in layers of Old World charm the Hills fell in love with while traveling through Europe. "We wanted coziness," Ron says. They also wanted to cook. While abroad, the Hills continually stumbled upon outdoor feasts and gatherings. Everywhere they went, it seemed evenings were spent outdoors around an open fire with great food and even better company. "We wanted to bring that into our own home as a memory of where we've been," Ron says.

Build Your Dream Outdoor Living Area
Before you start designing your dream patio or outdoor kitchen, turn to the pro. Ron is here to share a few tips and lessons he's learned.

Embrace Your Green Thumb
Adding colorful plants of varying heights is a great way to add a layer of privacy and ambiance to your outdoor setting. Potted plants give you the chance to add different colored blooms throughout the year, and they're also easy to move around the space as needed.
Tie in a Memory
Ron Hill likes to help clients pick a few memories to use as the foundation for a new outdoor space. "It could be a symbol, plaque or color," he says. "It's about recreating a feeling from a place you really enjoyed."
Get Creative
Even if you're renting or aren't totally sure about how you want to use your space, Ron says to go for it. "There's a lot you can do without making permanent changes," he says. Bringing in new patio furniture can create a setting in no time, and adding plants and flowers really rounds out a space.
DIY It
There are a ton of projects you can tackle yourself. Ron suggests starting with assembling a fire pit. If you're ready for something bigger, dedicate a weekend to installing pavers to create a patio.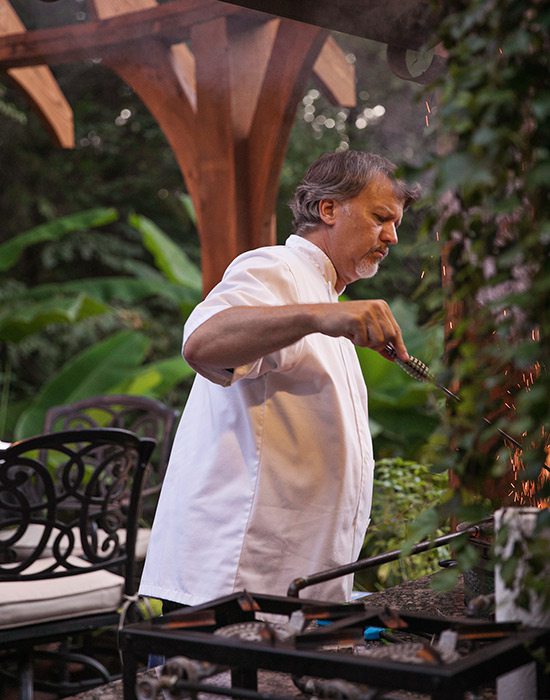 Photo by Janae Hardy
In addition to their outdoor pizza oven, Ron and Marilyn use their Big Green Egg to easily grill veggies and meats alike.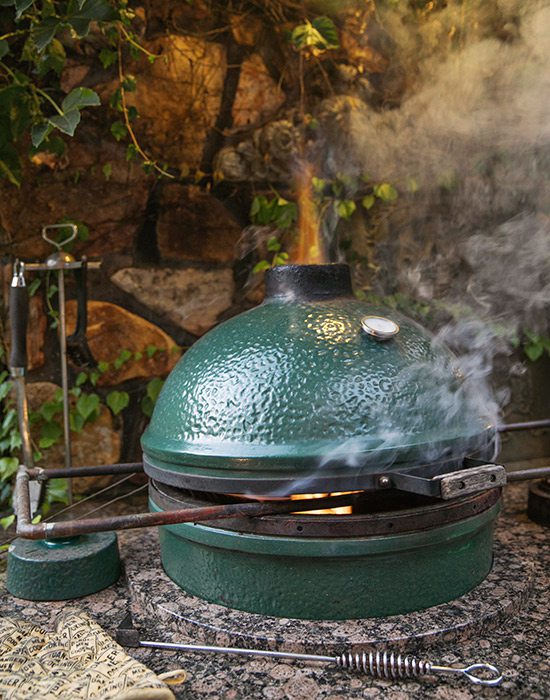 Photo by Janae Hardy
Big Green Egg in Ron and Marilyn's custom outdoor kitchen.
In honor of the memories of crisp Italian pizzas, rich seafood and thick forkfuls of pasta, the Hills tore out their tired wooden deck and designed an outdoor kitchen that could accommodate almost any menu. There's a brick pizza oven, a built-in smoker, a designated spot for the couple's Green Egg and a fire pit used to cook the couple's favorite dish from Spain: paella. Even more impressive—the patio is just 18 feet in diameter. By designing the space efficiently and limiting the patio furniture, the Hills avoided overcrowding the veranda and made sure their guests knew that part of the night's entertainment would include feats of culinary prowess.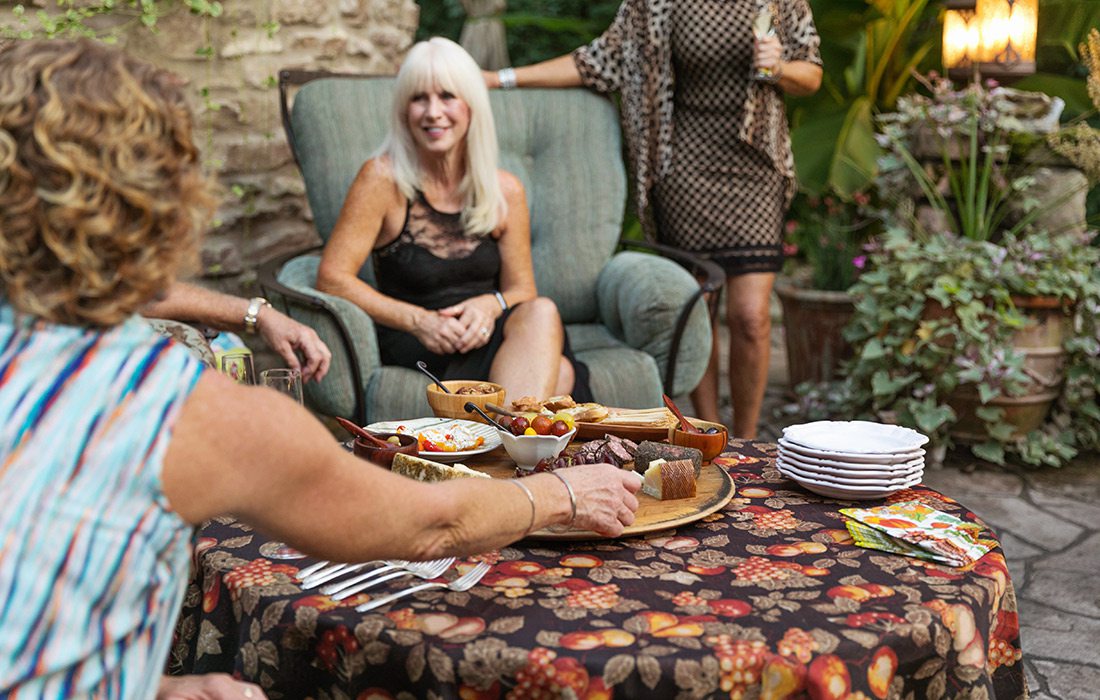 The Hills love to cook, but they also love to include their guests in the action. Pizza nights are a regular occurrence, and the Hills encourage guests to bring their own secret ingredients. When paella is on the menu, everyone gets to see the entire cooking process. 
The Hills have even found a way to donate their outdoor kitchen and share their love for Mediterranean cuisine. A few times each year, the couple donates a dinner for six to local charity auctions. Ron and Marilyn do all the cooking. 

Create a Green Escape in Your Outdoor Entertainment Area
Need to add some privacy and color to your outdoor retreat? Marilyn Hill shares her tips on how to use greenery and seasonal plants to your advantage.
Embrace the Planter
For pops of color that can change throughout the year, add planters around your space. "I use planters to create a fence around the patio instead of a railing that would hinder the view of the rest of the patio," Marilyn says. "We love the planters since they can be moved as needed to assist us in re-arranging the patio furniture to accommodate a larger party." To keep things simple, Marilyn usually sticks with plants she knows grow well in the Ozarks including vining geraniums, petunia, ivy, dahlias and daisies.
The Power of Grass
To block unsightly areas or prep spaces, Marilyn incorporates reed ornamental grasses into the landscaping. This way, she can easily hide an air conditioner or divide different areas of the patio and backyard.
Think Outside the Box
One of the Hills' favorite additions to their landscaping is the large banana plants. The thriving perennial "adds to the tropical feeling in our outdoor spaces around the patio and bocce ball court," Marilyn says. The large leaves also provide a bit of privacy between the multiple levels of the Hills' backyard. Marilyn also loves how easy the plants are to propagate. They have "lots of shoots from the main root that we have transplanted all around the patio."

Their love of entertaining weighed heavily in their designs for the outdoor kitchen, but to really recreate that welcoming atmosphere they loved while in Italy's historic hillside towns or in France's seaside abodes, they relied on landscaping. Flowers bloom throughout the year, adding pops of color to the patios somber stone color palette. Bright pinks and reds wink at guests in between the feathery fronds of green ferns and towering palms. 
Banana trees have done surprisingly well in the couple's terraced backyard. When warmer temperatures lure the hearty plants back each season, the oversized bright green palm leaves can shoot up 20 feet in the air. The varying heights and sizes of plants hug the perimeter of the patio and give the space a tropical ambiance not often found in the heart of the Ozarks.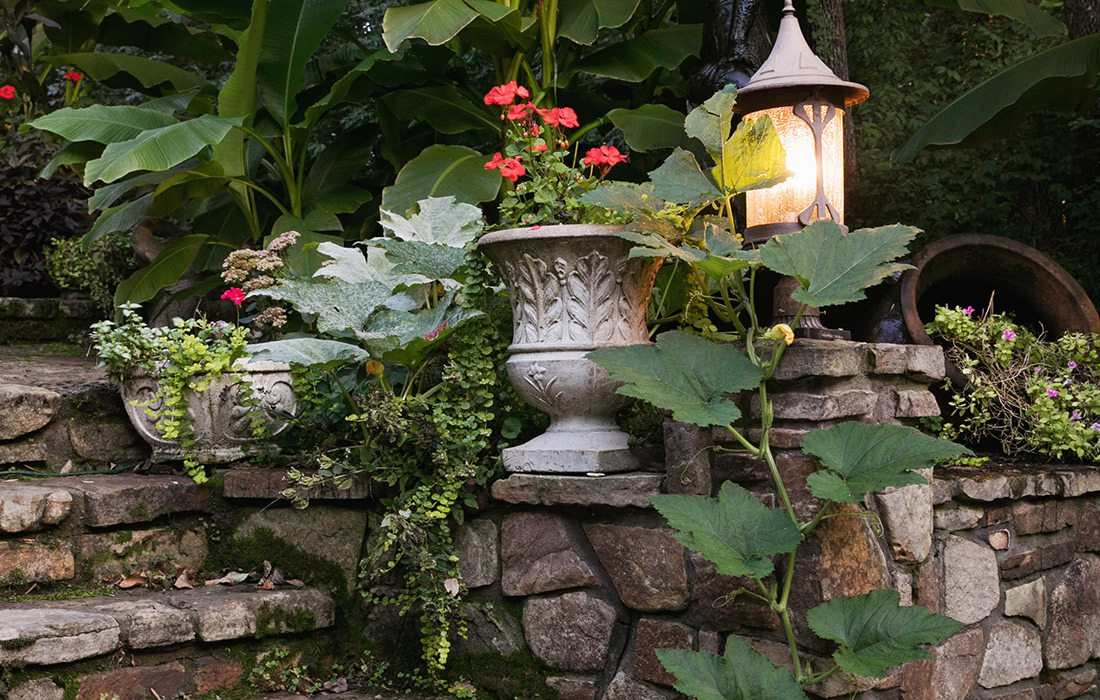 Photo by Janae Hardy
Marilyn Hill suggests using greenery and seasonal plants to add privacy and color to your outdoor living space.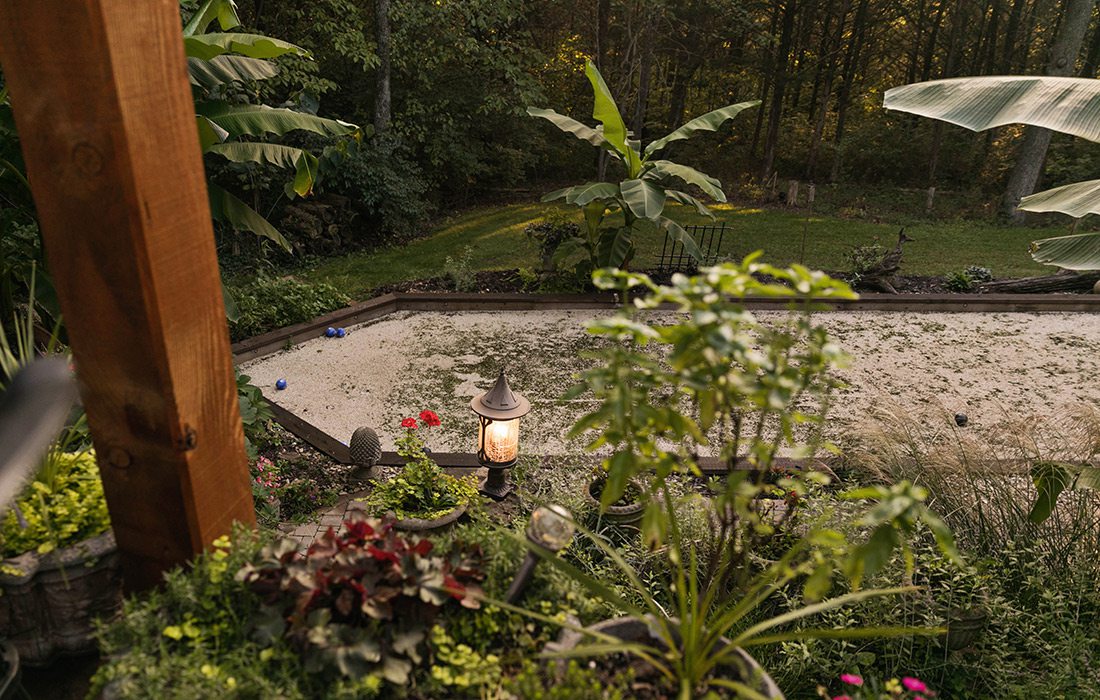 Photo by Janae Hardy
Regulation-size bocce ball court
The regularly changing landscaping isn't the only frequently updated part of the Hills' outdoor kitchen. A few years back, the couple installed a regulation-size bocce ball court, and last year they built a new wooden pergola that drapes artistically over one side of the stone patio. 
"The design never stops," Ron says. "We've started work on the patio several times and keep on adding." As new memories are formed, new additions to the outdoor kitchen are sure to follow.
Who to Hire to Build Your Outdoor Retreat
Want some help with your outdoor retreat? These southwest Missouri pros can lend a helping hand.

Host a Cozy Backyard Dinner Party
When Christy and Josh Burch invite friends and family to their Rountree abode for an outdoor gathering, they don't just set the table and uncork a few bottles of wine. This couple creates a cozy backyard setting where the grill, seating and table don't have to fight for space. In one corner of the 1-acre lot is a lounge area with a daybed and a fire pit. The dining table sits closer to the home and provides a clear view of the kids' area. Creating three zones that are as functional as they are aesthetically pleasing might seem like overkill, but Christy and Josh have six kids to keep in mind. Add two or three other families to the mix, and the number of kids can reach double digits. Luckily, the Burches' backyard has enough legroom for everyone.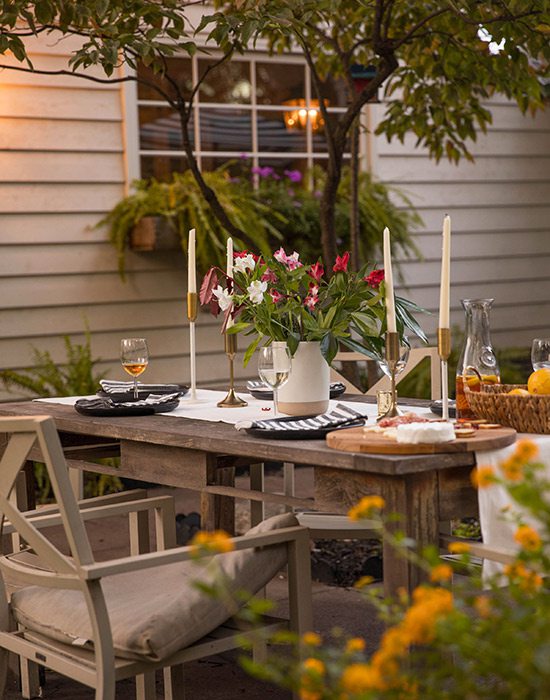 Photo by Janae Hardy
To give both the adults and kids in the group room to relax, the couple creates different zones in their backyard. There's a lounge, a dining area and a kids' area.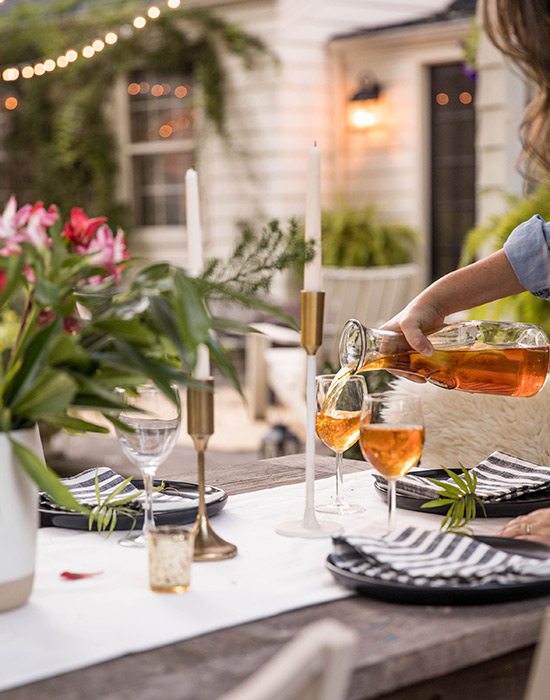 Photo by Janae Hardy
Instead of purchasing outdoor-only decor and furniture, the Burch family uses items from inside their home.
What it doesn't have is much outdoor furniture. Besides one large wooden farm table the couple has had for almost 18 years and a daybed, most of the furniture used for hosting comes from inside the house. Table settings and decor are pulled from inside. Even the antique rug that ties the lounge area together spends most of its days indoors. "Use what you have," Christy says. Her trick to designing a comfortable and functional outdoor retreat: Start with the end goal, which for Christy is functionality.
Christy locates the dining area close to the house and knows her guests will gravitate toward the fire pit, which is why she provides ample seating options around the fire, including the daybed. To help direct the flow of traffic, the couple used concrete pavers to form walkways through the yard. When the night is over and done with, everything is hauled back indoors and cleaned off with basic carpet cleaner and a handheld Bissell vacuum. Who says entertaining has to be stressful?
Let These Local Retailers Outfit Your Next Backyard Party
561 E. Elm St., Republic
417-730-0263
This home decor shop can custom make a farm table for you and keep you stocked on vintage finds and home decor. 
1717 E. Cherokee St., Suite 105, Springfield
417-883-3376
Build a stunning centerpiece with some greenery and succulents at Flora & Fern. This gardening shop has plenty of plants you can use indoors and outdoors.
1715 S. Campbell Ave., Springfield
417-869-1513
If you want cushions you can leave outside, head to Maschino's. You'll also find outdoor furniture and fire pit accessories.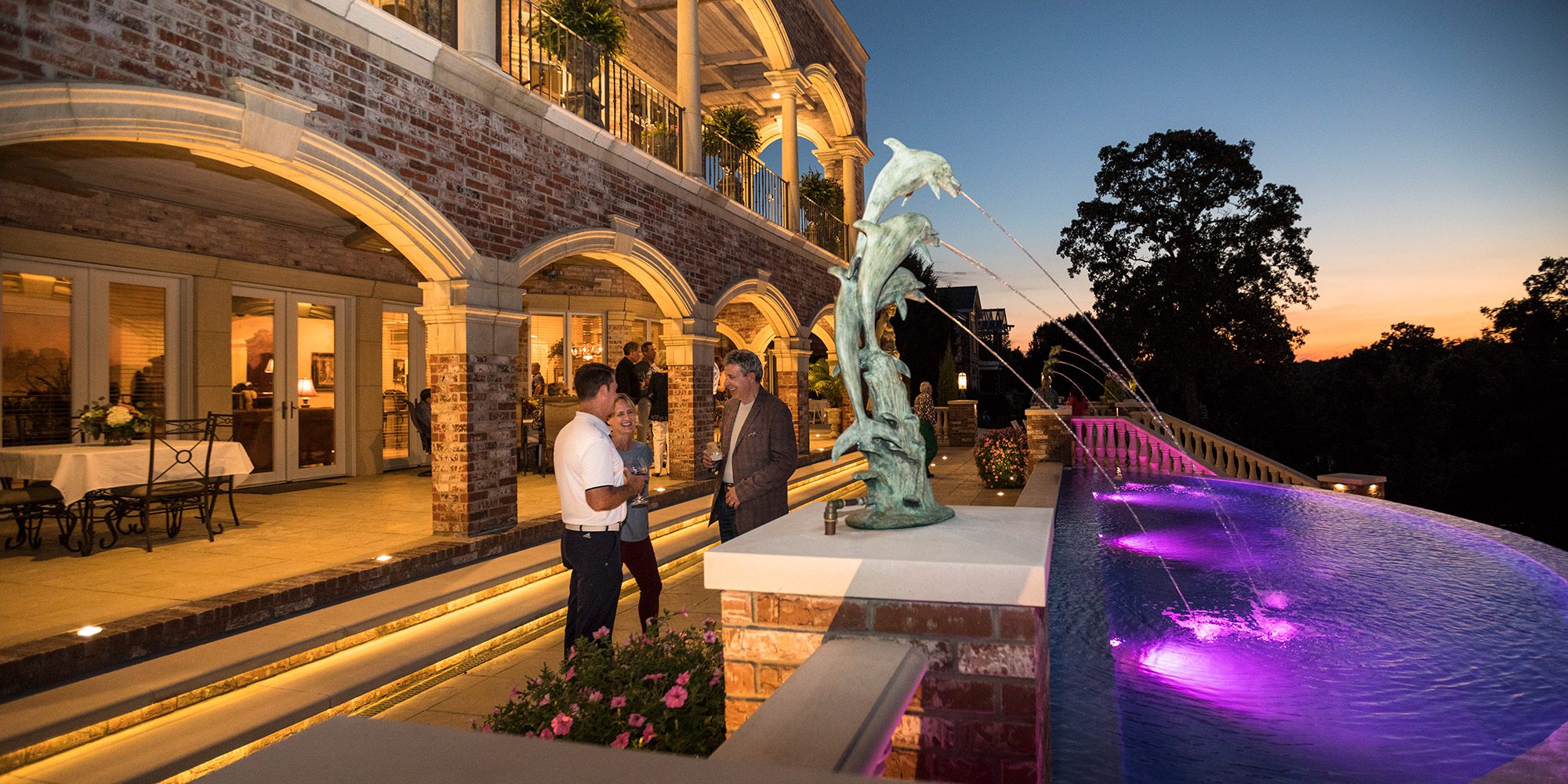 Throw a Fabulous Outdoor Soiree
With 10,000 square feet to work with, not to mention an in-ground pool, two verandas and a sweeping outdoor staircase, it's no wonder Beth Yarbrough and Dwayne Holden's home has become a bit of a destination in Springfield. 
Its guest book might not rival big Springfield attractions like Wonders of Wildlife, but curious passersby and even couples getting married have shown up at Beth and Dwayne's front door in hopes of snapping a few photos.
"This is still our home," Beth says laughing. She's become quite the pro at gently dashing the hopes of these unsolicited visitors.
But if you do want a selfie with Highland Springs Country Club twinkling in the background, your best bet is to get your name on the guest list for the annual Holden-Yarbrough fundraiser party. Each year, some 350 couples open the mail to find a personalized invitation waiting for them. This is a black-tie-only-champagne-and-caviar affair that doubles as a fundraiser.
Advice for Planning Your Outdoor Gathering
When it comes to planning fabulous events and staying organized, Beth Yarbrough is a pro. And she's here to help with a few of her own tips on how to throw a party or fundraiser and stay calm while you're at it.
Plan Ahead
Beth gives herself a full six weeks to start planning the annual fundraiser. She orders save the date cards at three months in advance and gets them in the mail six weeks before the event.
Rub Some Shoulders
If this is your first fundraiser or big party, Beth suggests teaming up with someone who can give you some insight. Invite a pro you know to coffee or lunch and pick their brains about planning, staffing and cleanup. Chances are, there are more than a few things you haven't thought about.
Hire a Bartender
Even if you're just hosting a small party, a professional bartender can elevate the event. It will also free up your time so you don't have to worry about refilling wine glasses or mixing up another cocktail for a guest. Pick a few wines—including a red, white and sparkling—and select two house cocktails for the night.
Ignite the Fire
Giving your guests something to be excited about is a great way to build enthusiasm for your fundraiser or event. Beth goes all out at her big party and hires entertainment. She also sets up caviar bars, ice sculptures and decorations to boot.
Entry is priced at $500 per couple, and all proceeds are divvied up amongst the seven children's charities Beth has selected for the night. On average, Beth estimates the party raises close to $80,000. But before the event was a fundraiser, it was just another party.
"It took so much effort and so much money," she says. "It seemed like more good should be coming out of our party to help our community." So she decided to the turn the annual bash into one of Springfield's must-attend fundraisers.
Seven years later, the event is still going strong. Beth and Dwayne hire at least 28 staff to work, and guests get to enjoy the  beautiful view, delicious food, drinks and great conversation.