Featured Homes
Homes of the Year 2019
Our annual Homes of the Year winners revealed! We asked local southwest Missouri builders and designers to submit their best work from the past year, and the results are impressive. Peek inside and prepare to be impressed.
By Tessa Cooper
Dec 2019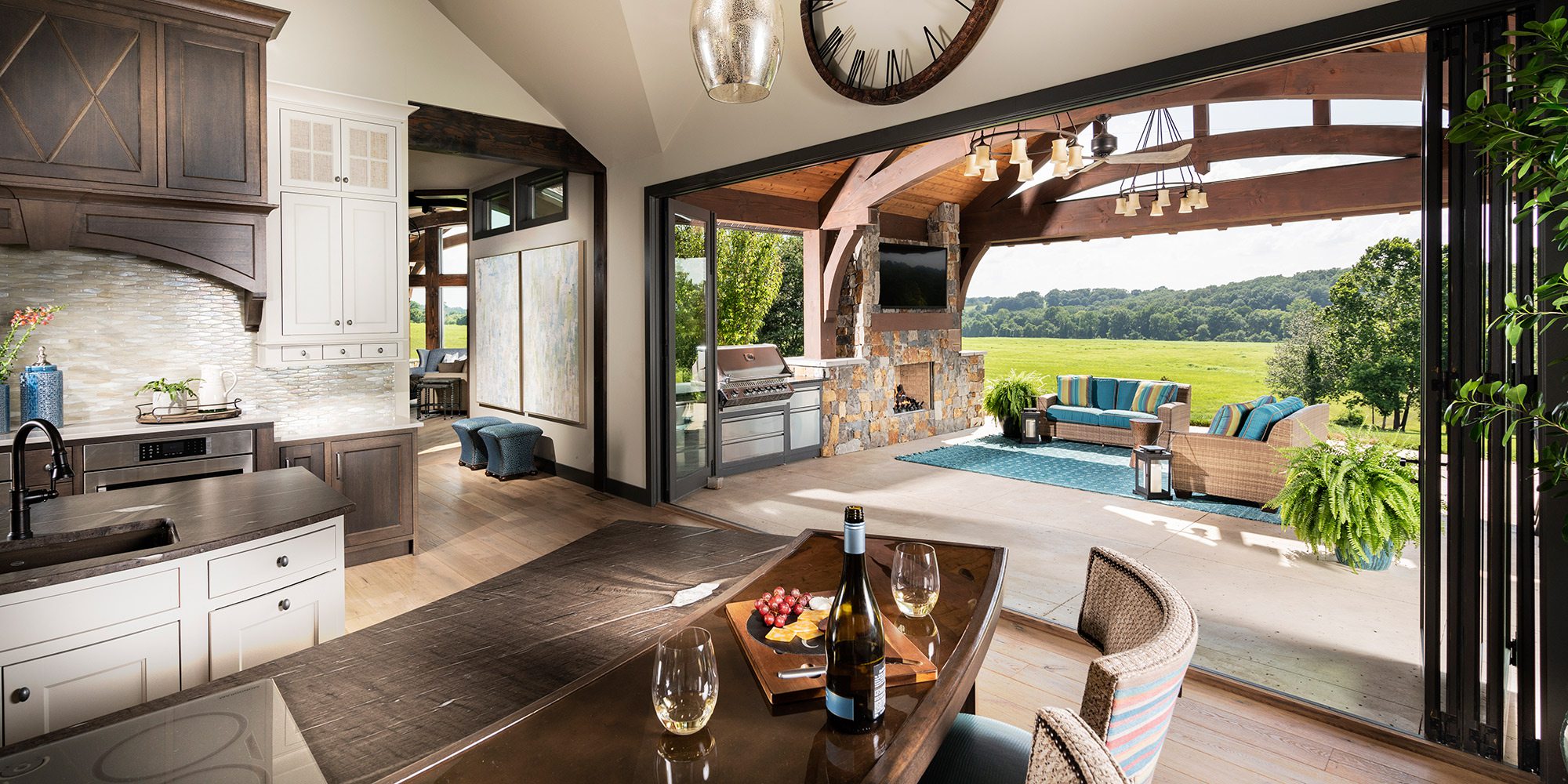 Our annual Homes of the Year contest is a tradition we look forward to every year. This contest allows local talent to show off and celebrate their best, most recent work. Without fail, we're always amazed as entries pour in, each one filled with pictures of dream homes that beckon us to stare awhile. To select winners, we recruited judges from the Central Oklahoma Home Builders Association. They narrowed it down to five winners, which wasn't an easy feat. As you look through the homes, take note of the unique materials, cozy gathering spaces and resort-like retreats. Meet the builders, architects and designers who pushed the boundaries to create functional, stunning homes, and allow yourself to get caught in a daydream of commissioning your own custom home in southwest Missouri.
Modern Timber Frame Resort
---

Back when this abode was just a dream, the homeowners wanted it to reflect both their styles. The inspiration was Montana's Douglas fir timber homes and Caribbean resorts, and JJ Hetherington, Rex Winslow and Denise Wright delivered.
The result was modern amenities, meandering living spaces and texture around every corner, and each professional involved brought the goal to life.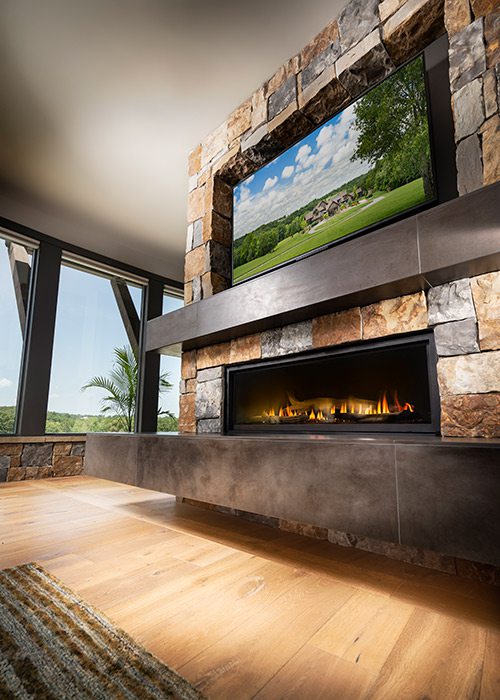 Knowing the living room would be a gathering place for the family and guests, Rex Winslow put extra effort into building this suspended hearth fireplace and mantel.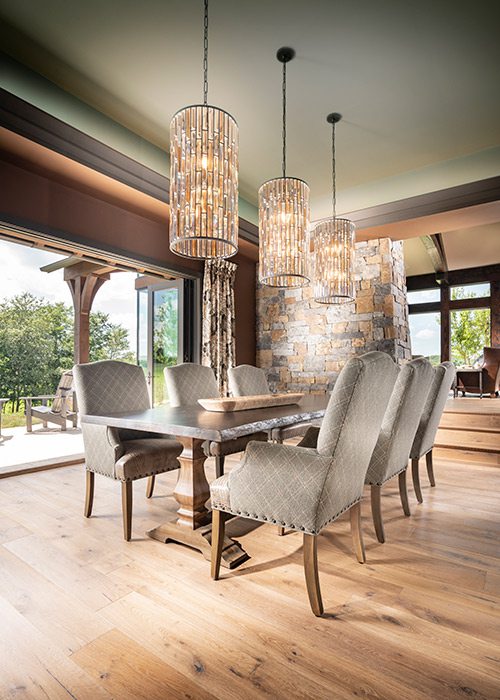 The pendant lights dispersed throughout the home feature shiny and airy textures that hint at broken sea glass and crystal waters, and the floor-to-ceiling sliding doors completely open to invite the outdoors inside.
Photos by Jeremy Mason McGraw - Global Image Creation
"We merged different styles together into one cohesive design the homeowners would both enjoy," Wright says. For starters, Wright's design choices tied the two themes together. The two styles are exemplified in the kitchen. Its luminous backsplash has a subtle shell-like appearance, and the Cygnus brushed granite countertops feature a unique pattern that mimics wood.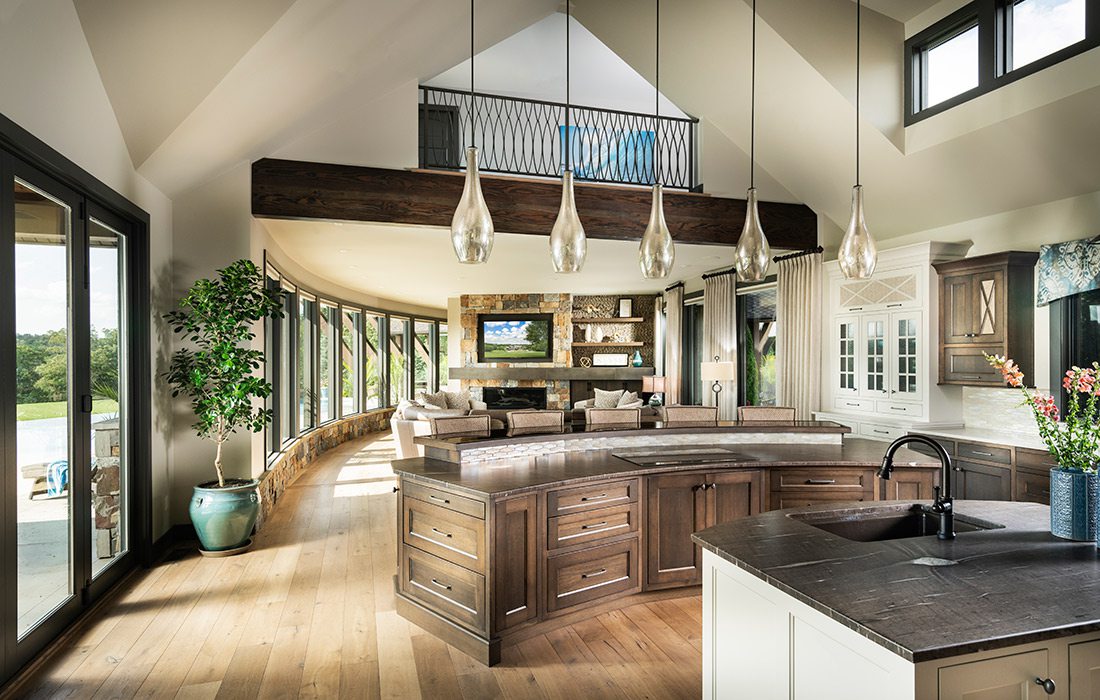 The same engineered hardwood flooring flows throughout the home's common areas. To create a distinction between the kitchen and family room, Wright and Winslow decided to change up the plank's pattern. Wright also thoughtfully curated the family room's furniture. She proposed swivel chairs, so the room's occupant can change their view to look outside, watch TV or chat with someone in the kitchen.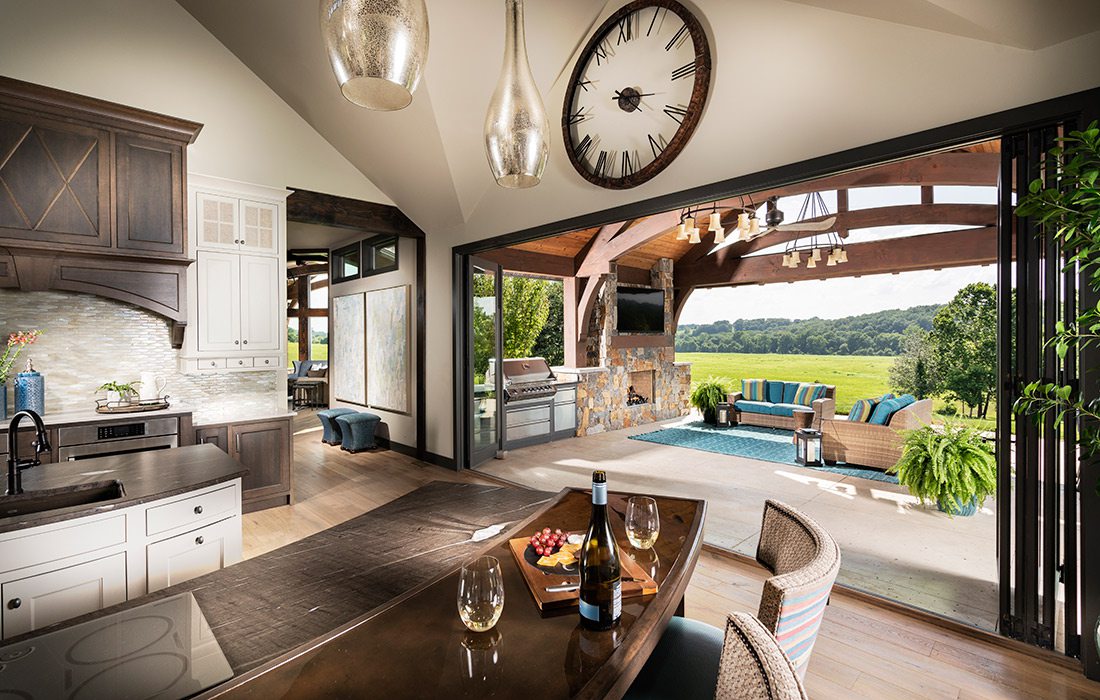 With such a beautiful piece of property, it was a no-brainer to create an indoor and outdoor space that would work seamlessly together.
Photos by Jeremy Mason McGraw - Global Image Creation
When creating the home's layout, Winslow and Hetherington blended rooms almost seamlessly into one another. For example, the conjoining kitchen and casual family room create the perfect space for quality time.
"They had a vision for their home; I simply interpreted that vision," Hetherington says. "It's people like Rex and Denise that make the vision a reality. So when the family moves into the home, it's part of them, and it's who they are. It's their story."
Meet the Winning Team
$1 Million or More
Morningway
With its bonus private living quarters and extensive woodworking details, this Craftsman-style home is a charming forever home.

Category | $750,000 to $999,999
Winning Team | Joan Hand of Hand Architecture & Gary & Terri Herman of Herman Custom Critical Homes


---

Even gazing at a bird's-eye view of this home tucked away in The Hill subdivision doesn't give you a hint of what all it has to offer.

For example, you'd need to look at the blueprints to see that underneath the home's attached garage lies a private studio apartment with its own kitchen, perfect for guests or extended family. Or, that despite this home's modest size, it packs in a living room, a bedroom suite, a master suite, an additional guest bedroom, two full bathrooms, a powder bath, a kitchen, a dining area and an office, all in addition to the private living quarters.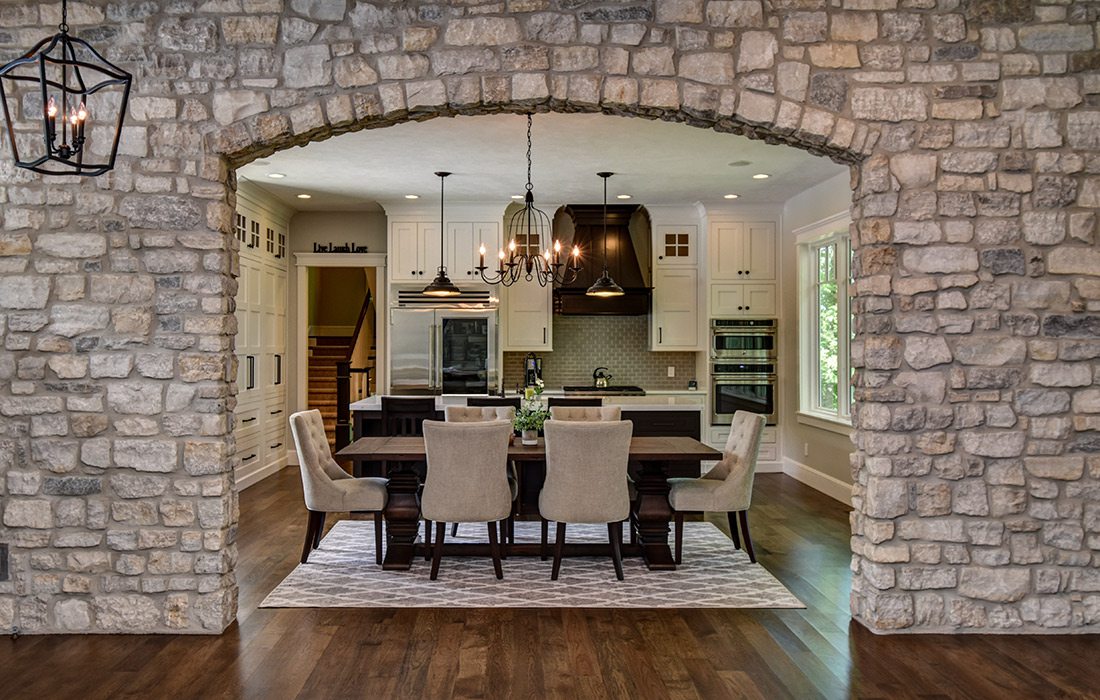 The owners wanted many separate spaces with unique functions, but they also wanted to keep the area of the home close to 4,000 square feet. "The challenge was to meet those requirements while still having the rooms feel open and spacious," says Joan Hand, the architect for this project. "The solution was to combine functions wherever possible and design the rooms with high ceilings and large, tall windows."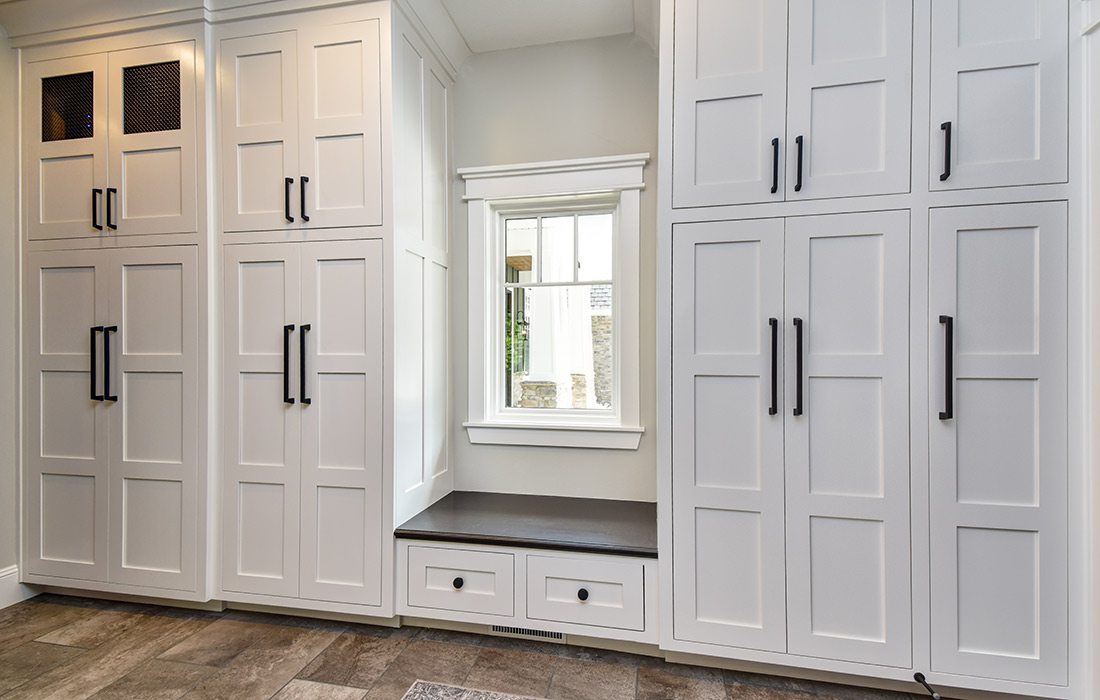 The homeowners valued ample storage. Staying true to the home's layout style, Gary Herman installed tall Craftsman-style cabinets that tower all the way to the ceiling with inset flush doors.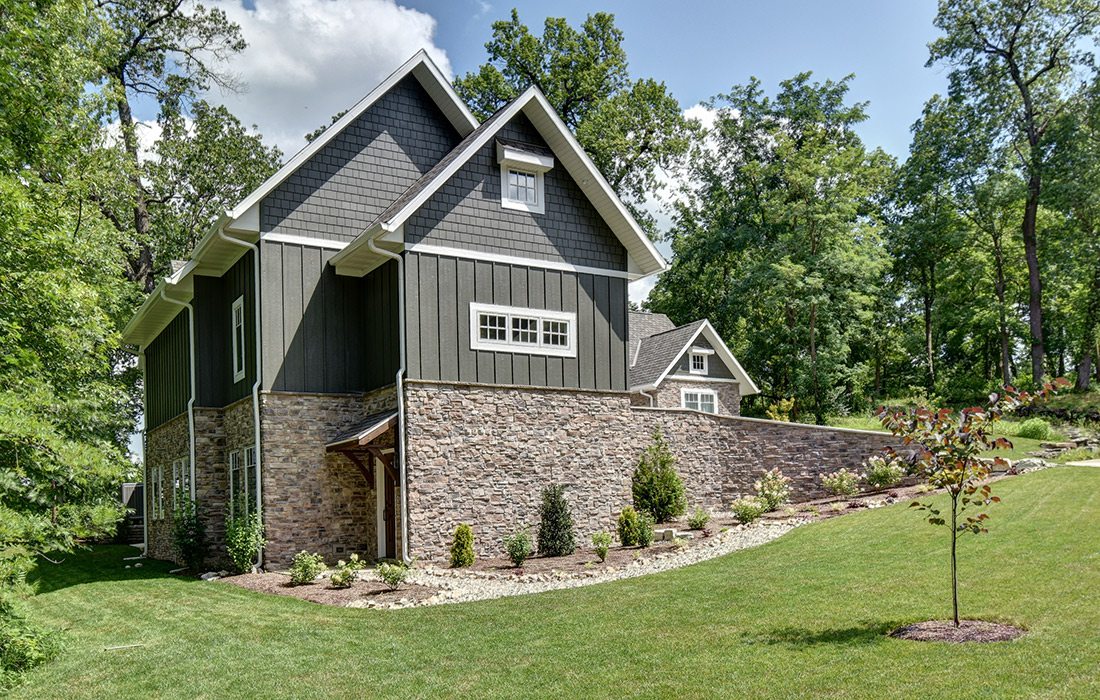 The homeowners chose a color between green and gray with white trim to make the exterior their own. Rather than using contrasting colors, they used texture to give depth to the home's upper gables by pairing James Hardie vertical siding with shingles. "They nailed it with the color palette," Gary Herman says.
Photos by Superior Home Photography
Inside, you can find small details that make this house functional and comfortable. It has amenities throughout, like a bathroom mirror that doubles as a TV, perfect for catching up on the news while preparing for the day. 
"We stress weekly meetings with our clients on all jobs," says builder Gary Herman. "We are constantly updating the small details to completely customize their home."
Meet the Winning Team
$750,000 to $999,999
Ozark Modern at Hidden Tree
Built by Brett, Erica Lea Design Studios and Jason Thompson teamed up to create this rustic-modern home that marries modern and historical-inspired elements free of fast trends.

Category | $500,000 to $749,999
Winning Team | Brett Godfrey of Built by Brett, Jason Thompson of J L Thompson Design Group & Erica Hendrix of Erica Lea Design Studios


---

As owners of a residential construction company, Brett Godfrey and his wife, Sherry, never let themselves get too settled in a home. In fact, since they began their business in 1986, they have lived in about eight different homes, and they've built and sold each one.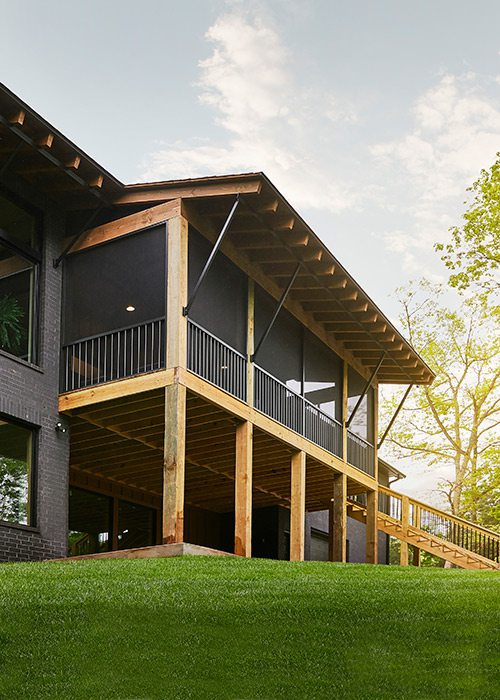 "We really let the lot dictate the overall size of the house and overall footprint," Brett Godfrey says. "With the trees and slope, it was a challenging lot." However, Godfrey allowed the challenge to inspire rather than hinder him by adding thoughtful details like a screened-in porch that shows off the Ozarks landscape.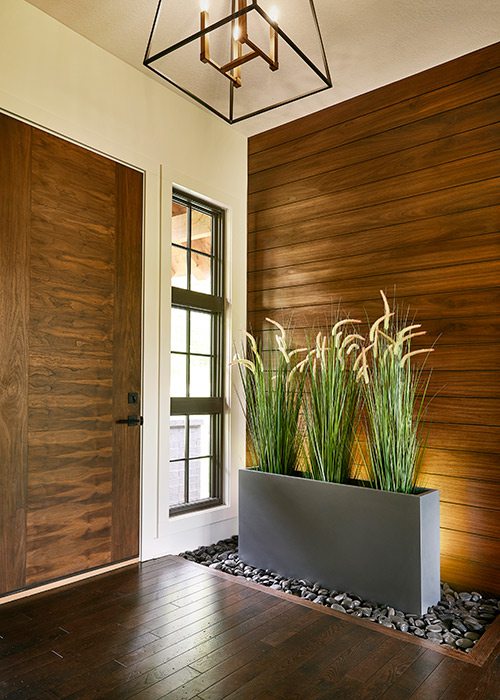 Inside, you won't find the classic tell-tale signs of a spec home, like gray walls and trendy wide-plank flooring. Instead, you'll see warm and inviting interiors with thoughtful details like the classic, thin hardwood floors, a sturdy walnut door and a unique planter that gives the entryway an atrium feel. "Brett challenged me to use my creative noggin and do things that we hadn't done before," Hendrix says.
Photos by Starboard & Port
That's soon to be the same story for this home, and for this reason, assembling the right team was crucial. Godfrey worked alongside interior designer Erica Hendrix and home designer Jason Thompson to create this timeless home with today's homebuyers in mind.
"The type of setting that it's in dictated the Ozark modern theme of the house," Godfrey says. "When I bought the piece of property, we found a lot of old stuff, like wagon parts from the farmers who previously had it. That's kind of what precipitated using materials that represented indigenous types of materials."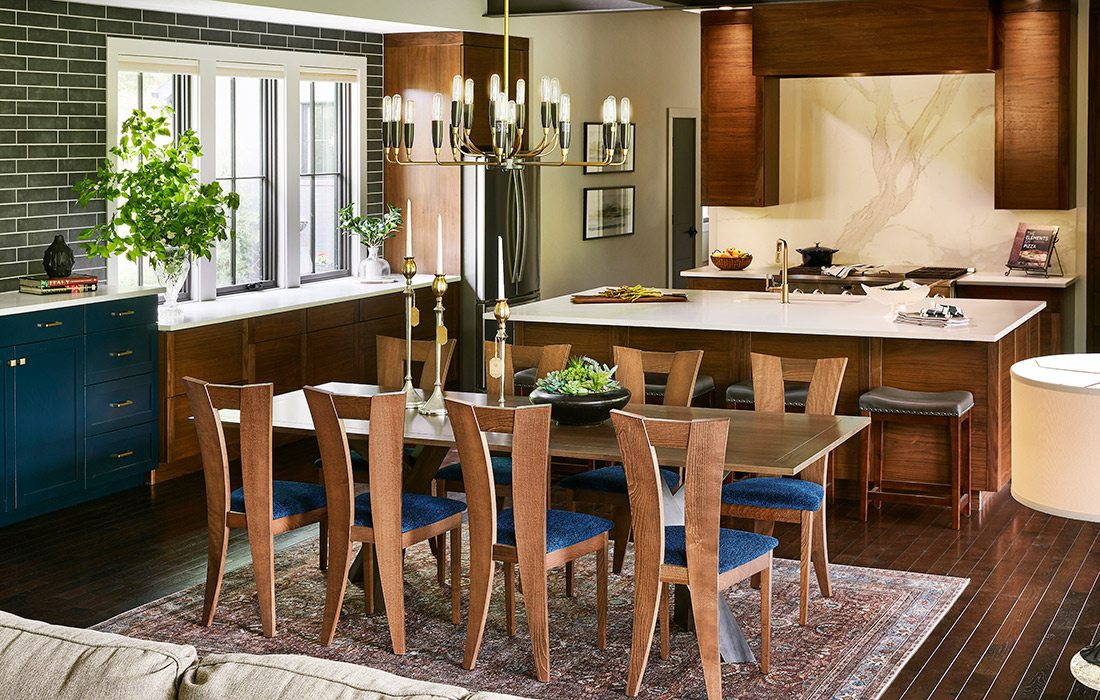 Godfrey and Hendrix made specific choices to create an easy-to-live-in home that would age well. The quartz countertops and walnut cabinets in the kitchen are smooth and easy to wipe down and won't show signs of wear anytime soon. The master bathroom features a floating sink that a mop can glide right under.
"We designed this home for a hypothetical younger family," Hendrix says. "I thought, 'What do families in this area look for?' They look for something fresh, new and modern with ease of living."
Meet the Winning Team
$500,000 to $750,000
Modern Glam Farmhouse
---

For homeowners Craig and Carlissa Gilliam, farms hold special memories. Craig spent his childhood summers playing fast-pitch softball, quail hunting and hauling hay on his grandfather's dairy and Angus farm. The old white farmhouse on the property was the destination of many holiday gatherings and the location of one of Craig and Carlissa's first dates.

So when they started working with Dale Peer and Jason Bekebrede on their new home, they knew they wanted it to be a modern farmhouse with vintage elements, and they wanted to be very involved in the building process.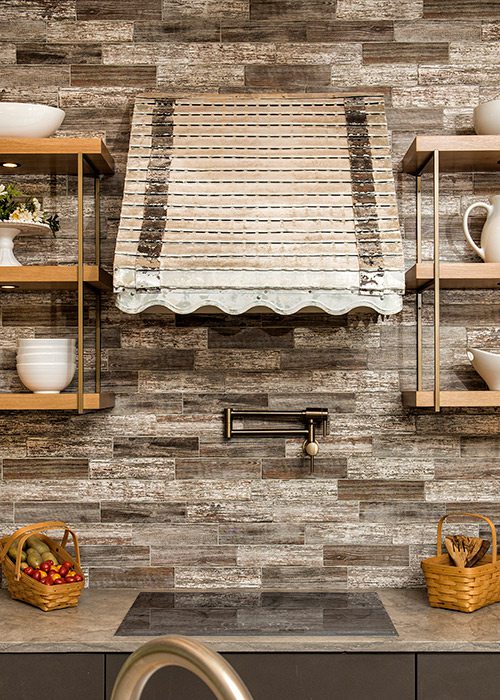 Jason Bekebrede took extra care into incorporating the vintage awning into the oven's hood range. He built an interior wood frame that held the working parts of the hood and used the delicate aluminum piece as a decorative cover.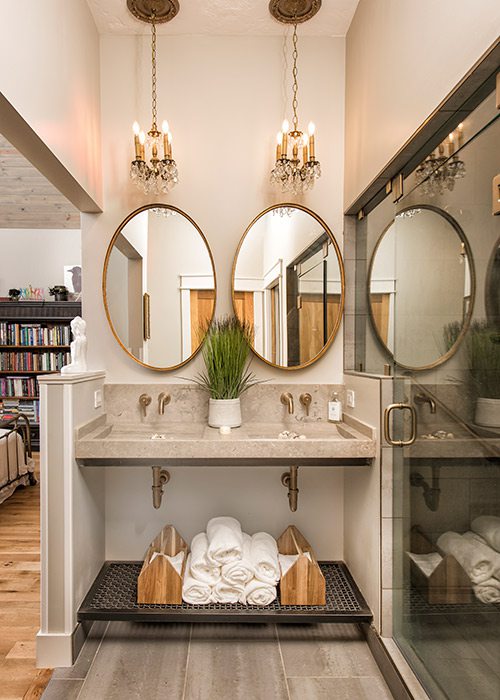 The vanity is one example of a natural element in the home. The marble came from Phenix, Missouri, and in spots it contains fossilized starfish imprints, which Bekebrede made sure to place prominently near the faucets.
Photos by Randy Colwell - Colwell Captures
"Communication is key," Bekebrede says. "We talked a lot during the project about what older items they had and they wanted in the home so we could make sure to have wiring for the lights and such… We obviously tried to stay true to the vision the owners had on the design elements and suggest ones in addition to complement the style and design they were trying to achieve."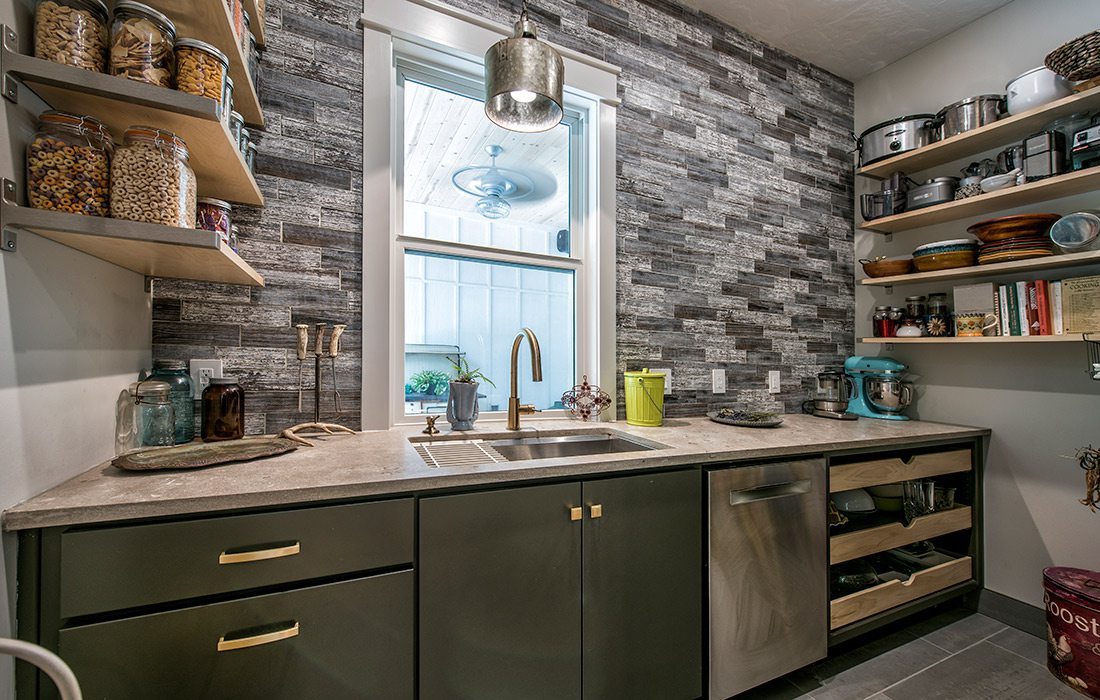 The kitchen has ample storage, including a discreet pull-out cabinet that contains four recycle bins. This enables Craig and Carlissa to quickly sort and transport their recyclable trash to a recycling center in Springfield. "We are avid recyclers, and living in Rogersville does not impede our commitment to protecting the environment," Carlissa says.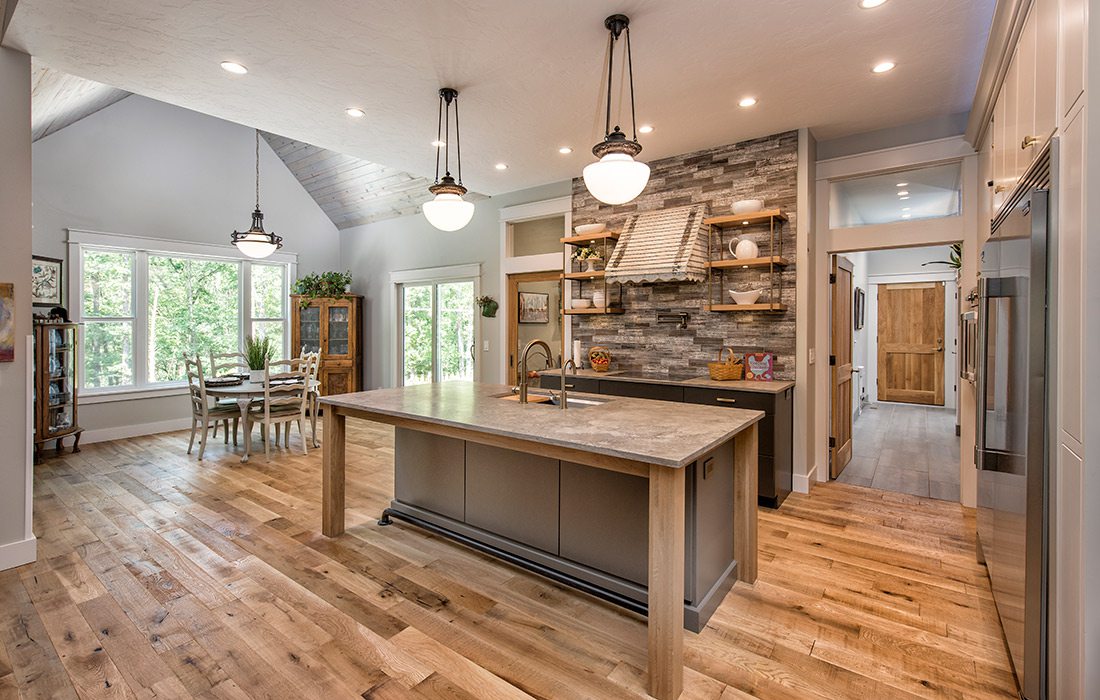 When Carlissa began searching for lights, she discovered Randy's Antique Lighting at Relics Antique Mall. "We stalked the inventory for months," she says. "Piece by piece, over nearly one year, we collected rooms of vintage brass lights." The milk glass pendant lights hanging above the kitchen island once hung in Drury University.
Photos by Randy Colwell - Colwell Captures
Many materials in the home are either locally sourced or natural. Bekebrede's favorite element in the home is the real wood ceilings. "I've done a lot in my career but these ones turned out especially nice," he says. "The colors are subtle but still allow you to see the graining and knots in the wood."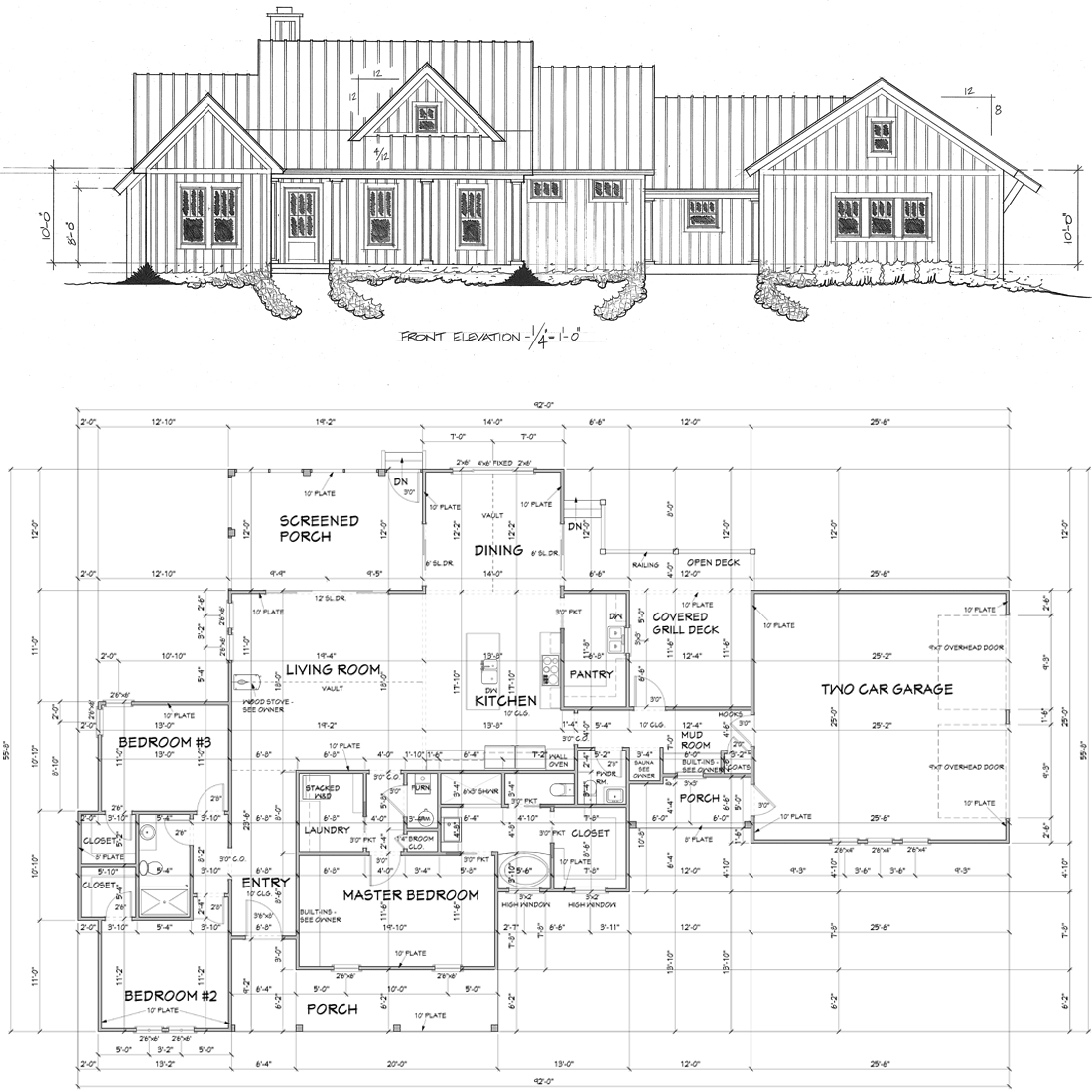 When determining the layout of the home, homeowners Craig and Carlissa Gilliam believed protecting the land's beauty could pay off in the long run. "We wanted the farmhouse to have the energy efficiency of the woods to protect from the summer heat and the winter winds," Carlissa says.
Bekebrede placed the home as close to the remaining trees as safely as possible to give each room a view of the secluded wooded lot. "It makes the house feel as if it was there already for many years the day we completed," Bekebrede says. 
Craig and Carlissa's land sits just a few acres away from their grandchildren, making it the ideal spot to retire, so Peer designed wider doorways and kept the home on a single level, and Bekebrede aimed to keep the home as close to the ground as possible to minimize the number of steps. He also included other age-friendly details, like a zero-entry shower.
Meet the Winning Team
Less Than $500,000 & Best Floor Plan
CUSTOM HOMEBUILDING TIPS FROM THE PROS
417 Home: Your winning entry reflects both owners' tastes. Do you have tips on how to merge two completely different building styles together?
Rex Winslow, Construct: The owners had great ideas and styles they wanted to achieve in their dream home. Just like all couples, the ideas and styles were not exactly the same. My general advice is plan on spending time with your builder to discuss everyone's ideas and objectives. Anything you've imagined, share it. Brainstorm as much as possible with your builder. If you're able to put together a great team that includes a designer, do it.
417 Home: You mixed new building materials with antique designs and materials. Does it take extra care and creativity to work with this style and old materials that can often be fragile?
Jason Bekebrede, Monticello Custom Homes & Remodeling: I think the two can go so well together, and I think that is why terms like Modern Farmhouse, Modern Craftsman and Transitional have been so popular. People want the cleaner lines and conveniences of the modern design and style, but the comfort that can come from the old style. The projects where we add mixed antique fixtures or pieces into a new space have been ones that we just do it, the care is more put into where we place it and how we make it work than designing around it.
417 Home: The homeowners were very involved in the design. Do you have any tips for homeowners who want to collaborate with their builders on the design elements?
Gary Herman, Herman Custom Critical Homes: Designing a home to fit the land and satisfying the homeowner's wishes can be complicated. Within the Hill Subdivision, the goal is to blend the home into the hillside while protecting as many trees as possible. Before we even begin placement, we request our clients to provide photos of their dream home. It's very common for them to already have a Pinterest page ready to share. This input and lot review allows us all to picture their custom home goals prior to the plans being drawn.
417 Home: Do you have any tips on how to choose building materials that reflect a timeless, yet modern style that avoids fast trends?
Brett Godfrey, Built by Brett: I've always been a big symmetry fan. Any project that is pleasing to the eye has to have it. However, surprise and interest play a large part in today's modern designs. Choose materials that reflect timeless shapes and use them symmetrically. Use color for the surprise and interest part of the equation for timeless forms with a twist.


TRENDING HOMEBUILDING STYLES & MATERIALS
When it comes to learning about trending materials and styles, who better to ask than the builders? Each one shared which texture combos and elements they've been admiring lately, and ones that stand the test of time.
Rex Winslow, Construct: We are a commercial general contractor, as well as a custom residential builder. We like to combine the best of both worlds. It's fun combining steel, wood, big timbers, masonry, glass and concrete along with finer finishes. Some of these materials or products that are made from them don't always work well together. For this reason, means and methods are very important during planning and building. By the end of the project, making them all transition together is crucial in making a building feel like a home.
Jason Bekebrede, Monticello Custom Homes & Remodeling: We've done a wide assortment of styles and design combinations over the last 15 years. We've done a lot of the shiplap over the last handful of years, and the very bold pattern tile as well. I think the one style that I have gotten into the least but would really like to get the opportunity to work with is Modern. I've done a lot of transitional and Modern Farmhouse, but we haven't done just a true modern nearly as much. There are so many parts of the Modern style that are influenced by how you build it. For some details, you have to start planning for them at rough framings, such as flush baseboards and trim-less doors.
Gary Herman, Herman Custom Critical Homes: Home styles usually dictate the materials we use, but we suggest exterior products that require low maintenance. These may cost a little more now but are worth it when you won't have to repaint or replace them in the coming years. We prefer to use fiber cement siding, real stone, brick and heavy gauge aluminum on siding, soffit and fascia for exteriors and use real woods inside. When homeowners request a modern look utilizing flat roofs, Thyroid peroxidase (TPO) membranes are used for roofing. We've recently used it as a decking underlayment for a homeowner wishing to walk out onto their flat roof.
Brett Godfrey, Built by Brett: I have enjoyed our local market's willingness to accept a more transitional or modern motif. Mixing traditional materials with modern elements is visually rewarding but can be very challenging in its execution. Some examples include metal roofing paired with architectural shingle, angle iron and heavy steel I-beams in conjunction with brick and wood. These are exterior examples of unexpected design elements that make a statement. Large-format porcelain tile is a relatively new medium for interior use that is very challenging to work with, but worth the effort.
Meet the Homes of the Year Judges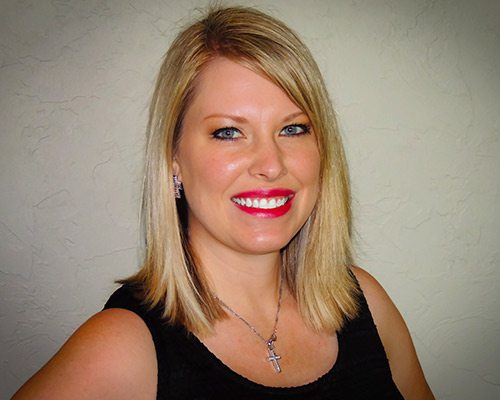 Mandy Lunsford
5 Star Builders
Mandy Lunsford is the Sales & Marketing Manager for 5 Star Builders in Mustang, Oklahoma and the interior designer for all spec homes built by the firm. She serves on the Central Oklahoma Home Builders Association (COHBA) Board of Directors and is the COHBA Sales & Marketing Council Chair and the COHBA Parade of Homes Awards Chair. Mandy is continually adding to her knowledge of the home building industry through educational courses and certification programs offered through the HBA.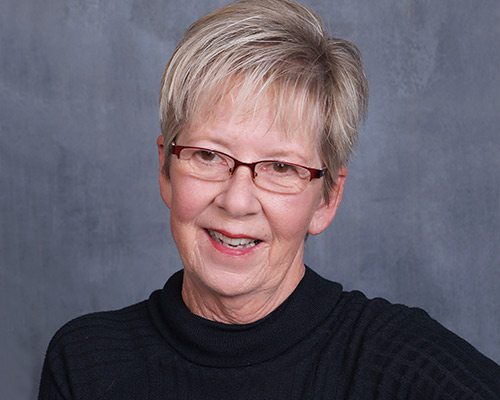 Diane Campbell
Diane Campbell has been working in the building industry since 1994 and has contributed to projects in Texas and Oklahoma. In 2002, she earned her master's in residential marketing, which is a designation from the National Association of Home Builders. Campbell served as the Midwest City–Del City–Moore Association of Realtors president in 2014 and has been a member of COHBA for 18 years. Along with her husband, she manages Jim Campbell Homes and is a licensed realtor.